Looking for some delicious eats for your next camping festival? We've got you covered with a few easy recipes to up-level your cooking game!
---
Cooking at a festival is a great way to both save money and stay healthy. While it might seem like a pain at first, there are plenty of easy recipes out there to help even the most novice of cooks eat some truly fantastic camping meals.
Check out our list of festival camping recipes below, and be sure to check out our Festival Cooking Tips post for ways to make your experience even easier!
Five Fantastic Festival Recipes
---
Recipe #1: Evan's Bangin' Breakfast Burritos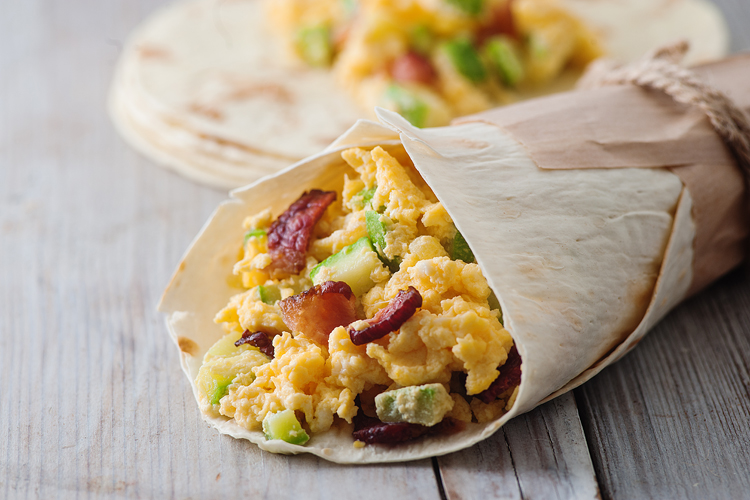 Ingredients:
Seasoning for the eggs(4-6):

1 Tablespoon of Italian seasoning
Pinch of garlic powder
Pinch of Cracked red pepper
1 Teaspoon of Adobo seasoning

1/4 cup of milk (unsweetened almond milk works perfectly fine for this as well if you are dairy-free)
Toppings of your choice (e.g. onions, bell peppers, etc.)
Cheese (or nutritional yeast if you prefer)
Taco-sized tortillas
Your choice of meat (I prefer bacon because the grease can be used for pancakes later)
Directions:
Whip together all the ingredients above in a bowl and set to the side.
Prep your toppings (I prefer to caramelize my onions and dice up some bell peppers)
If you want to caramelize onions or cook meat, do that first and set to the side
Grease pan and pour in egg mixture (be sure to toss your toppings in first if you want them caramelized)
Let the egg mixture cook for about 3-5 minutes
Using a rubber spatula, push from the outside lip towards the middle of the pan. The eggs should have formed a par-cooked layer on the bottom. You want to move this towards the middle to act as the island upon which your cheese will melt while the rest of the liquid egg mixture takes its place.
Sprinkle in cooked meat.
In a separate pan, warm tortillas
Once tortillas have been warmed, place a serving of eggs into the tortilla bedding, sprinkle a small yet comforting blanket of cheese atop the eggs and a spatter of hot sauce if you dare.fold the ends of the tortilla towards the center
Fold the ends of the tortilla towards the center and roll one side over top of the eggs until you have something that resembles a Mexican egg roll.
Serves 5-6
---
Recipe #2: Grant's Famous Pasta Salad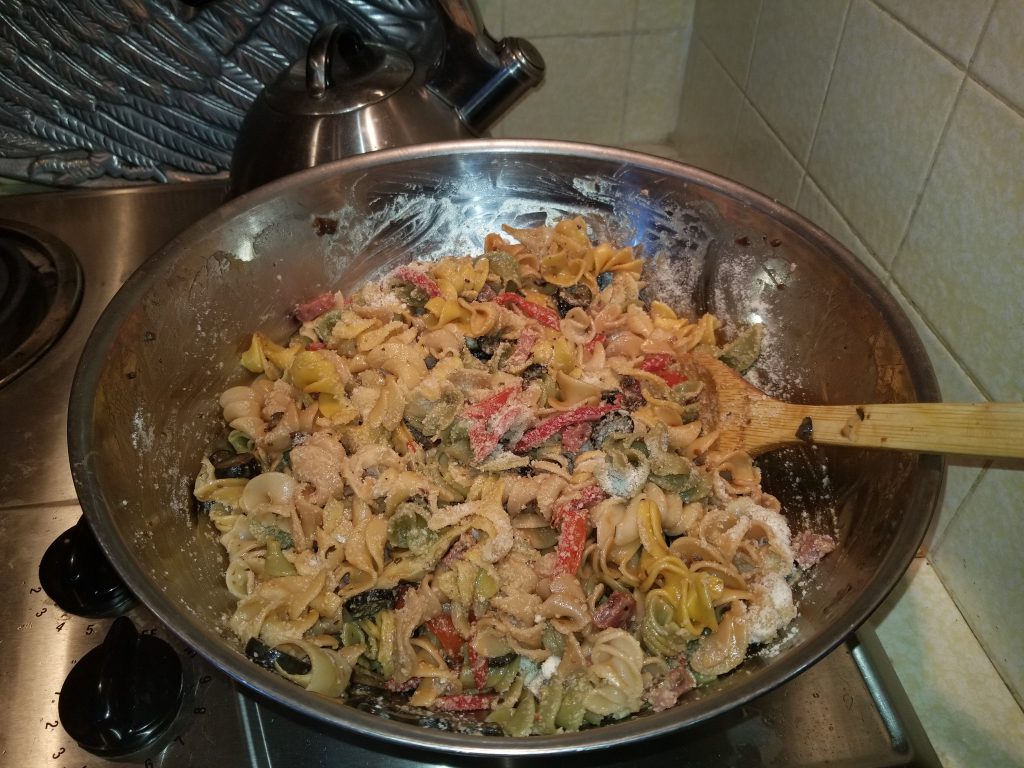 Ingredients:
1 Box of Rotini Pasta cooked in salted water. (Use multi-colored pasta to be festive but any pasta can be used.)
1 Can of large black olives, sliced.
1 Roasted Red Pepper or Sliced Pepper Strips
2 Cups of grated Parmesan Cheese
2 Cups cooked Linguisa or hard salami, sliced.
2 Cups of Oil & Vinegar Dressing with added spices to taste, or 1 Large bottle of Italian Salad Dressing.
Directions:
Cook pasta in lightly salted water.
Slice olives, peppers, and sausage and put aside.
Drain pasta and place in large metal salad bowl.
Mix in olives, peppers, linguica/salami, and 1 cup of parmesan cheese.
Pour dressing over top of the pasta, and then cover the pasta with the second cup of parmesan cheese.
Mix again and enjoy, or place foil over the top of the bowl and let marinate in the refrigerator overnight.
When ready to serve just mix it up again to make sure the cheese is distributed.
For longer storage, put pasta, olives, salami, and peppers together in a gallon Ziploc bag and freeze. Unthaw and add parmesan cheese and dressing before serving at camp!
---
Recipe #3: Sweet & Savory Sausage, Pepper, & Pineapple Foil Packets
Ingredients:
8 sausage links (you can choose your adventure here, but I personally prefer smoked sausage or spicy Italian sausage)
4 green bell peppers
1 whole pineapple or one can of pineapple chunks or rings
1/4 c. olive oil
Salt
Black pepper
Crushed red pepper (optional)
4 12″ lengths of aluminum foil
Directions:
(Optional) If you have uncooked sausage like brats or like a little extra flavor, grill until charred
Cut sausage into chunks or leave whole (your choice!)
Cut bell peppers either into slices or chunks
Cut pineapple into chunks (or drain your can of pineapple)
Evenly divide sausages, peppers, and pineapple into foil
Drizzle with olive oil and season with salt and pepper
Fold aluminum foil long ways, and roll top and bottom edges to seal completely
Grill until peppers are soft, 13-15 minutes
Serve in foil containers for easy cleanup
Serves 4
---
Recipe #4: Banana Boats (Better Than S'mores!)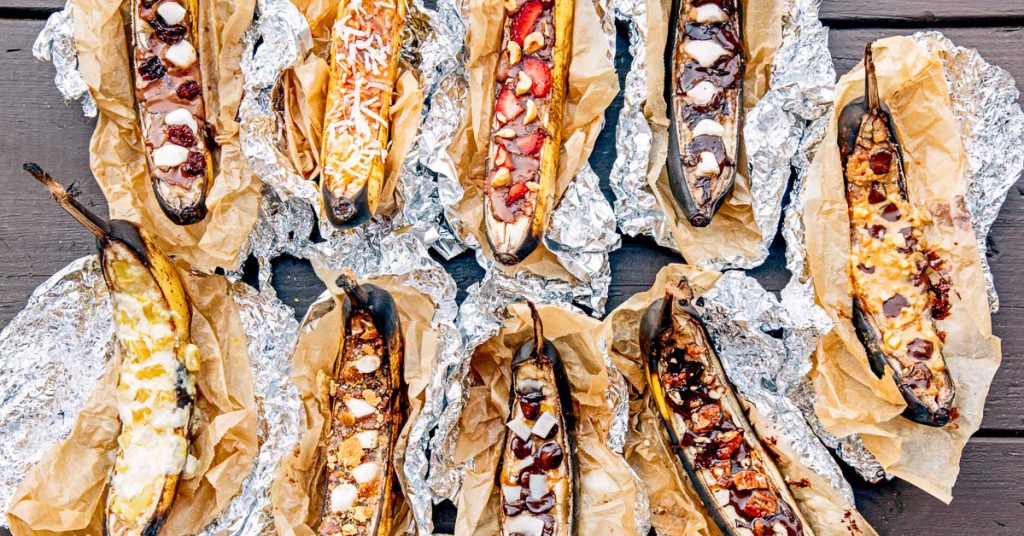 Ingredients:
8 bananas
1 bag mini marshmallows
1-2 bags mini candy of your choice (I recommend Snickers, Twix, Reese's Peanut Butter Cups, or Almond Joy, but use your imagination!)
8 8″x10″ squares of aluminium foil
Directions:
Cut the bananas from stem to end, but don't cut all the way through (the goal is to create a boat into which you can place your toppings)
Fill the banana with marshmallows and candy of your choice
Wrap each banana in a square of the foil
Place on the grill or camp stove just long enough to melt the candy
Open and eat with a spoon
Serves 8
---
Recipe #5: Super Simple Ultra Perfect Hangover Pancakes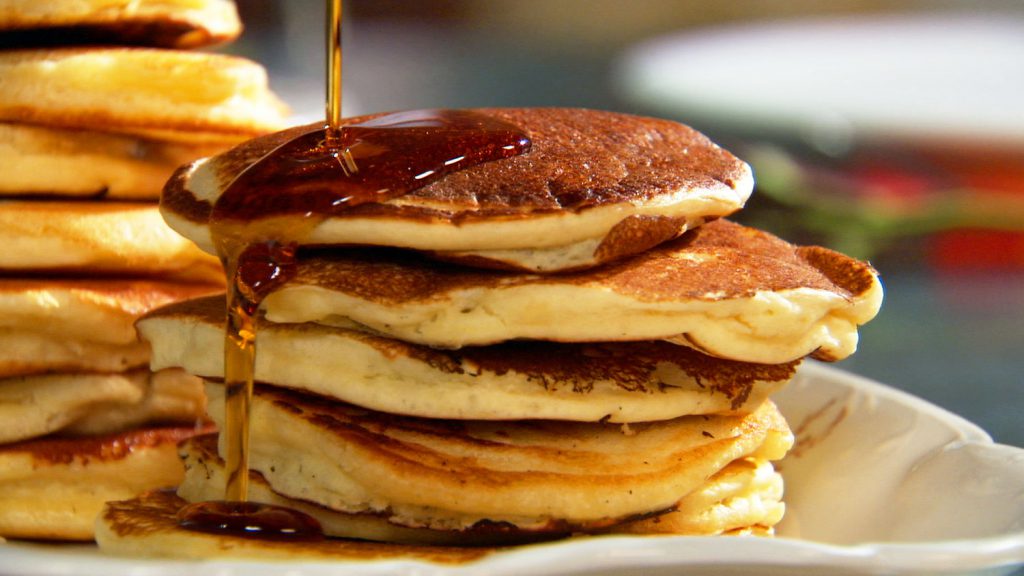 Ingredients:
1 1/3 cup Pancake mix of your choice
1/3 cup of instant coffee (Colombian is best for highest caffeine content with least amount of bitterness)
1/4 cup of coffee creamer (French vanilla blends best with the next two ingredients)
1 teaspoon of cinnamon
1 teaspoon of nutmeg
Directions:
Whip mix together, pour to whatever size pancake you feel will fix your throbbing head
Wait for bubbles to appear throughout pancake
Once bubbles begin to pop towards the middle, flip and repeat.
---
Featured Photo Credit: Fresh Off The Grid