Forget other powdered supplements meant to revitalize your body after partying hard all weekend because Raveraide goes above and beyond.
---
There's nothing worse than feeling the effects of a hangover or the deep blues experienced after partying hard all night long at a festival or nightclub. While the mantra "hydrate or die" has become a standard in the scene to help offset dehydration and keep your body able to dance, many have begun to look beyond plain water to replenish their bodies. Powdered supplements centered on hydration, like Liquid I.V., have become common for ravers to use during or after an event – but there's a new product in town geared toward those in the scene, Raveraide.
Raveraide launched with relatively simple goals in mind. First, "to give back to the community," and second, "to provide conscious products that help to heal us from the inside-out and allow each of us to tap into the highest version of ourselves." To accomplish this, the company looked to create a go-to supplement with a blend of ingredients that will help you bounce back fast from your latest experience that took a toll on your body.
Found inside every stick of Raveraide is their signature "clarity blend" of L-Theanine, L-Glutamine, Acetyle-L-Carnitine, Alpha GPC, and Huperzine," along with an "electrolyte blend" that features Himalayan Pink Salt, Potassium Chloride, Potassium Phosphate, Calcium Carbonate, Magnesium Chloride, and Magnesium Glycinate. Additionally, vitamins D3, C, B6, B5, and B12 are found within each stick.
Unlike their competition, which has a wide array of tastes to try, Raveraide currently offers two, Litty Lemonade and Super Berry. While this could be seen as limiting for those who have a preference, it's important to note that both flavors contain real fruit extracts as part of their commitment to never put artificial flavors, sweeteners, dyes, or colors in their products.
That being said, one of the standout aspects to note about the blend that Raveraide created is its low level of added sugar. Unlike brands like Liquid I.V., whose Hydration Multiplier contains 11g of added cane sugar per stick, Raveraide only packs 2g of organic coconut sugar with extra help on the sweetening front from sugar substitute Stevia.
We wanted to get a taste of this new product, and Raveraide sent us a pack of their Super Berry blend to try out during the final days of the year and to help us start 2023 on the right foot. The package arrived quickly, and while each stick is a bit longer than other products on the market, it was easy to toss into our fanny packs and pockets when we headed out to events like Dreamstate SoCal and PROPER NYE/NYD.
As for the taste, the extracts of blueberry, elderberry, and acai came through when trying Super Berry, with acai coming through as the most pronounced flavor. You won't get that punch of sweetness like over supplements on the market, and there is a slight aftertaste that reminds you that you're consuming nutrients, but the flavor itself was enjoyable overall.
Pouring Raveraide into a water bottle was the easiest way to mix the blend in while at a show because you could close the top and shake it up. If you're consuming at home, it's just as easy to pour it into a glass and stir it in with some water – there was never any issue with the product clumping up that prevented it from being mixed in properly. Pro-tip: use a milk frother to make it even easier to blend the powder in if you're doing it at home.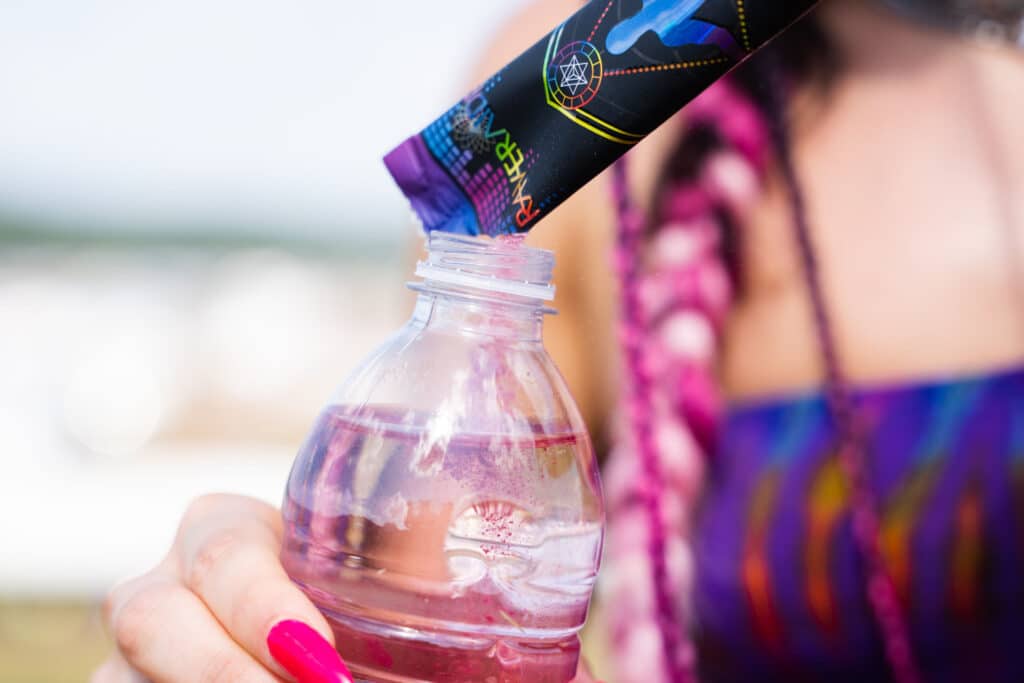 Did Raveraide make us feel revived and ready to rave once again? Yes. Will it work for you? Possibly.
Several factors play into why you might feel good or bad after an event, and much like other supplements, Raveraide is by no means a true "cure-all." Your mileage will always vary with supplements, and it's always important to consult a physician if you are on medication or have concerns about how it will affect your body. With that in mind, when we stacked this up against Liquid I.V., we felt that the results were similar, and most importantly, we didn't have the dreaded sugar crash a few hours after consuming it.
With prices comparable to other products on the market and a laundry list of added ingredients geared toward those attending festivals and shows, we recommend giving Raveraide a try if you're on the hunt for a new supplement to keep you rave-ready.
Head to their official website to grab a pack ahead of festival season, and use code "EDMIDENTITY" for a 10% discount on your purchase.
---
When you purchase through links on our site, we may earn an affiliate commission. Please see this page for more information.