Are you a producer who finds themselves constantly traveling and on the hunt for a portable monitor system? The KRK GoAux 3 is for you!
---
Artists around the world are getting back into the swing of things after the global lockdowns have been lifted, with DJs traveling all over the world to play at nightclubs and festivals. These hectic schedules include lengthy flights and hopping between hotel rooms on a seemingly weekly basis for many, leaving many producers looking for a solution that will help them continue to produce high-quality tunes during their downtime. Luckily for them, legendary brand KRK launched the most recent product for producers on the go, the KRK GoAux 3 and GoAux 4.
The KRK brand has long become synonymous with quality design and performance over the past three decades with products that are fit for home and professional studios alike, with everything from studio monitors to headphones being offered. But while their products fit the needs of those who aren't traveling all too much, the KRK GoAux 3 and GoAux 4 effectively shake things up with their compact, portable design.
Related: We're giving away a KRK GoAux 3 to our readers as a special holiday gift to help you start 2023 off on the right foot. Enter our contest at the bottom of the page or by heading to Gleam for your chance to win!
Both versions of the KRK GoAux are all-in-one monitors that will suit the needs of producers who are looking to enhance their music-making abilities while on the road. Not only do they have standard 1/8-inch Aux and RCA stereo inputs, but they also have Bluetooth capability that allows anyone to seamlessly connect their laptop (or even their phone) to the monitors for crystal-clear sound. Aside from the slight jump in size and price, the only difference between the KRK GoAux 3 and GoAux 4 is that the latter of the two offers additional USB and 1/4-inch TRS balanced stereo inputs, along with a measurement microphone and built-in Auto ARC.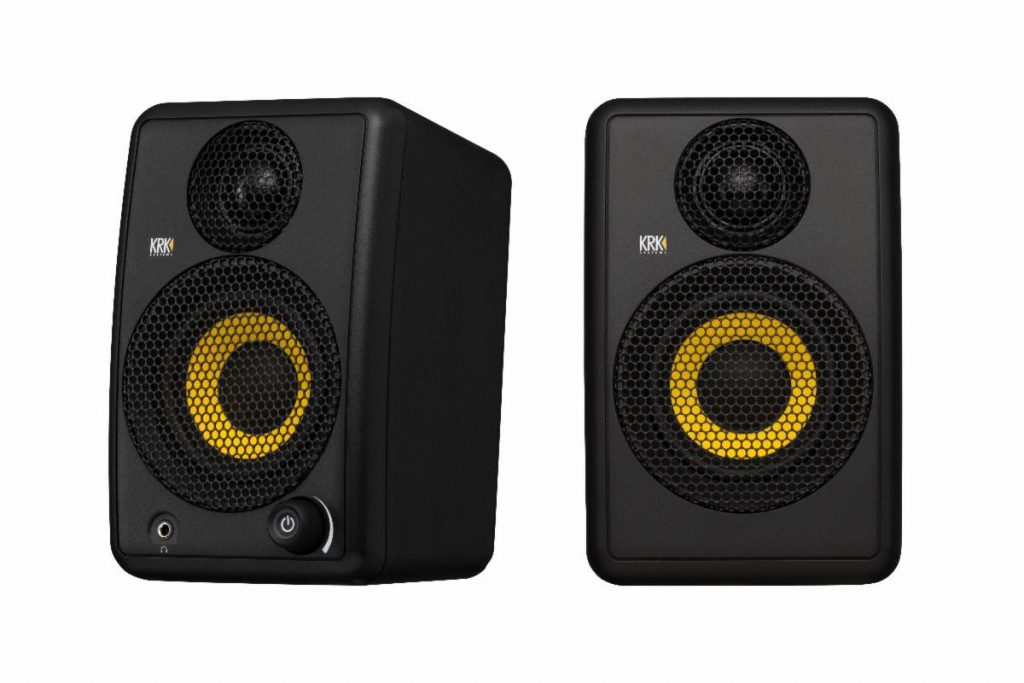 While the KRK brand's legacy precedes itself, we knew we needed to see how truly portable the GoAux system was – and they sent us the GoAux 3 to review. Once we received the monitor system and removed it from its packaging, it was clear that KRK had figured out exactly how to make this unit one that would be easy to take along with you on your next tour. The provided carrying case neatly fits the monitors and their stands inside and will protect them from any bumps along the way, while the outer mesh pockets house the included power and speaker cables.
The GoAux 3 isn't a run-of-the-mill Bluetooth speaker that you throw in your bag, as the 3″ glass aramid woofer and 1″ soft textile dome tweeter deliver rich sound that will really make you feel like you're in a proper studio. Just like their other products, these monitors offer built-in LF and HF EQs to adjust to your personal preferences, yet they were fine straight out of the box for our testing, which included plugging into our laptop and utilizing the Bluetooth feature to make sure both worked as intended.
Of course, the portable nature of the GoAux 3 is slightly limited, as you'll need to power the monitors. So if you had plans to bring these for an immersive production trip into the middle of a jungle or a barren desert, a generator will definitely need to be in order. And while it does offer that 1/8″ stereo headphone output on its front panel that mutes the speakers, using them on anything but a private jet would feel a bit clunky to break out and set up.
That being said, most won't find any issue in locating a power source when they're sitting in their hotel room in the hours before or after a show, making this an ideal product for producers who are on a touring schedule. DJ White Shadow even commented on how easy it was for him to take the monitor setup wherever he traveled lately. And although it is marketed as a portable product, the GoAux 3 (or even the GoAux 4) would also be a solid addition to any home studio setup, especially for those who are just learning how to produce and on the hunt for an all-in-one package. We're giving this exciting product from KRK our full stamp of approval.
Check out the full list of specs and grab a set for yourself by heading to the official KRK website. The GoAux 3 and GoAux 4 are also available via Amazon.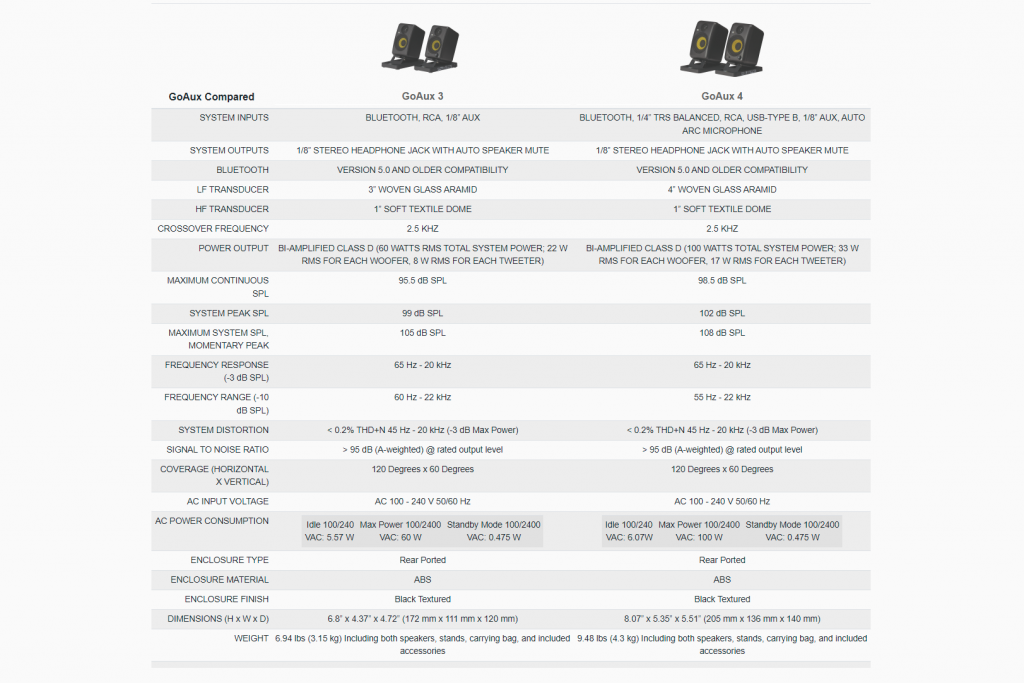 ---
Enter to win a KRK GoAux 3 Portable Monitor System
Enter to win a KRK GoAux 3 Portable Monitor System!
---
When you purchase through links on our site, we may earn an affiliate commission. Please see this page for more information.