Sonic Bloom is back for more dancing in the mountain air at Hummingbird Ranch with CloZee, Dirtwire, Alix Perez, DOMi & JD BECK, and more!
---
It's that time of year again when your favorite festivals roll out the red carpet to dazzle you with their curation efforts. The latest to arrive comes from the beloved Colorado festival, Sonic Bloom, which announced an excitingly refreshing lineup to excite attendees. Set to return to Hummingbird Ranch on June 15-18 with its all-familiar immersive beauty at the forefront, today they made it even more clear you need to attend with a lineup filled to the brim with quality artists that include international acts and plenty more.
Headlining Sonic Bloom this year is none other than CloZee, but that's just where the fun begins as sub-headliners Dirtwire, DOMi & JD BECK, Lotus, OTT, Papadosio, and SunSquabi will bring the heat as well. Additionally, the undercard has many favorites, such as Alix Perez, KOAN Sound, Maddy O'Neal, and NotLö, to name a few. If that hasn't made your heart palpitate yet, then just wait till you see the undercard. From the sounds of Morning Coffee jump-starting your mood to the funky fresh feelings of Thought Process, as well as the total fierce takeover of Redrum, Steller, and Solfire, there's sure to be a weekend of total energy uplifting afoot.
The lineup also offers up some undeniable stage takeovers that would make anyone jump with glee. Set for a full-day takeover on the Meadow Stage Friday is CloZee and her hand-picked choices for the Odyzey takeover. The Saturday stage takeover is one that Coloradans will appreciate because Sub.mission is coming in to take their whack at bringing the culture to Meadow Stage. Last but certainly not least, a collective near and dear to many Denver, all:Lo will be having their A-team blessing the stage with a takeover sure to set the vibes just right for a Sunday afternoon.
Did you attend Sonic Bloom in 2022? You can get exclusive first dibs on Super-Early-Bloomer tickets! Use your 2022 purchase email and gain access to tickets at 10am MT on Tuesday, January 17, via their website. The public General Sale begins at 10am MT on Friday, January 20.
---
Sonic Bloom 2023 – Lineup: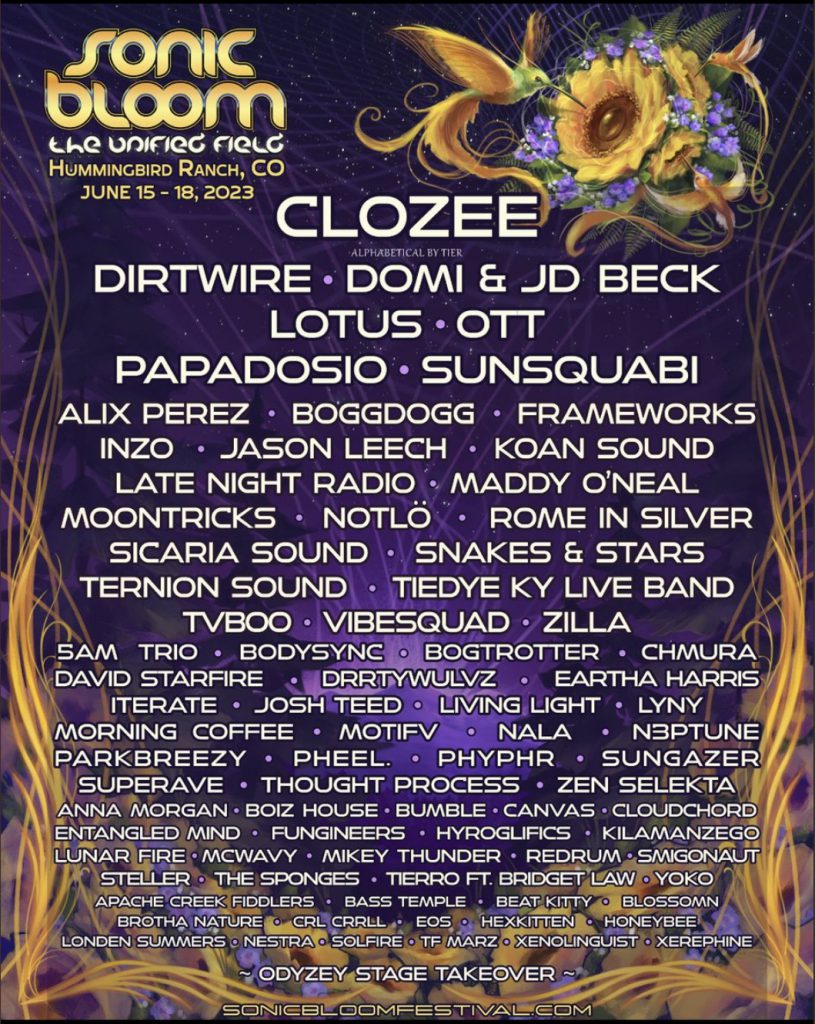 ---
Follow Sonic Bloom: