Following two standout releases on Bassrush Records compilations, rising star Ahee gets his spotlight with the epic Alien Alchemy EP.
---
Between running a YouTube channel with nearly 30,000 subscribers and performing at festivals like Lost Lands and Bass Canyon, bass producer Ahee has also found the time to amass a catalog of tunes that span some of the largest labels in bass music. With a dazzling eight-track EP on Circus Records highlighted by the sub-thumper "Loner Stoner" and the Innovative Energy Timewarp EP on Excision's Subsidia, the Ableton Live virtuoso is closing out 2022 with a dark and chaotic EP, Alien Alchemy, that also signals his solo debut on Bassrush Records.
Alien Alchemy offers four unique tracks that take the listener on a ten-minute journey, so strap in and dive into the sounds of Ahee. Like the vocal sample declares, the project blasts off with "Martian Murder," in which he takes the role of interplanetary explorer, using classic sci-fi tropes to narrate a mysterious extraterrestrial encounter as stumbling plucks arpeggiate and move the track to the hip-hop-infused build.
The track features a Dub-inspired arrangement with a classic reggae sound design, and the groove of the first drop is grounded by rhythmic bed springs, which are cleverly layered with gnarly FM wobbles and classic riddim' quarter basses. The breakdown has the listener latch on to the intro synth melody as the tune progresses to a vocal sample, jazz sample heavy outro, which seems perfect for live mixing.
The madness continues into "Bass Ritual," which sends one's mind into a dark abyss as Ahee utilizes rolling jungle-esque percussion and droning atmospheres. Once the ominous build reaches its climax, a booming vocal sample declares that the "Bass Ritual is now complete," igniting an unrelenting pattern of classic left-field FM wubs and rave stabs that feel like an alien experience. This standout sound design is only capitalized on in the second drop when Ahee adds a clever use of well-known reggae samples and distorted sine basses to add some gnarly grit to the final bars of the first half of the project.
Continuing on, Ahee teams up with fellow Bassrush artist Rejack, and the two continue to highlight dub/reggae inspiration with the head-bopping glitch-hop track "Witchcraft" that really belongs on one of the Grand Theft Auto radio stations. Massive neuro bass growls paired with a thumping drum kit create an immaculate groove only that is only further highlighted by the high-quality mixdown from the two producers. In terms of all things sound design and post-processing, this bop is a masterclass in downtempo bass production.
Like a light at the end of a tunnel, "Psycho Soul" caps off the project with a sparkling, bright record that will be sure to hit all the buttons for melodic and future bass connoisseurs. After the previous three tracks, the change of pace feels like a celebration of sorts, almost like the soundtrack to a cosmic victory party after saving the world. Cascading synth plucks, wide mid basses, and bright vocal chops build the majority of the tune's profile, with Ahee successfully closing out his debut EP on Bassrush by continuing to show off of his vast skills as both a sound designer and musician.
The new Alien Alchemy EP is a job well done for Ahee, who continues to set his own path not just by creating terrific music for all to enjoy but also by taking the time to teach those how to create it for themselves. It's also a big win for Bassrush, who continues to be a leading voice in promoting the best of what's to come in bass music from artists far and wide. The EP is out now on all platforms; give it a listen and let us know what you think over on Twitter!
Stream Ahee – Alien Alchemy EP on Spotify:
---
Ahee – Alien Alchemy EP – Tracklist:
Martian Murder
Bass Ritual
Witchcraft (with Rejack)
Psycho Soul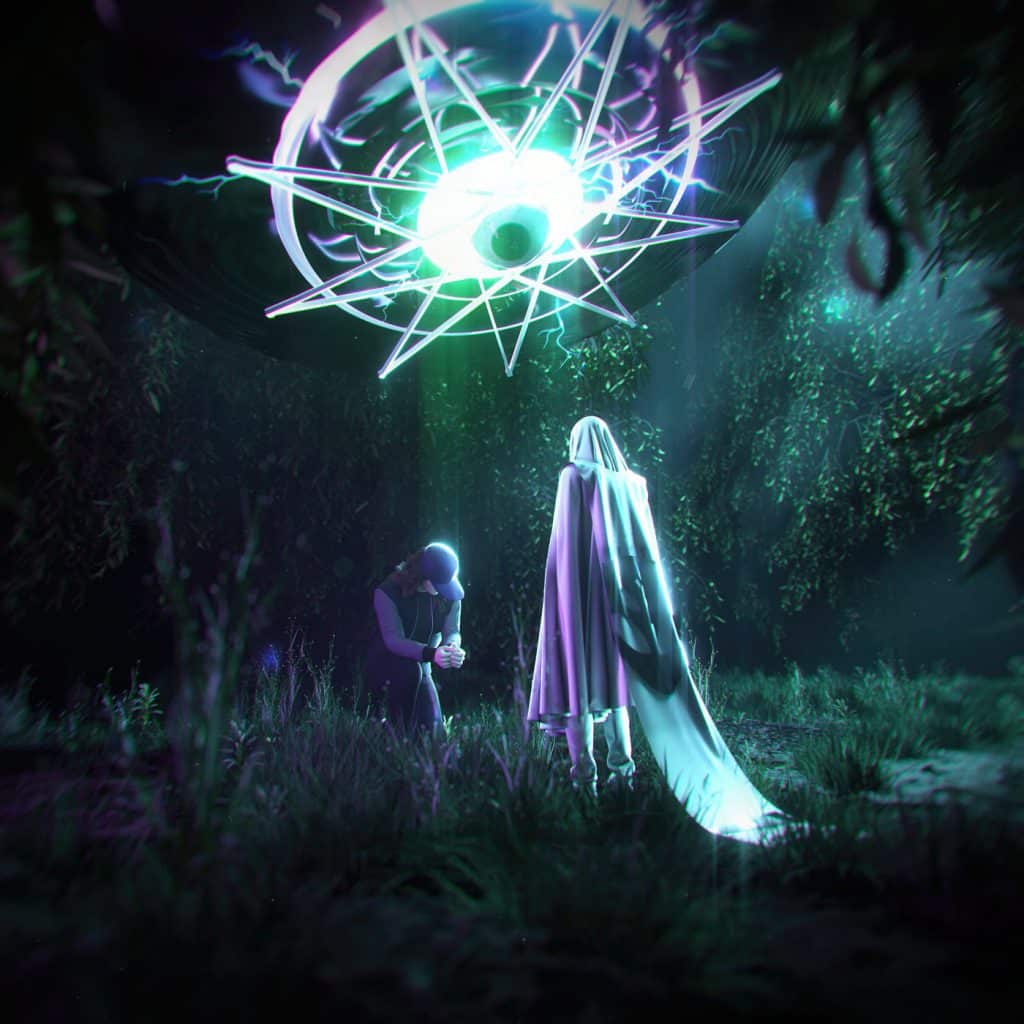 ---
Follow Ahee on Social Media:
Website | Facebook | Twitter | Instagram | SoundCloud | YouTube