Let Ahee take you to a new universe with his latest release, Future Escape, an eight-track EP featuring some out of this world collaborations.
---
The very talented producer Ahee knows how to pull in listeners with his unique sound design. Crafting up those sweet alien bass noises, that take listeners to alternate worlds when you hear them. Even though he has not been able to bless fans at shows and festivals this year, his livestreams have been giving that much-needed fix. On top of streams, he has been uploading tutorials to YouTube, sharing his production abilities with anyone who wants to take the time to watch and learn.
Clearly the pandemic hasn't slowed Ahee down much and true to form he's still been putting work into making new tunes as well. Most recently, he delivered his latest EP, Future Escape, on Circus Records that features eight brand new tracks and a couple of friends along for the ride into the depths of the final frontier.
Artists like Stylust join in on "Flip the Switch" as Defunk comes down to Earth for "I Feel It," while Ahee blesses fans with his Heartwurkz project for the tune "When You're Dead." Each track on this EP has its own unique sound and truly takes you on a journey of Ahee's superb sound design. Get comfy, close your eyes and listen to all these great new tracks off Future Escape, you won't regret it!
Enjoy an adventure through outer space while you listen to Ahee's Future Escape on your preferred platform and read on for a little review of this epic EP.
Stream Ahee – Future Escape on Spotify:
---
The bass goes boom on Future Escape. These tunes all hit so hard and are going to SHAKE systems once shows and festivals are back.
Nothing beats a heavy bass track. You know, those tunes that give you goosebumps from your head to your toes and rattle your bones when played on a proper system. "It's A Vibe" showcases that exact feeling in full with its subtle, alien-like synths and heavy kicks. Listeners are sure to imagine they're floating through space on a UFO while this plays.
Stylust comes in swinging and joins Ahee for "Flip The Switch" soon after. The laser-like build-ups drop into even heavier kicks and a beat that will have you bobbing your head with a serious stank face. Just wait till they 'Flip The Switch' towards the end of the track because those sounds will have jaws dropping near and far. Next up is "Non Stop Loud" which sounds exactly what the name implies. From start to finish this song is loud and filled to the brim with distorted sounds and deep bass. Listeners will be throwing finger guns and whipping their hair around to this fire tune.
The vibes continue when Ahee and Defunk team up and will have listeners feeling some type of way with "I Feel It." This track has this subtle gritty sound, but all the while mixing in smooth beats and sounds to make you smile. The last little bit of this one is sure to get feet moving. From there, Ahee mixes in some killer drums and kicks on "Losing Control," adding in vocals that had me closing my eyes and letting all my worries go.
Things switched up a little bit for the next two tracks as Ahee delivers some mellow vibes to Future Escape.
Ahee and Heartwurkz did an amazing job on their "When You're Dead" collaboration. Heartwurtz singer Ash Tree has a gorgeous voice that fits so perfectly on this future bass tune. "Loner Stoner" is another track that keeps it more on the mellow side but still finds a way to turn that bass up. In fact, I feel like this one would probably rattle a window or two, and the part towards the end of the song gave me some major CloZee vibes as well. I loved the energy I felt when I listened to this for the first time and have had it on repeat ever since.
This EP wraps up with Ahee's remix of Conrank's "Ooba," and it was really amazing listening to his take on the original. The beginning of the song leans more on the mellow side of the spectrum but Ahee switches things up towards the middle and end of the track. I think this was the perfect track to wrap up the EP with as it reminds me of how a great festival set would end. I can only imagine those feelings of soaking in all the good energy and music with my friends when I'm listening to this remix.
Overall, this is some of Ahee's best work yet. He continues to push his sound and put out music that highlights the wizard (or alien) he is in the studio. I can't wait to see what he brings to my speakers next, so give this release a spin and prepare to get blasted off into the cosmos!
---
Ahee – Future Escape – Tracklist:
It's a Vibe
Flip the Switch feat. Stylust
Non Stop/So Loud
I Feel It
Losing Control
When You're Dead feat. Heartwurkz
Loner Stoner
Ooba – Conrank (Ahee Remix)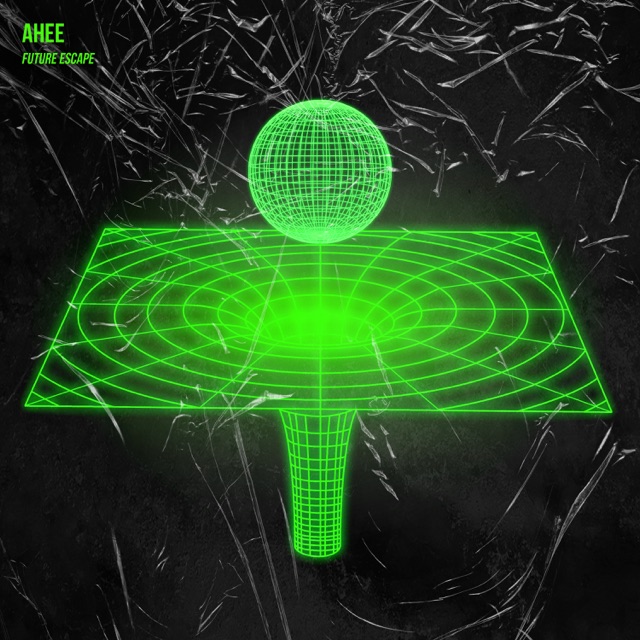 ---
Follow Ahee on Social Media:
Website | Facebook | Twitter | Instagram | SoundCloud | YouTube