Anjunafamily members from around the world made the pilgrimage to Los Angeles as Above & Beyond's ABGT celebrated its 500th edition.
---
Calling a place "home" evokes a sense of safety and warmth, surrounded by loved ones. Home doesn't necessarily have to be a physical space or location, it could be tied to people or experiences. What Above & Beyond have done with their Group Therapy milestone shows is created a community where regardless of which city it's in, it feels like a homecoming. From October 14 – 16, Anjunafamily from all corners of the world descended upon Los Angeles for ABGT500, the biggest milestone to date, and a weekend filled with amazing music and even more incredible memories.
I arrived in Los Angeles on Friday, October 14, ready to be reunited with friends who live all over the country to hear the music that brought us together. Our particular group originated from meeting happenstance in the crowd at ABGT250 in 2017 at The Gorge. Since then, mutual friends have been introduced, and we've become a traveling crew for Above & Beyond's shows, including the most recent edition of Group Therapy Weekender. For ABGT500, we would be meeting up with more friends throughout the weekend, which is always my favorite part; wherever you turn, there's a familiar face, and when you see them again, it feels like no time has passed.
We opted to see Andrew Bayer on Friday night at Academy. Having recently released Duality (Part 1), Bayer would delight the crowd with songs off of the new album and older hits. We sang along to "Open End Resource," "Tidal Wave," his newest "Break the Rules" featuring Kaleena Zanders, and so many more of my favorites. Naz and Olan joined as support, and Fatum closed with a rousing, energetic set.
Luckily the phenomenal music made what could have been a negative experience redeemable. This being my first time at Academy, I was not prepared for how poorly the space was laid out for how large of a crowd it was. Large walkways on either side of the already small venue crammed an oversold crowd into an even smaller space, forcing people all the way back to the bar. Security there was extremely rude and would yell at attendees for the smallest infractions.
By the end of the night, I was trying to make the best of the situation and just appreciate the music despite the chaos and uncomfortable nature of the venue. We had run into friends we hadn't seen since ABGT350 in Prague, I met some folks I'd only known online for the first time in person and was grateful to have heard one of my favorite Anjunabeats artists play out some of his classics. Despite a rocky start, I knew the rest of the weekend would still be great.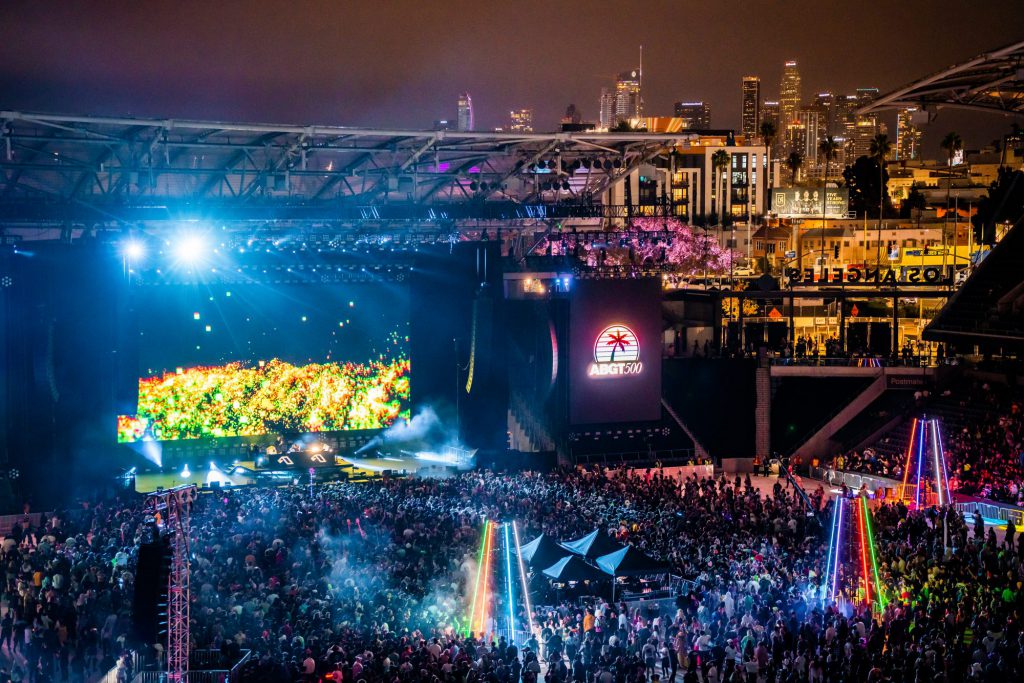 On Saturday, the excitement was truly in the air. The pandemic had affected both the 400th and 450th milestones, so to have celebrations back in full swing for ABGT500 made the energy tangible.
We played episodes of Group Therapy as we got ready and shared our favorite Anjuna memories. Above & Beyond had recorded a warm-up deep set on Venice Beach the day prior, so we also tuned into the stream before the gates opened. Getting into the Banc of California Stadium was a breeze, and being surrounded by everyone in their merch was a sight to see.
There were the funny shirts that said "Below & Nearby" or "ABGT5000" with Tony, Paavo, and Jono as Futurama floating heads. There was merch from every and all of the past milestones. My favorites were the homemade or DIY pieces, showing off the heart and passion of the fans. Right away, we noticed that the merch line on-site was already way too long. I had luckily already pre-ordered my items, but others waited upwards of three hours for theirs. Whether it was worth it is up to the individual.
We arrived in time for ALPHA 9's set. His recent mix, The Story So Far, including a round-up of his Anjunabeats releases, has been on replay for me, so I was eager to see him. We did hear some of those tracks, but he primarily played IDs. When we spoke to him back in June, he hinted at a forthcoming album, and we were delighted by the official announcement of his debut album New Horizons due out on January 13, 2023. Next came Mat Zo, who always surprises me with how fun his sets are, followed by Andrew Bayer, showcasing more tracks off Duality. The last set before Above & Beyond came from Scottish progressive maestro Grum.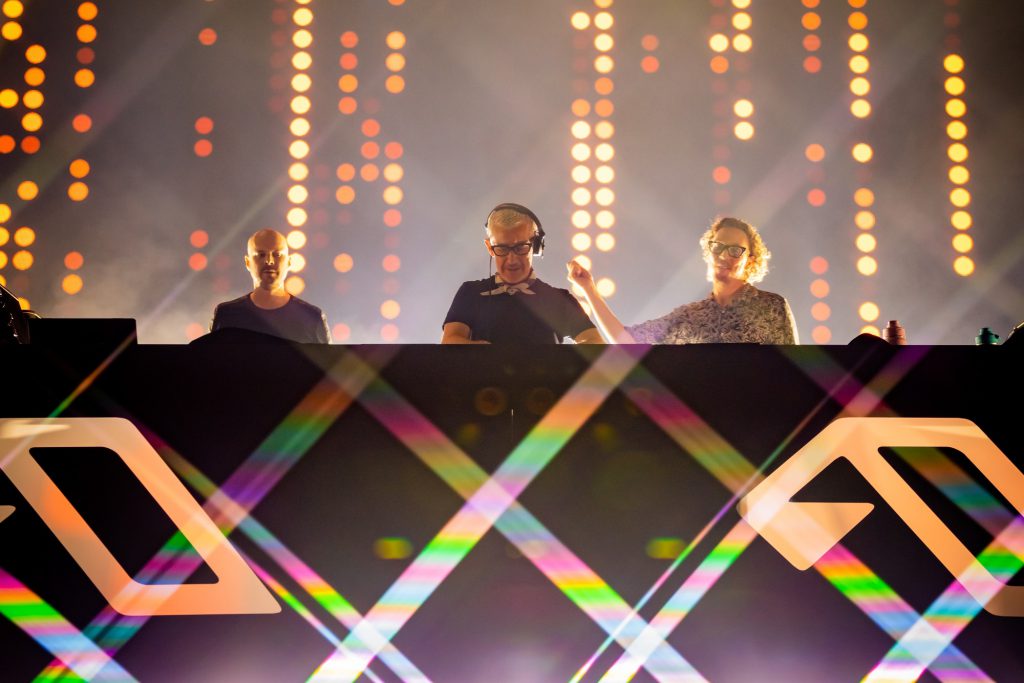 The energy was electric inside Banc of California Stadium when Above & Beyond took the stage.
When it comes to milestone shows from Above & Beyond, you're not always going to get the sentimental singalongs and the heartstring-pulling tracks that Anjunafamily members have come to adore. You're also not going to get the beloved "Push The Button" moment (thanks, COVID), but all of this was to be expected. Instead, what you'll be gifted is two hours of unreleased IDs and new mixes slated for release in the upcoming year, mixed by all three members of A&B.
ABGT500 was a glimpse at the future of the trio and Anjunabeats. We went on a journey and heard a new "Satellite" respray, a brand new song aptly called "500," and ilan Bluestone's "Northern Soul" remix. We also heard new IDs from Oliver Smith, JODA, and Genix. It was a powerhouse set that left me wishing the night wouldn't end. The only thing that could've made it better was being on the floor versus the seated section.
The party didn't stop there, luckily, with after parties keeping the tunes flowing til 3AM.
While some headed to Genix's Warehouse55, we opted for the Anjunabeats North America show with DJ Sunryse, Jaytech, and Mat Zo at Exchange LA. Unfortunately, Oliver Smith, who was supposed to headline the night, was unable to come due to flight cancellations, so we got extended sets from the other acts. This time around, our friends purchased a table which allowed for more space and a much better experience than the night before. We danced the night away, holding on to each moment.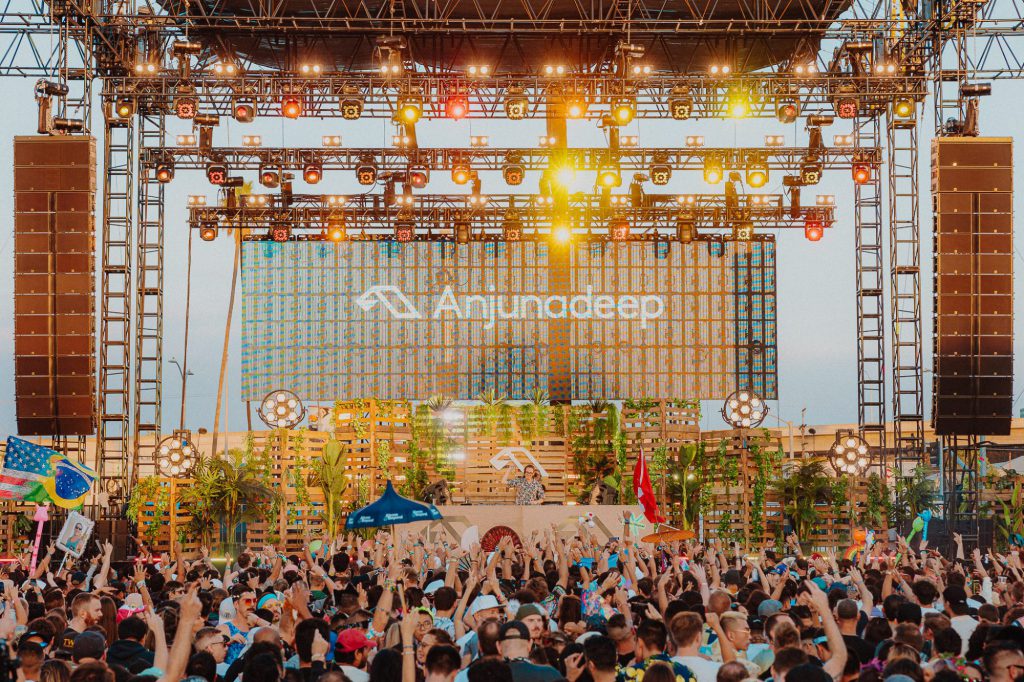 By Sunday, the energy for Anjunadeep Open Air was more laid back and fitting for a day of chilling to the label's artists.
Paavo performed early on in the day with his side project P.O.S. Initially, the name left many confused, but it hit me while we were getting ready that those are his initials (Paavo Olavi Siljamäki), and he had debuted the project earlier this year at Burning Man. Joseph Ray was a crowd favorite before mainstays James Grant and Jody Wisternoff took the stage for their renowned b2b set. Rounding out the night were Dosem and then Marsh and Simon Doty, who also went b2b to bring the night to a close.
I'm definitely more of an Anjunabeats person, but Open Air was magical.
The stage was inviting, and colorful string lights surrounded all of Exposition Park. The way the stage lights and smoke interacted with the setting made us feel like we were in an oasis in the middle of Los Angeles. As the sets went on, the BPM increased ever so slightly, making this event more upbeat than previous Open Air events I had attended. It exceeded my expectations and gave us the room to dance with plenty of open space. As their closing song, Marsh and Simon Doty played "The Weekend" by Michael Gray. As the song's refrain, "I can't wait for the weekend to begin," repeated on, I was left feeling both grateful for another milestone under my belt but a bit sad that it was all over.
Returning to reality is always tough after weekends like these spent cultivating old friendships, sowing new ones, and creating memories to a wonderful soundtrack. We were really fortunate that Above & Beyond hosted ABGT500 in LA. With 500 behind us, I cannot wait for future milestones and know that no matter where they are in the world, Group Therapy is our little extension of home because of the community that this iconic trio has helped foster over the years.
---
Follow Above & Beyond on Social Media:
Website | Facebook | Twitter | Instagram | SoundCloud | YouTube