After announcing a flurry of bass artists, Beyond Existence completes their 2022 lineup with some early arrival additions and more.
---
As the seasons change and bring the festival season to an end, it gives everyone the opportunity to absorb all of the unforgettable moments we have experienced over the summer. But before everything shuts down for the winter months, Beyond Existence is giving bass lovers an event to get their final fill of tasty tunes on November 3-5 to help get them through the offseason. Being the festival's third edition, attendees can expect nothing short of ascension after spending a rejuvenating weekend at Carson Creek Ranch in Austin, TX.
All eyes were on Beyond Existence once the first lineup drop reached social media platforms, and it was easy to see why. Racking in headliners like Kursa (with two sets), Meso, and Ternion Sound, people couldn't wait to see who else would fill the bill. The second phase only intensified the anticipation as they added acts like A Hundred Drums, Super Future, Player Dave, Dalek One, and Resonate Language to help get bodies moving.
Just when you thought the weekend couldn't be more jam-packed with all the good tunes, Beyond Existence announced the exciting news of an additional early arrival day to the mix with An-ten-nae, Wav-E, some local talent from Whitty b2b Koad, and more. Topping it off, good music deserves to be accompanied by good visuals, and the festival is doing just that by bringing Nox Lumina, Data-Byte, Smudge Visuals, and Analyze Visuals, among others, along for the ride. These visual artists will be staying busy to keep your eyes filled with wonderment all weekend.
Check out the final lineup below and head on over to Beyond Existence's official website FAQ tab for any questions you might have about the upcoming edition. Don't miss out on the chance to be a part of the mind-expanding experience and create memories that will last for a lifetime.
Tier two tickets are still available, but they're going fast. Grab one while you still can on the Beyond Existence website to experience this magical weekend for yourself!
---
Beyond Existence 2022 – Lineup: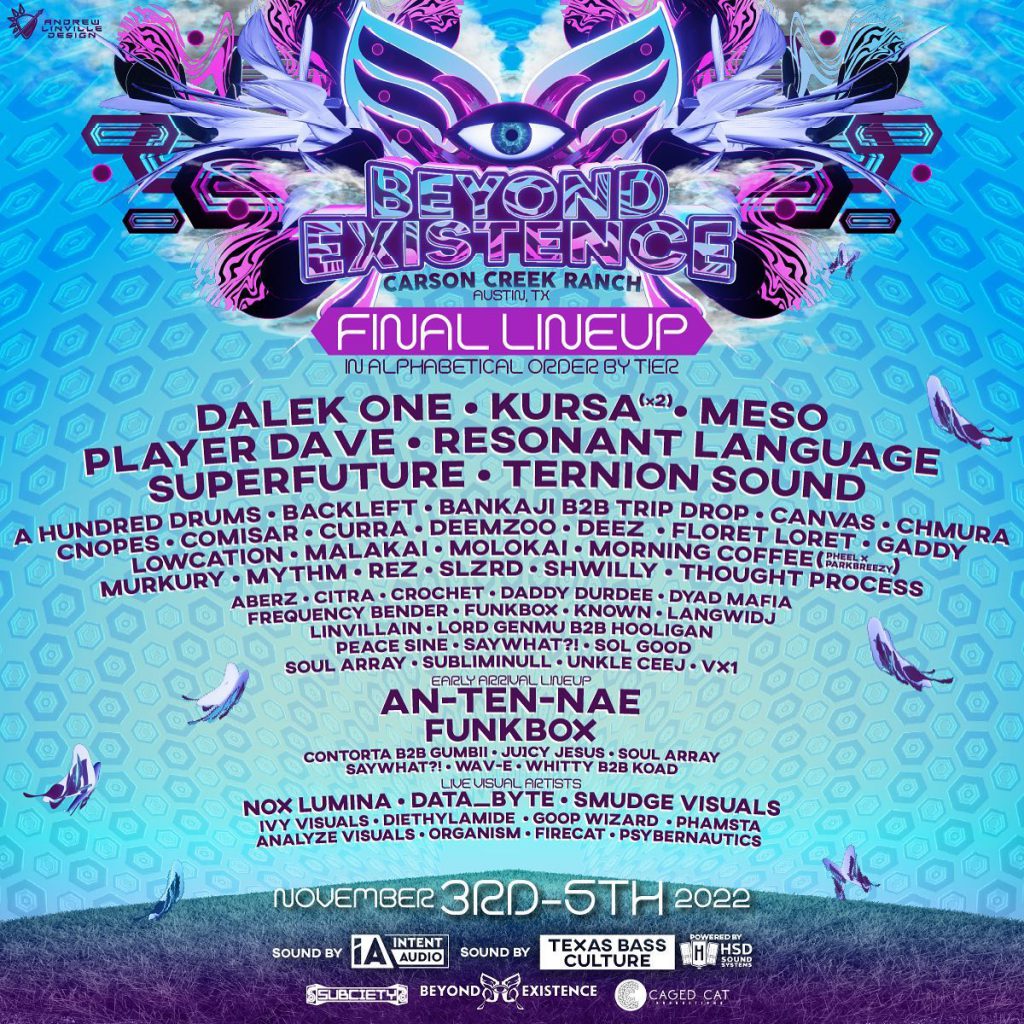 ---
Follow Beyond Existence on Social Media: