Mark your calendars because Beyond Existence is back with Ternion Sound, Kursa, Meso, MYTHM, Floret Loret, and more to be announced!
---
Beyond Existence Festival is set to touch down at Carson Creek Ranch in Travis County, Texas to wrap up the 2022 festival season with one last hoorah on November 4-5. Returning for its third year with the thought of community at the forefront, this fall fest is guaranteed to be a weekend full of loving connections with some crave-worthy bass music to keep your feet moving.
If you haven't heard of this Beyond Existence Festival yet, this is your sign to become familiar. With two successful years behind them, this year is sure to be another exciting edition. Although the festival will take place in the fall, you can count on the crew to keep the summer energy flowing even when the sun begins to lose its luster making it the perfect final escape before the winter chill sets in.
To further prove the epic experience that lays ahead, Beyond Existence dropped a head-turning phase one lineup. It's obvious that bass heads are definitely in mind when they curated the lineup. Headlining the festival are Kursa (with two sets), Meso, and Ternion Sound. Joining them are other talented artists including Floret Loret, DeeZ, Murkury, MYTHM, and Lowcation, among others who are sure to provide tasty sounds to keep you grooving into the night. If this is only the tip of the iceberg for what is to come, attendees are in for a treat.
If dancing under the starlit sky to some of the best sounds that the underground bass scene has to offer sounds right up your alley, then don't hesitate and make your way down to Carson Creek Ranch for some end-of-the-year fun. If you're interested in contributing to Beyond Existence, applications for live artists, vendors, and performers are open as well.
The pre-sale for tickets is available now, grab one while they're at their lowest price on the Beyond Existence website, and keep an eye out for more details about the festival in the upcoming months.
---
Beyond Existence 2022 – Phase 1 Lineup: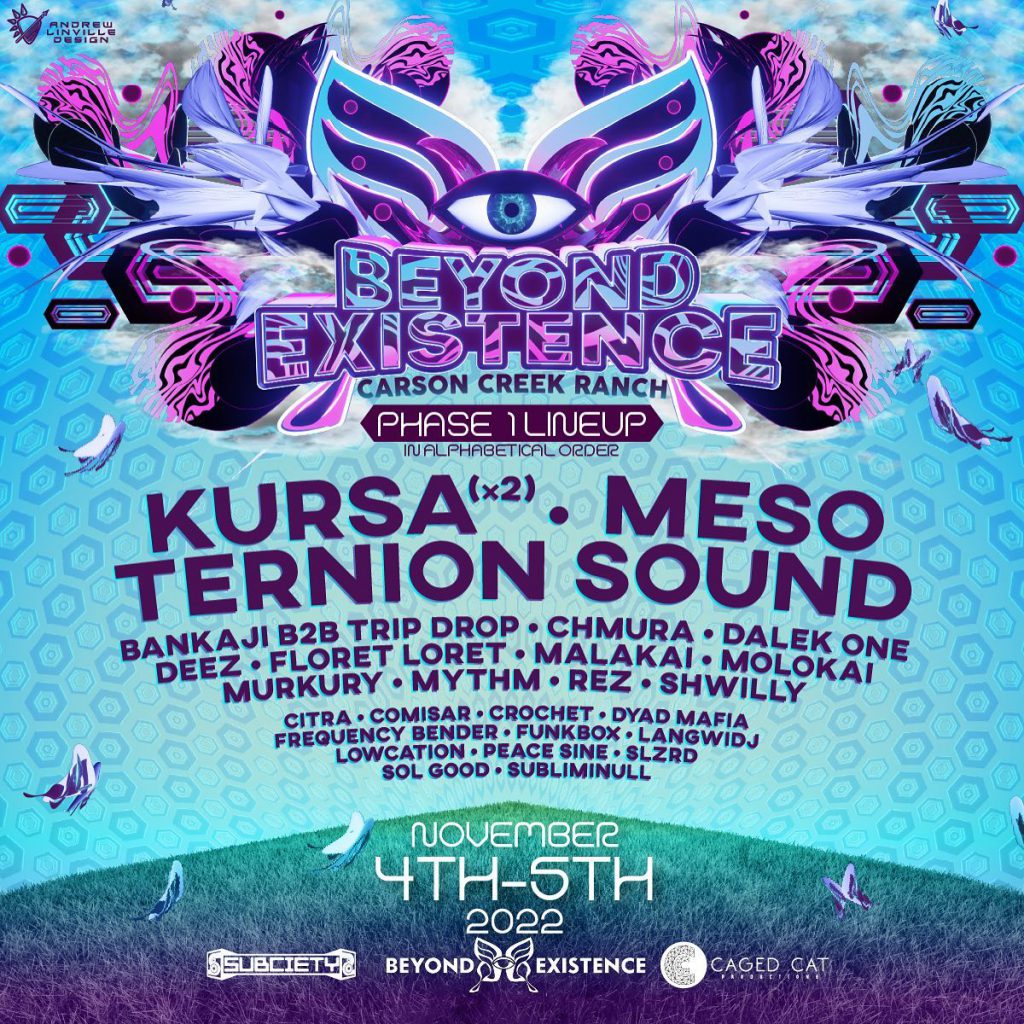 ---
Beyond Existence 2022 – Phase 1 Lineup By Artist:
Kursa (x2)
Meso
Ternion Sound
Bankaji b2b Trip Drop
Chmura
Dalek One
DeeZ
Floret Loret
Malaki
Molokai
Murkury
MYTHM
Rez
Shwilly
Citra
Comisar
Crochet
Dyad Mafia
Frequency Bender
Funkbox
Langwidj
Lowcation
Peace Sine
SLZRD
Sol Good
Subliminull
---
Follow Beyond Existence on Social Media: