This year's edition of CRSSD Festival Fall brought a jam-packed lineup of legendary artists and rising stars for a special weekend in San Diego.
---
Since its debut in 2015, the spring and fall editions of CRSSD Festival have become must-attend weekends for house, techno, and indie dance lovers in Southern California. While the scene has changed over the course of its run, these flagship festivals from FNGRS CRSSD haven't shifted all too much. Minor changes have been made to the layout to adjust for sound bleed, and vendors have been swapped out to offer more unique food options. Still, outside of that, CRSSD Festival continues to be the familiar experience that thousands flock to San Diego to check out.
This isn't a knock on CRSSD Festival being mundane. In fact, after attending every edition since its inception, I'd say that this festival is anything but that. FNGRS CRSSD was ahead of its time when these two festivals debuted seven years ago as the sound of house and techno began to rise in popularity in the scene, leaving other promoters scrambling to play catch-up to mint their own. Yet, unlike their competitors, their music-first mentality and highly curated lineups have led to their continued success with each passing edition as they work within the confines of Waterfront Park.
The plethora of events that FNGRS CRSSD debuted since the dust of the pandemic began to settle saturated the market in San Diego, but the byproduct of this has made CRSSD Festival even more curated than before. Sure, this year's fall edition saw familiar faces like MK, Richie Hawtin, AC Slater, and Stephan Bodzin return to take the stage – but countless artists were making their debut, along with some even deeper cuts as well. This included Fatboy Slim, Orbital, Moderat, Fred again.., The Avalanches, Duck Sauce, VTSS, Testpilot, and Mochakk, among others.
While this lineup did feature mainstream artists who would surely draw in plenty of attendees, there was chatter before the festival about the power found in this lineup compared to DAY MVS XL in August or even Goldenvoice's Portola that was happening the same weekend in San Francisco. Yet I appreciated this fresh offering that FNGRS CRSSD curated for the fall edition of their festival because as my time in the scene grows, my desire to explore and break out of my norms grows right along with it.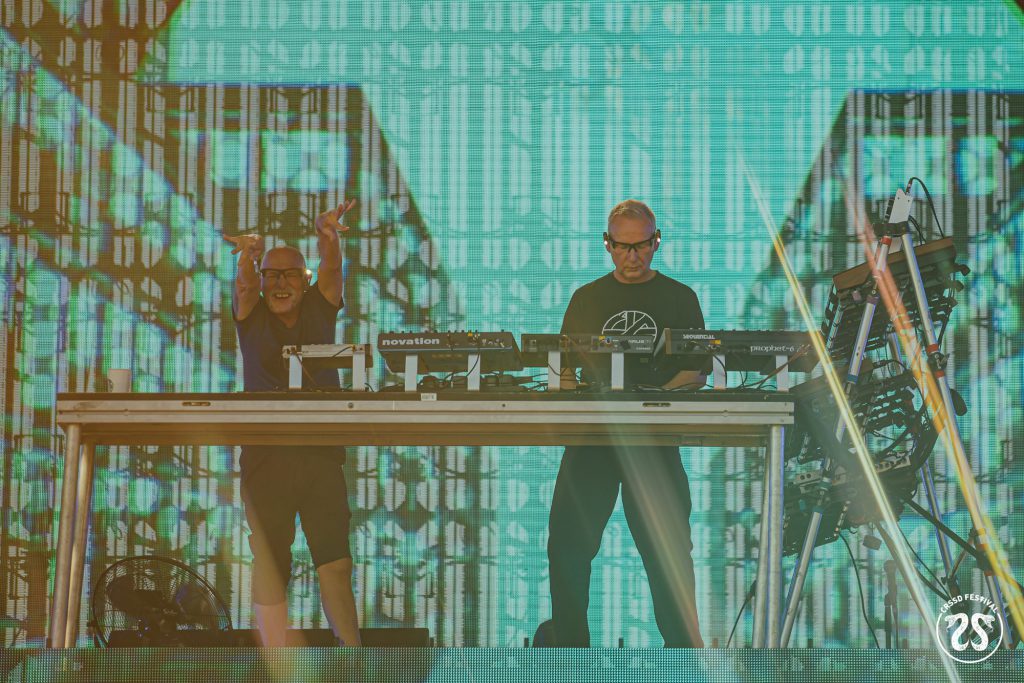 CRSSD Festival Fall took place during a hot weekend in San Diego, but the sets were even hotter.
Looking to avoid the heat of the day, my experience at the festival began just after 3pm on Saturday. While I, unfortunately, missed out on Deeper Purpose, Biscits, and Chloe Robinson, I was ready to find my groove for the day when the first conflict presented itself – Westend versus L'Impératrice. Both are artists I have fallen in love with, but L'Impératrice is a more challenging find in the US, and I only had the chance to catch the French band play for the first time at Coachella earlier this year. Their set was incredible on the Ocean View stage and perfectly set a vibe I'd carry with me throughout the rest of the weekend.
Testpilot began soon after, and my friends and I were excited to see what deadmau5 had cooked up for his latest experience. His set was brimming with quality techno tunes and some remixes that won the crowd over, and I don't think I've ever seen him as excited and happy behind the decks as he was at the City Steps stage. Then, another standout from the weekend was set to play the Ocean View stage, DRAMA, who completely wowed with their live performance as they ran through their biggest hits during their 45-minute set. This was another first for me, with many around me realizing that this Chicago-based duo was also behind some of their favorite hits from Gorgon City.
I opted to get a dose of house from Sonny Fodera and Dom Dolla at The Palms, but the crowd swelled to such a massive size during Dom Dolla's debut performance at the festival that it was a bit uncomfortable. Leaving mid-way through, I skipped out on Duck Sauce and instead chose to get a dose of hard techno from VTSS. I don't regret that decision in the slightest, and VTSS won over a new fan that night as she dominated the crowd at City Steps which was fairly sparse considering the two other huge acts that played against her. Continuing the onslaught of techno was Joseph Capriati, who led my group and many others into the final moments of the first day with some of his biggest tunes.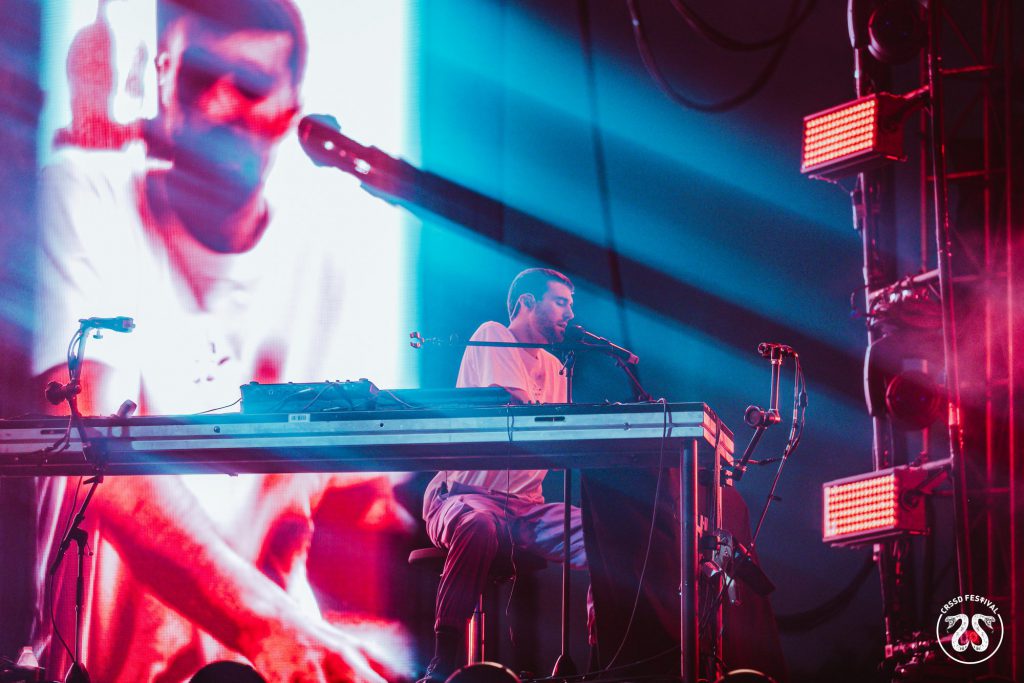 The second day of CRSSD Festival Fall packed even more dynamic sets to catch.
Rolling into the festival around the same time on Sunday, I raced over to catch a dose of Franky Wah's immersive techno beats before heading to Orbital at the Ocean View stage. I can't recall having ever seen the legendary duo play before throughout my time spent in the scene, and after experiencing their set, it made me feel as if I had been missing out the entire time. They churned through their old hits, including "Satan" and "Halcyon On and On," along with their new track "Smiley," it was just pure rave vibes that would've only been better if their set time was a bit later.
The Avalanches were an interesting addition to the CRSSD Festival lineup, so I headed there next to inject some funky disco vibes into my day. The only thing that seemed to prevent this set from being more lively was the crowd, who had hidden themselves on the left side in their hunt for shade as the sun bore down on everyone. It was time for a touch more techno and some food, so I grabbed a bit to eat during Sven Väth's performance at City Steps before making one of the weekend's biggest decisions – would I miss ARTBAT and Reinier Zonneveld to see Fred again.. make his debut at the festival.
Fred again.. 's rapid rise in the scene has been remarkable to watch, yet much like many other artists who have been on a similar ride, I've felt disconnected as their popularity swelled. While I have enjoyed his music, I didn't see him play at Coachella or other opportunities that have presented themselves this year, so I figured I'd give him a shot at CRSSD Festival. Overall, his set was fun, and I enjoyed it, although I would've preferred to be in a smaller crowd and have a bit more energy to keep my night rolling on strong.
The energy I sought was found at Reinier Zonneveld, who I headed over to after Fred again.. finished. Techno won my heart over yet again as I caught the final 30 minutes of his set, and it made me wish that this set time conflict didn't exist as I would've preferred to be pummeled into submission by the Filth On Acid label boss. The end of the night saw me bump between the infectious house tunes that Fatboy Slim threw down and the immense techno soundscapes that Richie Hawtin created at City Steps. These two sets acted in stark contrast to each other but highlighted everything I love about CRSSD Festival because both crowds were an absolute party with high-quality tracks getting played out. It was a beautiful end to a fantastic weekend.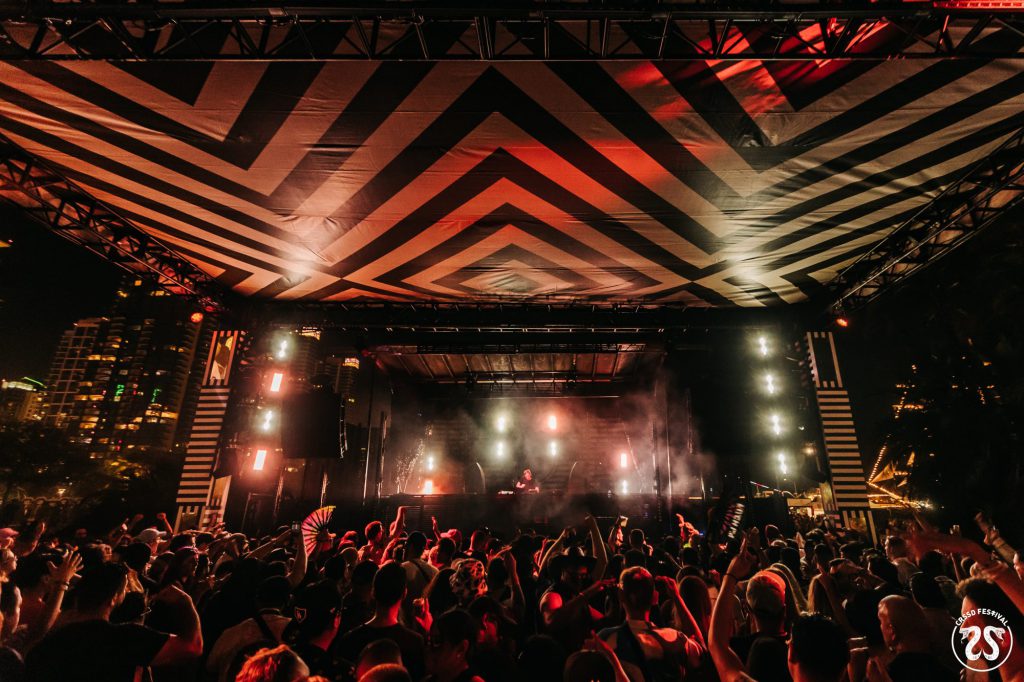 CRSSD Festival Fall was all about exploration, which I hope others also find a passion for.
Over the years, I've found that many people in the scene, myself included, fall into a cycle of only seeing a small selection of artists repeatedly. This is partially due to lineups from festivals becoming relatively stagnant at times but also because there's a sense of familiarity with favorite DJs and typically knowing what you'll get from them. While I'm not here to say you should dash all your plans and not see your most beloved act for the dozenth time, I hope that more people in the scene do spread their wings and catch sets that are out of the norm for them.
FNGRS CRSSD provides a solid base camp for the beginning of your journey with its CRSSD Festival lineups, and this year's fall edition only further put that on display. Not only does it buck the trend of many other festivals that put other aspects first, but it creates a more rounded experience for attendees that will only lead to their longevity in the scene. I hope they continue to dig deep with their lineups and continue this tradition for years to come.
---
Follow CRSSD Festival on Social Media:
Website | Facebook | Twitter | Instagram | SoundCloud | YouTube