As one of the busiest DJs on the planet lately, Dom Dolla talks about life on the road, unexpected moments, and why he enjoys touring the US.
---
Australian producer and DJ, Dom Dolla, has been quite the busy performer lately. He's been on the bill at nearly every notable US festival including Coachella, EDC, and Movement, just to name a few. He's also headlined some incredible standalone shows at venues like Red Rocks and Brooklyn Mirage. Whatever else you want to say about Dom Dolla, you simply cannot say that he's resting on his laurels!
During the relative calm of the pandemic, Dom Dolla pushed forward with new productions and videos, some of which are still banked for future release. The trippy video for "Moving Blind" with Sonny Fodera is one such example; and also an example of how nothing in the Dom Dolla universe is ordinary. His music is forever dancey and his videos range from simply unexpected to downright weird (and we're here for all of it!).
As 2022 allowed artists like Dom Dolla to tour once again, he has taken full advantage of the opportunity and seems to never sleep (Although you'll read below that sleep is precisely how he copes with his bonkers travel schedule!). So, if you want to tap into the mind of the man who consistently makes us move, then smash the play button on his recent track "Miracle Maker" below and continue on for our chat!
Listen to Dom Dolla – "Miracle Maker" on Spotify:
---
Hey Dom, thanks for squeezing in this chat with us. You seem like one of the busiest touring DJs on the planet right now. How are you holding up with all the gigs and travel lately?
It's been quite a busy year. The simple answer is sleep. But I must say the energy at the shows post-pandemic has been incredible. I'm thankful to be back on the road.
You've recently played Ultra, Coachella, EDC, and Movement among other gigs. While these are all big US festivals, each also has a life of its own. Do you have a favorite and how do you perform at each of these differently? Or similarly?
You're essentially asking me to choose my favorite nephew/niece. Each of these shows is special in its own unique way. There's a certain magic that comes with Miami. Coachella is such a prestigious and global event. EDC, I've never seen a production like it. Movement's cultural significance makes it feel very special. How do I perform at each? I view each of these events as a dress-up party. Prepare accordingly.
I got to see you at Movement and I was on the rail with friends dripping in the sweltering heat that day. At one point your sound went out and I was so impressed that you didn't miss a beat while the engineers ran around in a panic to fix the problem. What goes through your mind at that moment and how do you pick it back up when the problem is fixed?
My instinct was to take the opportunity to crack a couple of beers with the crowd. Sounds like we needed a moment to catch our breath with the heat. Hang on… Did you cut the sound? Hahaha
Speaking of unexpected moments, your recent set at Red Rocks was invaded by Mother Nature and a rare spring snow event. You said this was "the best set of your life," but how do you cope with unexpected weather events like this?
I simply dress accordingly, haha. But in all seriousness, playing at such an iconic venue, with 9,000 people going turbo, turned the unexpected into the extraordinary.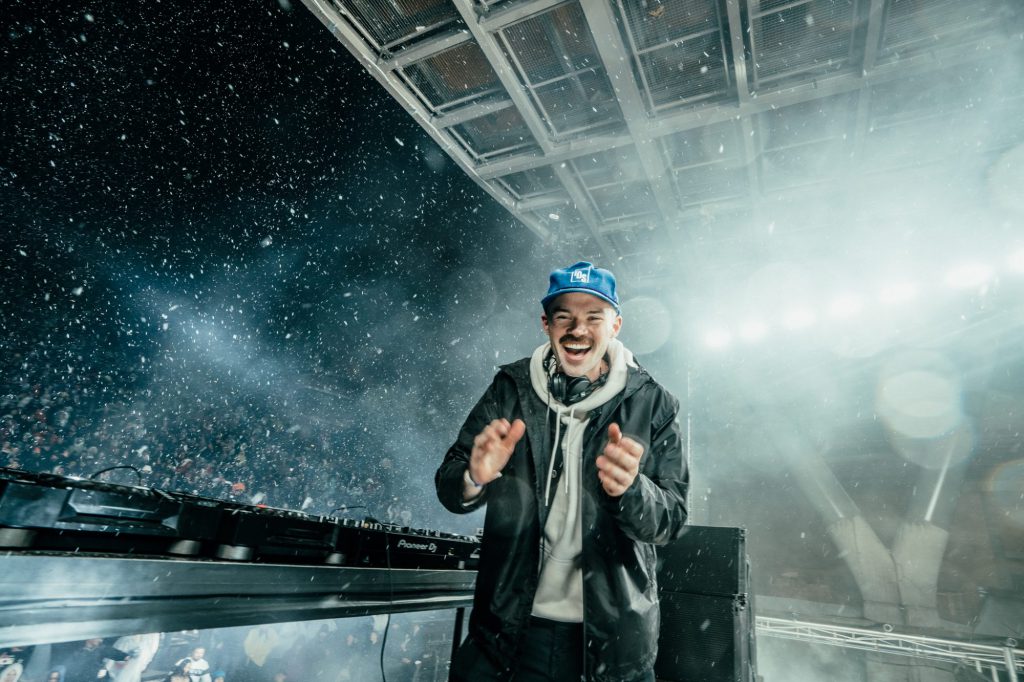 You've opened many sets recently with an ID that fans will be thrilled to know is the now released "Miracle Maker". To me, this is a house heater that has throwback vibes to the 90s and it's truly addictive! Is this an intentional throwback and what else can you tell us about this record?
During the pandemic I decided I wanted to try my hand and write a timeless rave record that not only made listeners nostalgic for the past but excited for dancefloors to return, I put the instrumental together, then reached out to Clementine and Caitlin, who I knew would bring the right energy and performance.
As we just left Pride Month it seems a good time to ask about your video for "Strangers" (with Mansionair). The origins of house music are BIPOC and LGBTQ+, and this video clearly celebrates these origins. How important do you think it is to honor this history and to present a defiant view of "normal" to the masses?
It's an important issue, representation for anyone in these minorities both empowers and validates. House music has a colorful history and as the genre crosses over I believe the origins should be represented loud and proud!
Let's wrap up with something a bit lighter. As an Australian spending a lot of time in the US lately, what do like most about touring and performing here?
Iced Americanos, fast internet, and the fact that within the space of a couple of days you can experience a 7-hour session on the Miami Space Terrace dancefloor, a pool party in Vegas, a doof in the desert, or a rave in the forest – Whilst bumping into will.i.am in his car at the traffic lights along the way.
---
Follow Dom Dolla on Social Media:
Website | Facebook | Twitter | Instagram | SoundCloud