Heading to the debut edition of Portola Festival? Stay in the know will the set times, festival map, what not to bring, and other essential info!
---
As fall descends on San Francisco and the August fog rolls away, the Bay Area temperatures stay warm, allowing for more fun in the sun. Making its debut this year is Goldenvoice's Portola Festival, which kicks off September 24-25 at Pier 80. The name is an ode to the Portola Festival of 1909, marking the reopening of San Francisco after the 1906 earthquake. These festivities signify the return to events and dancing in 2022.
Attendees can catch some of the biggest names in dance music across four stages, all with spectacular views of downtown or the bay. Artists on the lineup include Flume, Gorgon City, Bob Moses, Justin Martin, Lane 8, Channel Tres, and the newest household name Fred Again... Whether your vibe is more experimental, house, or funk-inspired beats, there will be no shortage of fantastic music and dancing all weekend long.
Related: Explore the artists set to play Portola Festival by checking out our Spotify playlist!
The party doesn't stop there; all week, artists from the lineup will be performing special sets in various venues in San Francisco during what is being called Portola Week. Tickets are still on sale for both the main festival and various Portola Week events. You won't want to miss out, so make sure to grab those now before they sell out.
---
Portola Festival 2022 – Essential Info:
Dates: September 24-25, 2022
Hours: Doors at 12pm PT both days
Venue Address: Pier 80 – 401 Cesar Chavez, San Francisco, CA 94124
Tickets: Purchase HERE
Download the official Portola Festival app on your iOS or Android device to stay in the know during the festival.
---
Portola Festival 2022 – Set Times: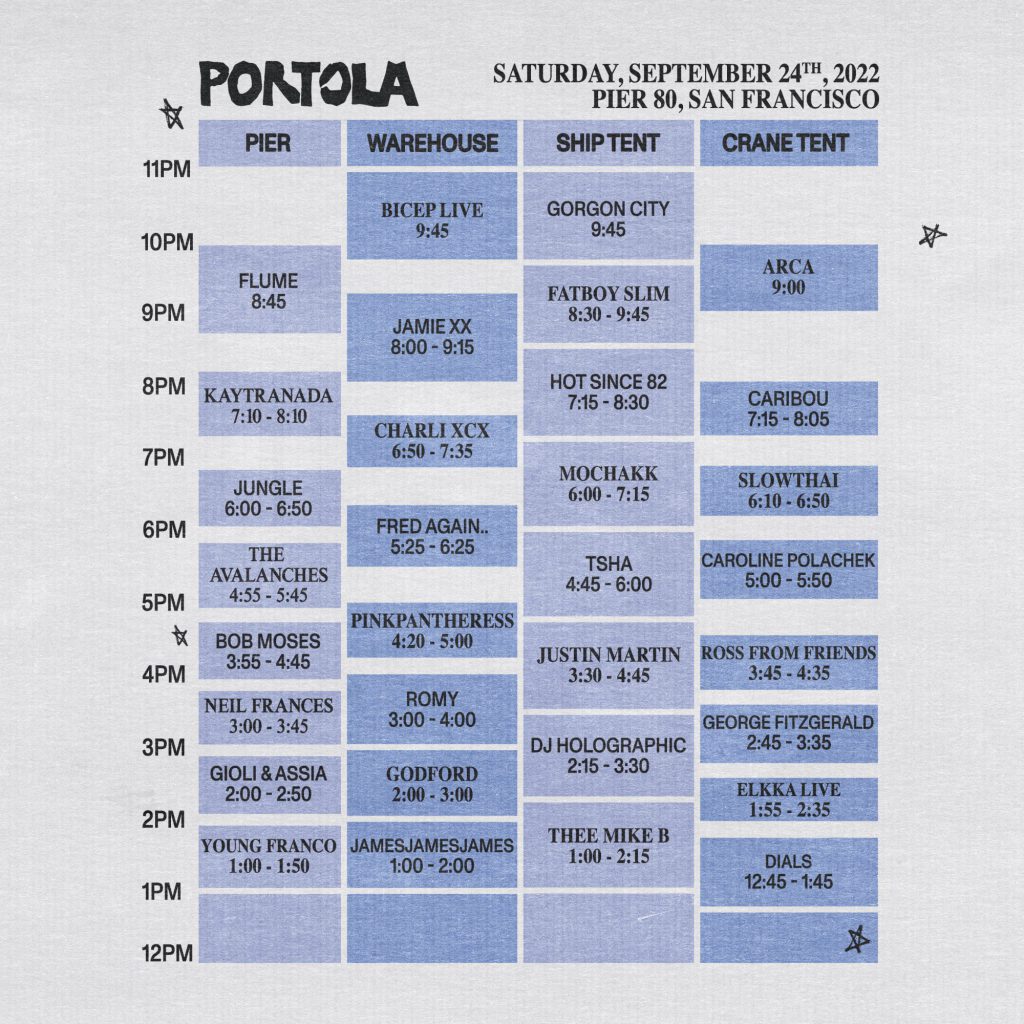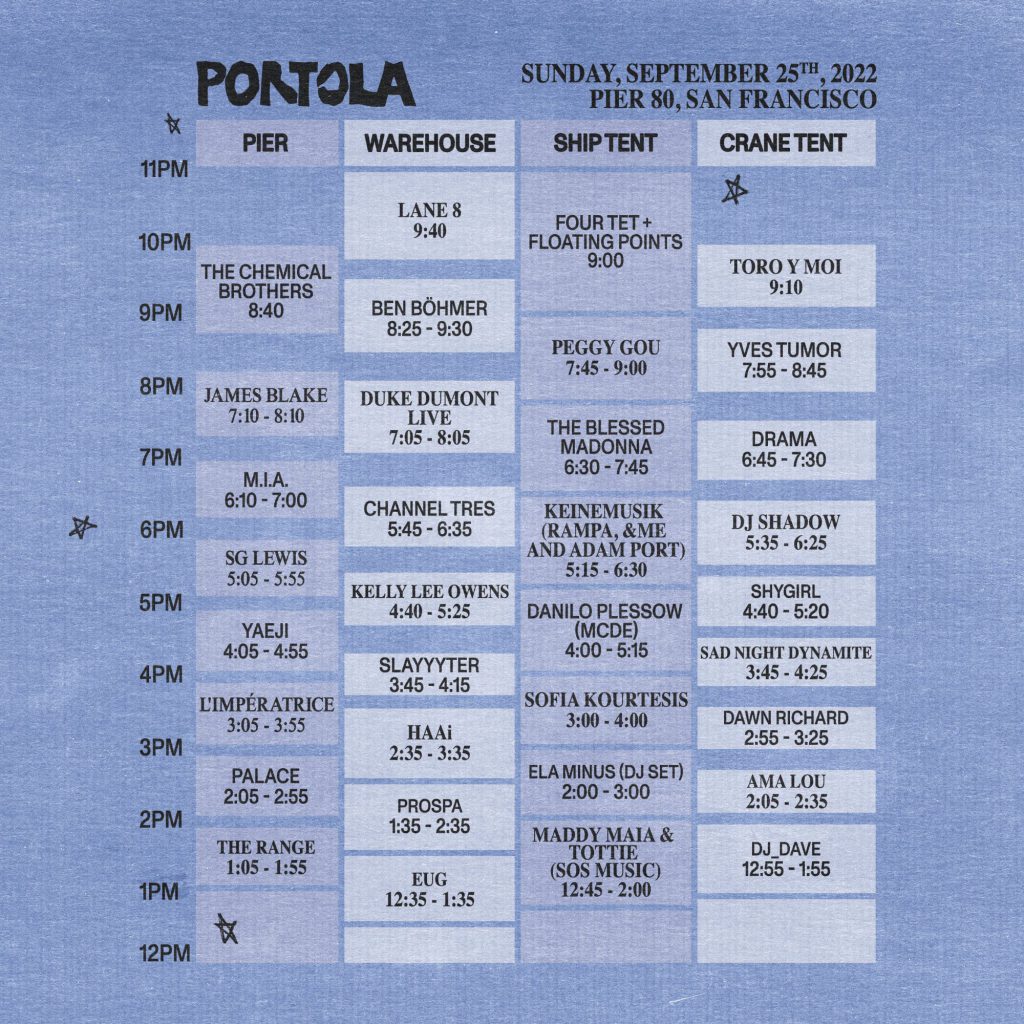 ---
Portola Festival 2022 –  Festival Map: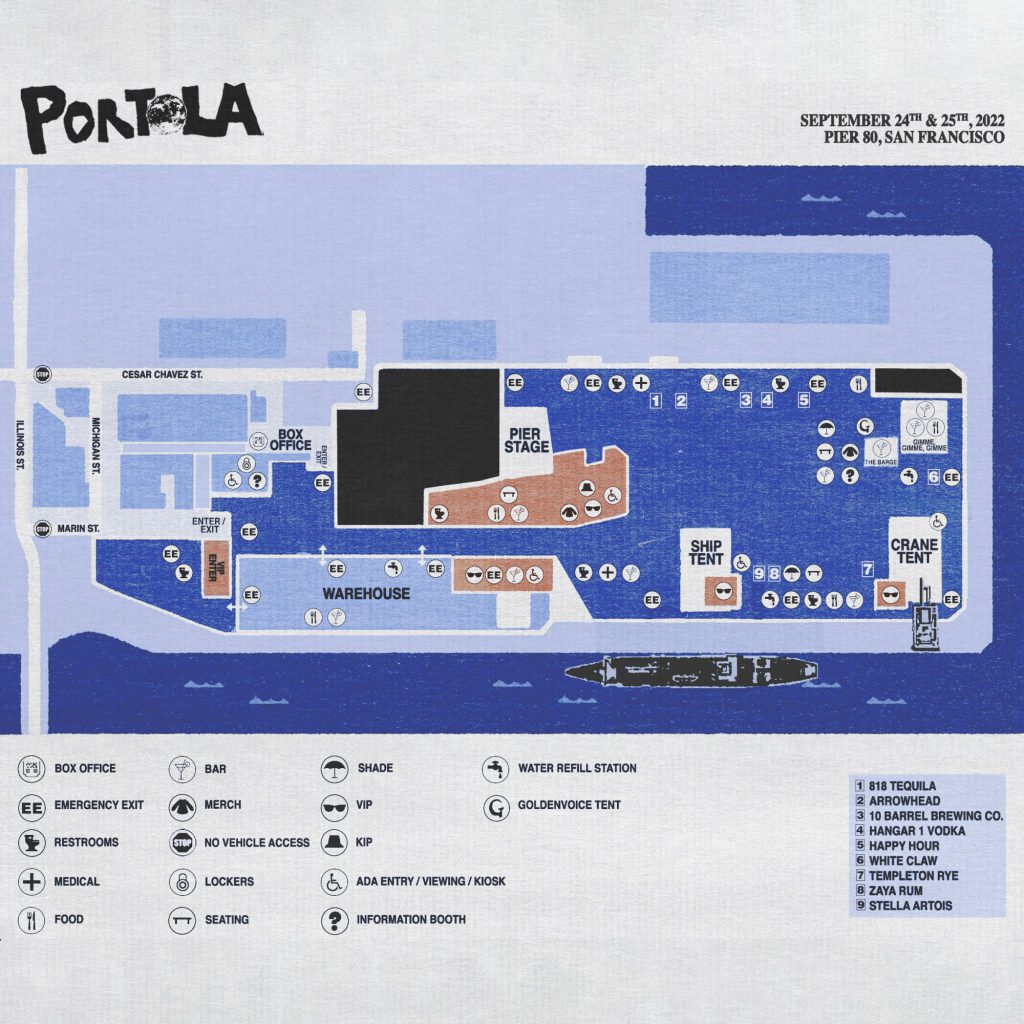 ---
Reminder To Mind Your Belongings:
Unfortunately, many people have reported pickpockets, bag slashings, and theft of wallets, smartphones, purses, and other valuables during this festival season. While this small number of bad apples in the bunch doesn't define an entire crowd, there are opportunistic people who come to these events to take advantage of unsuspecting partygoers, and it's important to be mindful of your valuables while at Portola Festival.
Looking for tips to keep your belongings safe? Check our post highlighting some ideas!
---
Portola Festival 2022 – Do's & Don'ts:
Prohibited Items
NO Advanced First Aid Kits (Advanced first aid kits include but not limited to hemostatic gauze or powder, tourniquets, compression bandages, decompression needles, or chest seals)
NO Aerosol Products/Aerosol Cans
NO Air Horns
NO Animals
NO Audio Recording Devices
NO Bicycles, Skates, Scooters or Skateboards
NO Blankets
NO Body Armor
NO Coolers
NO Chains or Chain Wallets
NO Chairs
NO Detachable Lens Cameras
NO Drones or Remote Control Aircraft, Cars or Toys
NO Fireworks, Explosives or Road Flares
NO Flags
NO Flyers, Samples, Giveaways or Promotional Items
NO Glass Bottles or Containers
NO Glow Sticks, Light Sticks, or LED Gloves
NO Hammocks
NO Hula Hoops
NO Hoverboards or Segways
NO Illegal Drugs or Drug Paraphernalia
NO Instruments
NO IV Bags
NO Kites or Sky Lanterns
NO Laser Pointers
NO Markers or Paint Pens
NO Massagers
NO Metal Water Bottles or Containers
NO Outside Food or Beverage
NO Non-Personal Protective Equipment (PPE) Masks (costume)
NO Selfie Sticks, Tripods or Narcissists
NO Smelling Salts
NO Stuffed Animals
NO Tailgating
NO Tents or Sleeping Bags
NO Tourniquets
NO Toy Guns, Water Guns or Sling Shots
NO Totems
NO Umbrellas
NO Video Cameras
NO Wagons
NO Walkie Talkies
NO Weapons (Guns, Knives, Ammo, Pepper Spray, Mace, etc.)
Permitted Items
YES Backpacks (Medium) 18″x13″x8.5″
YES Bandaids
YES Binoculars
YES Breast Pump (Manual, Battery Operated, Or Powered Devices)
YES CamelBaks (Empty)
YES Cameras (Non-Pro Digital, Disposable, Polaroid and Film)
YES Chapstick and Lip Balm
YES Dancing Shoes
YES Ear Plugs
YES Eye Drops
YES Fanny Packs and Hip Bags
YES GoPros
YES Gum (sealed packs)
YES Hand Sanitizer
YES Hats
YES Inhalers
YES Makeup
YES Mobile Phone Chargers
YES Parasols
YES Plastic Water Bottles (Empty and Reusable)
YES Personal Medication (Name On Medication Must Correlate With Persons DL or State ID)
YES Personal Protective Equipment (PPE) Masks
YES Purses and Handbags 12"x6"x12")
YES Stored Breastmilk or Formula
YES Sunblock (Non-Aerosol)
YES Sunglasses)
YES Towels (small-medium size)
---
Follow Portola Festival on Social Media: