As Festival Season kicks into full gear, it is important to protect yourself from those looking to take advantage of unsuspecting festival-goers with our safety tips.
---
There is nothing worse than partying it up at an event or festival, having the time of your life, and then suddenly coming to the realization that your bag has been slashed open or your phone is missing from your pocket. Even worse would be coming back to your parked car to find your windows smashed or your campsite has been ravaged while you were inside the festival.
We've all been there, whether we've had something taken from us or we just know someone who experienced it, and the feeling that hits you is unmistakable. Sad, confused, but more than anything vulnerable, it's hard to pull yourself out of the negative vibes. Additionally, losing your phone, cash, or ID Card can absolutely put a halt to your weekend and wreck the plans you've spent time and money on.
While we like to believe that raves and festivals are full of PLUR vibes and amazing people, there are always some bad apples in the bunch. Over the past few years, there has been a serious uptick in reports of pickpockets, stolen items, slashed bags, and more as opportunistic thieves find their way to events to take advantage of unsuspecting party-goers.
With that in mind, we've decided to combat this practice by compiling some handy tips for you ahead of festival season on keeping your belongings safe and sound. Although we cannot guarantee that you won't have something stolen, these suggestions will increase your chances of having your items with you at the end of the trip. And always make sure that if you see something shady, say something loudly and inform security or police of what you saw!
Five Tips To Keep Your Belongings Safe While Attending Events
---
Pay attention to who's around you and what's going on in the area.
If you feel someone is scoping your group out as a potential target, don't hesitate to tell someone and potentially even move your group to a new location. Always make sure that someone is staying close to your bags if you've piled them up on the ground.
If a friend isn't standing behind you in a crowd, be careful of your backpack or purse, and don't put valuables in a pocket that could easily be unzipped by someone behind in a crowded spot without you realizing.
Keep your wallet and phone in your front pocket or in a secured location with a runner's belt.
While front pockets aren't necessarily the best solution, it decreases the chance of someone grabbing your phone or wallet without you knowing. Phones and wallets can be easily slipped out of a back pocket, so at the very least it will give the potential thief a more difficult target. Consider investing in wearing cargo shorts with buttons instead of zippers since those are less easily maneuvered.
Additionally, if consider investing in a runner's belt or a traveler's wallet. These items will keep your money, ID, and even your phone close to your body and in a difficult to reach place.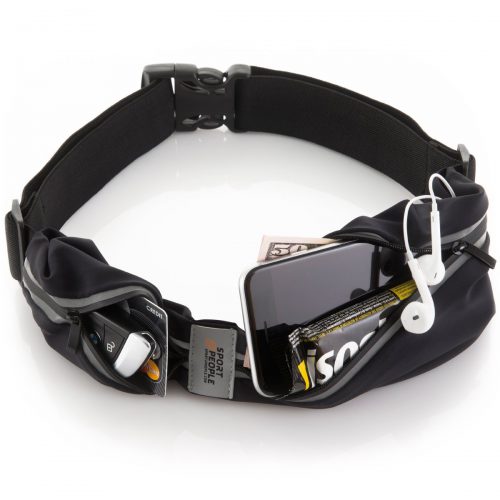 Treat your phone the same way you would treat cash.
When you're at the bar, don't set it down on a table or bar and look away. Whether you're at the bar or a charging station, stay close to your device and stay alert to potential people who are looking to grab it. Also, when you're messaging your friends or on your phone be sure to have a decent grip on it as well, which means you should be using a non-slip phone case like one from companies like Spigen or Speck.
Bring a second form of ID and leave it in your hotel room or in a safe place.
This tip is less about being inside the festival and protecting your items and more about guaranteeing your re-entry the following day. If you do happen to have your ID stolen or lost, having a second form of identification will make sure that you don't end up sitting in your hotel room for the rest of the weekend.
It is fairly quick and cost-effective to order a second Driver's License or even just a backup Identification Card, and you'll be thanking yourself later if you end up needing it!
Take note of the area that you're parking in.
When parking your car at an event, make sure that your aware of the surroundings and area you're spot is. Choose a parking spot in a well-lit area, one that is close to security, and make sure that you're in an official lot if possible.
Additionally, make sure to not keep any valuables in your car, and store anything that may be of value out of sight in the trunk or glove box.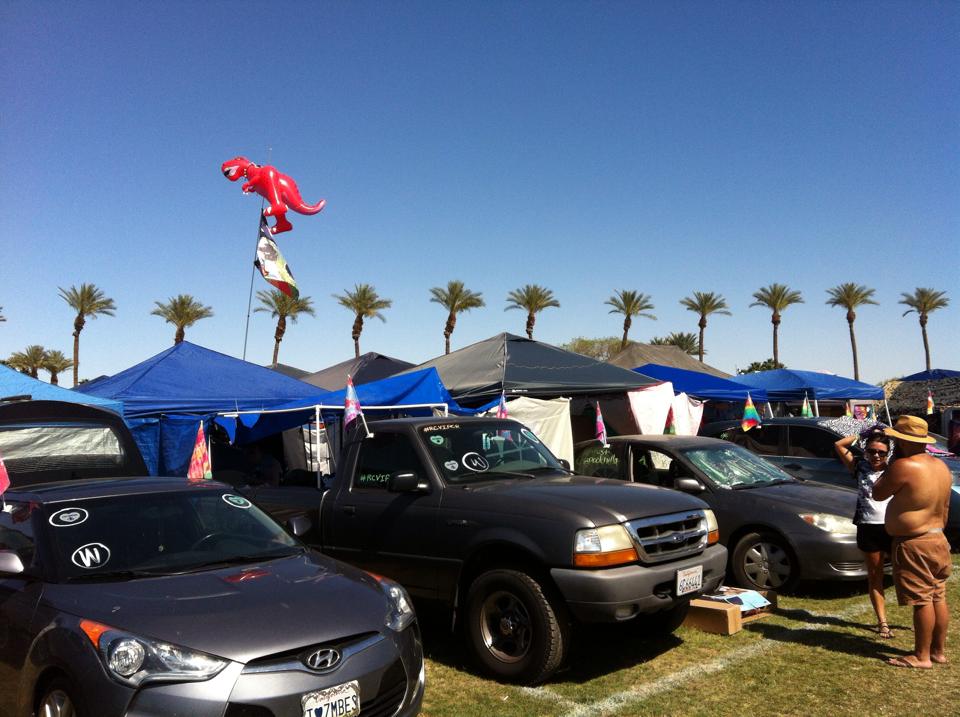 Heading to a camping festival? Here are some additional tips!
Don't bring anything valuable with you to an event that you can't afford to lose. There isn't really any reason to bring priceless, expensive, or sentimental items with you to a festival environment to begin with and even more so, a camping event, so leave them at home.
If your festival has car camping and you're attending in that manner, hide anything that is potentially an item that might be a target out of sight. Many cars also have lockable glove boxes or compartments in the trunk that could assist with storing valuables.
Heading to a European-style camping festival in which your car isn't close-by? Consider renting a locker to store your valuables if you must bring them with you.
While they may not deter thieves from slashing your tent open, you decrease the chance of someone entering your tent at a festival by simply putting a small, TSA-style lock on the zipper when you're not at the campsite.
Make sure to keep your phone and wallet inside your sleeping bag while you get some shut-eye, as thieves have been known to slip into tents and grab items from the pockets that hang on the inside.
---
Hopefully, by following these tips, you won't have a negative experience like many others have in the past due to those looking to take advantage of the festival environment. The best way to prevent theft is by keeping your valuables at home or securely stored on you!
What are your top tips for keeping your belongings safe at festivals? Let us know in the comments!