Saxophone-playing bass maestro SoDown announces his debut album, Worlds Beyond, and the accompanying nationwide tour.
---
It's been seven purposive years since SoDown released his first EP and set off with his saxophone in tow. Earlier this year, the Denver-based bass producer delivered the Get Up EP and a remix of Black Tiger Sex Machine, Hairitage, and Hyro The Hero's "Cheatcode." Today, SoDown announced the next chapter of his career with news of his first full-length album, Worlds Beyond.
Expected on November 4, SoDown confides that Worlds Beyond is a bit out of character for him. "For my debut album, I wanted to be more vulnerable, both lyrically and musically," he states. "I consider myself a pretty positive person, but I wanted to explore some of the uncomfortable realities we all inevitably face in life."
The album's lead single, "All Go Wrong," is the second track that SoDown has worked on with vocalist Bailey Flores and gives listeners a brief taste of what they might expect from the album and the tour. This track evokes some of these feelings as it touches on feelings of being lost and existential musings of "where did I go wrong?"
Accompanying the new album is an expansive 25-date nationwide tour. The tour is set to kick off in September with SoDown's debut at Lost Lands Festival and will feature performances at festivals like Freaky Deaky and Ember Shores before concluding with a special hometown headlining show at Denver's Mission Ballroom show in early 2023. Support artists for the tour are varied but include kLL Bill, Jaenga, Maddy O'Neal, Bass Physics, Marvel Years, and Evalution.
Tickets for Worlds Beyond Tour are on sale now and can be purchased on SoDown's website. In the meantime, listen to "All Go Wrong" on Spotify or your preferred platform, and let us know what you think of the new single on Twitter!
Stream SoDown & Bailey Flores – All Go Wrong on Spotify:
---
SoDown – Worlds Beyond Tour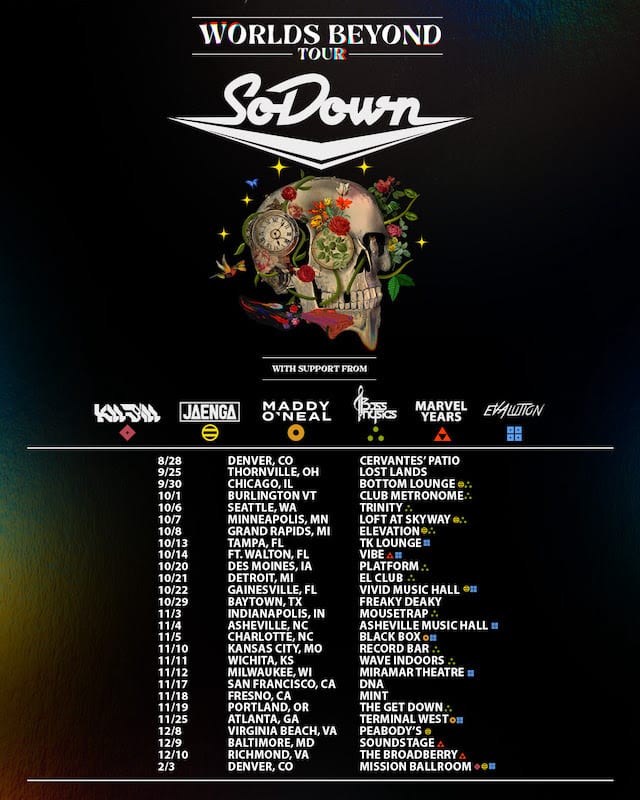 ---
SoDown – Worlds Beyond Tour – Dates & Venues:
September 25: Lost Lands Music Festival 2022 – Thornville, OH
September 30: Bottom Lounge – Chicago, IL
October 6: Trinity – Seattle, WA
October 7: Loft at Skyway – Minneapolis, MI
October 8: Elevation – Grand Rapids, MI
October 13: TK Lounge – Tampa, FL
October 14: Vibe – Ft. Walton, FL
October 15: Nectar's (Metronome) – Burlington, VT
October 20: Platform – Des Moines, IA
October 21: El Club – Detroit, MI
October 22: Vivid Music Hall – Gainesville, FL
October 29 – 30: Freaky Deaky 2022 – Baytown, TX
November 3: Mousetrap – Indianapolis, IN
November 4: Asheville Music Hall – Asheville, NC
November 5: Black Box – Charlotte, NC
November 10: Record Bar – Kansas City, MO
November 11: Miramar Theatre – Milwaukee, WI
November 17: DNA – San Francisco, CA
November 18: Mint – Fresno, CA
November 20: The Get Down – Portland, OR
November 25: Terminal West – Atlanta, GA
December 2 – 4: Ember Shores @ Paradisus – Cancun, MX
December 8: Peabody's – Virginia Beach, VA
December 9: Soundstage – Baltimore, MD
December 10: The Broadberry – Richmond, VA
February 3: Mission Ballroom – Denver, CO
---
Follow SoDown on Social Media: