SoDown brings the vibes and turns up the heat with everything he creates, and he swung by to chat about his tune "Cake" and more.
---
Just like his song "With You" says, "music really sets the mood" and that's exactly what SoDown does with his sound. This Colorado-based producer has been laying down sexy and hypnotic beats for years and bringing the vibe wherever he graces. Some tracks are a little more vibey, like the aforementioned "With You," while others bring the heat such as "Tension" with Bass Physics. As well as being an exceptional producer, SoDown also knows his way around a saxophone, which has become a staple of his artistry.
This year, SoDown has released a handful of singles, including his most recent track "Cake." Not only is the track an absolute banger, but the meaning behind it's something we can all relate, and open our eyes to. The tune reflects the shortcomings of capitalism and trying not to lose sight of what truly matters. On top of the new music, SoDown also just announced a massive tour, the icing on the cake. For anyone that has not yet had a chance to see him, make sure to snag tickets if he's stopping in your city so you can get a dose of those sweet, funky saxophone melodies.
If there's one thing for certain, it's that SoDown is clearly becoming a force to be reckoned with, putting out music that has underlying means that can open our eyes as well as make us move. And if you're looking to dig a little deeper and learn more about this gifted producer, we got the lowdown on this rising star. So press play on his latest single "Cake" on Spotify or your preferred platform, and read on for the conversation below.
Stream SoDown – Cake on Spotify:
---
Hey SoDown, thanks so much for taking the time to chat with us. You've released some stunners this year and each one is packed with different soundscapes. What's your approach to crafting the heavier sounds on "Cake" and "Tension" versus those on "Alive?"
The approach is the same however the execution is different. It's like painting with a different brush. With tunes like "Cake" and "Tension," countless hours are spent working on sound design and rhythmic energy. A tune like alive still has the dedicated time and focus on those aspects. However, the progression and melodies are much more intricate.
Recently, there's been an underlying message behind your tracks, so for those who may not know, what's the message behind "Cake"?
In what seems like an endless pursuit of paper, its easy to lose sight of what really matters, those we love, the experiences we share, and the growth within ourselves.
You've worked with Bass Physics on a couple tunes now, including the aforementioned "Tension" and "Pull The Trigger," what was it like making music together? Can we expect any more projects from you two in the near future?
It's honestly great. We have complementary skill sets and he is super talented. We spent a lot of time on both the tunes we've made so far and really try to make every collab to shine.
Obviously, you incorporate your saxophone into almost every song, but are there any other instruments you've wanted to use when creating?
I love playing guitar and piano and a lot of my new music incorporates both of these. I've really enjoyed working with vocalists and other horn players, so I am looking forward to incorporating those into my new music as well.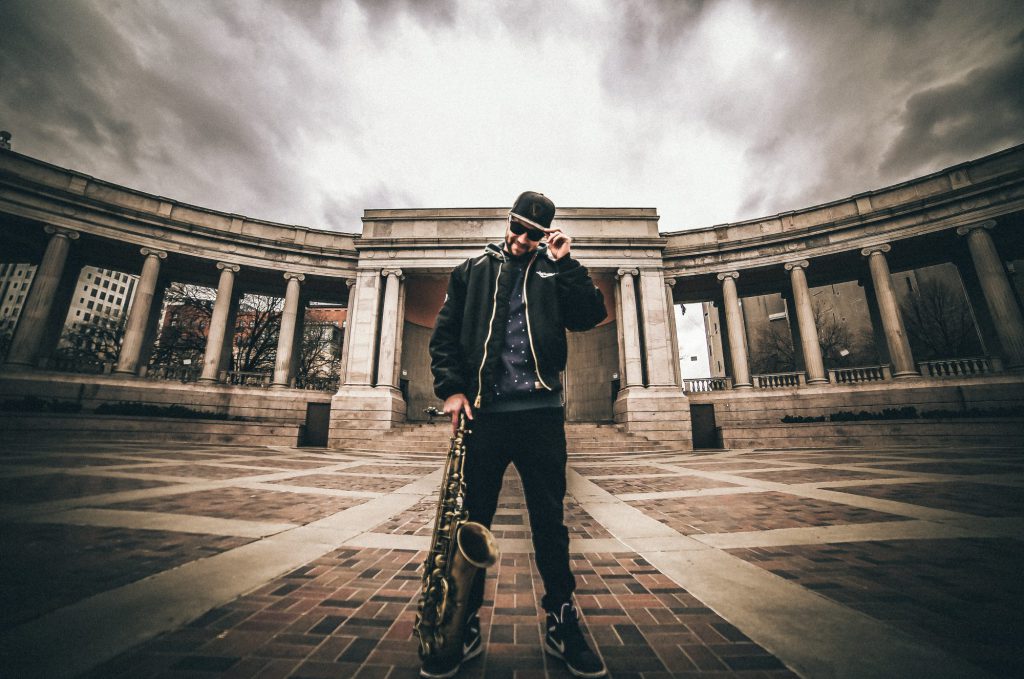 To hop in a time machine real quick, "With You" is one of my personal favorite songs you've made. It always puts me in the best mood. I was curious, was there any inspiration behind the track and can we expect more collaborations from you and Moontricks or Carly Lynn in the future?
I would definitely love to collab with both of them again. It's a little tough since Moontricks lives in Canada, but it would be awesome to get back in the studio together. That song came together so quickly and smoothly. I think I had the idea started, Moontricks came over and we smashed the majority of the writing out in like one session, Carly came over and we got the vocals popping and we were ready for mixing and mastering.
Along with the release of "Cake," you also announced a pretty massive tour. How does it feel to be getting back on the road again after a year of canceled shows? Are there any cities/venues in particular you're most excited to head to?
Ah! It's so amazing! I just did six shows in the past few weeks and I'm glowing right now. I've missed it so much. I feel so inspired, ready to experiment and explore musically! It's so great to be back out with my friends and family adventuring through the world! We have tons of shows this year, and our doing our best to return to every city as soon as possible.
Now that the dance music community is getting back into full swing, artists and fans alike have to get used to being social again. This has been nerve-wracking for many, so do you have any advice for anyone who might be nervous about getting back on the road again or just attending events?
I think this is a great opportunity to address mental health on both sides of the barricade. I think we are all experience varying degrees of social anxiety in the aftermath of the pandemic. As someone who cares deeply about his fans, I can say the venues, my team, and I do everything possible to ensure a safe and enjoyable experience for everyone.
Colorado has become one of the biggest hubs for bass music in North America, with Denver laying claim as the Bass Capital. What do you feel makes the local scene stand out more compared to other regions of the world?
I'd say it's the community, the support of the people in the vibrant scene cultivate so much creativity and talent. We have red rocks, and many other amazing venues at every size so we get artists big and small.
Thanks for taking the time to chat with us, can't wait to catch a set from you soon!
Woo! Can't wait to GetDown. 🙂
---
Follow SoDown on Social Media:
Website | Facebook | Twitter | Instagram | SoundCloud | YouTube