North Coast Music Festival is set to take Chicago by storm on Labor Day Weekend, and we compiled a list of everything you need to know.
---
North Coast Music Festival is returning to SeatGeek Stadium in a few short days to close out an eventful Chicago summer with some of the best in electronic music, creative experiences, and fun. If you thought last year was phenomenal, get ready to see all that has been curated for this year's event. With artists ranging from house to dubstep and everything in between, there is something for all coasties throughout the weekend.
Related: Want to know more about what to expect at North Coast this year? Get a look inside the festival!
Attendees were lucky enough to have phenomenal weather conditions in 2021. Luckily, this year the weather is looking to be around the mid-70s and sunny. Not sure how to get there? The North Coast Shuttle Service offers transportation to and from Chicago and partner hotel blocks to help us do our part in reducing our carbon footprint.
It is also super important to be safe. With Fentanyl related deaths and overdoses at an all-time high, individuals need to be safe when it comes to consumption. Please read how you can help prevent the use of contaminated substances. Now, grab your most comfortable dancing shoes, download the North Coast app to prep your schedule, and read our list of essential info below.
North Coast Music Festival 2022 – Essential Info:
Dates: September 2-4, 2022
Hours: The festival starts at 2 PM CT. The end time is 12 AM midnight CT on Friday and Saturday, and 11 PM CT on Sunday.
Venue Address: 7000 S Harlem Ave, Bridgeview, IL 60455
Tickets: Purchase HERE
Facebook Event Page: RSVP HERE
---
North Coast Music Festival 2022 – Set Times: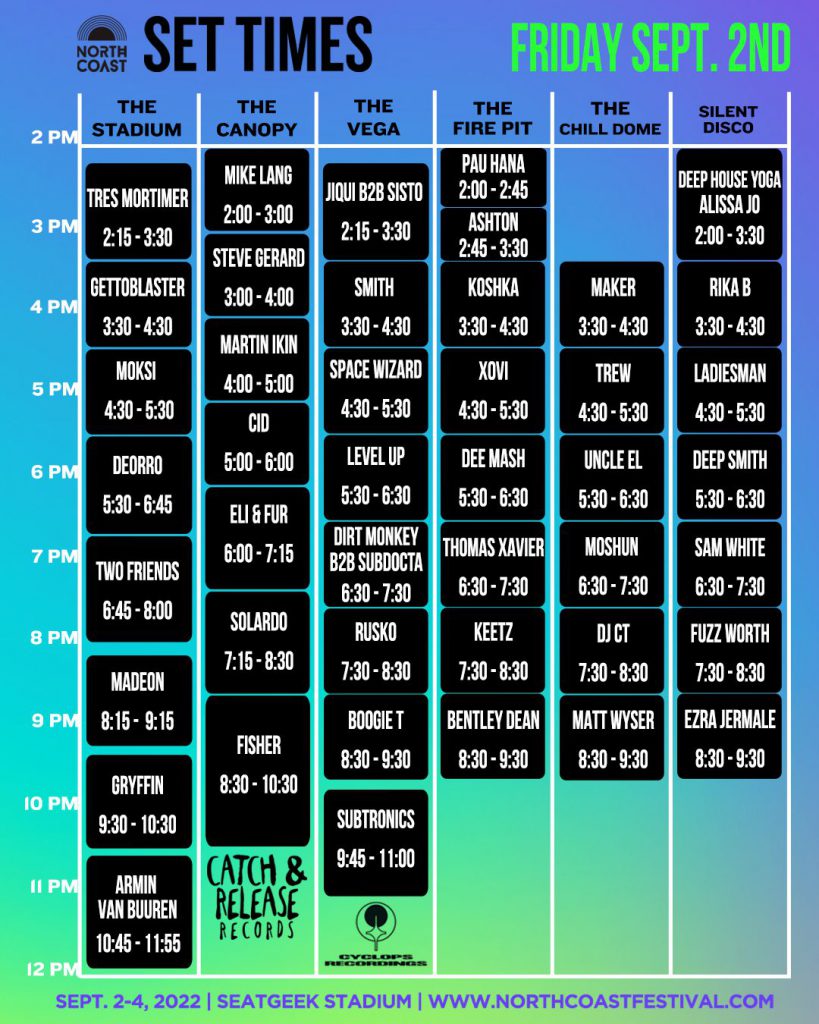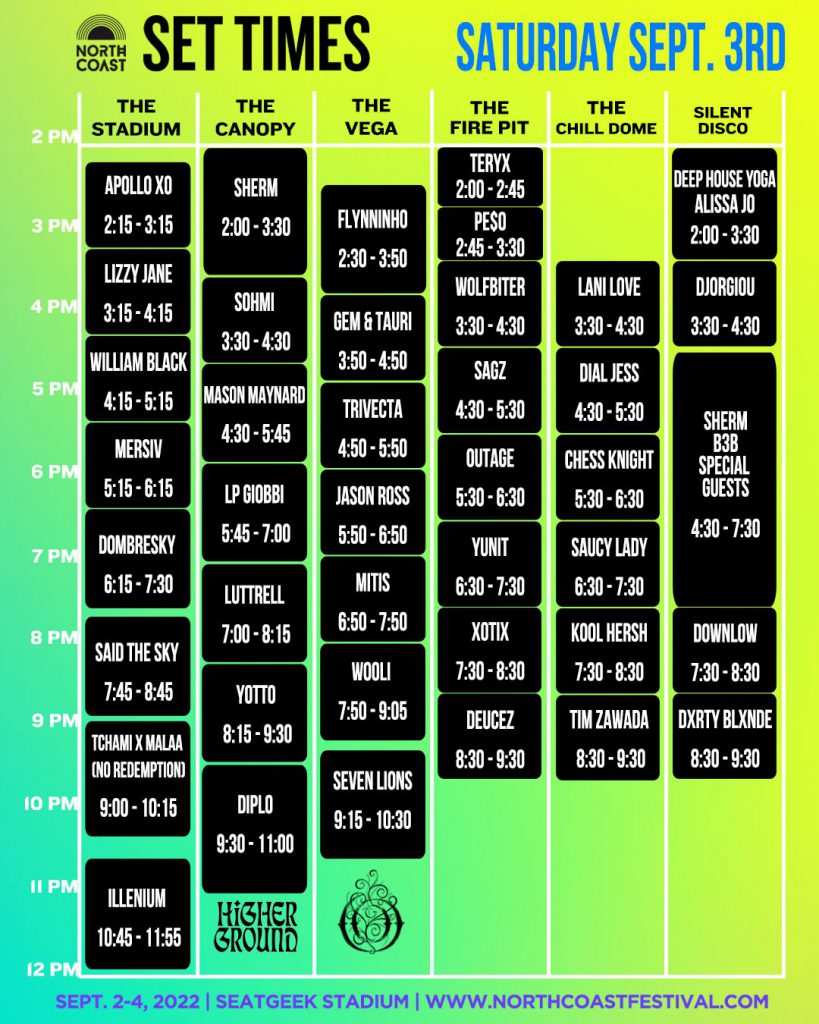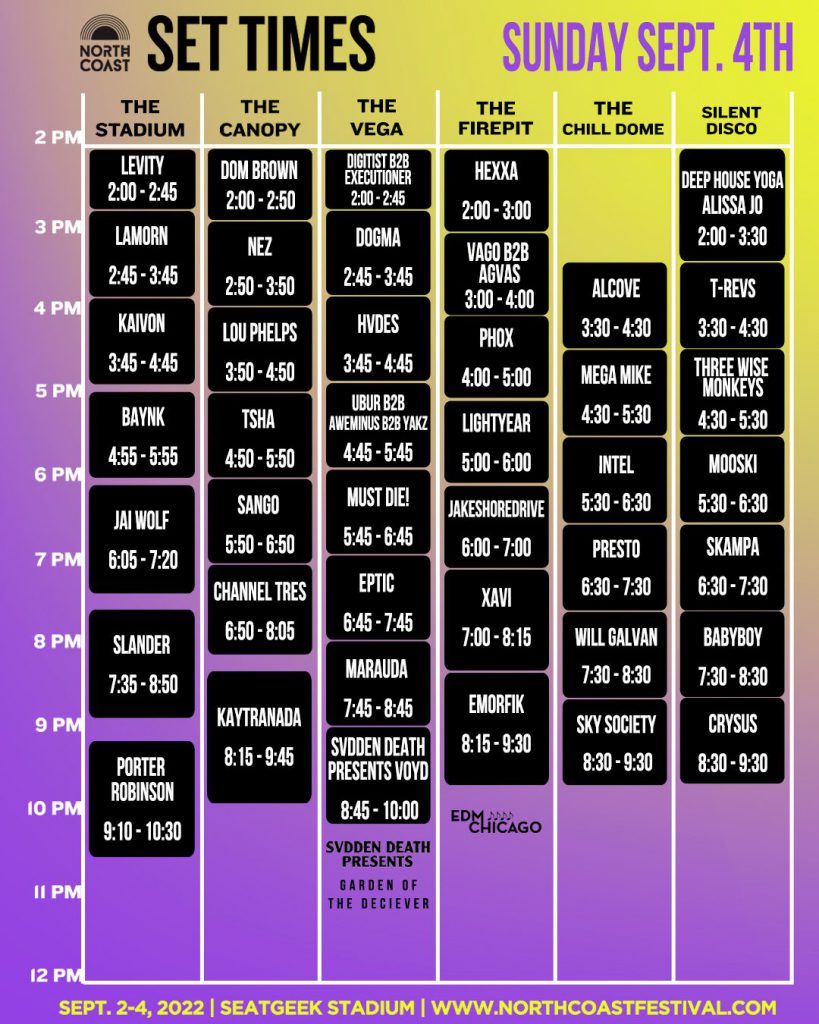 ---
North Coast Music Festival 2022 – Festival and Parking Maps: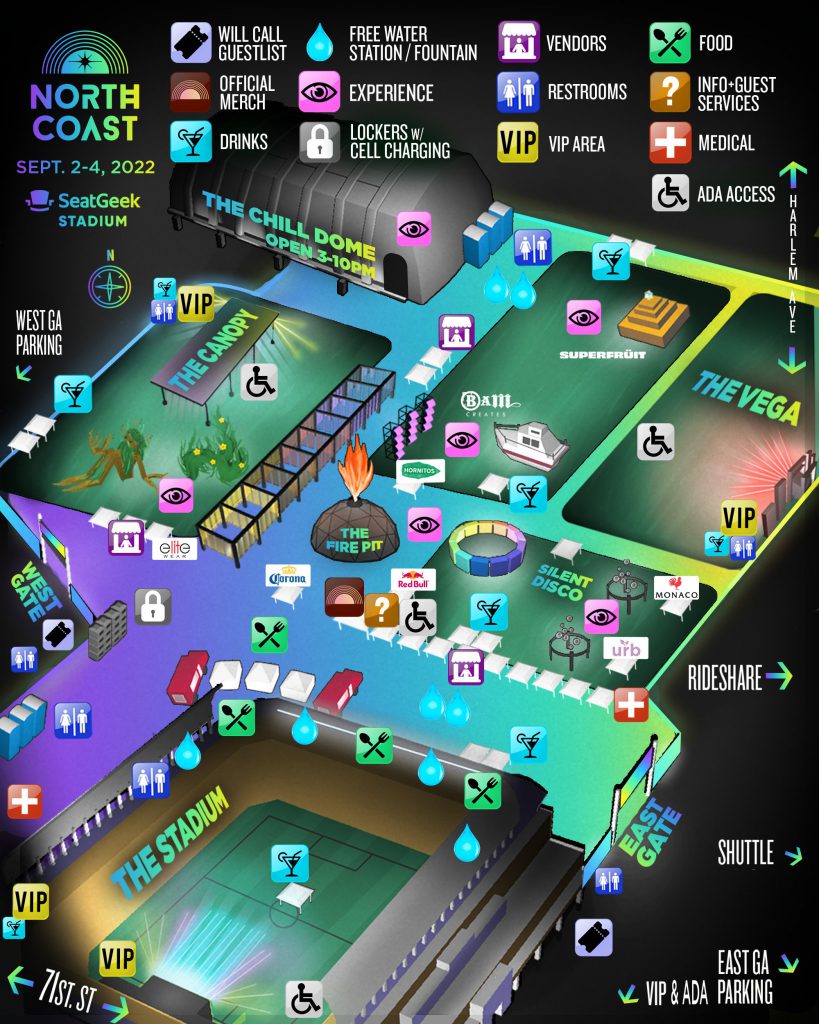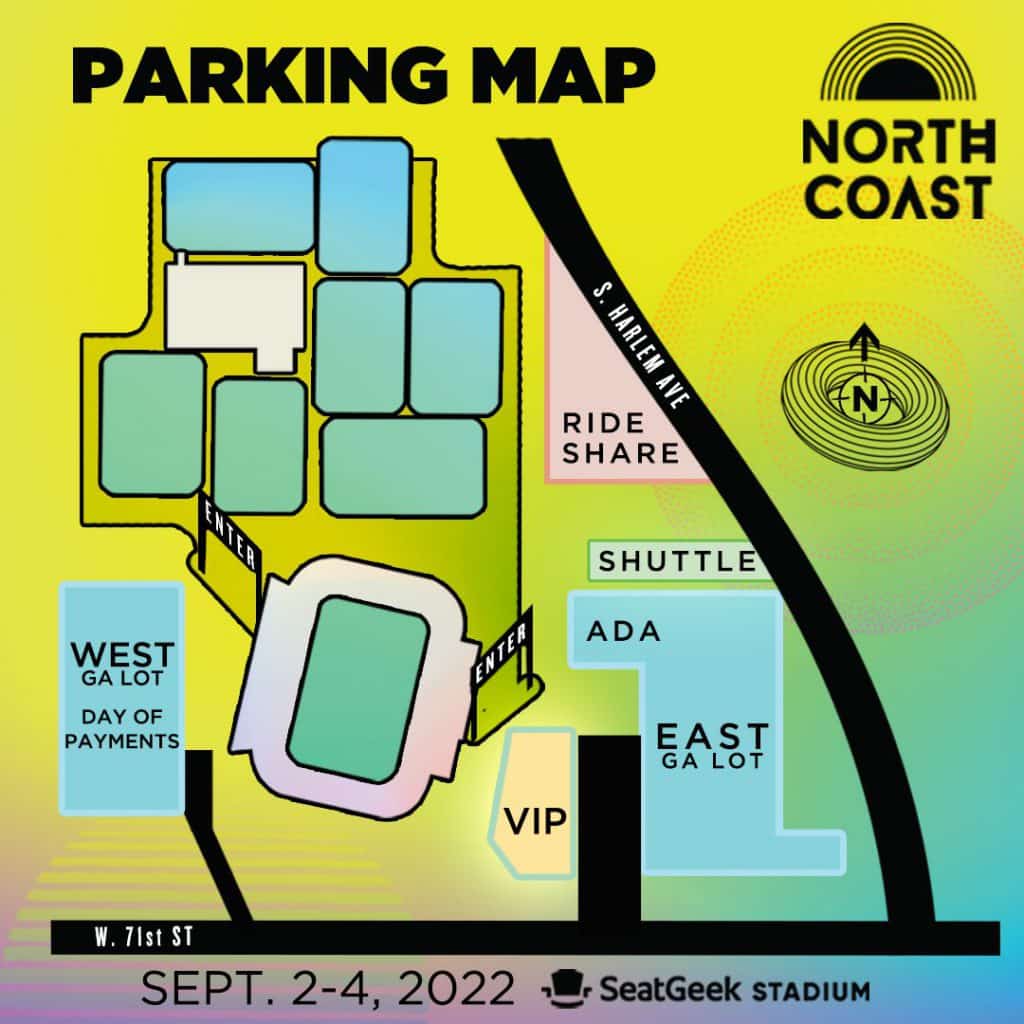 ---
Reminder To Mind Your Belongings:
Unfortunately, many people have reported pickpockets, bag slashings, and theft of wallets, smartphones, purses and other valuables during this festival season. While this small number of bad apples in the bunch doesn't define an entire crowd, there are opportunistic people who come to these events to take advantage of unsuspecting partygoers and it's important to be mindful of your valuables while at North Coast Music Festival.
Looking for tips to keep your belongings safe? Check our post highlighting some ideas!
---
Bag Policy
NO backpacks, purses or bags are allowed to be brought into the venue, EXCEPT for the following:
Bags that are clear plastic, vinyl, PVC, or mesh and do not exceed 12″ x 6″ x 12."
One-gallon clear plastic freezer bags, i.e., Ziploc bag or something similar
Small clutch bag or fanny packs approximately the size of a hand (and that do not exceed roughly 4.5″ x 6.5"), with or without a handle or strap, these do not need to be clear; and
Hydration Packs that have a clear, empty, and removable pouch upon entry. The outer bag does not have to be clear.
---
North Coast Music Festival 2022 Do's & Don'ts:
Prohibited Items
Native American Headdresses
Professional photo, video, or audio recording equipment (no detachable lenses, tripods, big zooms, selfie sticks, or commercial-use rigs)
Laser pointers and air horns
Drones, remote-controlled aircraft, or toys
Toy guns, water guns, slingshots
Projectiles such as balls or frisbees
Tents, large umbrellas, chairs, or blankets
Weapons of any kind, including pocket knives, pepper spray (or any dangerous chemical compound),
Explosives including fireworks
Illegal substances
Drugs or drug paraphernalia
Massagers
LED gloves or microlights used for light shows
Pacifiers
Gas masks
Edible jewelry, candy bracelets or necklaces
Aerosol products/cans
Opened eye drop container (factory sealed is Allowed)
Liquid makeup
Unsealed tampons (upon entry)
Open packs of cigarettes (upon entry)
E-liquid or E-juice of any kind
Glass, cans, cups or coolers
Outside food or beverages (including alcohol and candy)
Markers, pens or spray paint
Large chains or spiked jewelry
Stickers, flyers
Bota bags (see allowed for hydration items)
Large purses, bags or multi-pocket backpacks over 12′′×12′′ (See bag policy in Allowed section)
Stuffed animals or dolls
Pets (service animals allowed)
Inline skates, skates, bikes, skateboards, scooters, wagons
Laser pointers, airhorns, whistles, drums or noise makers
Tactical gear, including Police, Swat, or Army uniforms
Full face paint – Must be able to match face to ID upon entry
Anything deemed suspicious, inappropriate, unsafe or disruptive. Venue, Law Enforcement, and Security's sole • discretion
Furniture of any kind including inflatable couches, folding chairs
Cannabis products of any kind, regardless of medical card or not
Permitted Items
Binoculars
Cameras: consumer-grade point and shoot, polaroid, GoPros without detachable lenses, and other accessories (monopods, selfie sticks, tripods, GoPro mounts, and other attachments are not allowed)
Empty reusable clear plastic water bottles and hydration packs, camel backs (water pouch must be clear, empty, and able to be removed upon entry)
Sunscreen in non-aerosol containers is allowed in the size of 3.4 ounces or less
Factory sealed eye drop containers
Personal-sized hand sanitizer
Prescription Medicine Requirements: Anyone needing prescription medicine at the festival must present the pharmacy-labeled container which states the prescription, dosage, and patient name to our medical staff at ch entrance gate. Patrons are only allowed a sufficient supply of the prescribed medication for that day.
Over-the-counter medications are allowed in a sufficient supply for the day. Bottle contents will be verified by medical personnel at the entry gates.
Portable phone chargers and batteries
Single-use, factory-sealed vape pens such as Juuls, Posh, etc. Extra pods must be factory sealed upon entry
Cigarettes must be factory sealed upon entry
Glowsticks & glowing/illuminated costumes or jewelry
Gum must be factory sealed upon entry
Flow toys, poi, hula hoops as long as they are made of soft plastic and string, LED whips
Lip balm and gloss must be factory sealed upon entry
Personal misting fan with a bottle no larger than 1.5L (must be empty upon arrival)
Deodorant must be factory sealed upon entry
Factory sealed tampons
Hand fans (not motorized or electric fans)
Totem Guidelines
Maximum height is 10 feet.
ONLY Decorated pool noodles or foam.
Inflatables attached to totems must be deflated upon entry.
NO PVC, light wood, metal or aluminum poles.
NO Collapsible/telescoping camera extenders.
Any item deemed dangerous will not be allowed.
Totems promoting illegal activity or hate speech will not be permitted.
---
Connect with North Coast Music Festival on Social Media: