A Zeds Dead afterparty ticket alone was enough to make me take a last-minute trip to Chicago for North Coast Music Festival this year.
---
There's something absolutely exciting about going to an event you didn't plan to go to and making the decision just hours before you leave, and that's exactly what I ended up doing on the last day of North Coast Music Festival. A three-day event held every Labor Day Weekend just outside of Chicago, the festival held its 11th edition in 2021 with headliners Kaskade, GRiZ, and Zeds Dead at Seat Geek Stadium in Bridgeview, Illinois. 
Two weeks before their event, North Coast announced their "late nights," or after shows that take place in the city after the festival each night. As a huge Zeds Dead fan, I can never resist an after-party of theirs, especially in Chicago where they are known to play some of their best sets. I got a ticket for the after "just in case" I went, but I still didn't fully decide to go until I saw so many of my friends having a blast at the festival. I decided to make a very last-minute trip to North Coast for the last day and, most importantly, the Zeds Dead after at The House of Blues!  
Had I been able to attend the festival on Friday and Saturday, some of the artists I would have loved to see on those days include CharlestheFirst, Liquid Stranger, Inzo, Manic Focus, and Ganja White Night. Seat Geek Stadium made for a great festival layout, both I and my friends who attended all three days experienced very smooth GA entry thanks to two different entrances and friendly staff. My vaccine card was checked upon entry and they made sure it matched the name on my ID. There were five stages in total including a silent disco and the Panky Rang Bus, all outside of the stadium area except for the massive main stage, which was inside of the stadium. 
I arrived at the festival around 6pm and planned to catch the Spicy Bois takeover at the Panky Rang stage, however, I was only able to catch a few songs there before I heard there was a capacity limit inside of the stadium. Whether or not that was actually true we weren't taking our chances on not getting in for Zeds Dead, so my friends and I headed to the main stage for Chris Lake and Rezz. Having only been in the smaller stage areas, the festival suddenly seemed so much bigger when I saw the crowd at the main stage. It was a bit overwhelming at first, but the option to sit in the stadium seats made it super easy to find friends via the numbered rows and take breaks when needed.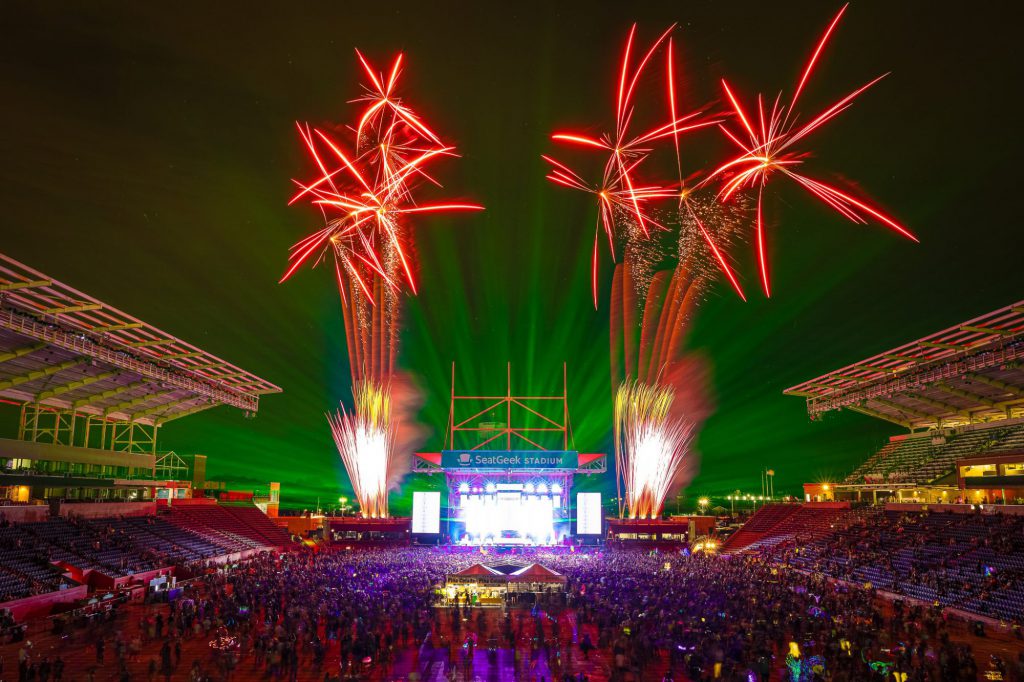 Zeds Dead was about to play, so my friends took me fairly deep into the massive crowd – I couldn't have gotten as close as I did without them.
As far as overall crowd vibes I always find it is a mixed bag at Chicago events, which North Coast definitely was. I only experienced a few instances where people around me were being rude, but nothing major as my biggest complaint was being splashed by random drinks. It was tight and a bit overwhelming, but sometimes once you are that deep in a crowd that size, it is better to just stay put. And none of this mattered much anyway because Zeds Dead had taken the stage.
Zeds Dead threw down a classic festival set, and everyone who hadn't seen them since pre-pandemic got to hear their newer songs live for the first time. After seeing them countless times the most notable moment of this set for me was them playing their old remix of Bon Iver's "Woods," which I've only heard them play only once or twice before.
During their performance, I also got an amazing view of the production the stadium had to offer! The lights, lasers, and huge panels of LEDs did not disappoint, along with the occasional fireworks. Zeds Dead never fails to incorporate the perfect visuals for each track, and I was mesmerized by how striking they were on this massive stage. After a high-energy festival set with huge production, I couldn't wait to get to the afterparty's intimate venue.
Getting out of the festival's parking lots at the end of the night was not as easy as getting in, but once you made it out the traffic was a breeze.
It took us close to 45 minutes to get out of the lot, but since Uber prices were outrageous we didn't mind. The after-shows were actually in the city of Chicago itself, roughly twenty minutes from the festival grounds. I had never been to The House of Blues before and I was so excited to experience this iconic venue, especially for a Zeds Dead after party.
Once arriving at the venue, I also experienced my biggest personal victory of the trip – finding a last-minute ticket for my only friend who didn't have one. Tickets to Zeds Dead after parties are always gone within minutes of being on sale, and this one was no different. All night I told him he would be at the after and we would find him a ticket no matter what, but leaving the festival he still didn't have one. My group was almost to the show when we found ourselves in the right place at the right time. We were walking down the block to The House of Blues when two sweet strangers in ZD gear, simply exhausted from their weekend, offered my group an extra ticket! For free! Moments like that remind me why I love our community so much.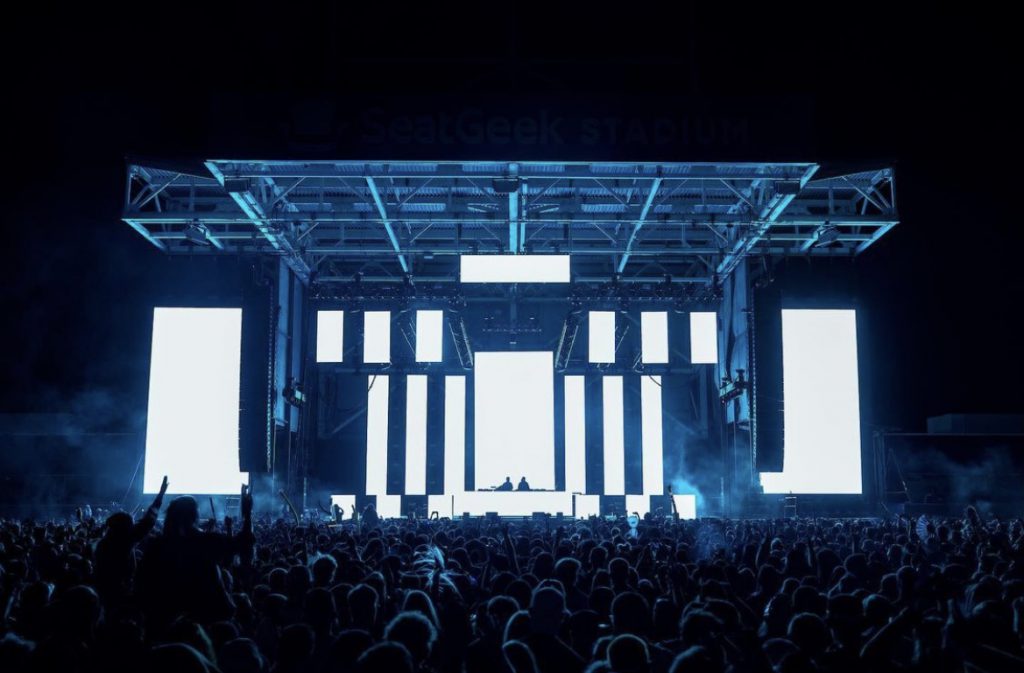 Not only was the House of Blues amazing, but their staff was so kind and helpful.
First, they helped us transfer the ticket with ease, and then a second time when I realized my ID was in my friend's pocket who was already inside the venue. Something important to note about The House of Blues is that they do not allow bags, even small ones, but there is an optional bag check. This makes for a super smooth entry if you do not have to check a bag, but it is also why my ID was in a friend's pocket. 
It did take me by surprise that they didn't ask me for my vaccine card and I actually didn't need my ID to enter, I just would've had to show it if I wanted to order a drink. The venue has multiple balcony areas you can choose to stand in or the floor which was practically full when I arrived. Having a good view at this venue really depends on where you stand and who is in front of you, and since it was sold out the crowd was packed tight. 
Zeds Dead threw a fantastic after-party with plenty of deep dub, a little bit of house, and a few of their old gems. I love seeing them play after parties because they are able to play more of whatever they want, and less of what the mainstream festival crowd wants or expects to hear. Their discography is massive, so there are many songs you might only be lucky enough to catch at an afterparty.
I was stoked to hear their old remix of The Rolling Stone's "Gimme Shelter" as well as "Crank" with Omar Linx, both rare tunes to hear live from the boys. While they brought the energy with classic dubstep sounds from those tracks and others, they also brought the feels with sweet songs like "Neck and Neck," "Blood Brother," and one of my favorites from their new Catching Z's album, "Lost Birds," to make this an unforgettable experience.
I wish I experienced a full weekend at North Coast and I could definitely see myself going back in the future.
Considering I didn't initially plan to go at all, I am so thankful to have gotten just a little taste of what this festival has to offer. With its diverse lineup and variety of killer after-shows, right outside of the beautiful city of Chicago on Labor Day Weekend, North Coast Festival is sure to be an awesome experience every year. I would absolutely recommend checking out this festival if the lineup speaks to you and you're interested in heading to the Windy City for a weekend filled with amazing performances.
---
Follow North Coast Music Festival on Social Media: