Legendary trance artist Ferry Corsten swung by to chat about his "What The F" concept ahead of his show at Exchange LA.
---
It says a lot when an artist is in the field for multiple years and is still as well revered as when they first hit it big. One such monumental artist is the iconic Ferry Corsten. Though referred to primarily as a trance artist, his style transcends genres, and has touched multiple styles over the years. Whether he's referenced as one of the many aliases he's created like Gouryella, System F, or simply as Ferry Corsten, when his name is on a track, we know it will exceed expectations regardless of the style.
While Ferry Corsten is no stranger to spectacular musical endeavors, his new live show concept, "What The F," is a unique take that will showcase his range of hits. Fans who attend these shows will experience an amalgamation of tracks that span every aspect of his prolific musical career as he blends past, present, and future and take them on a deep dive through the collection of the musical legend.
"What The F" is set to hit Los Angeles, San Francisco, Washington DC, and Chicago this month before heading to countries like Australia and Norway with the concept in tow. We jumped at the chance to chat with this legend before he landed in Southern California for his performance at Exchange LA, so listen to one of his most revered tracks, "Out Of The Blue," and read on for the full conversation.
Related: Head over to Ferry Corsten's website for more details on "What The F" and grab tickets if you plan to catch him in a city near you!
---
Hi Ferry, thanks so much for taking the time to speak with us today! When did you first think of putting together a show of this musical range, and what was the impetus for the event?
The idea was born in 2019. I was doing all these Gouryella shows, and Blueprint had just come out. For example, if you look at Markus [Schulz], he was doing all these open-to-close sets. Right? And I started seeing a lot of comments on socials where people were asking me, "Hey Ferry, so when are you doing an open to close set?" I'm like, I don't want to do just an open to close set and do the same thing. That's Markus's thing. 
So, I was like, okay, if I do something like that, I should give it my own spin. I also noticed that over the years, the response was just really amazing every time I did a producer set. It clicked; I have so much music from over the years; what if I do a producer set that is open to close? 
Then I was thinking, "Oh, man, people will hear this track, this track, this track, and on and on," and I'm like, "Wow, what the F!" Hang on a minute, that's actually a really cool name. Oh, that's how we're going to do it." 
It's really just a celebration of my music over the years as an open-to-close. You can definitely hear the changes over the past 20 years; it's not always been one sound. That's what people are going to get: I do my opening and my main set and the closing and everything in between.
You have so many different aliases. Which ones can fans expect to hear at a What The F show?
There's definitely System F in there, and there's Gouryella in there, but it's not like blocks. It's not like, here's the Gouryella show. It's woven throughout. There's a Moonman track, and there are some remixes of different names. It's definitely six and a half hours of just blast after blast.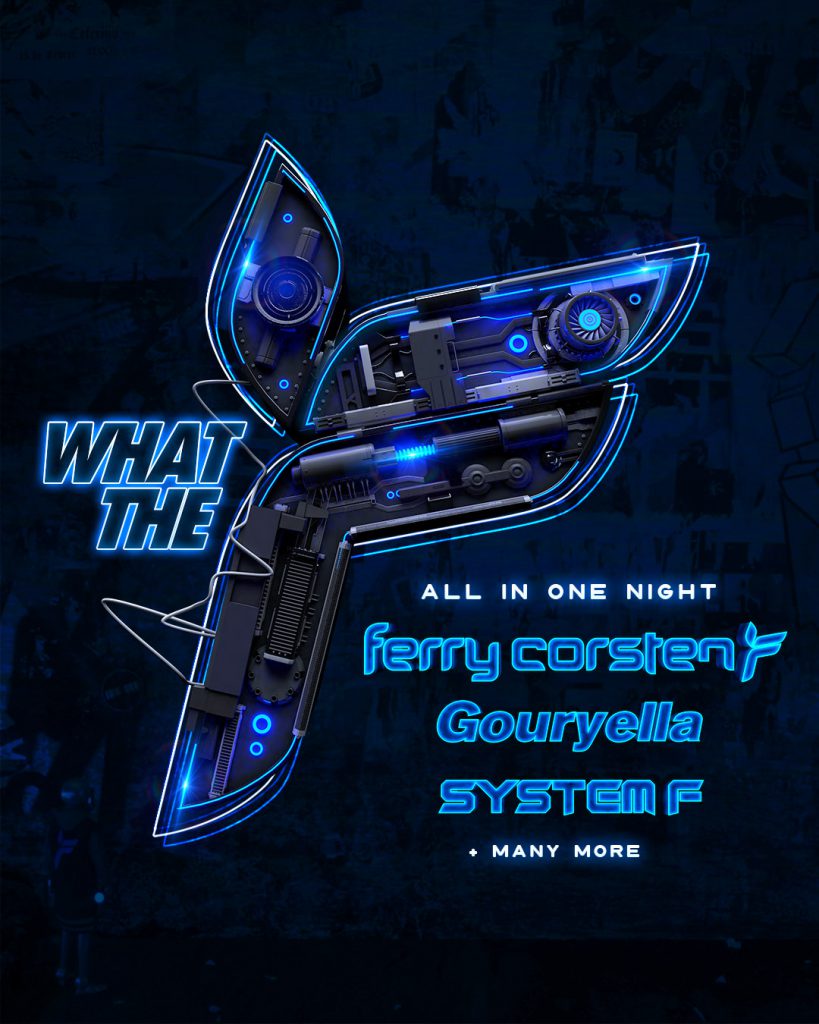 With such a spectrum, how do you put together a set that ranges from the tech trance to house and so many styles in between?
Yeah, it's also not a chronological set. It starts with the newer stuff because that is slower, works better, and there's buildup, but it's not that the further you go into the set, the older the music gets; it's all mixed up. Speaking of mashups, I made some fun mashups with tracks from back then and tracks now, sort of the most extreme together in a mashup.
Also, a lot of reproductions. For example, years ago, I did a remix of Moby's "Why Does My Heart Feel So Bad?" I know, it's a fan favorite, but if I play that original version, it just sounds 20 years old, sonically, because it was made with the technology then. Those tracks just don't really stand up next to the tracks of today. 
I had the parts, so I reproduced the whole thing exactly like the original but with today's technology, so much more punchy. So someone on the dancefloor will be like, "Wow, I haven't heard this in a while. I can't believe it sounds so good!" It has the nostalgia, but it's just as tight as tracks today; when I mix it, it just sounds super tight.
You dipped your hands in so many genres already; are there any that you haven't delved into that you'd like to explore?
That's hard. I would say drum and bass, but I did a few drum and bass tracks a long time back in the day, but I would love to do that again.
In the past, you said you would never revisit the harder styles, like gabber, as well.
It's just a matter of taste. When I listen to it, it's just not my thing. However, I can put that aside, and I can appreciate it for what it is because, and I have to be honest, hardstyle producers are some of the best producers out there. Those tracks are just so well produced; it's amazing. So besides me not liking that type of music, I do like the production because it's just mind-blowing what they can do.
Some say at times that genres can be limiting due to the "strict" rules about what can or cannot be considered representative of a certain style. How do you feel about genres and pushing the boundaries of music?
I'm all for that. To stay in your lane and in your genre is just playing it safe, and eventually, the music becomes stagnant. And I feel that that is happening with trance in a way, honestly, because it's all the same stuff. No one tries something new because, you know, the backlash that you get from their fans initially is like, "Boo, that's not trance; what are you doing?" Like guys, just chew on it for a while.
In a way, I've always done that. I got negative feedback at first when I came out with "Punk" after System F and those tracks. However, over time stuff gets accepted. To be honest, sometimes I'm even lost because people give music so many different tags. If you look at Beatport, what is labeled as Progressive, to me, is just like EDM or whatever. Progressive, in my language, is what Sasha & Digweed used to play today back in the day. That's Progressive for me, but nowadays, it's just a completely different sound.
Just produce great music. It starts with the producers and the DJs but also if anything becomes stagnant, it's also the responsibility of the fans. Yes, you know, you cannot expect the artists that you discovered 15 years ago to still produce the same music as 15 years ago. Everyone wants to move on and experiment.
Some artists and producers are trying to move the sound forward, but it's difficult because they might partially rely on their fans talking to promoters for shows. So there's a balance of giving the fans what they want but then trying something new.
It's a bit of both, really. I always call it stroke and slap; you know what I mean? It's just like you give them what they want, and then the next one is like pow, and then give them something you know they'll like. It can't be that you just play with the fans. In the end, you are the artist, and they follow you.
Who are some artists of any genre that fans should be looking out for?
The ones I'm following and like listening to are all in the lane of Bicep, ARTBAT, and Lane 8. It's really cool stuff because it checks so many boxes. It's melodic. It's deep. It's groovy. It's suspenseful. It's not just obvious stuff that you get where we can totally predict what's going to happen next. No, it's like, "Wow, what is it? Where's this going?" That's really what I love about that type of sound. It's multi-genre because there are trance elements in there along with the house and techno elements.
Speaking of techno, what are your thoughts about the influx of techno artists playing trance and vice versa?
I love it. Look, I think the trance fans are more likely to admit it than the techno fans, but trance and techno have always been hand in hand, ever since back in the day. I'm not surprised to see some of the big techno DJs do these crazy mashups with trance, but the funny thing is, it's all trance from like, 20 years ago. That also shows that there's still something about the older trance sound that is lacking in today's trends.
Finally, going back to What The F, is there anything you want to tell your fans about what to look out for or anything they should anticipate?
There are always a lot of people that want to know what tracks are being played. During the show, we will help you with that as every track is on the screen. That's cool for your tracklist registration, so look out for that. As I said, there are some crazy, unexpected, sort of weird mashups in there. Other than that, it's just a big grin on your face from start to finish. I just hope everyone is just as excited as we are right now. Let's make it a party!
---
Follow Ferry Corsten on Social Media:
Website | Facebook | Twitter | Instagram | SoundCloud