HARD Summer brought extra heat to Southern California with stunning sets from Zeds Dead, ISOxo, Flosstradamus, VILLA, and more.
---
After years of hearing mixed reviews about HARD Summer and deciding prematurely that it wasn't for me, this year came around, and the lineup was far too compelling to pass up on. With some amazing acts, including some of my favorites (old and new), I knew I couldn't miss the chance to see them. Even more exciting news surfaced a few weeks before HARD Summer was set to take place – the ISOxo Nightrealm stage takeover. The moment I saw that, I knew I'd made the right decision to attend, so I got prepared for the road to experience the festival for the first time.
Getting to HARD Summer for day one went off without a hitch. Going through security was an easy process with a handful of quick lines, exactly the kind of efficiency that should be at every festival. It was also another hot weekend at the NOS Events Center, but luckily there were plenty of fans and misters throughout the festival, including the angels that are Ground Control constantly spraying the crowds with water all weekend long.
Once inside, we headed over to the Green stage to catch Canabliss, enchanting the crowd. She captivated many, including myself, with her bubblegum pink hair and spectacular skills on the decks. Up next, Montell2099 came on, turning the crowd up a bit to a trap-fueled party. While his set was hard to detach from, we knew we had to head over to catch the captivating Lucille Croft play one of her first sets in California. Unfortunately, she played very early, but we knew she would demolish a later set time with an even bigger crowd.
Soon after, Nitepunk graced the Corona Electric Beach stage with his irresistible breaks and captured the crowd with his energy. This all built up to the biggest set of the night for me that put together two of my all-time favorites, Zeds Dead and Subtronics. It was my first time seeing this b2b happen, and I was pretty blown away by the way in which their sounds melded together so beautifully. There was no better way for me to end the night, but I was excited for even more to come.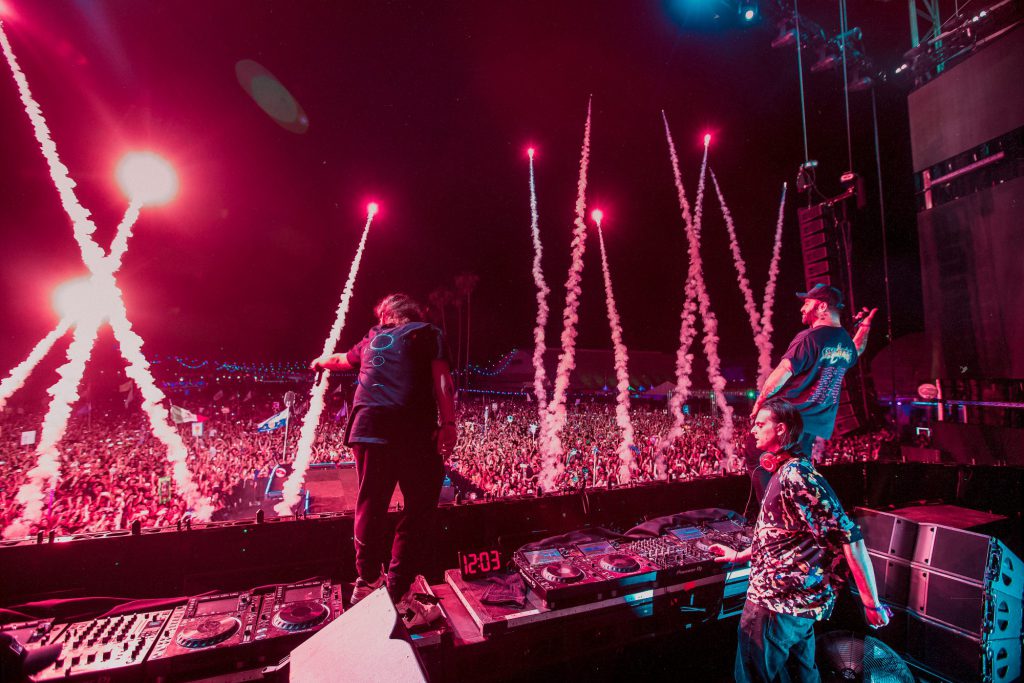 Some sacrifices were made on the second day due to set time conflicts, but there were no regrets.
I expected to be glued to the Corona Electric Beach stage on Saturday, and that prediction was absolutely right. Starting off with the talented VILLA, we were blown away immediately. After seeing her once before at the Brownies & Lemonade Underground in San Francisco, my crew and I were invigorated by her set and now refuse to miss her set if the chance arises again. She didn't disappoint with an energetic set filled with trap and hardwave, and the crowd did not stop dancing.
Later that day, we headed to the highly anticipated ISOxo set at the Green stage for an absolute treat.
The crowd filled in quickly to catch ISOxo, and many wanted to get to the front. To nobody's surprise, he went in hard with fiery energy that had the whole crowd jumping immediately. Much to everyone's surprise, only a few minutes in, RL Grime came on stage to join ISOxo as a special guest, and everyone went wild. To see a young legend in the making bring out a trap legend was a full-circle moment, and we all knew then that he will go on to do even more huge things.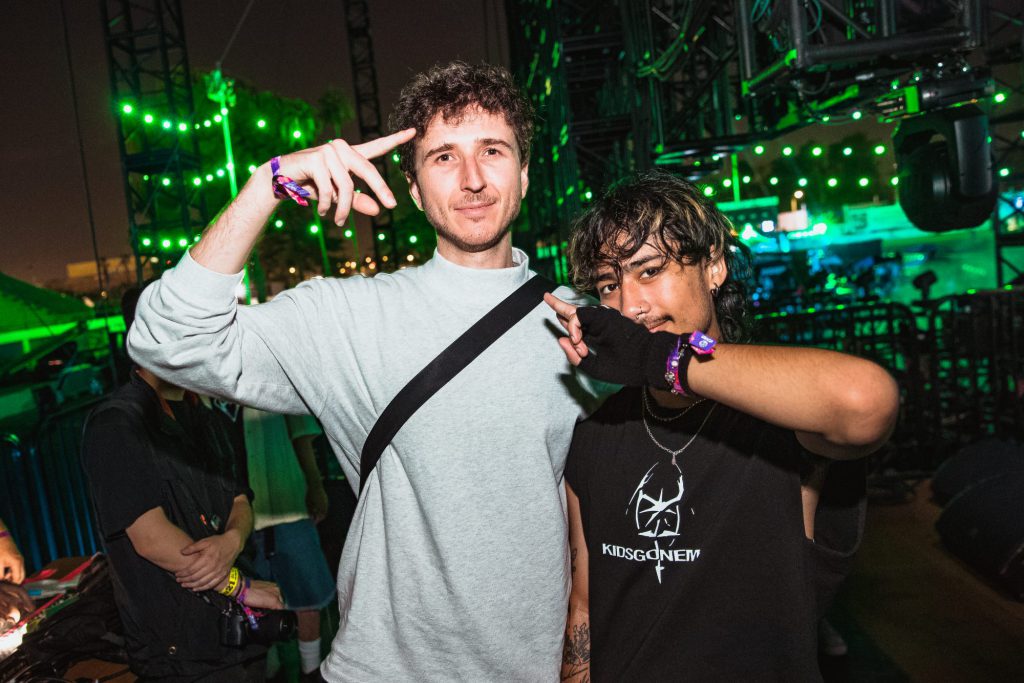 Soon after, we ran over to the Corona Electric Beach stage for the rest of the Nightrealm takeover.
I was more than ready to see one of my favorites, Mr. Carmack, who was celebrating his birthday at HARD Summer this year. I expected a mainly trap-centered set, but he took a different approach with a more low-key, downtempo feel. Then, Flosstradamus hit the stage, and it was clear that the majority of the crowd had been waiting for this moment. The crowd filled in even more as the two traded off, and the trap king began to take everyone back in time.
The nostalgia of Flosstradamus' set gave me goosebumps. He played classics like "Original Don," and the 2016 trap memories flood back in for everyone who experienced that era of the scene. The crowd went ballistic, and the stage overflowed with dancing bodies. Some were hanging off the palm trees, and someone tried to climb over the rail just to be stopped by security. Flosstradamus definitely brought out the wild side of everyone with the hard trap we all needed back in our lives.
As Flosstradamus' set came to a close, there was a symbolic passing of the torch between him and ISOxo and Knock2 as they joined him onstage for their ISOKnock set.
If you thought the crowd was wild for Flosstradamus, it went even harder for ISOKnock. Seeing two of the newest, most innovative artists in the trap scene bring their energy together was a sight to see. Not only did they have the whole crowd bouncing, but they seemed to be having the time of their lives, right along with the rest of us. It was an unforgettable experience.
The end of the Nightrealm takeover brought a fresh revival of my love of trap music. Although we've seen many doing it over the years, no one is doing it quite like ISOxo and Knock2 bringing the new and older generations together, for one thing, the love of the music.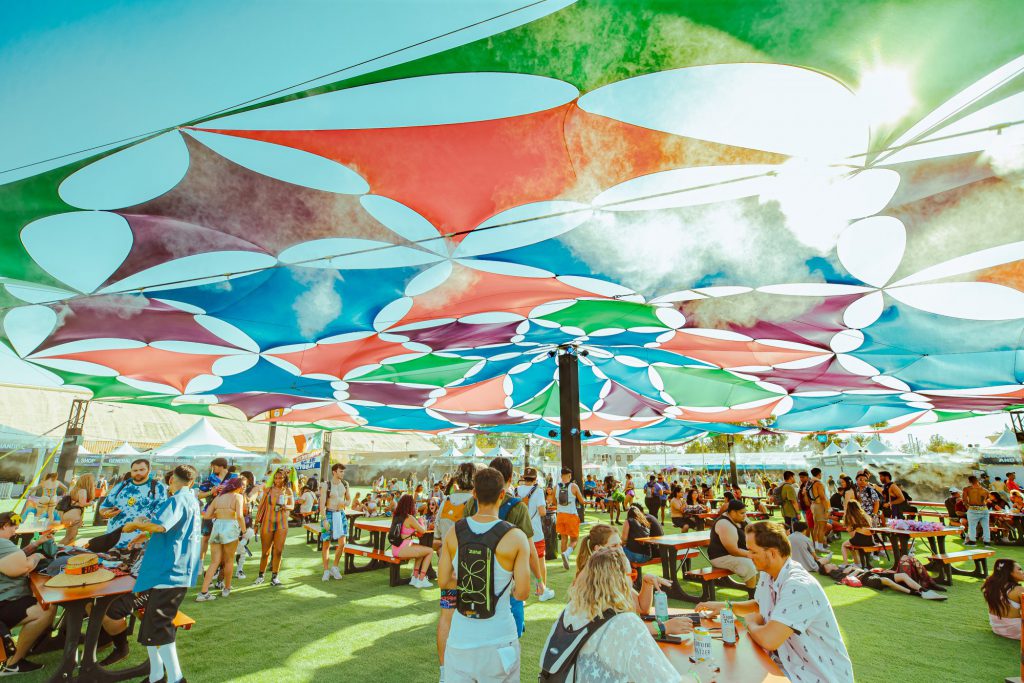 As day three came around, we were saddened to see the ending approach so soon but were ready to enjoy the last day to the fullest extent.
The third day brought forth the irresistible sounds of UNIIQU3′s Jersey Club at the Purple stage, something fairly unseen on festival lineups in the last couple of years. While different, UNIIQU3 definitely came to party hard. She hyped everyone up with her music, but it felt like a more intimate show with its smaller crowd and strangers who danced so easily together.
The Purple stage also blessed us with 1/2 of Ivy Lab, and hearing 140 at a major festival of this caliber was truly something else. Soon after, Deathpact took to the green stage to absolutely stun the crowd. The crowd was hypnotized during tracks like "Chemical Bond," and their visuals combined with the pyrotechnics made for a combination that would leave anyone looking for their lost mind.
To end the weekend, we absolutely couldn't miss another special b2b, this time featuring SVDDEN DEATH and Marauda.
The Green stage was overflowing with people, some sitting up in the bleachers and others down in the pits. The b2b itself was relentless as SVDDEN DEATH and Marauda delivered chop after chop. The crowd lost it. People were dancing and headbanging away as they walked into and out of the crowd, and multiple pits could be seen at once. Their set was one of the most epic experiences at a festival in some time, and I think many can agree that they'll look forward to the next time.
Before the night was over, I tore myself away from the b2b to catch 100 Gecs. Within the short couple of minutes, I was transported, and lucky enough to experience my favorite track, "hand crushed by a mallet," live. Having satisfied my wish to experience that track specifically, I was able to leave HARD Summer satisfied. It's great to see hyper pop flourishing, and I can only hope to see it on more lineups.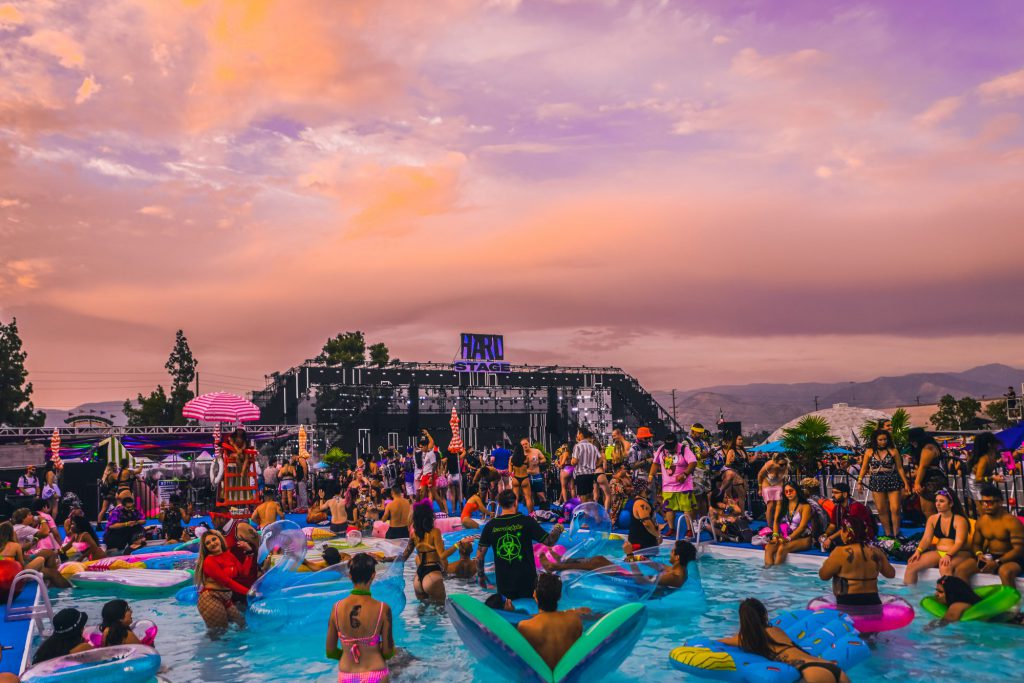 Overall, my first experience at HARD Summer was great.
HARD Events brought a banging lineup for this year's edition of HARD Summer, and there wasn't an artist I saw who was disappointing all weekend long. They also did a great job of caring for attendees during the heat, with plenty of misters, fans, shaded resting areas, and even a large medical tent inside the Damus building. And while there were a few bad encounters in the crowd, there were plenty of good vibes in the air from everyone excited to be there. As far as festivals go, HARD Summer is a great example of what the festival experience should be like, and I can't wait to return again next year.
---
Connect with HARD Summer on Social Media: