We sat down with VILLA at HARD Summer Music Festival to learn about her early days in the scene, her recent releases, and moving to LA.
---
With the widespread revival of trap music coming back strong, it was only a matter of time before we found some unique takes and new faces in the race. VILLA is one of those fresh faces who fans of the genre are quickly becoming familiar with, and for good reason. Her unique sound sees her blend trap and wave, and she's been quickly causing a storm in her wake with each passing release.
Early releases like "All Inside," "In My Head" with Navyhue, and "10:10" helped set the tone for what would arrive from VILLA and she began to blossom even more this year with "11:11," "lost," and more recently "ghost." She also made relocated from New York to Los Angeles in 2022 and has reaped the rewards ever since with a fantastic debut at the Brownies & Lemonade Underground in San Francisco.
Just weeks before HARD Summer, ISOxo announces the Nightrealm takeover of the Corona Electric Beach stage and it featured a sublime lineup for trap lovers. Among the absolutely stacked lineup was VILLA, and after she took the stage we jumped at the opportunity to chat with her about her recent releases, debut performance at HARD Summer, and plenty more.
Check out VILLA's recent track, "ghost," on Spotify or your preferred platform, and read on for the full conversation.
Stream VILLA – ghost on Spotify:
---
Janice: Hi VILLA, thank you so much for taking the time to sit and chat with us! We were really excited to see your set at the Corona stage today.
Oh my god, thank you. I'm just so happy to be here.
J: Well, you killed it up there! It definitely feels like there's a revival coming for trap. 
Yes, I agree! It's so good because for a while it was in a bad place. Like it had its moment, and then it was all about future bass, and trap was kind of dead for a second, and I really feel like he (ISOxo) is bringing it back.
J: You mentioned online that this was your first time playing HARD Summer. How are you feeling after your set?
This was actually my first festival set EVER! It was also my first show in the LA area. My first show in California was in San Francisco for the Brownies & Lemonade underground. It was just awesome. It was hot, I will say. I was up there thinking, "I'm pretty sure I'm getting sunburnt," but it was so fun to be up there and kind of cool to be the only girl up there. We definitely need more girls on lineups everywhere. And ISOxo's so sweet. I think he's doing such great things for the scene. I was so excited to be a part of it! 
J: Well, you killed it up there! It feels like there's a revival coming for trap in the scene right now. 
Yes, I agree! It's so good because it was in a bad place for a while. Like it had its moment, and then it was all about future bass, and trap was kind of dead for a second, and I really feel like [ISOxo] is bringing it back.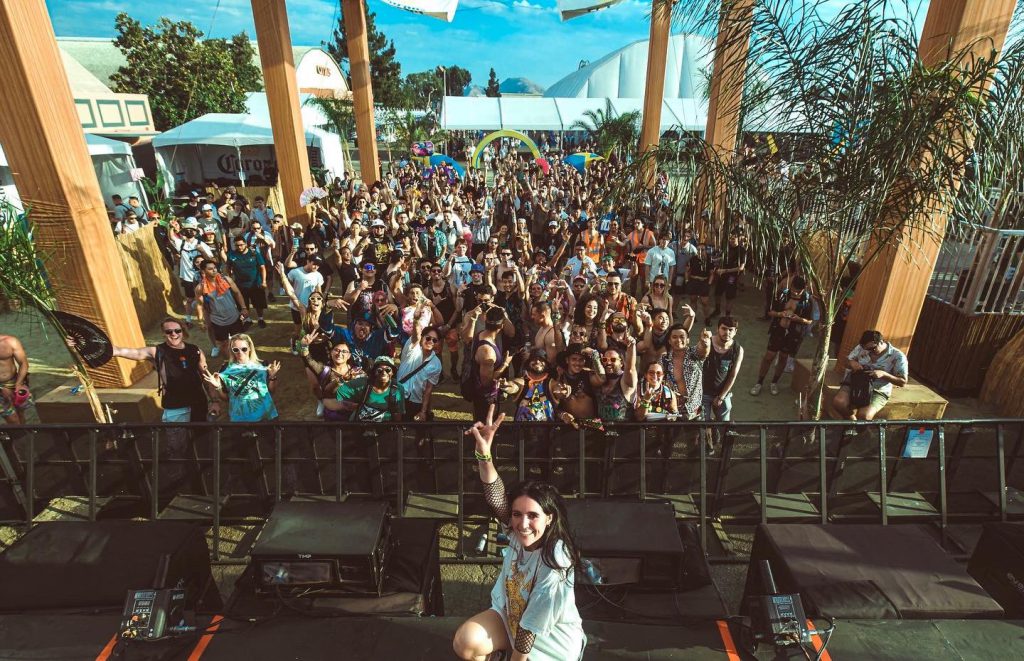 Hannah: You mentioned your set at the Brownies & Lemonade underground in San Francisco. What was that experience like? How does it compare to playing the Corona Electric Beach stage here?
I think that show was probably my favorite show ever because I've never played in a venue that was that intimate. I've never played a show that was so intimate, and I loved it; that show was so much fun! I always talk about this whenever I talk about that show, but the ceilings were so low, and the people were right in front of me, so close that I could talk to them. 
Then today, I could still converse with people, but obviously, it was different. I prefer a more intimate setting because when you can feel everyone's energy right there and see people's reactions, I thrive off of that when I'm playing. 
J: Your recent release, "Ghost," is a versatile track. What was that creative process like? 
Oh my gosh, I loved making that song. I've been making hardwave, I'm definitely trap, but I'm also kind of in this hardwave category. So that track for me, I loved the arps in it; that's my favorite part because I used to be in an orchestra as a kid. The first instruments I ever played were violin and viola, so for me, arps are something that I love to include because it reminds me of that. 
When I was making "Ghost," it came to me naturally, and the second part was my favorite with the four on the floor. I've been into this movement of people putting four on the floor under faster trap tracks, like Knock2's song, "Say." I got some inspiration from Poni, who did a remix on Sable Valley of "Fallout." She's so sick. I loved that four on the floor she put in the track, which went into it too. Thank you for listening to my song; I also have some new music coming soon, in September!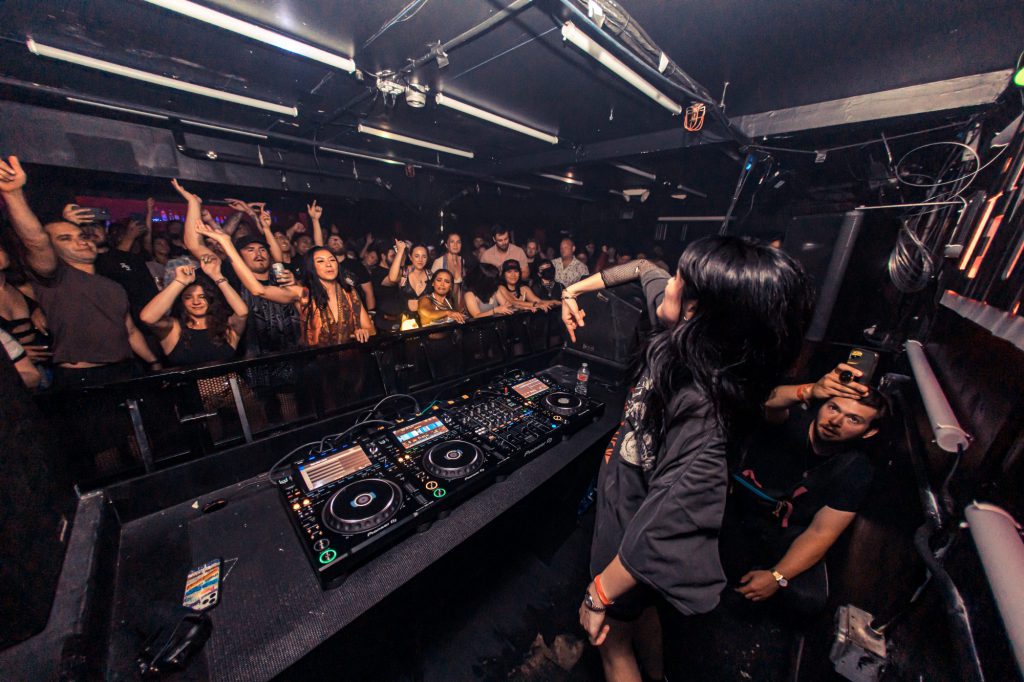 H: Let's turn back the clock to the start of Villa. What inspired you to start producing and DJing, and what were some inspirations that had you fascinated with dance music? 
I was in college, and I was going to go to medical school. But in my senior year, I realized I was completely unhappy and that one of the only things that made me happy was dance music. Back then, one of the first trap shows I went to was Mr. Carmack and What So Not, so that was crazy for me in SF when I got to play alongside Mr. Carmack. What So Not actually, his music is filled with lots of arpeggios, and at that show, I realized I liked this and that it was what I wanted to do. After going to that show, I started figuring out how to do it. 
What So Not was a huge inspiration to me. His song "Gemini" from the Divide & Conquer EP was my main inspiration when I first started. Everything he was doing, I was so amazed. Another huge inspiration for me was Alison Wonderland. I saw her at EDC in 2019, and I was so emotional. She plays the cello, and I was classically trained in violin and viola, so that was the first time I saw an artist who could see parts of myself in. 
H: Are you entirely self-taught? 
Yes, I am! It was a lot, but I just approached it like school, which helped me. 
J: What has been the biggest struggle you've faced in your career? How have you overcome it? 
I think it's how social media constantly changes so much, and you have to figure out how to adapt as an artist. The thing that sucks is that it feels like my music career is at the mercy of an algorithm. I put something out, and it depends on "Is the algorithm gonna push this today?" I feel that's been hard for artists everywhere. With the rise of TikTok, there's this pressure to be on that platform. There's such a world and personality that works with TikTok, so despite wanting to be genuine to yourself as an artist and say, "I don't really wanna make TikToks cause that doesn't feel like me," it's hard figuring it out. 
On the other hand, I've seen some people who've blown up because of TikTok, so I think social media and how it constantly changes is something you have to figure out. I tried TikTok for a while, but it's about being true to yourself and approaching social landscapes with what feels like me, not just doing what is popular. So that's tricky, and I'm still figuring it out. 
H: You recently moved from New York to Los Angeles. What has that transition been like? Do you think it was beneficial to your career? 
It was a very good thing to do at the right time because I hadn't even been in LA for a month when I got booked for that Brownies & Lemonade show. It was about the right place, right time. I miss New York a lot; I'm not going to lie. It's different; I miss the fast pace of it. LA is nice, it's been a good move, but I miss my family. I lived with my sister for four years before I moved out here, so this is my first time not living with her. I'll probably go back to New York one day. 
J: Have you noticed any significant differences between the dance music scene in SoCal versus New York?
Oh my god, it's like night and day. So I think before COVID, New York was in a good place, but then COVID just completely destroyed it. So many venues went bankrupt, and we didn't have a lot of smaller event companies. We had some Brownies & Lemonade-type things like Good Looks Collective, and they would bring in a lot of trap artists; they had Hex Cougar once. But they kind of disappeared after COVID, so getting back into the trap music scene was not easy. 
The ISOxo show was our first big trap show in a long time. The thing about New York is that some venues are so big that it's hard to get booked as a smaller artist, and some only want to book top artists so they can sell tickets. So in terms of trap music, there was really nothing. It was very hard post-COVID. I think that was a big part of it, too. I thought, "this underground stuff just really isn't there yet, so it was now or never." Trap music was nonexistent in New York, so it was time for me to go. Maybe the scene will get better there in a few years. 
H: So, after moving to California, as a new resident here, what has been your favorite part of living here?
Ooh, the weather. It's so nice. I'm from Minnesota originally, and it's really cold and snowy. I'm not used to the heat, so I got sunburnt the first couple of times. I've only ever lived in the Midwest or the East Coast, so it's been nice. I've had intense winters my whole life and just a couple of months of sun, so it was time for me to go and get some serotonin. It's like seasonal depression like you wake up, the sun doesn't come up until 9am, and then it's pitch black by 5pm.
H: Well, we're happy to have you here! 
Thank you so much. I'm so happy to be here too. 
---
Follow VILLA on Social Media:
Facebook | Twitter | Instagram | SoundCloud