Lucille Croft rings in a new era and divulges her secrets as she dives into her newest project, the five-track Patient X EP.
---
The phenomenally talented Lucille Croft is one of the many women trying to break the glass ceiling in the male-dominated dance music scene. This Australian DJ and producer continues to capture the attention of a growing, global fanbase with her stellar releases that see her push to even greater heights. And with her daring and outspoken personality, Lucille Croft is an artist that isn't afraid to pose a threat to the status quo.
Known for her dark, alluring midtempo style, Lucille Croft brings a fresh take on the genre that isn't seen very often while also working with other artists in the scene like SWARM and BIJOU. Now, she has made it clear that she's an unstoppable force in the scene by wreaking havoc with her newest release, the Patient X EP, which beautifully showcases her style, vision, and intentions.
The Patient X EP kicks off with a literal warning, so proceed with caution. "Post Human" serves as a message to those who dare enter this era of Lucille Croft. The dark midtempo beats of this track pull listeners into Lucille Croft's world before they even know it. Up next, "Seduce / Destroy" is filled to the brim with confidence, while others like "Kill The Machine," "Out For Blood," and "More Blood" offer up plenty of energy and eeriness along with them.
Lucille Croft's powerful, feminine take on the industrial midtempo sound will give listeners a new perspective, and she swung by to dive deeper into its tracks. Check out the Patient X EP on Spotify or your preferred platform, and read on for the full conversation.
Stream Lucille Croft – Patient X EP on Spotify:
---
Hi Lucille Croft, it's such a pleasure to chat with you, and congratulations on the release of your Patient X EP! We're so excited to chat about your release and how far you've come in your career. 
Thank you! I've worked on this for so long, and it's finally out there. It truly feels surreal going on Spotify and seeing that it's available to the world.  
The EP itself is just phenomenal! It has a concept album feel to it. Can you share a bit about your production process for that creation? How did you come to find the vision for it?
That honestly means so much to me; thank you! On the production side, I wasn't making each song with the intent of being on the EP. I just realized one day that I had a body of work in the making – the songs fit the theme and character perfectly. I must have been subconsciously thinking of Patient X before I knew she even existed. 
There was a lot of experimentation involved in this EP. I'd been listening to a lot of The Prodigy, Nine Inch Nails, and Aphex Twin and knew I had to channel them into my music. I used a few analog synths for the sounds – like the MS20, the OP1, Moog Minitaur, and a few others as I stayed across different studios around Australia throughout the year. Instead of making clean sounds, I wanted the music to have a grit to it – to feel more raw, violent, and industrial.
The vision came to me in a dream. I was working on the concept and had a dream one night that I was in a game. It looked similar to Doom, and I was the character, "Seduce / Destroy" was the soundtrack, and I was running through the mission, looking for ammo and weapons, killing everything in my path (all evil monsters, of course). I actually even saw the X, which made me think of the same 'Patient X' when I was lying down in a dark room and saw a blurred version of it while listening to "Post Human." You know when you close your eyes, and you see shapes and colors? I saw a deep blue, blurry X shape.
"Out For Blood" has such an irresistible flow to it. The track's lyrics sound like an expressive response to experiencing stifling energy and pushback. Is that relevant to your experiences in the music industry? 
This song is an interesting one. When I wrote the initial idea, I was MAD. Really angry. I was truly 'out for blood.' It was initially directed at a person who tried to damage my career, and then I let that go, and it became more of a broad 'fuck you' to everyone who has ever tried to control me, manipulate me, or hold me back. When I recorded the verse vocal, I was actually in a great mood (like a happy Harley Quinn), I was thinking about how happy I am now, and I'm free, and doing things my way, and how it's funny because I really couldn't care less about that person / those people anymore.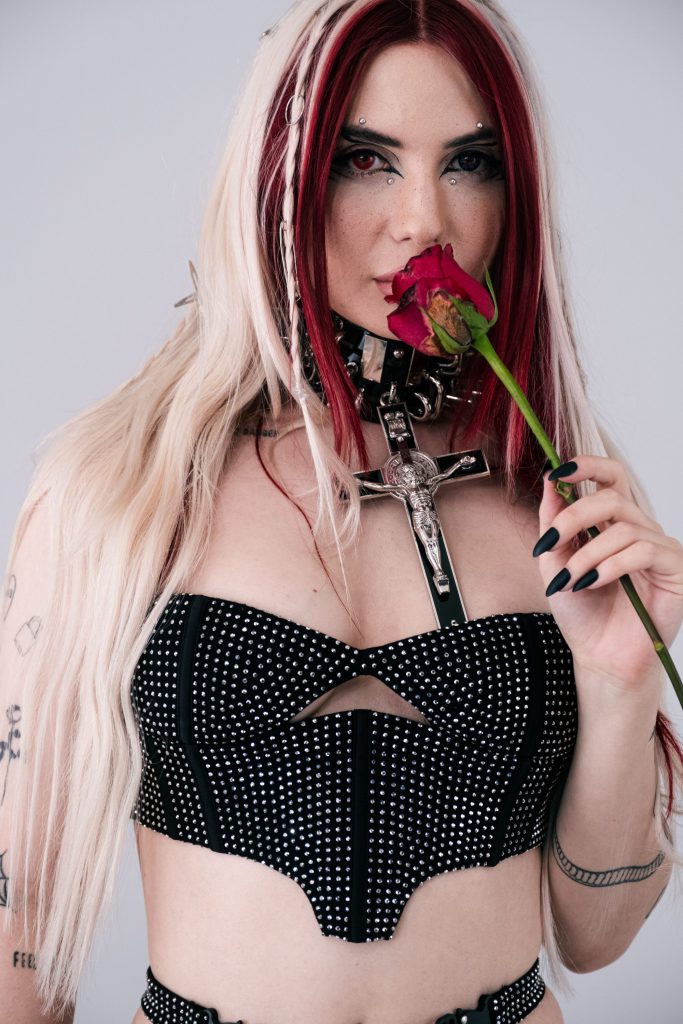 You've also mentioned that Patient X is a "storyline and a character." Can fans expect a saga of releases like this? How do you expect the Patient X era to continue to develop?  
Absolutely! I am a lover of escaping reality-I do this through fantasy, gaming, science-fiction, anime. I love immersing myself in characters when I play a game, watch a movie or read a book. I think about how they'd talk, how they'd feel, what they would eat for breakfast, what kind of music they'd make. I often find myself acting out the characters for fun, so naturally, the Patient X experience has been incredibly fun for me. This is definitely something I'm not only going to continue to explore, but I'm going to make it so much more extreme and crazy. I am SO proud of what I've created with Patient X, and it was really just a proof of concept. Imagine what I can do after this! 
You mentioned that your experience as a woman in music had inspired this project. What experiences went into that, and what allowed you to best express yourself?
Throughout my career, I've had people trying to mold, twist and shape me into their version of the perfect artist, the perfect 'Lucille Croft.' Not what I wanted to be, but what they thought would be the most successful product. I've had people tell me how to dress, how to act online, what music to play, what music to make. I've been told to 'put up with' or 'play along' to very inappropriate situations time and time again because otherwise, I'll be perceived as a 'bitch' or 'difficult to work with.' 
This actually isn't just specific to the music industry either – I used to model a lot. I'd have my agents telling me I was too fat, then too muscly, that I couldn't color my hair, I couldn't get tattoos. It was exhausting, and it nearly killed me. I was told that my ideas were too extreme, and standing up for myself would burn my career, and one day I couldn't take the bullshit anymore, so I did it. Music has been a powerful form of self-expression for me; I like to escape and immerse myself in my songs. I become the characters, and I love it. Patient X has been such a powerful outlet for me, and I feel free now that it's out.  
On that note, what are some of your hopes regarding the reception of your Patient X EP regarding women's empowerment?
I'm hoping that Patient X will give women in music more confidence. To embrace being a woman and doing something outrageous without worrying about what people will think. On the cover, I'm wearing a handmade PVC bodysuit, and I look at the shoot images and think, wow, I look powerful. There's a lot of skin showing, and I don't care; I think I look great. Women can wear short skirts and make music too.  
Coming from Australia, your music career seems to have taken off there, with you touring your home country already. How do you think that might differ from the reception of American audiences and festivals? 
From what I've seen, the markets are quite different. I LOVE Australians. We're absolutely crazy, we go hard, and we really love our music. I played to an American crowd at Illenium's Mexico Festival 'Ember Shores' for the first time. Very different, but equally amazing. I can't wait to start playing around the US from May onwards this year. What I really love about the US audience is the sense of community. They get tattoos of their favorite artists, they make candy and gifts, and they travel around to make all the shows on the tour.  
There's a loyal and growing fanbase for you as more and more fans discover your music. That being said, you mentioned recently that Forecastle Festival will be your first US show ever. How are you feeling about starting that next chapter in your career? 
Yes! I'm EXCITED. I've been waiting so long to tour the US. I have my visa now, I have an incredible US team, and I am well and truly ready. Forecastle Festival is a pretty epic debut US show, we've just announced Bonnaroo too, and there's a lot more to announce still.  
Finally, with 2022 just starting and your US debut just a few months away, what are some goals that you hope to achieve this year? 
I'm looking forward to growing as an artist in the US market and playing to new crowds, (hopefully) converting fans into my weird, twisted, fantasy world. Touring will be a big focus for this year, and then working on my next body of work, which is already in the making. There are some other exciting things we're building out alongside all this, but I won't reveal those just yet.
---
Follow Lucille Croft on Social Media:
Facebook | Twitter | Instagram | SoundCloud