Coachella made a triumphant return to the desert and delivered electrifying performances, stellar art installations, and more!
---
Year after year, Coachella continues to remain a standout festival – one that sets the tone for the rest of the festival season by delivering a high-caliber lineup paired with an immersive environment. You'll find festival attendees who have been heading to the desert for three, four, even five-plus years as there is something that pulls them back to the desert. On top of this, you'll find people who attend both weekends since the first weekend is not nearly enough to fit everything that Coachella has to offer.
After a two-year hiatus, people were more than ready to come to Coachella and experience it again. Despite changing their headliners a few times, they still landed on a diverse and engaging lineup that sold out within minutes. I was thrilled to return back Coachella for my third iteration of the festival and they did not disappoint!
Coachella kicked off in high gear with minimal traffic and an easy entrance experience for Weekend Two.
Being a festival that always happens in the middle of April, in 2020, Coachella was one of the first to get nixed due to COVID. Since then, many have anticipated its return to Indio, so I was more than ready when the time came to wrangle the group together and head down to Southern California.
We arrived at the Polo Grounds around 3pm on Friday and were amazed at how easy it was to get into the festival. The lines for security check were not too long at this point and they did a great job of shuffling people through, while also conducting their routine checks. Within 30 minutes or so, we were inside and ecstatic at the sight of the famed Ferris Wheel.
Our first set of the day was Lost Kings at the Sahara tent. We idled in the back of the crowd, while our group got situated with ID check wristbands and water. You could feel the energy at that moment, everyone was incredibly excited to be back at the festival and Lost Kings provided the perfect music for this.
After this set, our group split up, and I went over to the Heineken House to check it out and meet with Christine Karimi, the Head of Partnerships and Consumer Experience. Over the years, Heineken House has drastically changed their stage design and since 2019, they adopted an open-air concept. This year, they were nestled away behind the Antarctic Dome, which was a bit of a walk from the main festival area but so worth it.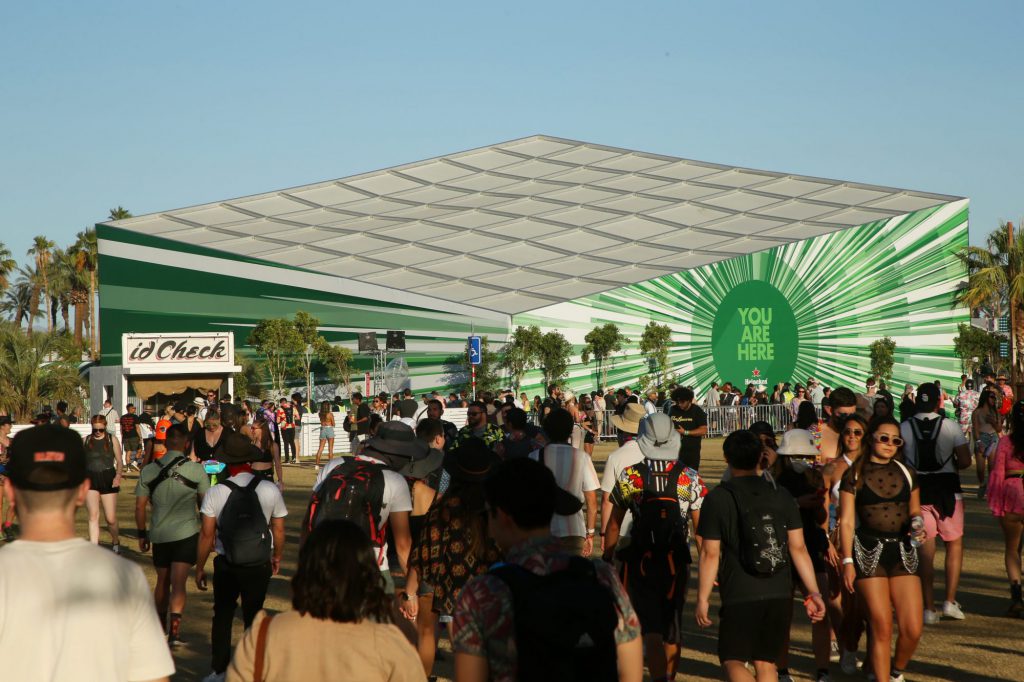 The Heineken House is where our weekend truly began with an electrifying set from Whethan.
The Heineken House stage began to fill up when we arrived around 4:30pm, but there was tons of space to enjoy the music and great beer. Chatting with Christine, I learned that the focus of the Heineken House this year was to put a spotlight on upcoming DJs within the area along with some international acts. During the first weekend, they hosted a rare Thundercat and Flying Lotus set that nearly blew the roof off the stage, and for the second, they had some surprise acts coming through.
My group met up with me at the Heineken House just in time for Whethan's performance, and he set the tone for the weekend. He jumped around various genres throughout his set and even threw in tracks from his latest album MIDNIGHT. It was an unbelievably fun set that we were glad we were able to catch!
After this set, our group split up again, with half of the group heading to Madeon at the Outdoor Theatre while the other half was heading to Moore Kismet at the Do LaB. I joined those heading to the Do LaB because I was looking forward to seeing Moore Kismet's set after interviewing them two years ago.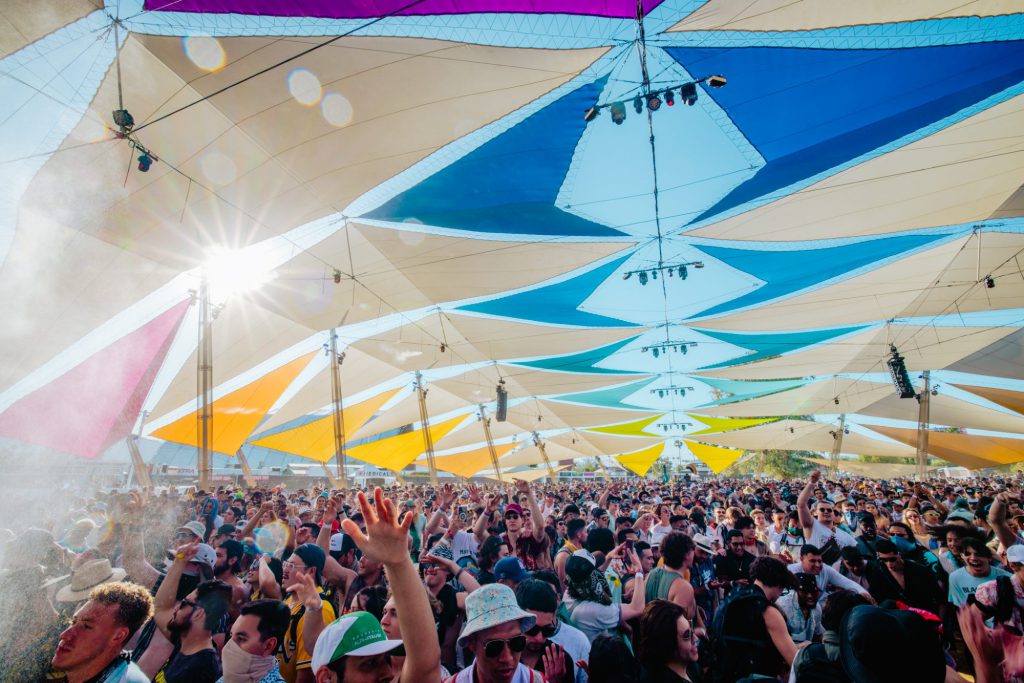 Moore Kismet set the Do LaB ablaze on Day One.
The Do LaB remains one of my favorite stages at Coachella due to the variety they provide to the main lineup. They do an impressive job at allowing upcoming acts to take the stage along with surprise acts between both weekends. Moore Kismet is a prime example of an up-and-coming act that I was elated to see make the lineup for the second weekend.
From start to finish, they delivered a set full of bass with some house selects sprinkled in there as well. They performed tracks such as "Rumor" and "Call of The Unicorn" – and delivered a live rendition of their verse on "Hold Up." Along with this, they mixed in crowd favorites such as "Dominate" by Space Laces and a drum and bass rendition of Flume's "Rushing Back." When the set finally ended, we could not believe our ears and definitely had to catch our breath.
We left the Do LaB and walked around Coachella, and the grounds were coming alive since the sun had set. The art installations were lit up, and the crowd had grown in size. After grabbing some water, we ended up at the main stage to catch a little bit of Lil Baby. However, we did not stay at this set for long as texts from the rest of our group were finally coming in. We designated a meetup spot at the Sahara tent for Baby Keem's set and made the trek over there.
Baby Keem delivered an impressive set and even brought out a spectacular surprise guest.
We were able to successfully meet up with the rest of our group and grab a spot towards the back of the Sahara tent. Baby Keem got on stage and killed his performance. The energy and stage presence he provided was impressive as he worked through his hits "ORANGE SODA" and "HONEST" among other tracks. Along with this, the crowd went wild when Kendrick Lamar made a guest appearance for his verse in "Family Ties" to close out the set. After being mind blown at the sight of Kendrick, we recollected ourselves and headed to Louis the Child at the Outdoor Theatre.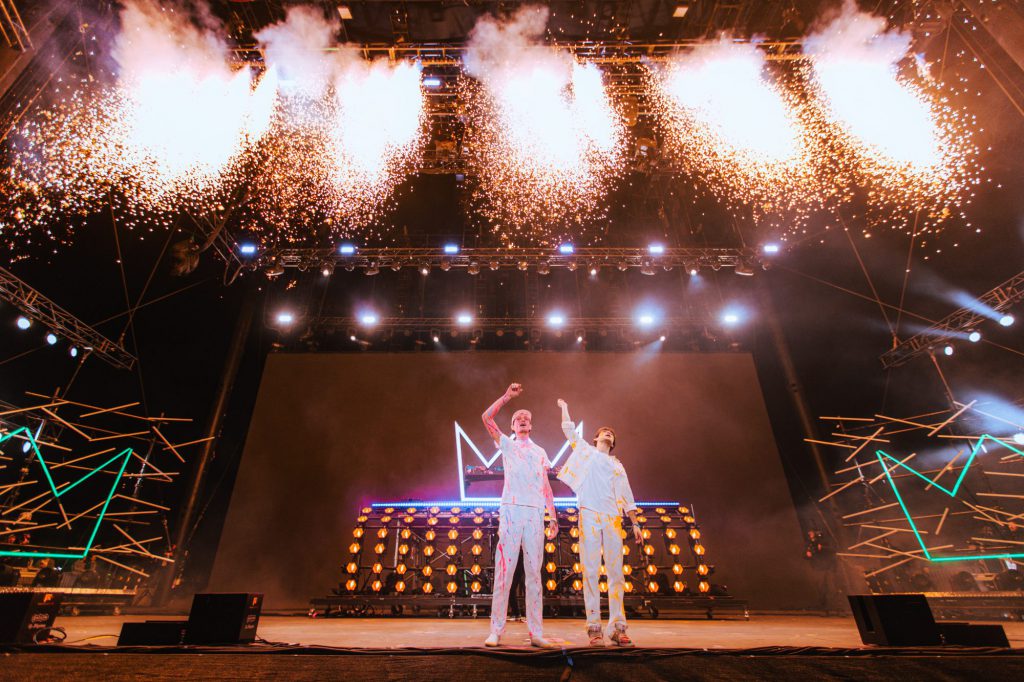 Louis The Child provided great tunes to dance to and brought along a slew of special guests.
Louis the Child's sets are fairly straightforward, but they get the job done. Throughout their one-hour set, they rinsed out popular tunes of theirs, such as their remix to "Blasé," "Weekend," "Keep on Moving," and more. Along with this, they have specific live show VIPs to tracks like "It's Strange," "Love is Alive," and "Slow Down Love," which make for a unique experience when you see them live.
Additionally, they brought out Elohim, Drew Love, and Royal & The Serpent to accompany them on stage at various times throughout their performance. Overall, their set was fun and it was hard to not be dancing while in the crowd.
We chose to end the first day with SLANDER over at the Sahara tent.
The first day was coming to a close and I could not believe we had two more days. So far, Coachella had been a breeze, and there were no hiccups! SLANDER was closing out at the Sahara tent, which was an amazing feat for them. They had attended Coachella as regular attendees around 10 years ago, so they were incredibly grateful to have the opportunity to close out Sahara as performers.
Their set started off with tons of energy as they rinsed through some dubstep tracks to get the crowd fired up. From there, they went into tracks like "Love is Gone," "Fall Into Me," and "Walk On Water," which are on the slower side. This made their set feel a bit disjointed; however, we enjoyed their set and headed home right after!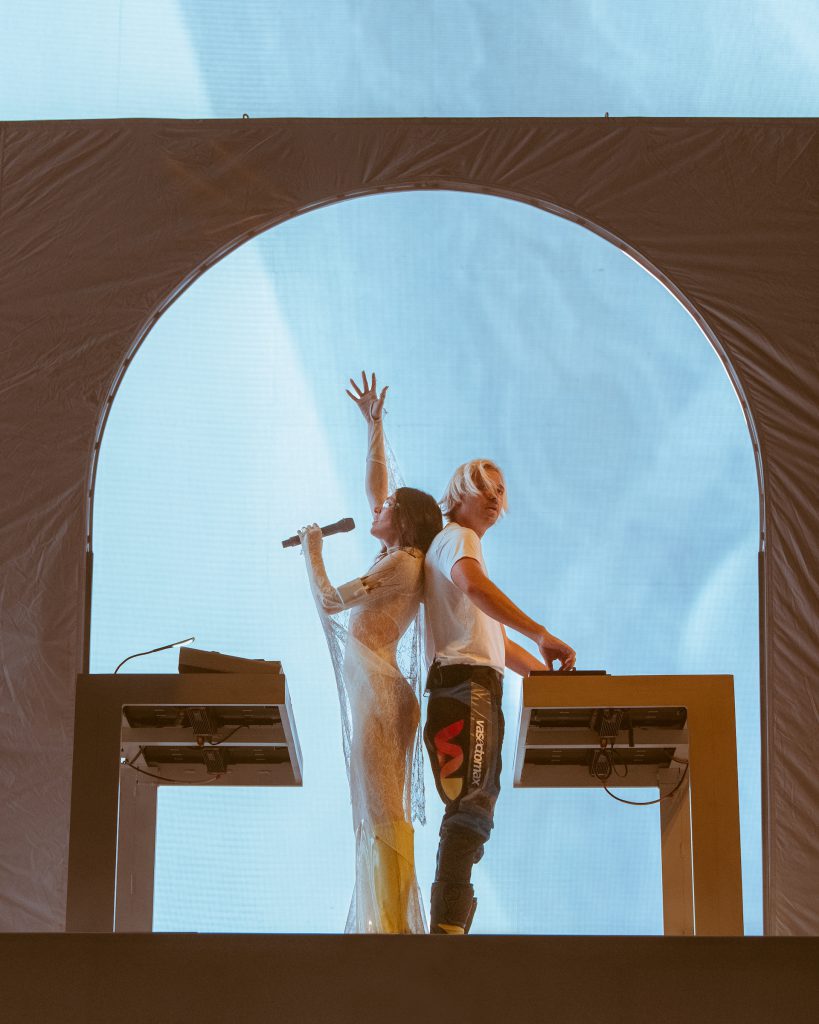 Saturday was filled with large crowds, which made it difficult to get a good spot at certain acts.
My group ended up getting into the festival a little later, around 5pm, but still faced no problems with long security lines. However, you could tell that Saturday was more packed with people than the day prior. With that, we headed to the Sahara tent and grabbed a good spot for Tchami's set.
Tchami brought his distinctive house sound to Weekend Two along with tracks from his own Confession record label. He lit up the Sahara tent with tracks such as "Made In France," his collab with AC Slater "Only One," and even his "You Know You Like It" remix from 2015. We danced from start to finish and enjoyed every second of it!
We headed straight from Tchami over to Flume, who was playing on the main stage.
The move between these sets is when we started to feel the large crowd on Saturday. For Flume's set we ended up being incredibly far back and people kept on moving around, which took away from the performance. However, in the time that we were there, we saw him perform "Say Nothing" with vocalist MAY-A and "Smoke & Retribution" with rapper Vince Staples. Unfortunately, we ended up cutting his set short due to how out of touch we felt since we were so far away from the stage.
Then it was time to head to the Do LaB to catch a fun house set from SIDEPIECE.
Saturday was already flying by and we could not believe we were at one of our last sets of the evening. The Do LaB was brimming with people and everyone was getting down to the sounds provided by SIDEPIECE. The house super-duo comprised of Nitti Gritti and Party Favor has made this side project amazingly successful, and the crowd at their set proved it.
They dropped an incredible set that included their own original tracks such as "Sextacy," "Together," and their smash hit "On My Mind" along with other groovy tracks. We enjoyed their set from the moment we got there until it was over. After, SIDEPIECE was Hayden James, who was provided a surprise Do Lab set that was nothing like his normal sets. Instead, it was darker and focused on a lot less vocals, regardless, it was enjoyable. After closing the night with Isaiah Rashad and 21 Savage, we were incredibly excited for our final day in the desert!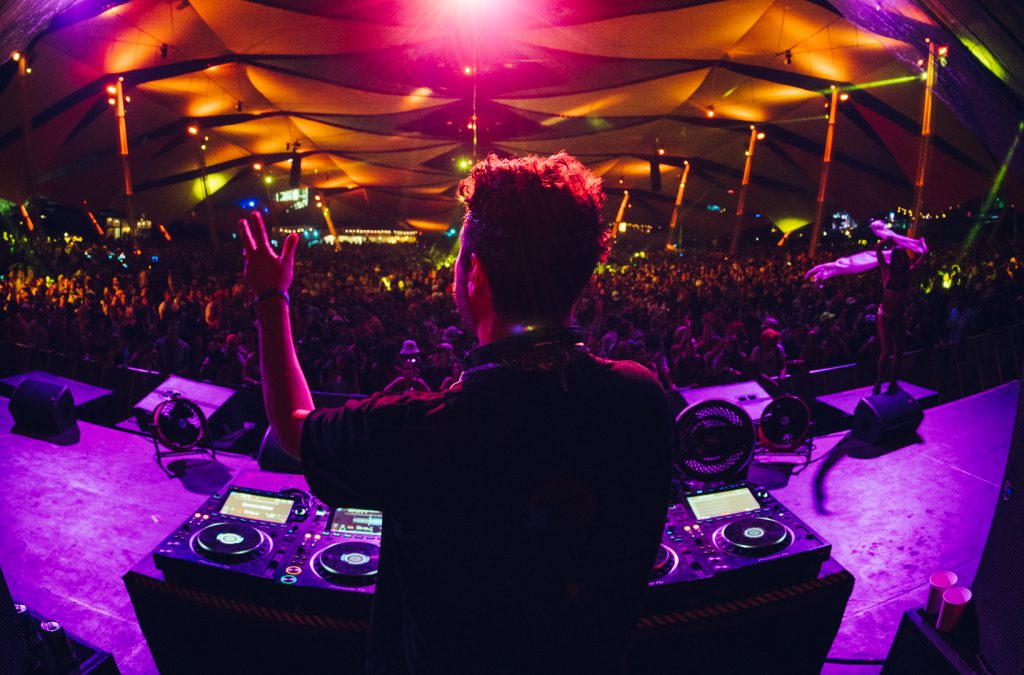 Sunday was arguably one of the best days of Coachella, from the lineup to the overall feeling of day three – it was hard to match it.
We started off the day by heading to Day Club Palm Springs, which was a relaxing way to start off the final day of Coachella. We caught fantastic sets by DLMT and Lucati while hanging out poolside, and while the drive from Palm Springs back to Coachella was a bit lengthy, it was worth it!
We got into Coachella around 5pm and immediately caught Vince Staples set in the Sahara tent. He had the entire crowd going wild with tracks from his latest album RAMONA PARK BROKE MY HEART along with some older hits such as "Norf Norf." The energy he was able to deliver in his set was infectious and put us in a great mood.
We took a break to get food and water and caught the beginning of Duck Sauce before walking over to Dave in the Mojave tent. This was our first time checking out this stage during our time at Coachella, and it was amazing. Dave, a UK grime artist, tore the entire place down! We were transfixed during his set and could not get enough of his crowd control and ability to put on a great show. It was a highlight of Coachella, no doubt.
Doja Cat stole the show with her headliner-worthy performance.
Whisperings from Weekend One said that Doja Cat was one of the must-see acts due to her performance and they were not wrong. Over the past two years, Doja Cat has ascended into pop super stardom with her album Planet Her and taken over the radio. While she definitely climbed up a few ranks in terms of billing between Coachella 2020 and 2022, her performance from this weekend could definitely be at a headliner level.
You could tell she was giving it her all while on stage, during her set she changed outfits multiple times and was singing and dancing alongside her backup dancers. The audience was in a great mood singing along to tracks like "Get Into It," "Woman," "Say So," and more. It was one of those sets where you realize how many hits an artist has, which was an astonishing feeling!
We cut Doja Cat's set a little short and headed next door to the Outdoor Theatre for Jamie XX.
I was excited to check Jamie XX out after listening to his solo project and the xx over the last few years. His set ended up being was out of this world! I had my jaw dropped to the floor the entire time as he weaved through different genres, tempos, and tracks. What was the most engaging part of his set was that you never knew what was coming next, he was the master of keeping the crowd on their toes. I could not tell you the last time I was so entranced by a DJ set in this way and I would highly recommend you check a live show from him.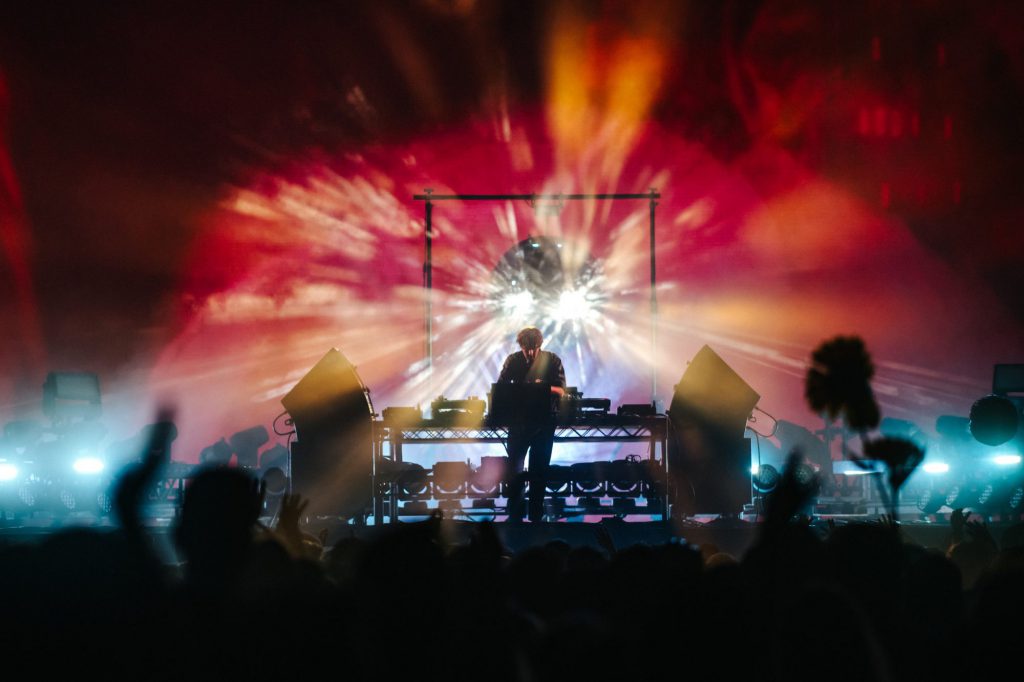 To close out Coachella we split our time between Swedish House Mafia and DJ Hanzel at the Do LaB.
Our time at Coachella was coming to an end and to close it out, we caught the first half of Swedish House Mafia's set. During Weekend One, their set was delayed by 30 minutes due to technical difficulties, however it seemed they were able to fix all of that in time for Weekend Two. Their set started right on time, and it was a blast from the past. They worked through tracks off their new album Paradise Again, including "Lifetime," "Frankenstein," and "Redlight," and provided some reworks to older hits such as "Greyhound" and "Calling." Towards the end of their set, they played "Don't You Worry Child" and "Save The World," and I immediately felt a wave of nostalgia pass over me.
Once their set was over at The Weeknd was beginning to come on, we quickly moved over to the Do LaB, where Dillon Francis' alter ego, DJ Hanzel, was providing a surprise set. It has been some time since DJ Hanzel has done a set, but we enjoyed hearing his deep and dark signature style again. It was a great way to end this phenomenal weekend back to the desert.
Coachella continues to be a top-tier festival and I was so thrilled to be back again this year and cannot wait for the next one!
Coachella continues to show that they are one of the top festivals and can easily bounce back from set backs such as a global pandemic and headliners pulling out. They picked right back up from where they stopped back in 2019. The entire weekend went off without a hitch, and it was such a great feeling to return to a festival I consider near and dear to my heart. I cannot wait to see next year's lineup, art installations, and any more surprises they may have for us!
---
Connect with Coachella on Social Media: