We've curated a special playlist for you to enjoy as you prepare to head to The Gorge for Above & Beyond's Group Therapy Weekender 2022!
---
Pure magic happened when Above & Beyond brought ABGT250 to the picturesque Gorge Amphitheater in 2017. The milestone event brought music lovers together from across the globe to enjoy the magical sounds of Anjunabeats and Anjunadeep, and when it was all said and done, we were begging for their fast return. Luckily, Tony, Paavo, and Jono fell in love with the location as much as the Anjunafamily did, so in 2019 they brought their imprint back for the first official Group Therapy Weekender.
The first Group Therapy Weekender was a success due to the perfect mix of body rocking beats and the unshakable family vibes, as attendees bonded in support of their favorite label while also indulging in carefree camping fun. It's no wonder that we've all been counting down the days until the pre-show on July 22, when we will step through the gate and get the party started once again. Since the wait is almost over, why not boost the anticipation with the music that's driving us to The Gorge in the first place!
The last few years have seen some incredible music emerge from the vast array of talent on the Anjuna roster, and so, for your listening pleasure, we've curated a playlist that supports our recent favorites. We kick things off with Above & Beyond and Mat Zo's "Always Do," and from there, the energy ebbs and flows as listeners are taken on an uplifting ride alongside the who's who of Anjuna. You'll land on tracks that tickle your dancing spirit like Bexxie's "Feel The Sound," you'll be swept away into a pure state of zen with tunes like Marsh's "There For Me," and you may even drop a tear since Franky Wah's "Should Have Seen It Coming" is present and accounted for.
Of course, we dumped some heavy rave-forward spectacles in there as well, like Genix's brand new "Ba55 I5land," and if you're looking to touch the stars, you'll find "Voyager 1" ready to reverse gravity for a quick trip to outer space with Ben Böhmer. Also included in the playlist are the incredible preshow artists not making an appearance on the main stage like Naz, Rodg, and Chris Giuliano. And make sure to feast your ears upon the brilliant afro stylings of Lakou Mizik & Joseph Ray as they present Leave The Bones. If their tracks like "Kite Zo A" are any indication of what to expect, this is a set you'd be a fool to miss.
Of course, this is just a drop in the bucket as there's a whopping 4.5 hours of music to soak up. So, as you make the final adjustments to your itinerary and begin packing your bags and collecting your camping gear, why not accompany your tasks with a soundtrack for the occasion – you may even be inspired to take a little dance break. Slam that play button on our Group Therapy Weekender 2022 Playlist on Spotify below, and if you haven't already, make sure to grab your tickets for the festival right now because they're close to selling out!
Stream Above & Beyond Group Therapy Weekender 2022 Playlist on Spotify:
---
Above & Beyond Group Therapy Weekender 2022 – Lineup/Set Times: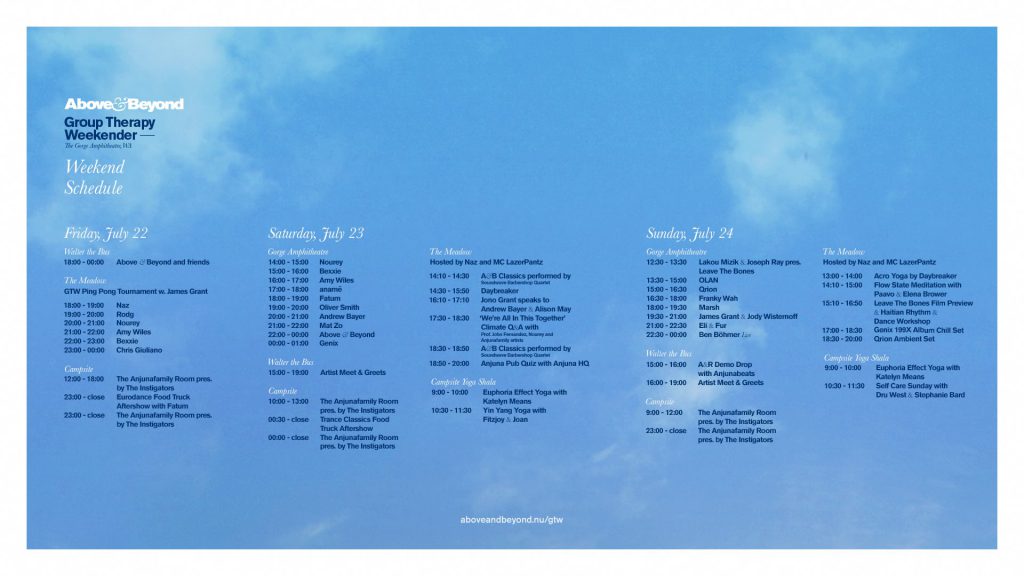 ---
Follow Above & Beyond on Social Media:
Website | Facebook | Twitter | Instagram | SoundCloud | YouTube