Take a trip back in time with these five magical moments that show why Electric Forest is one of the most heavenly festivals!
---
Electric Forest is full of wonder at every turn. In the forest, there are countless hidden messages, riddles, easter eggs, fairy doors, and scavenger hunts to discover. Not to mention all the music, art, food, fashion, connection, and synchronicities that the Forest provides. When the literal dust settles from a weekend, it becomes clear that much of the magic of the festival comes in moments. Moments that when stacked together create a different story for everyone.
Related: Read our full review of Electric Forest and find out why their 10th anniversary was fantastic!
Much of my story was driven by the music and natural beauty of the Sherwood Forest. It's tough to pick only five defining moments from the weekend because there are so many things that happen over the course of the four days, but when I reflect on my time at this year's edition – these were the moments that wildly stuck out to me. These are the moments that when I think back on them, I am immediately transported back to the beauty that is Electric Forest.
Five Moments That Will Take You Back to Electric Forest
---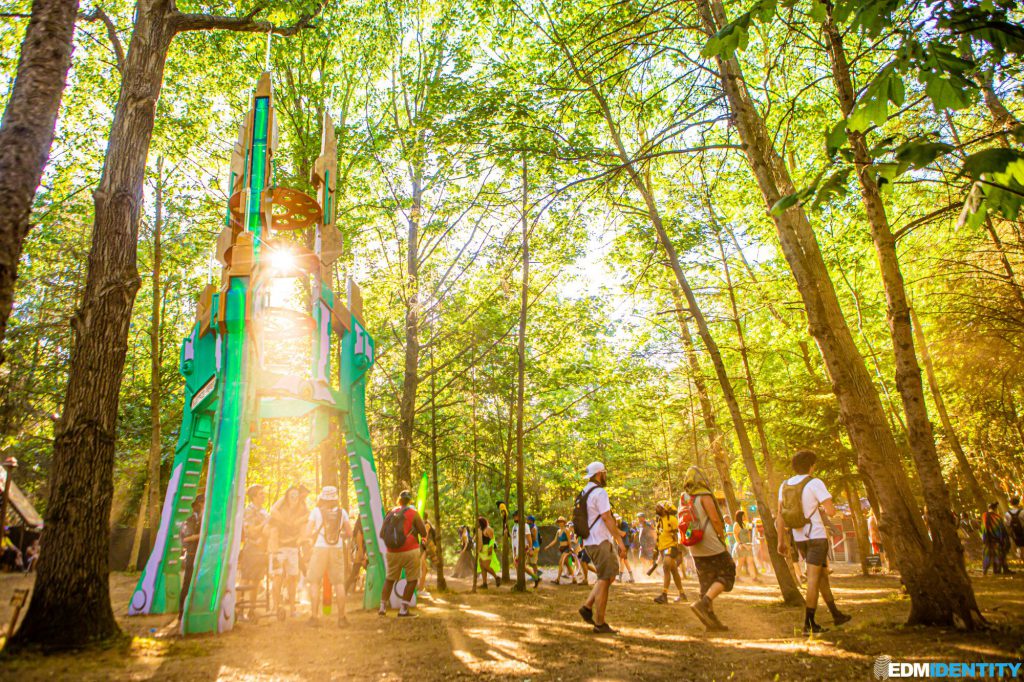 The light shining through the trees in the forest and when it ignited with vibrant colors at night.
One of the most awe-inspiring things about Electric Forest is the way the light interacts with the environment of the festival. During the day the sun shines through the trees and strategically placed art installations casting playful shadows on the ground. Beams of light pour through the empty spaces of tree limbs filling them with life. Walking around the festival there are so many different ways the light illuminates the magic of the forest and catching these moments invigorated me with the very special essence of the Forest.
At night, the lasers and other production illuminated the trees and walkways that would lead you from stage to stage. It's one of the coolest things to see, the lasers beaming through the darkness acting as a beacon to guide you to your next Forest experience. As a photographer, I spent a lot of time thinking of the light and fun ways to play with it and, hopefully, capture it.
---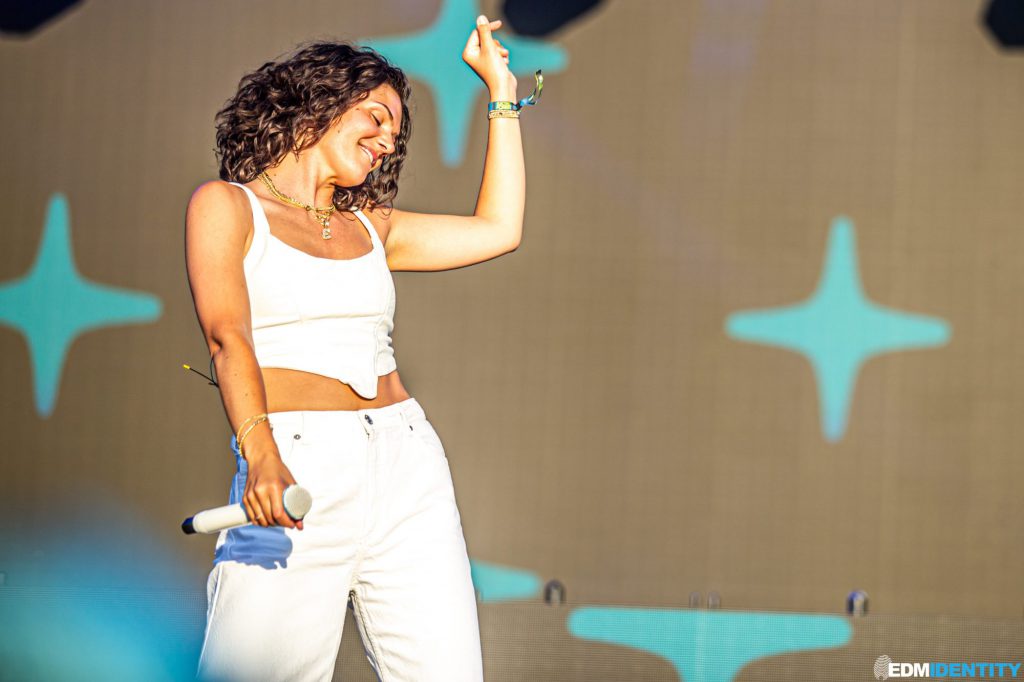 EVAN GIIA entrancing the crowd at Tripolee.
If you haven't seen EVAN GIIA, I highly recommend catching one of her sets! She is well on her way to selling out tours and venues with her powerful vocals, thoughtful songwriting, heavy-hitting beats, and commanding stage presence. Not only that, but she has expanded her creative skill set to design her own visuals and performs as a one-woman show. It's incredible to experience the energy she exudes on stage as she belts out her songs and gets the crowd riled up. With so much new music out and so much in the works her set touched on every vibe and kicked off the festival with a bang.
She played out her newest song, "Don't Let Me Let Go" with Illenium and Dillon Francis, as well as "For Aisha," which was featured in the movie The Sky Is Pink, and "Blow The Roof" with Louis The Child and Kasbo. She also played out a handful of tracks from her Endorphins EP including "Feeling Better (Better)," "In Motion," "Mood Swings," and "By My Side." Even in the mid-day heat, there was no keeping EVAN GIIA from giving it her all and she captivated everyone at Tripolee from the first beat.
---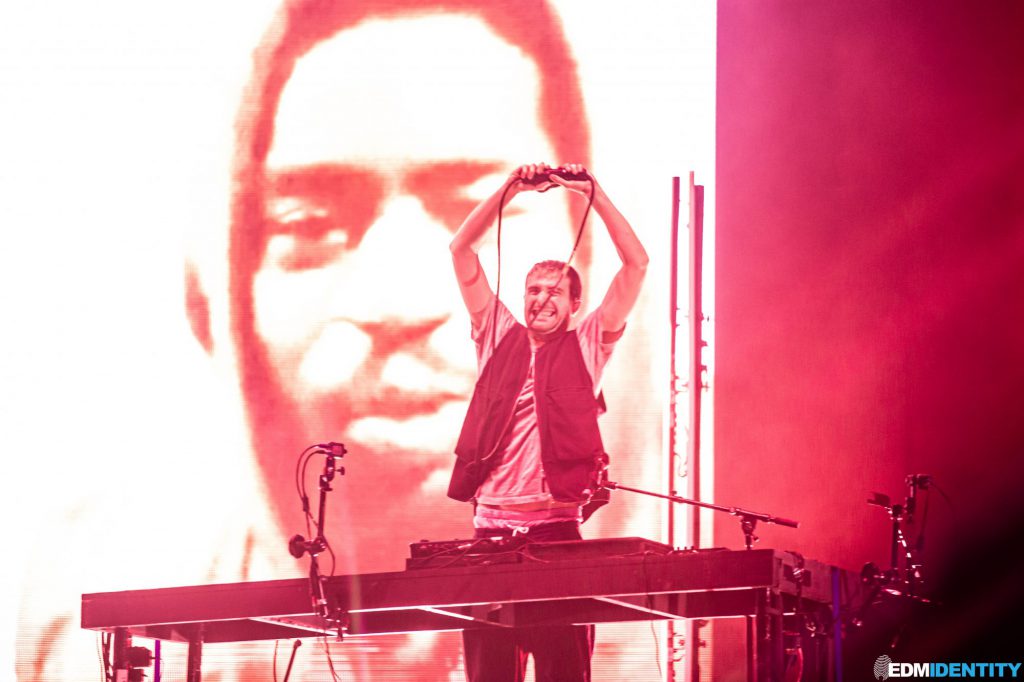 Fred Again.. ripping the cord out of the mic to end his set
Fred Again.. has become one of my favorite artists and I will never miss a chance to see him perform. The British singer, songwriter, and multi-instrumentalist captured the ears and hearts of dance music lovers around the world with his diary-style quarantine albums Actual Life (April 14 – December 17 2020) and Actual Life 2 (February 2 – October 15 2021). All of which Fred Again.. famously samples his friends and the many conversations that took place over the course of the pandemic years and produced them into vibey pertinent dance bangers.
Fred Again.. played on Friday at the same time as GRiZ so getting a good spot for the show was very easy. The set got better with each track as he played through all my favorites like "Tate (How I Feel)," "Faisal (Envelops Me)," "Baxter (These Are My Friends)," "Kyle (Northern Line)," and "Julia (Deep Diving)." It was immaculate with no song out of place and by the end of his performance, the crowd reached all the way to the back of Sherwood Court.
To bring the show to an end he played "Marea (We've Lost Dancing)" to a crowd that was 1000% ready to receive that blessing and completed the set with "Billie (Loving Arms)" which was a perfectly heartwarming and uplifting way to end. The entire crowd was singing along "put your loving arms around me, around me" and burst out into dance at all the drops. To a huge uproar of cheers and woos, Fred ripped the chord from his microphone and walked off stage. It was a rockstar move and really topped off the entire experience.
---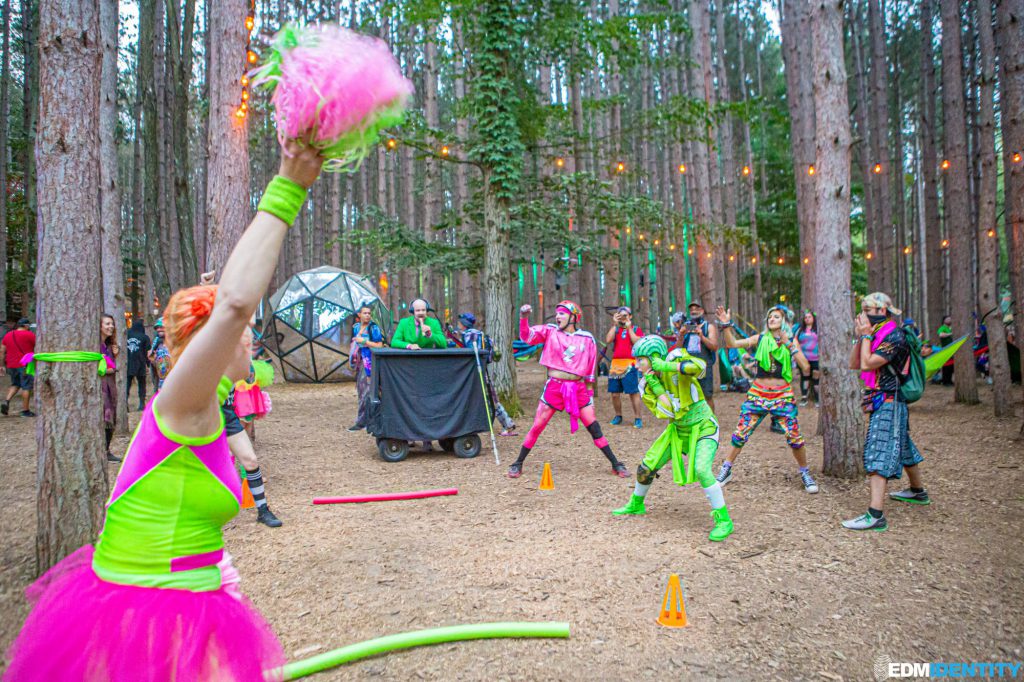 A serious game of "Dodge That Tree!" taking place in the forest.
You never know what you might stumble upon in the Forest. That's what makes it so fun! As I was wandering the festival snapping pictures of different things I came across a group of performers playing a hilarious game called "Dodge That Tree!" The respective team captains from Team Pink and Team Green selected their teammates, who could have been any attendee who stopped and watched, gave them a team bandana, and the competition was on!
Team captains were suited in all the proper safety gear required by the DTTFA (Dodge That Tree Forest Association), the announcer was ready to call the match, and bystanders were excited to see who would be able to successfully "Dodge That Tree!" We counted down the match and watched as each team tried their hardest to dodge that tree! It's so funny because there are literally hundreds of trees so the concept of the game is inherently ridiculous, but was the perfect way to bring out your inner child because it got pretty intense.
In the end, both teams dodged the tree (phew!), there was a big celebration, and I guess I just went along with my day with that memory at the forefront of my mind. I remember catching myself laughing at the thought of Dodge That Tree when I was at camp, at a set, and even two weeks later while I am writing this. It was a very relevant and funny game to stumble upon in a forest.
---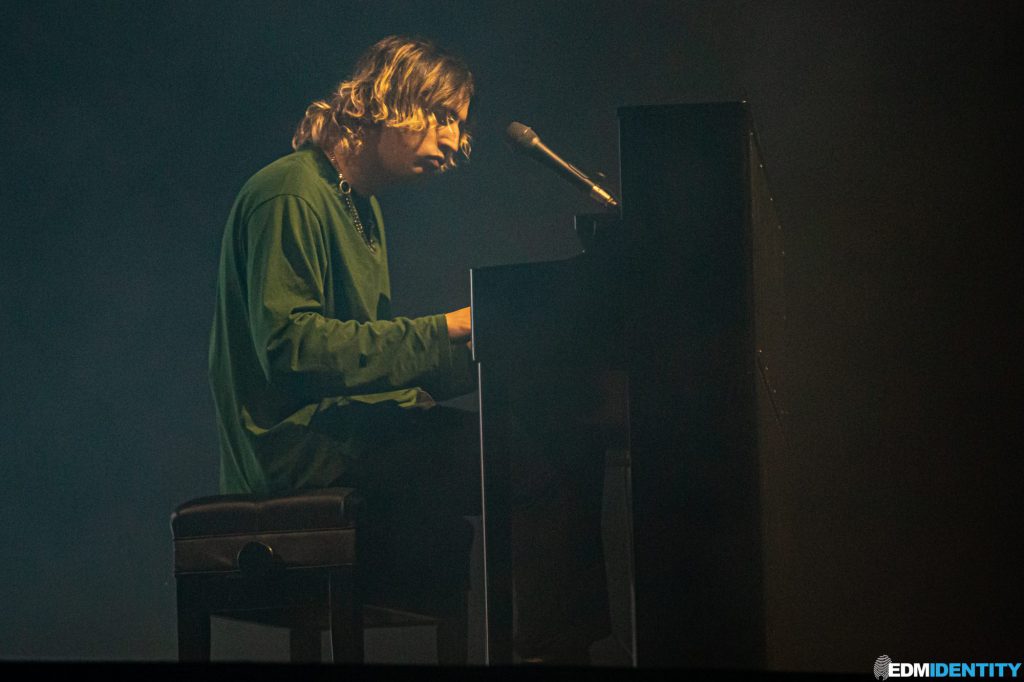 Porter Robinson improvising during technical difficulties.
Much like Fred Again.., I will never miss a chance to see Porter Robinson, and to see him at Electric Forest was very special. His set consisted of many tracks from Nurture, Worlds, and the beloved collaboration with Madeon, "Shelter." It was everything I could have wanted to experience and only makes me want to keep chasing Porter's shows. Even when technical difficulties presented themselves Porter handled them in stride and with the utmost professionalism.
You never know when sound issues will happen. There are so many moving pieces and literally so many tangible pieces of equipment that have to function properly to fire off without a hitch; however, during Porter's performance, there was a specific moment when a sound issue presented itself and he went straight into a stripped-down version of "Language" on the piano.
Who knows when we will get to see a version of "Language" like that again. Porter took a hiccup and turned it into something beautiful and memorable and that's extremely admirable. Besides that, he also played the piano in the forest and although I wasn't there I can only imagine what it was like. It surely would have been a core memory for me from this year's Electric Forest, but I am so happy I was able to at least catch his main set and Air2Earth.
---
Follow Electric Forest on Social Media: