Electric Forest was back in action after two long years, and needless to say, every performance and memory made was amazing.
---
Electric Forest is held in Rothbury, Michigan, and after two long years without it, this year was a special one for its tenth anniversary. I couldn't wait to make the trip back to Sherwood Forest to experience the magic, and the anticipation grew as I drove up to Michigan from Chicago. When arriving at Rothbury, we were pointed in multiple directions, which was a little annoying, but we were able to find where to go and be on our way.
My friends and I arrived early in Sherwood Tent Only camping in VIP, otherwise known as Good Life. This had been my first year camping in Good Life, so I was pretty excited to see how things would go. For most of the weekend, things were fine. The showers were hot Thursday morning and not too cold the rest of the weekend. There was trouble with the toilet trailers flooding or overflowing, though. Walking two campsites over to go to the bathroom was annoying, but no experience is ever perfect when it comes to festivals.
There was also a general store with quite a bit of groceries like bread, hot dogs, water, and soda, along with a few practical items like air mattresses, gas for camp stoves, and of course, ice. But that was about a 15 to 20-minute walk away from Tent Only camping. We were on one end of the field, and the store was on the opposite side, a few campsites away. It wasn't horrible, but to improve this, they could have added one to Tent Only, and things would've gone smoother for the whole area.
When it came to entering the festival itself, Good Life has a few gates, but the one near Sherwood Court was the one closest to my campsite. Security was pretty easy and breezy. There wasn't any fuss from anyone in line, which also seemed to move pretty quickly.
From what I remember, when I last visited the forest in 2018, it didn't look like too much had changed, but nothing was wrong with that.
Structures and stage designs had been updated and modified. There were new installations by several artists and updates to the Honeycomb and The Observatory's bleacher-like stands. Sherwood Court had new LED screens around the stage that would change patterns. Tripolee also got a facelift by adding large screens to the sides and having vibrant lasers. The trees, when lit, were luminous, and the lasers beaming in-between tree branches would light up specific art installations. 
The seven stages and the silent disco would be home to so many spectacular performances over the four-day weekend. We had two different sets from both GRiZ and Louis The Child. Both acts played their traditional sets along with a "Chasing The Golden Hour" set from GRiZ and a "Playground" set from Louis The Child. We also got banging sets from The String Cheese Incident, Goth Babe, Neil Frances, Marc E. Bassy, Dom Dolla, John Summit, and many more. The weekend was only getting started, with many more memories to be made.
One thing that certainly didn't change was the dust.
In my three years attending, there was always dust. That was a huge negative for me this year. Because of the sand and sun-dried dirt, lots of little particles were being blown around, simply coating you the moment you stepped out of the shower trailer. Even with a bandana or mask, the amount that went up my nose was not ideal. A lot of it would also get in my eyes which is not pleasant. Especially as a photographer with glasses – I can't see anything without my glasses.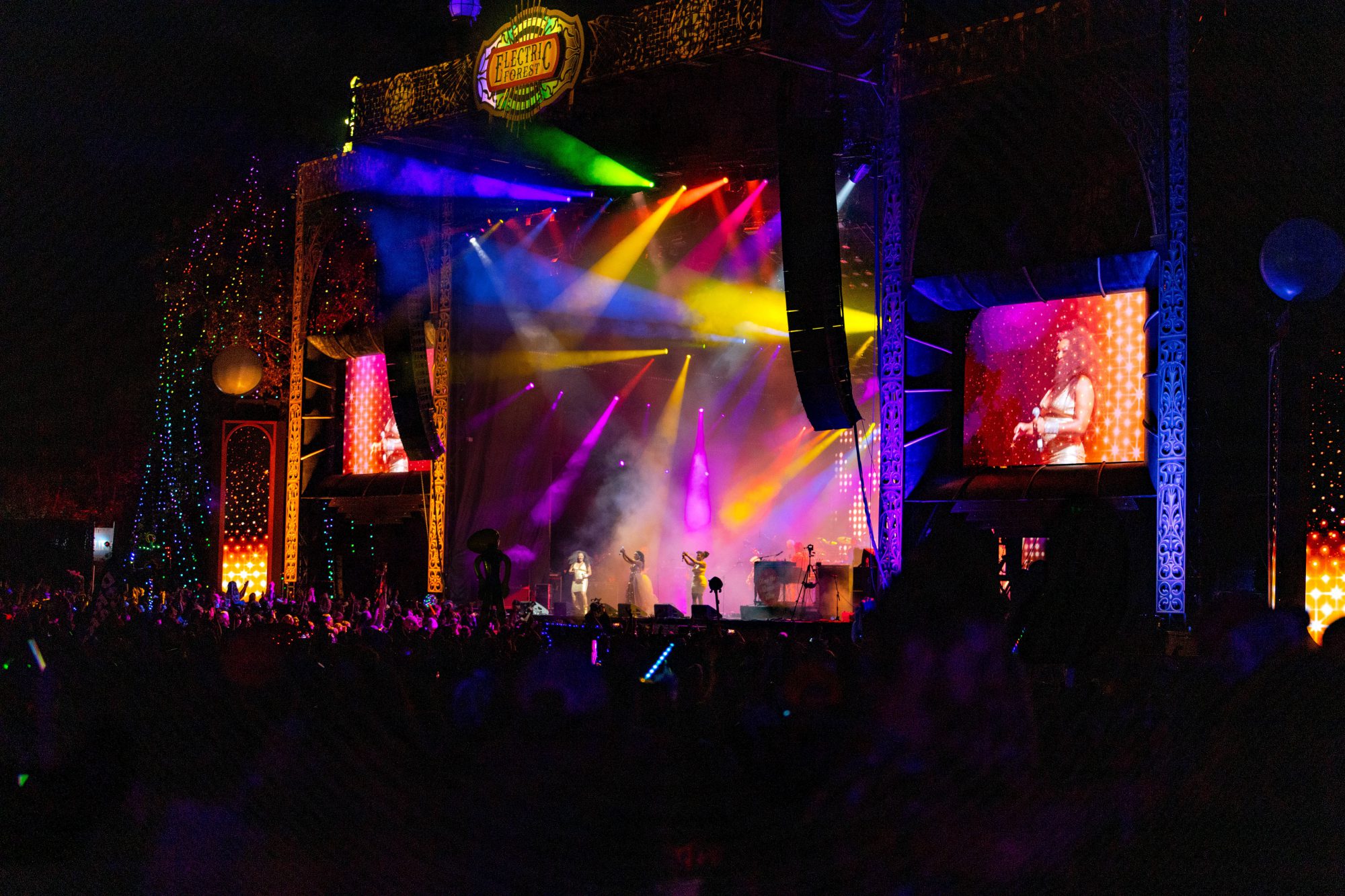 As for the overall vibe, it was absolutely nothing but contagious happiness.  
You could immediately tell that attendees were just ecstatic to be back as those running the festival. After all, it had been too long without being able to frolic in the forest. One thing that stood out to me was that I did not encounter a single person who gave off negative energy. There was a smile on everyone's face, even happy tears. It's hard to come back to reality and go back to work after a weekend like that.
The only issue stage-wise was inside the forest itself.
We made our way to The Observatory to catch some of Tinlicker and Rome in Silver on Friday and Sunday but had trouble getting a better view or getting close for photos because both sets were so packed. Props to these guys because absolutely everyone wanted to be there. I didn't have earplugs for one of these sets, and the bass was booming so loud that I could feel my eardrums shaking. Most importantly, when it comes to enjoying live music, ear safety is key. I would honestly say wearing them made the festival more enjoyable.
While each stage's audio was fairly clear, even while wearing earplugs, I didn't experience any issues with sound throughout the weekend. It was all done efficiently. However, I overheard that CloZee had some problems with the bass during her set – but she pulled through like a champ. Thankfully, and to everyone's surprise, she was able to redeem her set by playing a second one at the Carousel Club, which was insanely packed.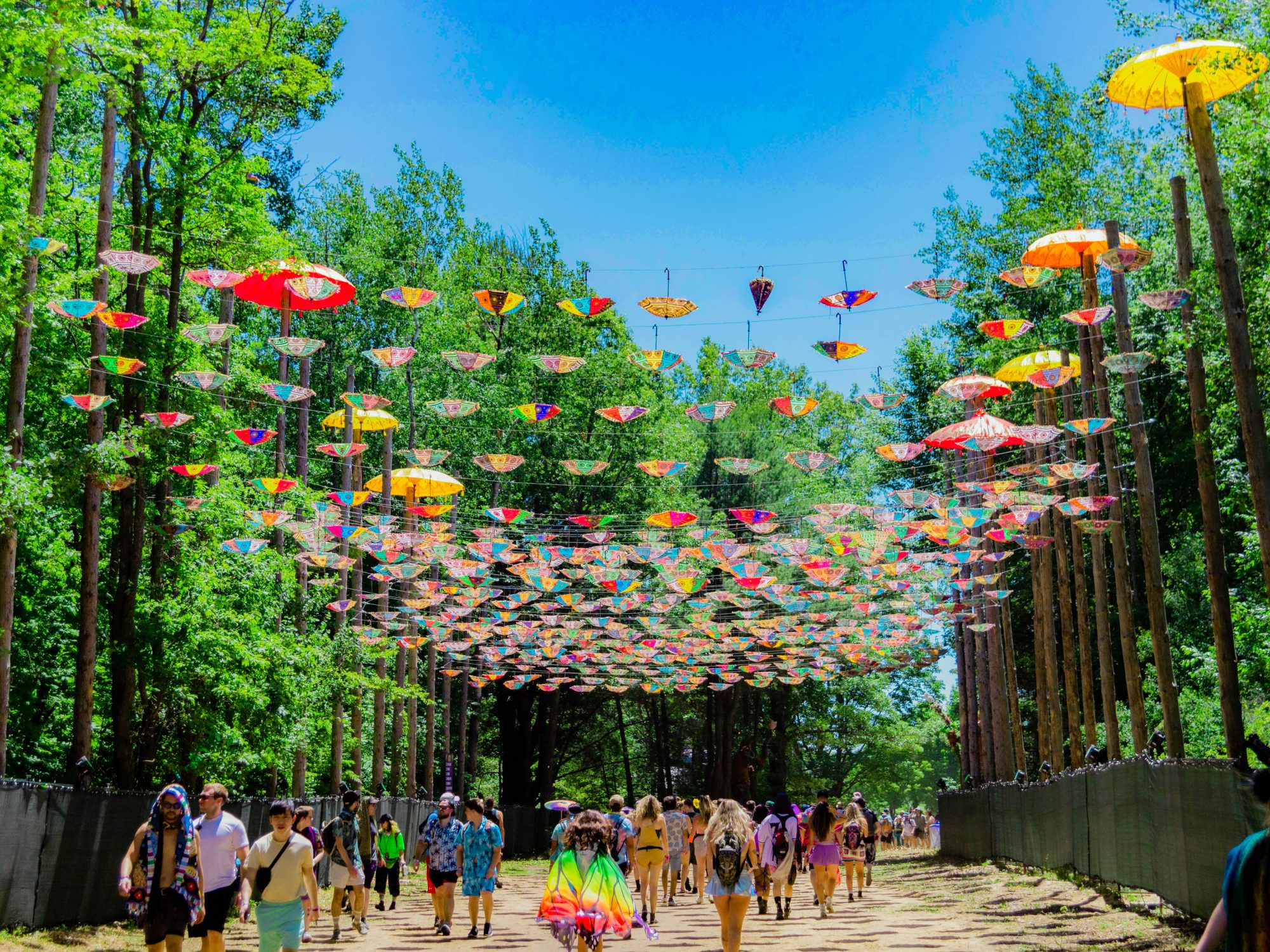 On top of being cashless this year, Electric Forest was trying something new regarding the 21+ wristbands.
Unlike years past, there were special wristbands for buying drinks. Someone would check your ID at the specified tents scattered throughout the forest, and you would receive a wristband that they would activate for you. I had heard a worker mention that this was the first year they had tried this method of checking ID for drinks. This made things run pretty smoothly as you didn't need to fumble to get your ID out of your wallet whenever you wanted a beverage. They would scan the wristband, give you your drink, then kindly send you on your way. 
There was also plenty of new food at the festival this year.
When it came to food, there were plenty of dietary-inclusive vendors to choose from. It ranged from chicken nuggets and donut burgers to vegan tacos and other tasty treats. Inside the festival itself, there were a plethora of options. I frequented the taco stands but also tried some chicken nuggets from Dank Nugs. They had garlic, truffle, parmesan, and bacon-smothered nuggets that were out of this world. It was the perfect meal after a long day of walking around and dancing.
There were also a couple of vendors near The Cereal Bar in the Good Life's Eatery area. The tacos I could smell were calling my name, so I had to try them. The few negatives about this experience were that there wasn't much shade near the picnic tables they had set up for people. There was also a long wait to order and receive your meal.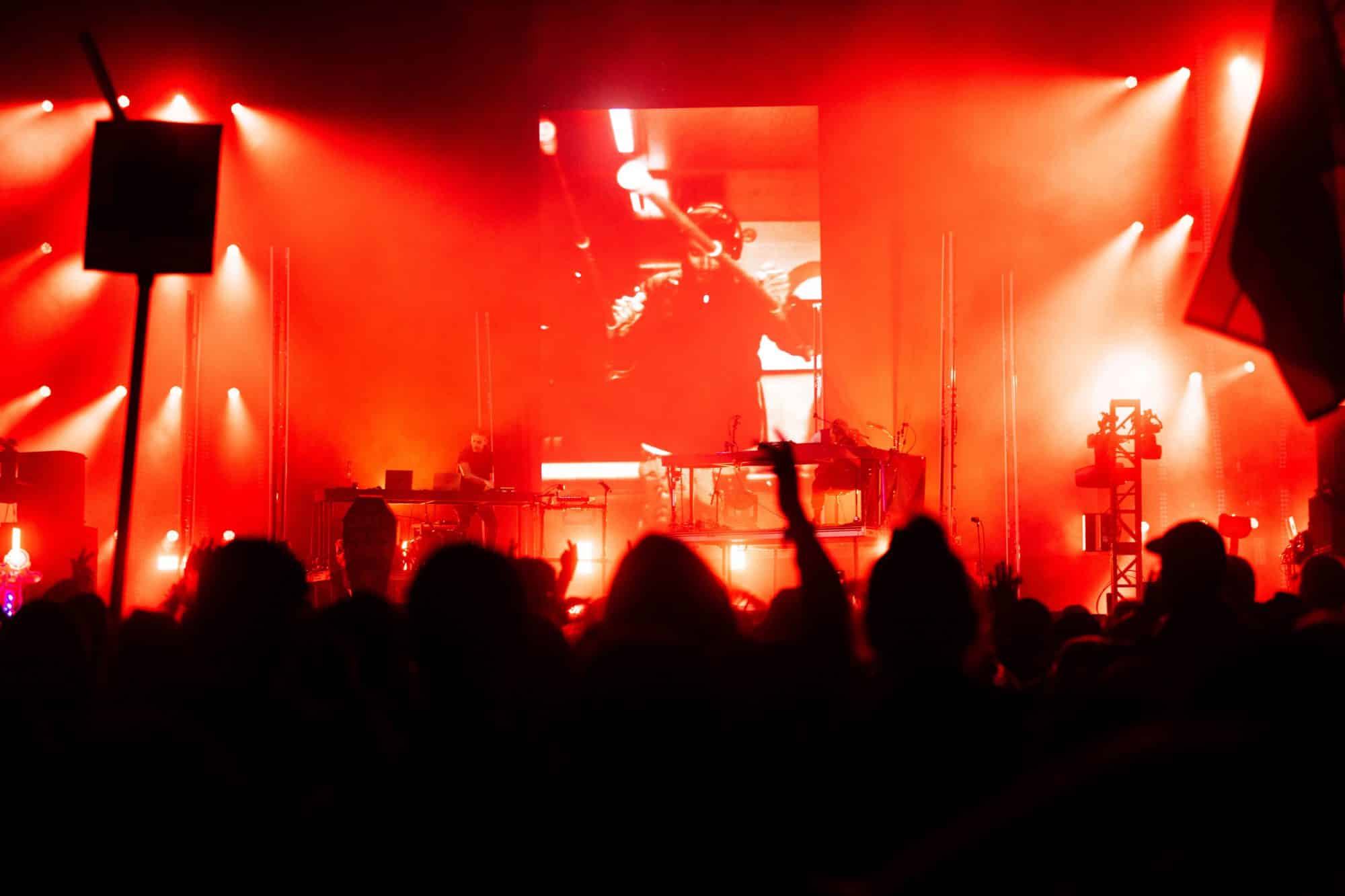 Each night when the sun went down, The Forest kept the party going with dazzling lights and some smashing headliners to end the evenings.
The festival went from 0-100 quickly when it came to production value. With each set being so close to one another, stagehands and lighting techs worked their magic to change up set designs quickly. Notable headliners of the weekend included Porter Robinson, Fred Again.., Fisher, and Big Gigantic.
When headliners were finished, some fans would make their way back to camp or to RV camping to catch some late-night sets. One night, fans were graced with a "Sumtronics" set consisting of John Summit and Subtronics going back to back. I missed this set, but the videos look insane. 
My favorite set of the weekend was Fred Again.. – he put on such a special performance with his mate Tony… "We f***ing love Tony." His fans knew every single word to each song. Not a single soul was sitting down, and you could feel the heartbeat of the entire crowd going to the music. It was beautiful, and Fred was thrilled to see his fans moving and grooving. He had even finished his latest release, "Jungle," so that was a nice treat.
Some other honorable mentions are LP Giobbi dropping some ABBA, Yung Bae bringing the disco, VNSSA dropping nothing but heat, and GRiZ's "Chasing The Golden Hour" set. He played new music from the fourth-coming mixtape and brought out Prob Cause. It's safe to say the Michigan native did not miss. 
Overall, this vacation to Sherwood Forest was one I will truly never forget.
The people, the energy, the artists, everything made this year special. For the tenth anniversary of Electric Forest, they knocked this one out of the park. I honestly can't wait to be covered in sweat and dust while dancing with new friends in the trees all over again. There are only 11 months until June, and as one will say to you out in the heart of the magic, "Happy Forest." 
---
Follow Electric Forest on Social Media:
Website | Facebook | Twitter | Instagram | YouTube | Tik Tok