EVAN GIIA shared how it felt working with an all-women crew for her "Rabbit Hole" video, her future goals, and more at Electric Forest.
---
If you're up to date with new music in the scene, then you've definitely heard the name EVAN GIIA because she's quickly ascended the ranks of the scene. Her releases like hit track "WESTWORLD" and the Endorphins EP have stunned listeners, and she's been featured on plenty more including Dillon Francis and ILLENIUM's recent single "Don't Let Me Let Go."
This year has only seen EVAN GIIA continue her rise in the scene with an incredible set on the cosmicMEADOW stage at EDC Las Vegas this past May. It was there was she featured some fresh visuals, blew the crowd away with her vocal prowess, and got the chance to play alongside her husband, MEMBA, on the biggest stage of her career. After that performance, she double-downed with an impressive set at Electric Forest just a month later and paired that with Gia Move, her movement workshop, at the festival as well.
EVAN GIIA is truly down-to-earth and always ready to make you move to her "pretty bangers." So, after her performance at Electric Forest we jumped at the opportunity to catch up with her and dive into her recent video for her track "Rabbit Hole," her family being at her shows, and plenty more. Check out the video and read on for the full conversation.
Stream EVAN GIIA – Rabbit Hole on YouTube:
---
Hi EVAN GIIA, thanks so much for chatting with us today. We're here at Electric Forest, and you had a massive performance at EDC Las Vegas back in May. How did that feel having your visuals and being on such a huge stage? 
Oh my God, it was amazing, especially since my husband got to come to play with me. It's like when work and fun merge. There's nothing better. We had such a blast. And it was our first EDC, and that stage was shockingly large for anything that I played, so I felt like it was a huge milestone.
That's awesome and super special. I know how you think it's super important to include women in the music industry, especially during this day and age, and I saw that you had an all-women crew for your "Rabbit Hole" music video. How did that feel?
Honestly, it was the best content I've ever gotten. I think because women get women and I never had to explain, like, oh, like getting out there or don't come behind me, or shoot from here. We were vibing; the energies were flowing. And I felt like that shoot got content encapsulating my whole year and brand so well. So it was awesome.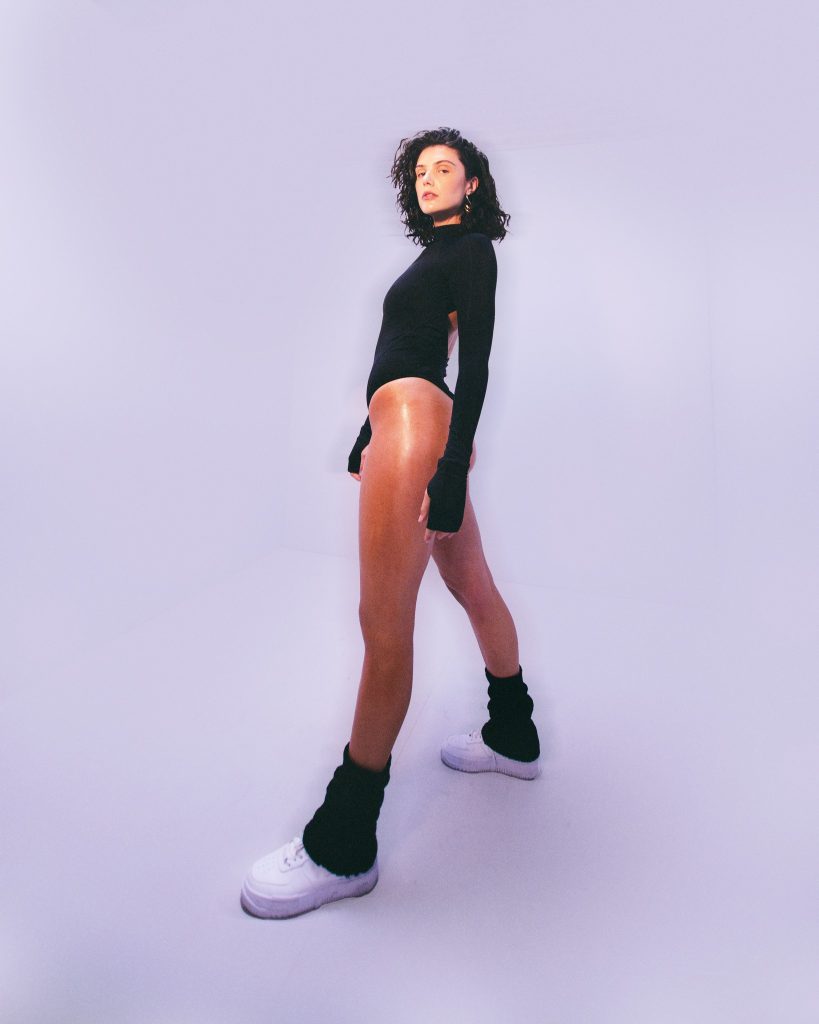 On the topic of working with women in the industry, how did it feel to work with the Nooran sisters on the track "For Aisha"?
Honestly, I wish I got to work more closely with them. I didn't get to make it to the trip to India when Ishaan went with and recorded with the children's choir and the sisters—but being on a track melded with Hindi and English felt so cool. It brought us into a totally different genre and the world; half of our fans are in India now. And we just got that song for a show placement in Miss Marvel on Disney Plus, which is so cool. It's at the end of the episode, and she's the first Brown female superhero character – so it feels cool. It's a very special song for so many reasons.
Switching gears. You brought Gia Move to Electric Forest. It's amazing to see all the manifestations come to life. What has that experience been like?
Yes! It's incredible because they started like sparks of ideas I have while running on the treadmill. And I'm like, "I'm going to do that. I'm going to do that." And I've tried to at many festivals, but there hasn't been a great turnout, and trying to get people to work out at festivals is tough. They're like, "Hey, I'm here to party." But the Forest is the perfect place for it.
Everybody was so into it. There were 70 bodies, just moving as one to my playlist. And I think the brand and division are making sense to everyone. They think of Evan Giia, and they think of all fitness. It was my world before music. So it's cool to see these worlds come together. 
Your Endorphins EP was great, and you tapped into so many emotions during the production. What feelings would you say are being incorporated into projects you're working on now?
I am trying to sonically bring in more of my classically trained voice into the music and open and let the voice shine on the tracks. Because my goal before this was to establish myself in the EDM world, and I feel like I have now. My beats bang, and I can get put on stages with a Dillon Francis or a Louis The Child, but I could also get booked on a more pop stage at Lollapalooza, so I'm right between that pop and EDM world. And now I'm excited to express my vocals on these following tracks.
It has definitely been amazing to see you grow as an artist. In a previous interview, you mentioned that you like to write things that aren't the usual love song. What would you write about, or what would you say is the most relatable thing at this moment in time for you?
I think the whole manifestation. We just talked about sticking to your guns, having a vision, and seeing it through because that's my reality lately. It feels rewarding because it's been years of waking up every day to nothing.
I have the story my dad tells; I initially created the Evan Giia email before I should have even had an email. There wasn't one thing coming in, and every morning, I opened my laptop, checked it, and nothing. I told my dad that I dreamed of the day I could open this laptop, and it's just constant so that I can do Evan Giia all day. Now, I wish I had brakes – so it's nice to have things come to life.
I bet it's been incredible seeing your career blossom so quickly, especially after a pandemic. How does it feel to be mutual achieving your goals at the same rate as your husband at the same time? Do you ever feel it's competitive or is it like dually supportive?
We have positive competition. I was talking about this with my team yesterday, where he gets something, and then I say I can do that too – like I'm going to get that next. But after we got married, that competition faded because it's for the family now.
Having family support means the world to you, so how does it feel to have them at every show?
Amazing. I think we've come to a point where they're like, not over it now, but they're used to it. For years they were like, "have fun at your festival." And I'm like, "Mom, you gotta come!" but they're coming to Lollapalooza, and they're coming to Capitol Hill Block Party. I wouldn't be able to do what I do without their kind of cheering me from the sidelines.
You've also mentioned in the past that you have classical music experience. Do you have any future plans to incorporate that into your shows?
I have so many grand ideas. I'd love to have the classical choirs with me up on stage. And I'm doing a masterclass with the Conservatory of Classical Training that I started with, which will be fun to share my light with these up-and-coming singers, and I would love, and like I said, on these new records to have these breakdowns.
I don't think anyone's done like opera-EDM. But I would love to have sections of my songs or parts of my live show where I'm just absolutely ripping it over. Like put a nasty beat up and have people say, "what is this?" I hope to create that experience.
Like a religious experience!
Exactly! I hope to create a bit of a new genre. I call my stuff pretty bangers for that reason because I use the verses there that are classical, and then the choruses bang. [Laughs]
So for my final question, you're based in Williamsburg, so what kind of pizza girl are you?
Oh my God. Okay, so I'm a round pizza and a thin crust girl.
Triangles or squares?
I'm triangles all the way. I love this question, by the way. I'm getting all into it. But my favorite pizza ever in New York is Emmets. It's on the Lower East Side. So check it out if you're ever there.
Well, it's good to know you've got great taste in pizza. This was so wonderful. It was super nice to meet you.
Thanks so much for having me.
---
Follow EVAN GIIA on Social Media:
Website | Facebook | Twitter | Instagram | SoundCloud | YouTube