Day Trip Festival impressed during its sophomore edition by bringing a stacked lineup to its new home at the Queen Mary Waterfront.
---
The rise of Day Trip in the scene has been impressive, to say the least. First surfacing back in 2017 as the perfect way to shake off the Sunday Scaries, it quickly became a powerhouse brand for anyone looking for some fun in the sun. Last year saw the debut of Day Trip Festival, and while it faced some significant hurdles, it ended up being a splendid experience for house music lovers. This year, the dedicated Day Trip team looked to make good on their waterfront desire and set their sights on the Queen Mary Waterfront for the festival's return.
Having been unable to attend the festival's first run and experiencing the swings of FOMO, there was no doubt that catching some proper Day Trip vibes was in order this year. The excitement had built for months, especially after attending Skyline Los Angeles earlier this year, and the day had finally come to see what Day Trip Festival was all about.
While last year's edition brought forth some issues regarding the changes in venue, this year had a slightly different problem – parking and transportation. There simply weren't enough parking structures on the other side of the bridge, and traffic into and out of the venue would be a nightmare for rideshare services. Because of those reasons, Insomniac told everyone to use the parking structures offsite and offered free shuttles to take everyone to and from the festival – for those who didn't want to walk across the Queensway Bridge.
This shift in parking and transportation kept the road into the festival grounds fairly low on traffic but was rough on the first day as attendees hunted for places to park. The Pike Place lot filled up almost instantaneously, as did the City Place lot soon after, but there was also ample parking elsewhere, and with that in mind, the second day went a bit smoother for my friend and I. The shuttles from City Place ran by quickly for us on both days, even though the line seemed lengthy, and in less than 20 minutes, we were entering the festival.
All the stress washed away and was replaced by booming house music beats once we arrived at Day Trip Festival.
Upon entering the festival grounds, my first reaction was being surprised – not because of the music or production, but because of how long this venue is. While it did feel like you were walking between two distant stages at a bigger festival like EDC Las Vegas, that length was more than welcome as it cured the grounds of any potential sound bleed issues.
Art installations were scattered around the venue, and everything from food and beverage vendors to those selling merch dotted the walkways between the stages. As a special treat, all the fishbowls were discounted – which was both a blessing and a curse. These packed quite a punch for those looking to booze it up, but they also littered the grounds as while some might have built pyramids with them, others simply tossed their empty ones on the ground.
The High Tide stage was next to the Queen Mary, and Eden Prince was throwing down when we walked over for our first set of the day. He was throwing down some high-quality tunes as the hotter-than-hot sun baked the crowd, which led us to take refuge in the limited shade offered in the VIP area. The heat during the earlier parts of the day proved to be the biggest issue throughout the weekend, as with very little shade, no misters, and a lack of a breeze, it was easy to get cooked. Luckily, I brought my trusty fan with me (that I don't clack, I swear), but it would be great to see more shade structures at this venue for future editions.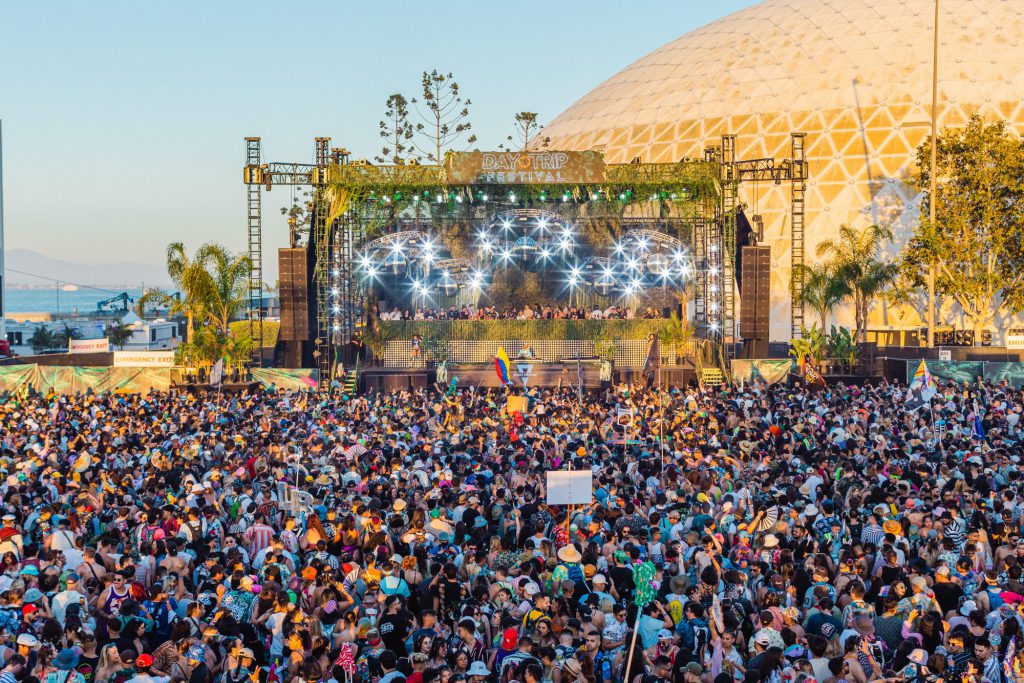 The first day was dominated by stunning melodic house grooves and infectious tech house beats.
Aside from the walk between both stages, which offered a brief respite with the Shoreline stage in the middle, it was easy to bounce between different styles of house music all day long. Gene Farris threw down some impressive tunes filled with his signature Chicago flair on the High Tide stage, while Cassian swept attendees away soon after over on the Deep End stage. We were looking for a bit of disco to get back in a groove, so we caught Sam Divine and Mark Knight, who kept the energy flowing from start to finish during their sets.
Legendary artist Armand Van Helden was the penultimate artist at the High Tide stage and delivered my favorite set of the night and maybe even the weekend. His performance was littered with fresh jams and classics alike – I don't think there was a second where I wasn't dancing away or losing my mind to a nostalgia-inducing tune being played. Catching a bit of MK before jumping over to Bob Moses to close the night, I was ready to get some rest and recoup for the second day's festivities.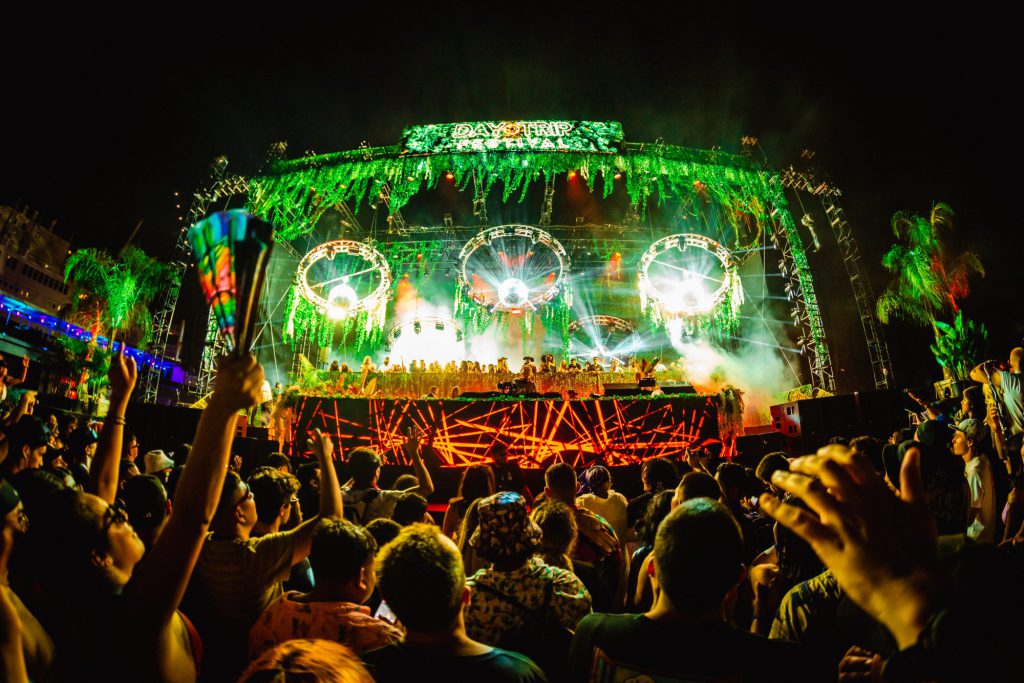 We arrived late on the second day and quickly ran over to catch Spencer Brown at the Deep End.
Spencer Brown might be known for his trance-leaning progressive house side, but he threw down an incredible set at Day Trip that flipped the script. Sure, there were some of his tried and true hits, but he got the crowd moving to the beat with a plethora of house gems.
The High Tide stage became our home for the next two hours as we caught LP Giobbi spin some disco-infused house tunes and Solardo deliver a heavy dose of their infectious beats. The crowd in the GA and VIP areas began to swell during Solardo's set, and we quickly realized it would be a bit of a mad house during Chris Lorenzo – so we opted to take refuge over at the Deep End stage to close out our night with TOKiMONSTA and Lane 8.
Once we arrived at TOKiMONSTA's set, it was clear we were in for a treat as she began to show off her unique style. She flexed her passion for house music by layering in remixes of Labrinth's "Still Don't Know My Name" and certifiable hits like FISHER's "It's A Killa" into her sunset set to fill the crowd with energy.
Then, it was time for the man of the hour, Lane 8, to take the stage and whisk everyone off to a different state of being. Playing tunes like "Run" with Kasablanca, "Sunday Song," and "And We Knew It Was Our Time" with Massane while also dropping his signature dance moves on stage, this emotion-fueled set was one I was glad to end my weekend with.
Day Trip Festival was another amazing weekend for house music lovers in Southern California.
From the artists and the ambiance to the crowd, who were generally in good spirits despite the heat, Day Trip Festival should be a must for anyone who loves the sounds of house music. The first day's parking and transportation woes were resolved quickly, and one can only assume that future editions won't be plagued with those problems. It would also be great to see their team continue to level the experience by providing more shade and some misters for those in attendance due to the hot summer sun. Beyond that, it was a fantastic debut at their new home in Long Beach, and I can't wait to return next year!
---
Follow Day Trip on Social Media: