Chase and Status, two sets from Justin Martin, and more have been added to the lineup for the debut edition of Submersion Festival.
---
New Jersey's Submersion Festival is getting closer and they've just released the third and final phase to their already wonderful bass lineup. While they threw a successful one-night indoor event last year, the team behind Submersion is turning their event into a full-blown festival for 2022. This brand new experience will take place at the Paradise Lakes Campground in Hammonton, New Jersey on October 6-8, with a full weekend of music, camping, and art.
Headlining Submersion are some fantastic names with Emancipator, KOAN Sound, Totally Enormous Extinct Dinosaurs, Truth, and just added were the UK's drum and bass legends Chase and Status. After their recent album release, it's certainly exciting to see them appear on a US lineup. Submersion's mystery artist with two sets (original and drum and bass) was finally revealed as Justin Martin. With absolutely no shortage of drum and bass artists on the lineup as a whole, another has been announced with the addition of Hyroglifics. Finally, an IDM set from Mr. Bill is sure to encompass all of the throwback rave vibes.
One of the most exciting names that had landed on the second phase of Submersion's lineup was going to be the US debut of Monty, but with the most recent final lineup announcement came the sad news that he ran into visa issues and will not make it to the states in 2022. While that loss is a bummer there are countless artists to be excited about on this stellar lineup at a beautiful venue.
Tickets and camping packages for Submersion Festival are on sale now via their website, so let us know if you plan on attending in the comments!
---
Submersion Festival 2022 – Lineup: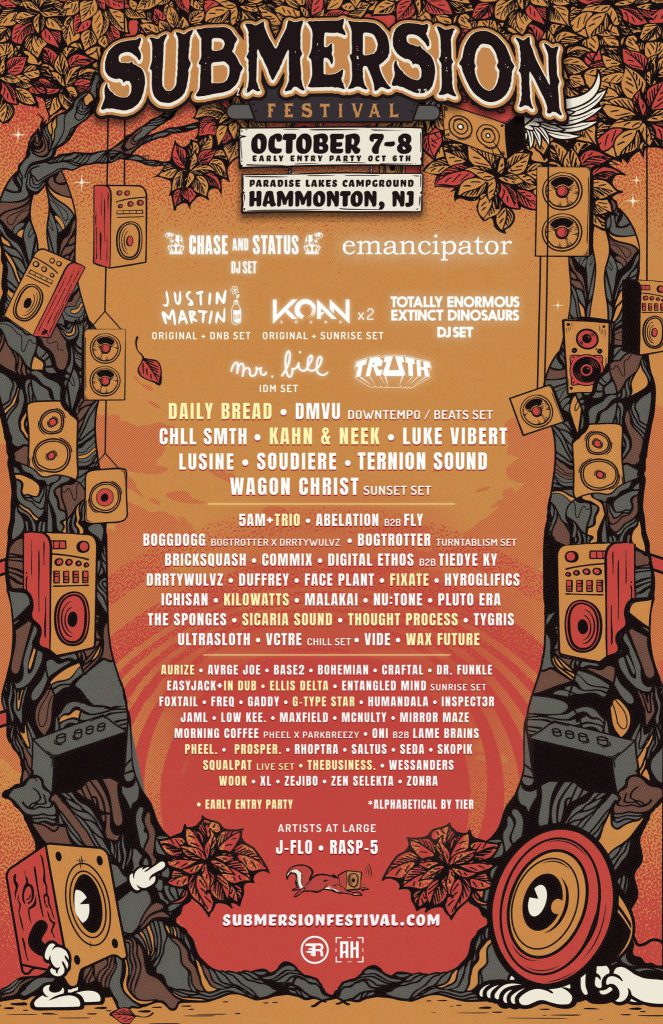 ---
Submersion Festival 2022 – Lineup By Artist:
Chase and Status (DJ Set)
Emancipator
KOAN Sound x2
Justin Martin (Original + DnB Set)
Totally Enormous Extinct Dinosuars
Mr. Bill (IDM Set)
TRUTH
5AM+ Trio
Abelation b2b Fly
Daily Bread
DMVU (Downtempo/Beats Set)
Kahn & Neek
Luke Vibert
Wagon Christ
5AM + Trio
Bogtrotter
Boggdogg (Bogtrotter + Drrtywulves)
Bricksquash
ChLLSmth
Commix
DMVU
Drrtywulvz
Duffrey
Faceplant
Fixate
Hyroglifics
Kilowatts
Malakai
Nu:Tone
Pluto Era
The Sponges
Sicaria Sound
Ternion Sound
Thought Process
Tygris
Ultrasloth
VCTRE. (chill set)
Vide
Wax Future
Aurize
Avrg Joe
Base2
Bohemian
Craftal
Dr. Funkle
Easyjack + In Dub
Ellis Delta
Entangled Mind (sunrise set)
Foxtail
FREQ
G-Type Star
Inspect3r
Jaml
Low Kee.
Maxfield
Mirror Maze
Morning Coffee
Mcnulty
Oni b2b Lame Brains
Pheel.
Prosper.
Rhoptra
Saltus
Seda
Slumpa
Skopik
Squalpat
Thebusiness.
Wessanders
Wook
XL
Zejibo
Zen Selekta
Zonra
J-Flo
RASP-5
---
Follow Submersion Festival on Social Media: