Insomniac's Day Trip Festival made its grand debut as the first major music event in SoCal since the pandemic began for two heavenly days!
---
For me, two words trigger instant PTSD: pandemic and COVID-19. Last year, Mother Nature wrecked all our plans with a deadly global virus, and life as we knew it instantly stopped. As a result, we lost our place of escape, music events, and we didn't know when they would return. For many of us, live events play a significant role in our lives. And because of the pandemic, California went 550 days without any in-person music festivals. The Park N Raves served their purpose, but it wasn't the same as feeling sweaty strangers brush against you as they're moving throughout a crowd.
So when Insomniac announced Day Trip Festival at the height of the pandemic, feelings of excitement, happiness, and uncertainty occurred. As a realist, I didn't believe it was going to actually happen. But on June 15, California finally lifted its restrictions to allow music events of all kinds to return – and that meant Day Trip Festival was a go at the LA Waterfront in Long Beach. However, a series of unfortunate events occurred that none of us were ready for. After two venue changes, Insomniac moved Day Trip Festival to the NOS Event Center in San Bernardino. Nearly two hours away from the original venue. And as an attendee, I turned lemons into lemonade and promised myself that I would still enjoy my first festival back since the pandemic.
Despite all the chaos and disruptions, Insomniac managed to finesse a successful event.
Like every festival under the sun, you must go through security before you enter the gates of music heaven. They barely checked my bag and I didn't receive a pat-down on either day. Instead, they just let me walk through the gates. It was slightly uncomfortable because I could've snuck anything inside the venue, however, the feelings of discomfort vanished as I proceeded inside.
As they have in the past, Insomniac delivered on the overall setup of the space. Right when you entered the venue, you're greeted by the blasting sounds coming from the Deep End, one of the two stages at Day Trip. After that, all I could hear was laughter, yelling, and attendees happy to be back despite the muggy heat! In short, the vibes were top-tier all around.
The overall floorplan of Day Trip was smaller, so going between stages wasn't as taxing as the asphalt or cement surface.
Insomniac also put down artificial turf throughout most of the venue, which was a win and something I pray they continue providing at their events. In addition, the rest areas were clutch, including the dedicated space for hammocks and shade tents with fans and misters to escape the brutal heat. Unfortunately, the heat impacted the day, with many attendees sitting or standing in the shady areas until the sun went down.
Games like jumbo Jenga and Connect Four were available for attendees to play with, and Insomniac provided aesthetically pleasing outdoor chairs and floor pillows to sit on. The cherry on top included the Ferris Wheel so you can take in the full view of all the action.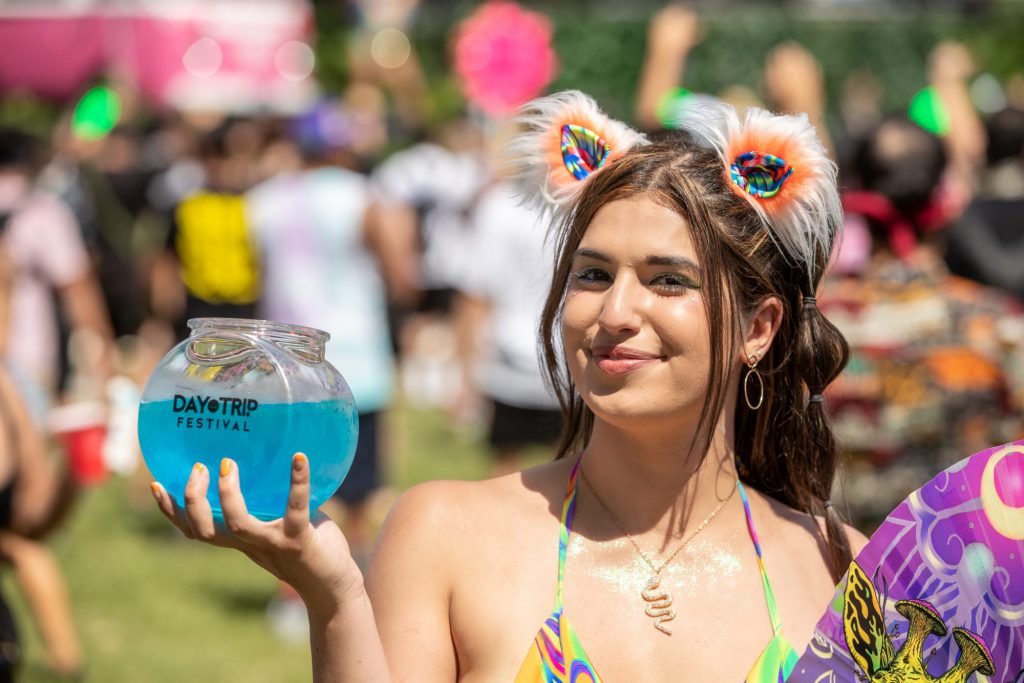 What Regina George is to The Plastics is what fishbowls are to Day Trip.
Everywhere I looked, people had a fishbowl in hand. However, despite having landfill, recycling, and compost bins scattered throughout the venue, I noticed more fishbowls on the ground than in the trash which was disappointing. Although the fishbowls play a cute part in the identity of Day Trip, they weren't worth the waste. I'd like to see Insomniac go plastic-free at events so we can save Mother Earth.
The food options were glorious for those without dietary restrictions. Insomniac provided the usual suspects: chicken tenders, fries, pizza, fruit, and bacon-wrapped hot dogs. And the food trucks consisted of chicken and waffles, ramen, ice cream, and Mexican food. Sadly, I couldn't eat anything at the event because of my dietary restrictions, so that was a bummer as I starved like no other on the first day. In the future, it'd be nice to have a vendor who caters to vegan, gluten-free, plant-based, paleo-friendly folks.
The placement of the two stages, High Tide and Deep End, resulted in a mini sound competition.
The sound bleed wasn't as distracting during the day, but I noticed the volume increased on both stages around sunset. For instance, on the first day, Tchami closed out High Tide and Chromeo closed out Deep End. Tchami's set interfered with Chromeo's live set, and I felt so bad from Chromeo because of that. The sound bleed was terrible and corrupted the overall vibe at Deep End. The same occurred on day two during ARTBAT's set, especially when Tchami's b2b with Wax Motif started. Frustrated, I ended up moving deeper into the crowd for ARTBAT, allowing me to experience their set without additional disruption.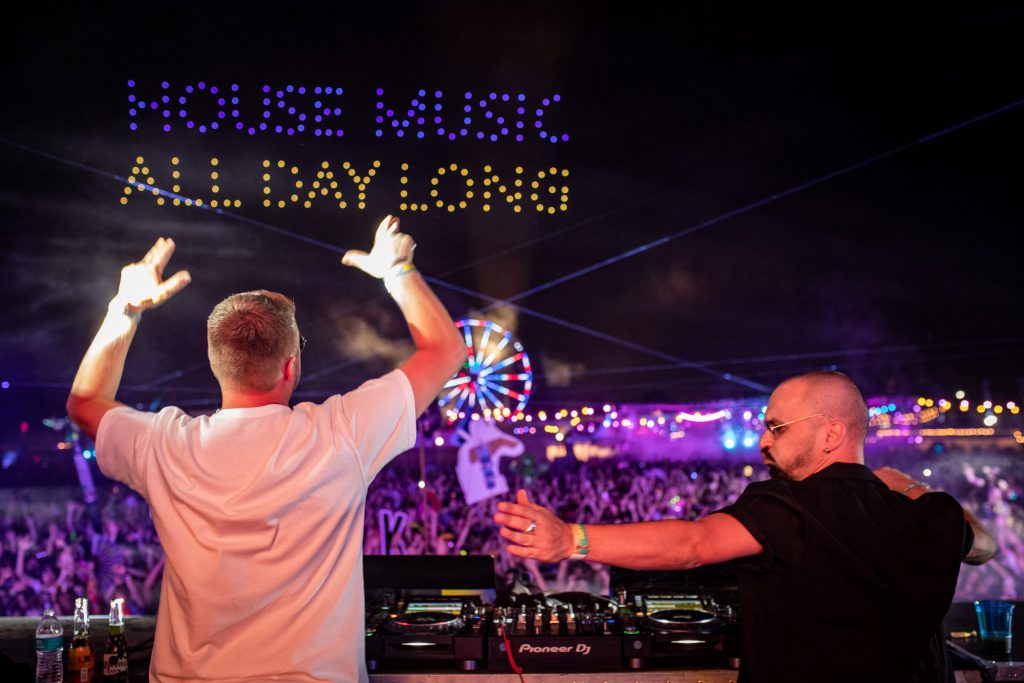 Despite the sound quality, the music was on point. Straight fire.
First things first, the lineup for the first day was superb. It was pure excellence. LP Giobbi took us to church and blessed us with a soulful rooted set, AC Slater shut down the house with his sickening bass house joints, and J. Worra wrecked our souls with her energy and dynamic set. Singer/songwriter Kaleena Zanders supported not one but three sets, and I loved how engaged she was with the crowd. Every time she stepped out, people went wild for her. It was truly incredible to see.
Then, I danced nonstop to Sidepiece as they brought the right vibes with their groovy set. But the highlight of day one was Noizu. Noizu closed out his set with "Summer 91," and I nearly burst into happy tears because I've been waiting to hear that song live since its release. From start to finish, it was me and "Summer 91" having the time of our lives together. At that moment, I felt at ease, soaking up the present and allowing myself to flow with the music.
VNSSA, Sofi Tukker, and ARTBAT dominated day two with their incredible sets that left an imprint on my soul.
The thing about VNSSA was the diversity and range of her set. Above all, she dropped Anti-Up's new single "Shake," and I felt seen. Sofi Tukker delivered the live vocals and incredible energy. Much akin to J. Worra, they used every bit of the stage and engaged with the crowd nonstop. Everyone went wild when they dropped "House Arrest," and they were so in sync with each other whenever they were behind the deck.
ARTBAT provided a spiritual experience with their dark, deep, industrial set. Various moments of their set left me speechless, triggering an out-of-body experience. They were the most unique and exhilarating set out of both days, which is why I was highly frustrated with the sound bleed. Truthfully, they deserved better.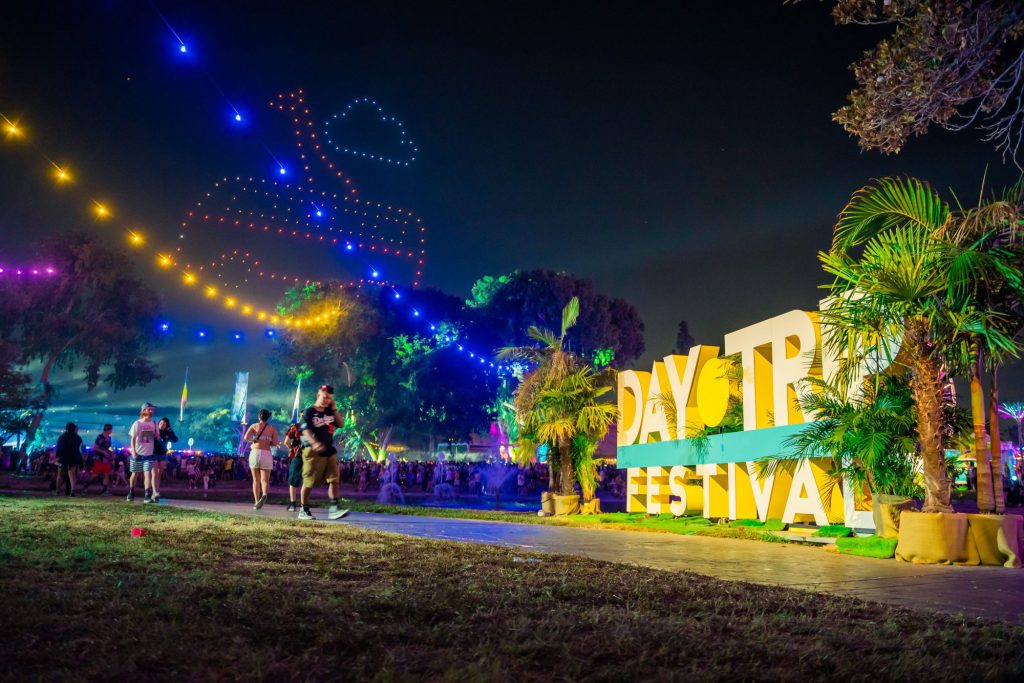 Honorable mentions include Ground Control and drone art. Yes, drone art.
I have to give a shoutout to the members of the Ground Control team who were the guardian angels of the event itself. Attendees kept them busy, and I saw Ground Control walking around frequently, checking on people. Whether around the restroom, resting areas, and in the crowd. Both Ground Control and EMTs took their duties seriously, and for that, I'm super grateful for all their hard work.
And lastly, the introduction of drone art was a sweet surprise for all to enjoy. I didn't notice the action until I walked out of the merch tent and saw everyone looking up at the sky. Like everyone else, I was in awe of it all, and you had to be there to understand.
In closing, Insomniac did the best they could despite the circumstances.
Unfortunately, the venue changes and heat clearly impacted the experience of Day Trip Festival. But it was still a magical experience. For me, this was my first house-only event, and I genuinely had a great time. I walked away with so much respect for house music and everything it represents. As one of the OG genres of dance music, it's phenomenal to see more and more people gravitate towards the sound.
There's so much history behind house music, and Day Trip Festival confirmed my love for the genre, but there's plenty of room for improvement for 2022. Nevertheless, they're sitting on a gem, and there's excellent potential for this festival to evolve into the leading house event in dance music.
---
Follow Day Trip on Social Media: