Mother nature and music collided all weekend, making Sonic Bloom a festival full of moments of learning and growth.
---
Hummingbird Ranch came alive earlier this month as thousands of people of all beautiful kinds flocked to the inspiring mountainside location for a weekend of music, art, and companionship at this year's edition of Sonic Bloom. Excitement was higher than ever for the festival as it returned from its hiatus during the pandemic. As the festival grew closer, fans were ready to flower from the experiences to come from the beloved festival.
My journey to the sacred grounds was long overdue as I never had the opportunity to attend Sonic Bloom in the past. I was eager to see what everyone had ranted and raved about over the years. After a two-year pause, my curiosity wondered if the break would take the festival to the next level or cause room for error. I was excited to see how the festival might have evolved and to have the chance to experience a plethora of my favorite artists in my home base state. With that in mind, I headed to the grounds with an open mind and heart full of love, ready to share with my fellow festival family.
The travel to Sonic Bloom was a breeze since Hummingbird Ranch is right in my backyard. Arriving early at check-in before noon allowed me to skip any lines that might occur, but even those who came later only had to wait a few hours give or take to access the festival, according to my friends. The entry process was as smooth as possible, with a glowing staff full of day one energy.
The sun was beaming down hard as everyone began setting up their camps, making it survival mode for many early on.
Walking your camping gear from the parking lot to the campsite wasn't ideal, but we made it work. Luckily I was placed in one of the few spots with all-day shade in the trees, so I wasn't too upset. Many were not pleased to find out that the showers were cold water only, but to me, it was a blessing to have an escape from the heat. The daily wind offered relief from the scorching sun and was a good reminder to double-stake tents and canopies down; unfortunately, that wasn't enough for some, but I'll get to that later.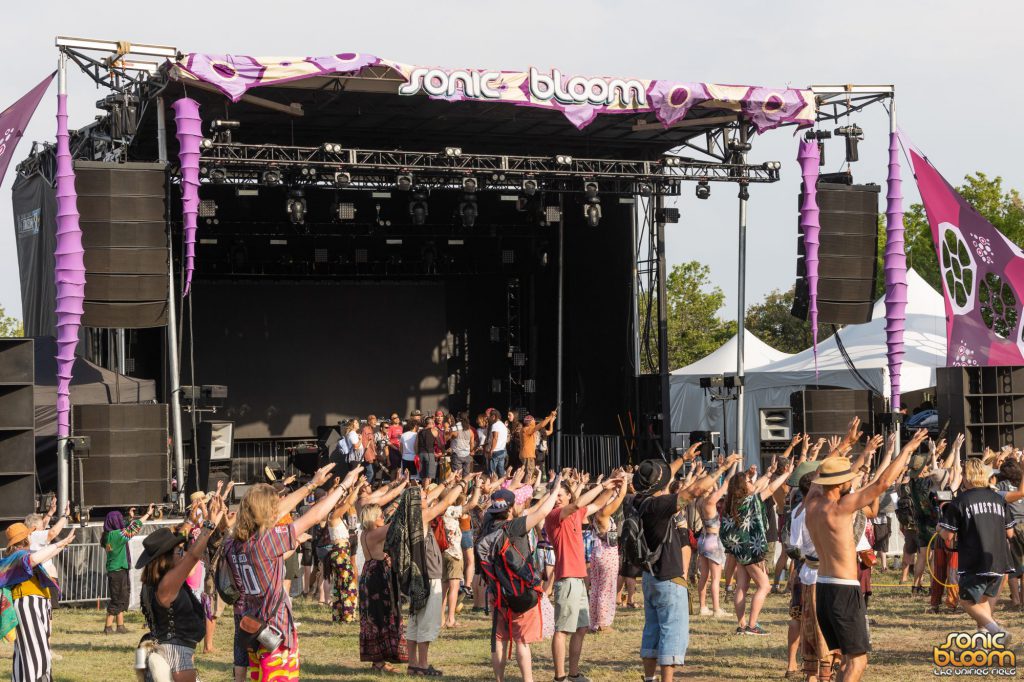 Sonic Bloom kicked off at the Bloom stage, where the Opening Ceremony took place, grounding attendees while giving thanks to the land we would be calling home for the weekend.  
Something magical occurs when we all come together and unite with pure intentions. You could feel the energy radiating around those attending the ceremony and across the entire site. From the local tribe instructors to the harmonic crowd interaction, it was the perfect way to give thanks to the land and the tribe who graciously allowed us to be there. The ceremony set the tone for the beautiful weekend ahead of us.
Honeybee, Saka, and Of The Trees followed the magical ceremony for an energizing first night of dancing under the stars. Saka slathered the crowd with an abundance of unreleased IDs and some well-known tracks like "Shaolin" from his latest EP, Anti-Hero. Vibrancy from the crowd and every performer who took the stage was next level, especially when Of The Trees blew everyone away with a last-minute decision to play an AV set for the bloomers.
To keep the evening alive on the first night, Player Dave and Eazybaked shook the Hummingbird stage till curfew would allow it. I overheard a neighbor say that they had no idea who Player Dave was before the festival, but after his set, they were blown away, and he had gained a few new fans. Eazybaked made sure bloomers had the best end to the first day opening with a fresh ID they had just finalized the day of their set. With outstanding performances from start to finish, the first day was a success in my book.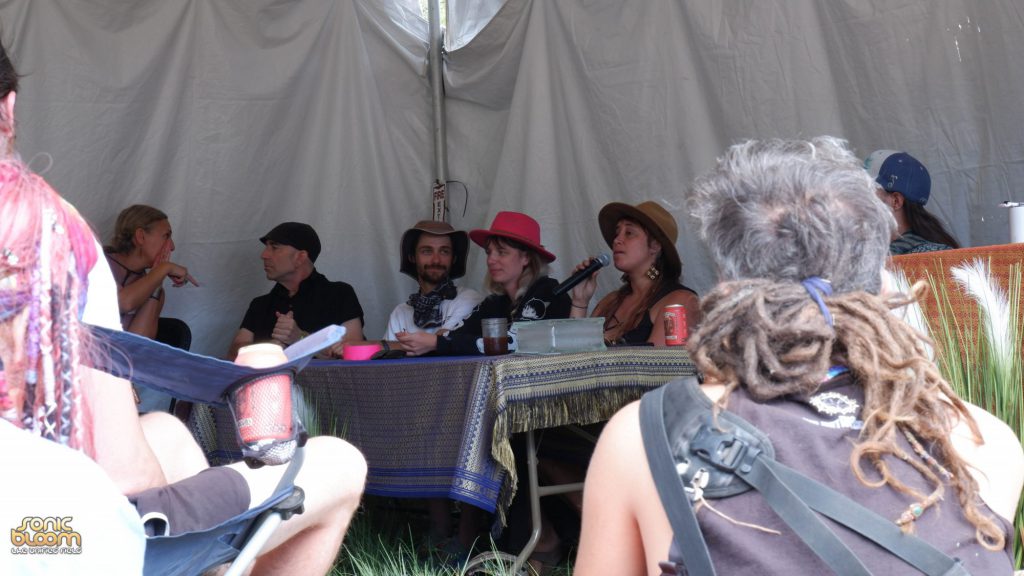 Absorbing the wisdom and visions of the amazing humans behind the festival was the perfect way to start the second day.
Friday morning began with a cold shower to wash away the Thursday grime and escape the morning heat attendees experienced inside their tents. After a good cool-down and yummy brunch, I wandered to the media tent for a press conference with a widely diverse board present to answer questions and shed light on their part in the festival. Any time in the presence of the media tent and its facilitators, you didn't feel anything other than welcome, which carried on throughout the festival.
From the creator of Sonic Bloom, Jamie Janover, to the sponsorship director, the board was eager to shed light on all of the intentions present within the festival. What I gathered from all the wonderfully brilliant beings is that everyone behind the vision has one common goal, which is to bleed Bloom's lessons and experiences into everyday life as well. This mindset doesn't only have to occur once a year for a weekend – the ideal scenario is to instill this knowledge and spread it to all who will listen to create a better tomorrow for us and future generations.
Many inspiring words and stories were shared during the conference, but hearing Jamie talk about how Sonic Bloom came to fruition was something that stuck with me. The fact that this began as just a gig at Mishawaka that Jamie and his band, ZILLA, played that then snowballed into this festival is magic all on its own. It just shows you that when we unite and follow our passions, we can achieve life-altering dreams.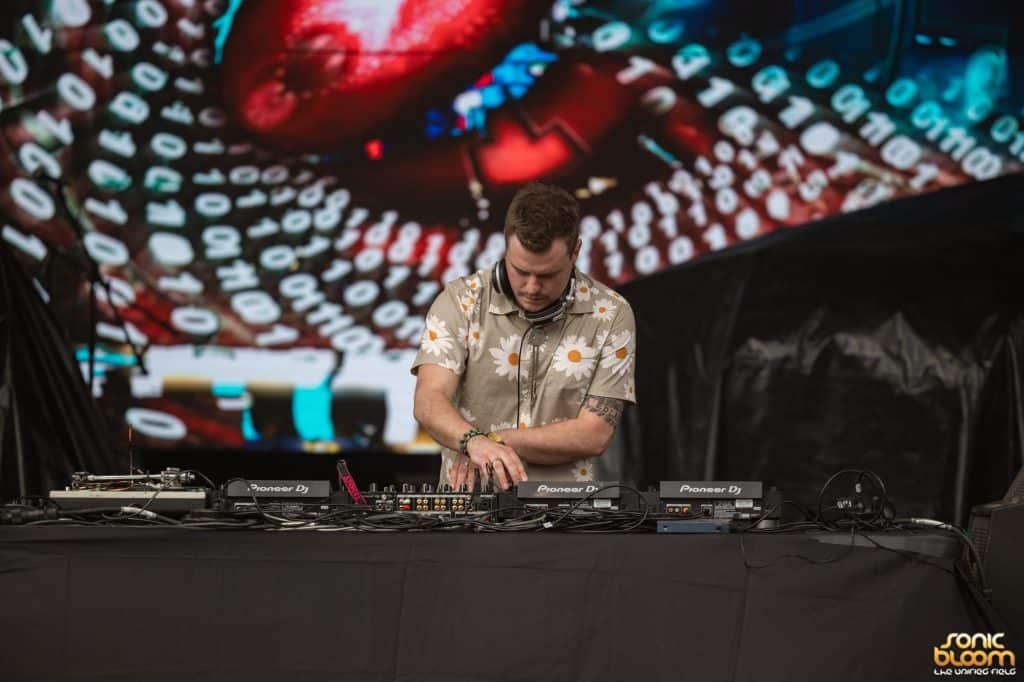 There were many artists to look forward to on Friday, but I refused to miss kLL sMTH's first Bloom stage appearance because I had a hunch it would be monumental.
Unfortunately, I missed Khiva, but nothing could get me down because it was time for kLL sMTH. The moment he took the stage, the bangers never stopped. It wouldn't be right if he didn't drop his renowned ID everyone can't seem to get enough of, along with some classic favorites and some of that new kLL Bill as well. Not only was the music selections on point from him, but he blew everyone away with his scratching skills. It was hands down in my top five sets of the weekend, even with the sound complications that occurred briefly.
The Meadow stage was loaded with amazing artists and delectable sounds. The first set I caught tearing up the stage was the goddess A Hundred Drums. After we were all warmed up by her charm and bass, Potions and Wreckno finished Friday night at the Meadow with plenty of sass and booty shaking. I could only catch the first bit of Wreckno because I had to see Jon Casey, but the vibes were electric while I was there.
With happy hearts, my friends and I wandered to the D'om stage to catch Jon Casey before the headlining act came on the main stage. It was nice to see the stage not as packed for his set because I could get up to the very front. When I tell you Jon Casey's stage presence is something else, I mean it. His smile was from ear to ear, and he interacted with his crowd as if we were all best friends. His set was full of high energy, and I couldn't control my excitement when he dropped the track "Kotaro" he made with IMANU. Although I wanted to stay, I couldn't miss Lab Group, so we trekked over to the Bloom stage.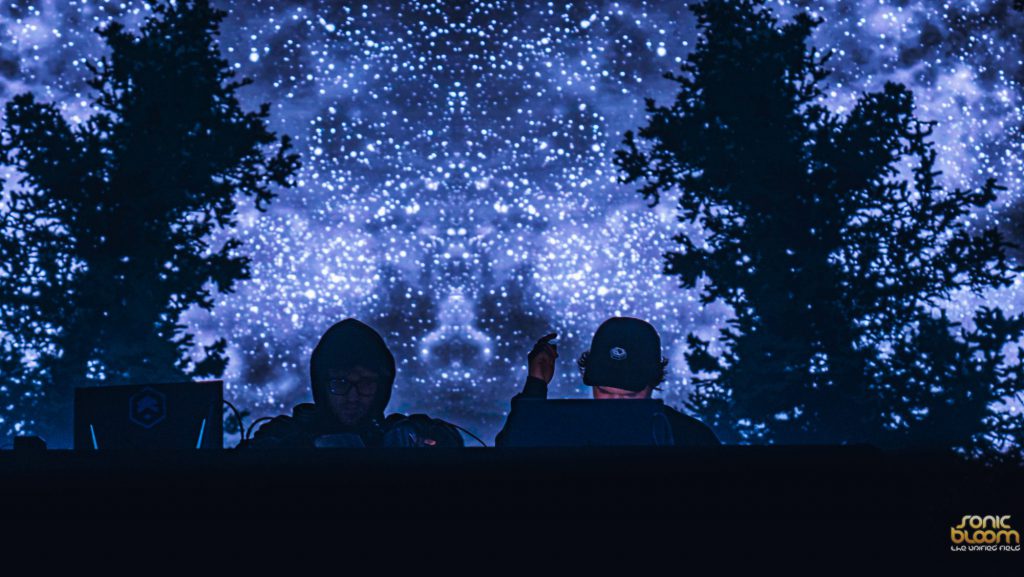 Hearts radiated infinite love for Lab Group as we all felt Charles' presence throughout the entire set while the music washed over us.
The instant the music filled the space, my whole body was covered with goosebumps. Anytime I catch a Lab Group set since the passing of our beloved CharlestheFirst, my mind always pictures him standing in the middle of Supertask and Potions, smiling along with every drop. It's always a bittersweet feeling, but I'm grateful Lab Group still has the strength to carry on his legacy. With eyes full of tears and hugging all of our loved ones, we absorbed the much-needed love that was present and pouring out from the collective frequencies.
To end the night, we walked to the Hummingbird stage to catch the madman Chee. Seeing the crowd bursting at the seams with fans eager to hear his eccentric sound design in action was incredible. Although I was tired, it felt like his music had the same effect as taking a double-shot of espresso. Chee made sure to keep the hype alive his entire set, but once it ended, my shot of musical espresso wore off instantly, and I knew it was time for some rest.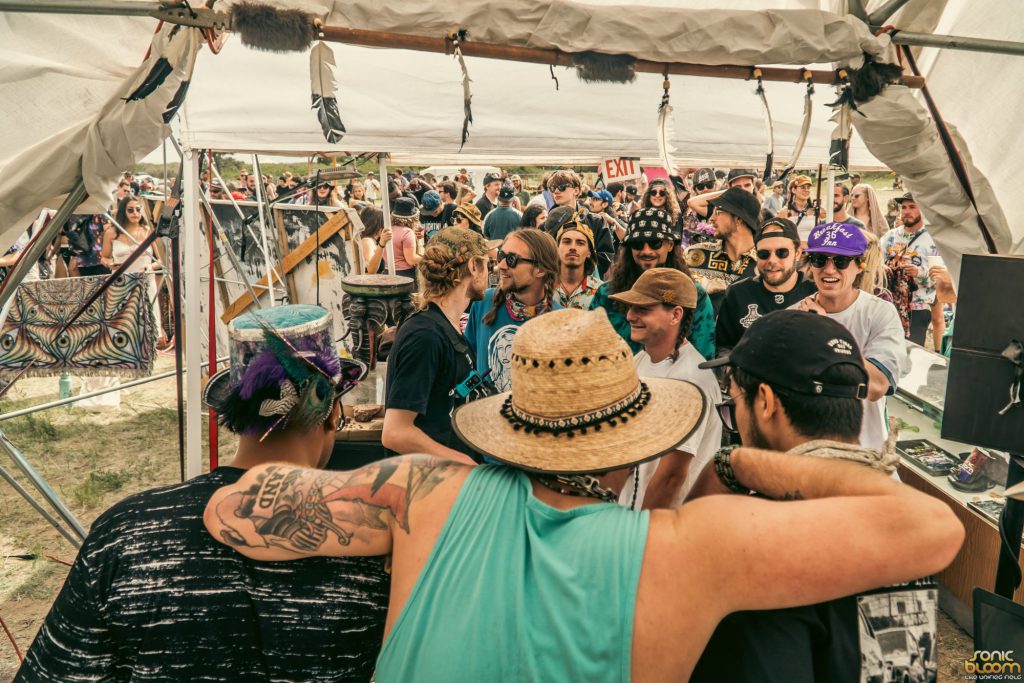 The daylight of Saturday was dedicated to exploring vendors, admiring art, and enjoying the immersive side of Sonic Bloom.
Once the midday rain left, I decided to explore the grounds more than I had the previous days. There were so many creatives sharing their art it was beautifully overwhelming. One of the vendors that stood out to me the most was the lovely souls behind Infinity Hoods and Earth Mami Designs. Not only do they create wearable art, but the intentions weaved within their work radiate through them and their pieces. Interacting with them and sharing space with their uplifting kindness was so refreshing.
A favorite installation of mine would have to be the self-expression dome where you could make upcycled art and artistically express yourself if you felt called to do so. Another fantastic addition to the grounds was the children's village. I loved that families had a neutral space to bring their youth to have their own interactions and community as well. Several little gems like this were hiding around every corner and continually brought smiles to my face and many others.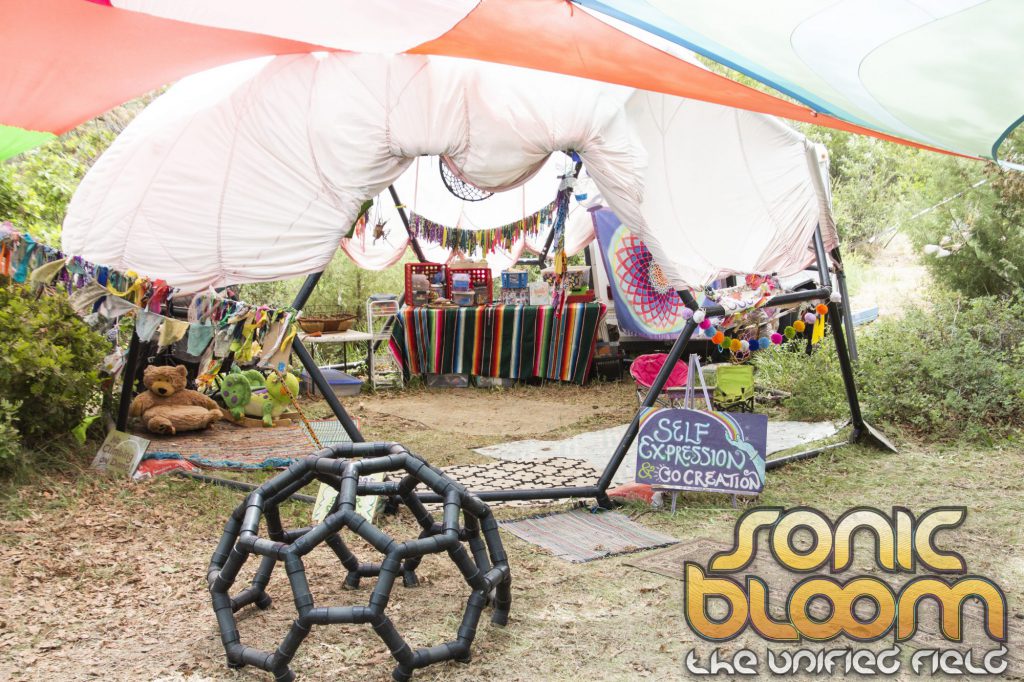 After my exploration, I walked down next to the Meadow stage to catch some gRLL sMTH action.
As usual, kLL sMTH was cooking up a storm while some of his friends kept the crowd grooving. A couple of my friends, WAV-E and Hastur, had their shot at the decks, and it was a giddy moment to see their energy loved by the crowd as much as I do. Being surrounded by my friends, yummy food, and tasteful tunes were just what the doctor ordered. I suggest if there is ever a gRLL sMTH & friends set on the lineup, you make sure you attend it.
I finally made my rounds to the food vendors, and sadly my Thai veggie noodles didn't hit the spot at lunch. They said veggie but should have just said noodles with cabbage. It wasn't very filling for the price you had to pay and was a letdown, but you can't always win with festival foods. To redeem my faith, the cauliflower fish tacos from Not Cho Fish Taco I had for dinner made me feel like a human again with all its fresh ingredients. It was the perfect fuel for the night festivities that would soon begin.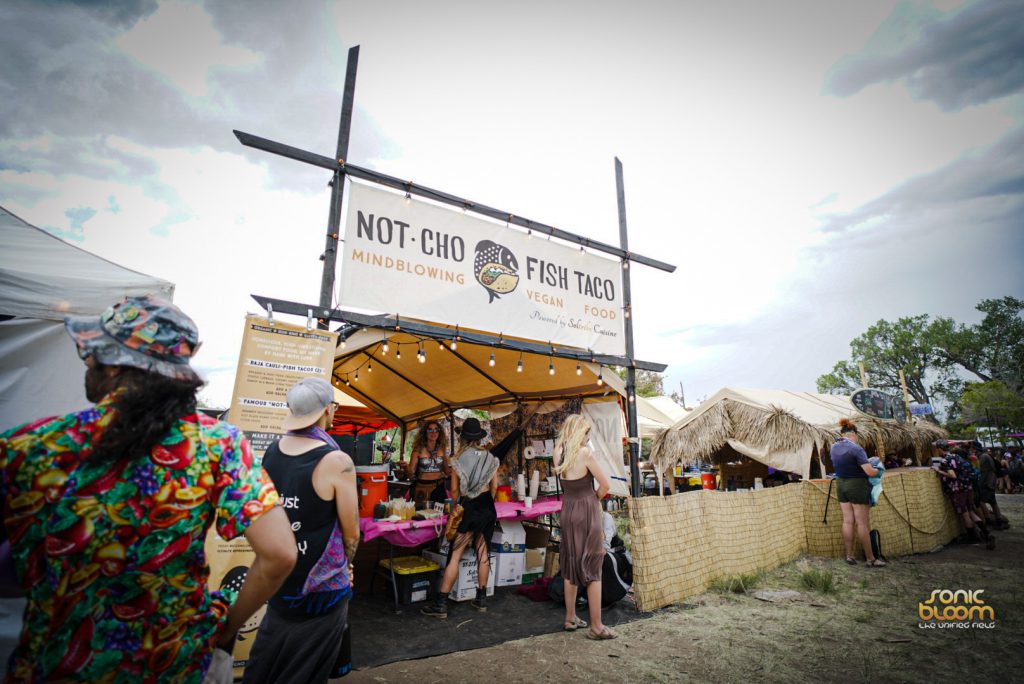 I followed my best friend to her GA campsite to grab warmth since we were expecting a chilly night, but the following events were far from what I wanted to happen.
Black Carl! was the first set of the night for me, and I hated to leave, but my best friend didn't prepare for the sun to go down. We left the comfort of the Meadow stage to retreat to her camp as the sounds of "Petal" by Carl and Player Dave filled my ears. Unaware of what was to come, we blissfully walked away and unknowingly walked to a chaotic mess to greet us.
Rain began to fall, so we decided to stay under the canopy until it passed, but unfortunately, it grew worse. For the next hour, we had to stand inside her tent to ensure the wind didn't blow it away, but our arms could only last so long. GA campers experienced significant damage during the storm, including a wholly relocated tent thanks to the wind. Many watched it drift by in the wind like a plastic bag. Luckily no one was hit by debris that I know of, but it does seem like they need a better setup for the campers if they have to be placed on a flat plain next to the mountain range.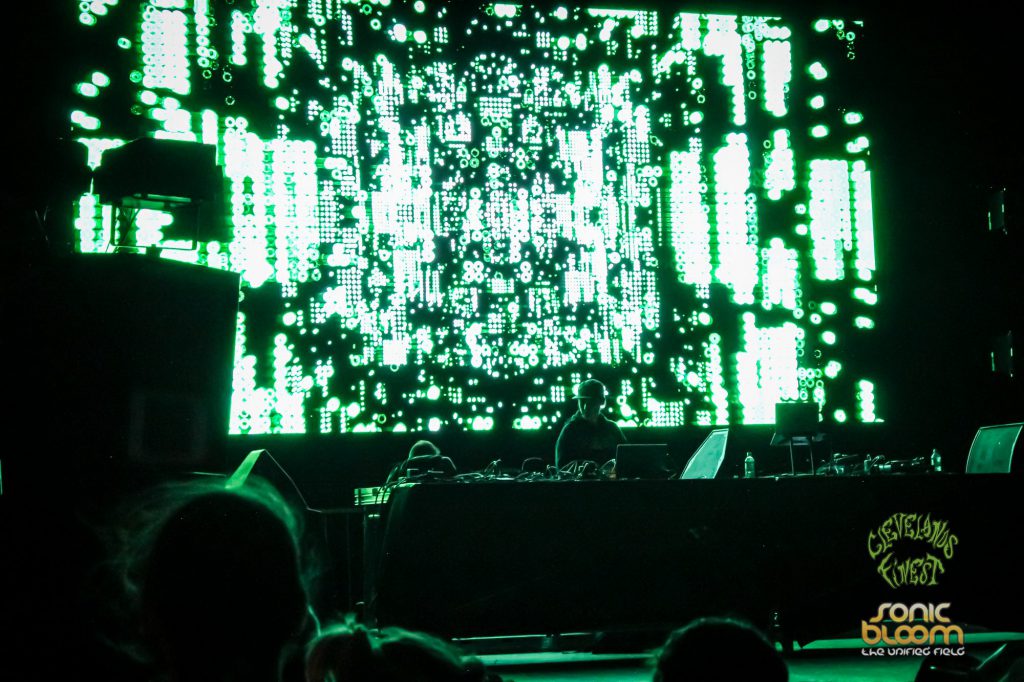 We weren't about to let some wind ruin our night, so we made our way back to the music to lift our spirits.
Sadly our extreme excursion caused us to miss a lot of Supertask's set, but we made it back in time for the last 20 minutes or so of his set. Even though our time with Supertask was short, it brought us back down from our battle with nature. Going back to the main stage, I somehow lost my group, so I went to lay in the hammock nest and watched Schmoop and Seppa from my cozy cocoon. Resonate Language stole the main stage that night in my eyes. I might get shunned for this, but Tipper's set didn't deliver as I had hoped, so I wandered to the D'om stage early to get a good spot for tiedye ky instead.
The loverboy never disappoints when I see him, and this set wasn't any different. He serenaded everyone with his angelic voice and shared some of the newest tracks created from Lab Group 2. My favorite part about his set was watching his friends hype him up whenever he played a song. They were all so happy and lively; it was beautiful to see. I had to cut his set short, so I could catch the cooky Ultrasloth crew, and slangin' all the off-the-wall experimental sounds was just what the crowd needed to stay awake for the latest set of the night to follow.
Ending the night with a bang was the unstoppable force known by the name VCTRE.
When I tell you VCTRE puts his heart on the table and goes full throttle I am not exaggerating. The vibes were immaculate, and so were the beats he was slanging. My favorite songs from his set had to be his unreleased CharlestheFirst collab and "Life (With Her)," a beautiful track dedicated to his girlfriend. I asked several people who their favorite set of the weekend was, with many responding with VCTRE more than any other artists on the lineup, if that tells you anything about his performance.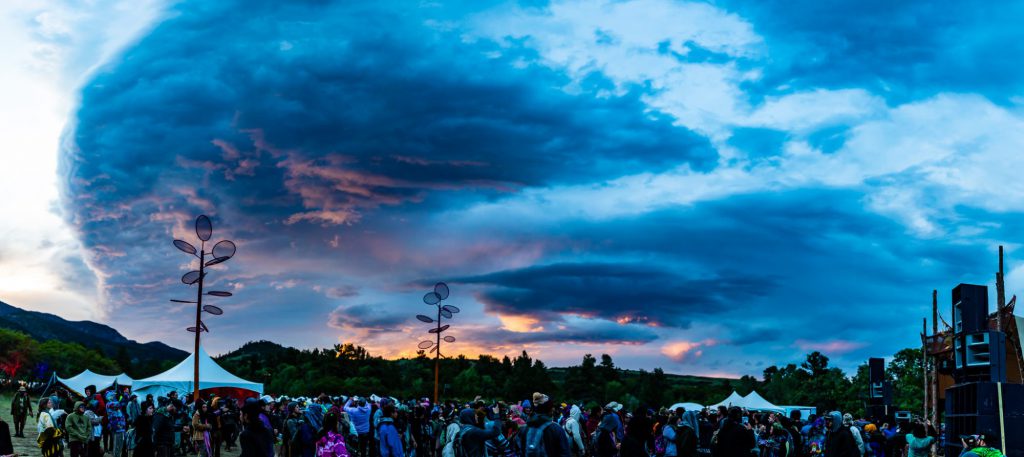 The weather made us rest for most of Sunday, but those who stuck it out got an amazing Integrate set.
Waking up to the sound of raindrops on my tent wasn't the worst for my tired body. I took advantage of the opportunity to catch up on beauty rest and give my feet a well-deserved break. At first, I thought the rain wouldn't last long like the other morning drizzles, but this one decided to stay throughout the day. Luckily during a break in the rain, we were able to pack up our camp so we could leave after the last set of the night instead of testing the waters of staying another night.
After successfully putting our weekend home away into the car, we decided to walk around and see if any music was happening. Unfortunately, the storm had caused some damage to the main stage, and Detox Unit was unable to play. This news devastated many campers who stuck out the storm to see him. Attendees were upset the festival didn't inform them what was going on or if any of the music was going to be canceled. I had seen him recently, so it didn't damper my mood, especially since I could still see the only act I truly wanted to see, Integrate.
Thankfully Integrate played the Meadow stage last, because they burned it down with all the heat they brought to the decks. The cancelation of Detox Unit caused the rest of the survivors to wander to the only music filling the silence, making it packed full. Honestly, I feel like the storm created a passion within everyone to let loose and dance freely because, after something like that, all you want to do is express your gratitude for what you're grateful for – and at Sonic Bloom, that was music.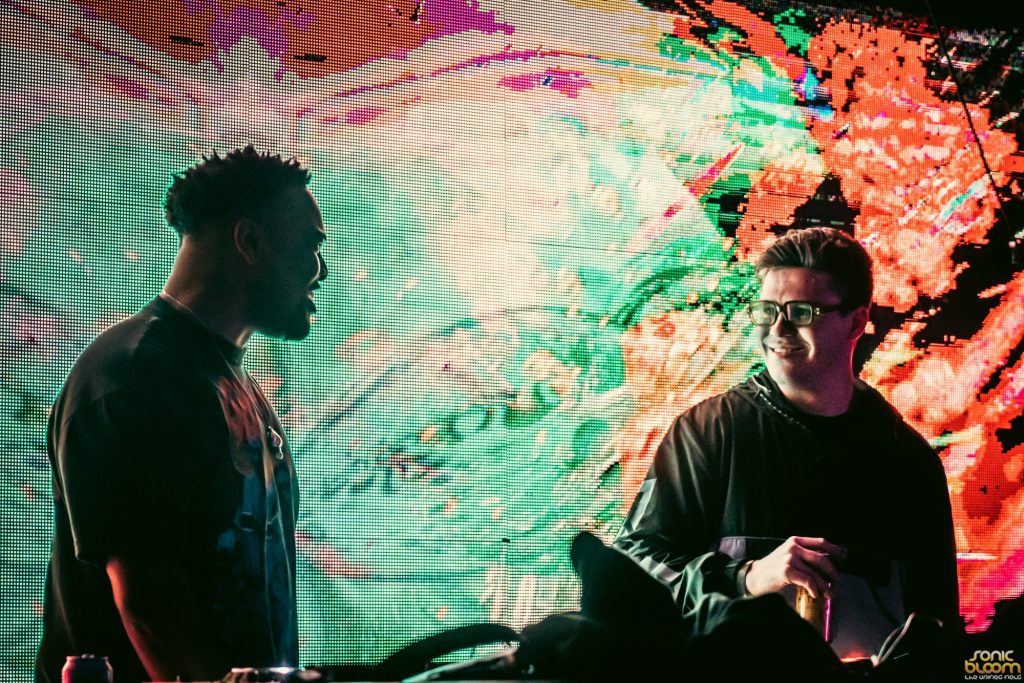 If I could sum up Bloom with a single word, I would choose transformational.
Although there were challenges, my first Sonic Bloom had many perfect moments that outweighed the bad. No phone service might have been hard on some, but I was happy to disconnect and tap deeper into the community that was physically present in front of me. The music curation was on point, and the intentions weaved within the structures that make up what Sonic Bloom is inspiring. I've never experienced the passion and desire to create a better tomorrow so strongly at a festival as I did at Bloom.
Even if the weather wasn't perfect, or the showers were colder than expected, it didn't take away from the overall message I received from my time there. I don't know about everyone else, but this weekend left me eager to transform myself, my community, and even the world.
Sonic Bloom can't control the weather, and with a pause in the timeline due to COVID, certain aspects were bound to be a little rusty. So before judging this festival season, show the industry a little compassion and understanding because it can be difficult coming back from a prolonged break. I hope you experienced your transformations and share the inspirations and lessons you learned while at Hummingbird Ranch to create a more beautiful tomorrow.
---
Connect with Sonic Bloom on Social Media: