D-Block & S-Te-Fan stopped by ahead of their upcoming album release to discuss Enter Your Mind, their origins, recent shows, and more.
---
D-Block & S-Te-Fan have taken over the world of hardstyle during their long and illustrious career, claiming their spot at the top and holding it as one of the leaders in the euphoric side of the genre. Over the years, they've tinkered with their sound and always kept up with the latest innovations in production style to become one of the greatest duos in hard dance history. They've done it all from playing events of the caliber of Qlimax and Decibel and even bearing the responsibility of being the anthem creators for Defqon. 1, Rebirth, Intents, and more.
For a duo that's achieved seemingly everything there is to do, it's always a treat to see where they go next. Up until recently, it was still a mystery where the D-Block & S-Te-Fan was headed. But this year, they're set to release the next chapter in their story in the form of their latest album, Enter Your Mind, on December 1. The album consists of 16 records in total, half of which are D-Block & S-Te-Fan originals, while the other half are remixes of previously released D-Block & S-Te-Fan records that combine hard, energetic music with uplifting vocals and melodies.
To celebrate and give fans a preview of the album, D-Block & S-Te-Fan were set to perform at Qlimax The Reawakening, but a turn of events has forced Q-dance to cancel the event entirely. Despite this news, the duo is still set to take part in Qlimax Distorted Reality to deliver the beautiful sounds of hard dance to a worldwide audience. And ahead of their album release and performance this weekend, D-Block & S-Te-Fan stopped by to chat about their origins, Enter Your Mind, the return of live events, and much more.
Check out their Enter Your Mind Playlist on Spotify, pre-order the album, and make sure to read on to "enter the minds" of some of the brightest stars in hard dance music.
Stream D-Block & S-Te-Fan's Enter Your Mind Playlist on Spotify:
---
Hello D-Block & S-Te-Fan, thanks for taking some time to chat with us at EDMIdentity. We really appreciate you both for stopping by. To start off, I want to turn back time a little for the newer audience that might not be familiar with your careers. What initially drew you to hardstyle and helped further grow your passion for the sound?
Hard dance music, for us, started in the early beginnings with UK hard house and German hard trance by the likes of Cosmic Gate, Tom Harding, JP, and Scot Project. Of course, the Dutch [people] thought it wasn't "heavy" enough, so hardstyle was born. After that, there were many artists [that came] before us like Zany, The Prophet, Deepack, Dana, and Luna that paved the way, but missed a melodic twist to the music. When we started producing hardstyle, we added that element, which became the main sound of hardstyle back then. For us, that was the moment when we also knew that this was our music for many years to come.
You're set to release your guys' newest album on December 1. What is the meaning behind the title, Enter Your Mind, and when did you begin working on this album? What was the production process like?
Enter Your Mind, as a title, came from the title track. It basically states that hardstyle is such an energetic and addicting music genre. Once you open up to it or go to an event and see the energy of the people, the unloading of energy at a drop, and the singing and chanting, it gets you hooked.
We started working on the album during a period of lockdown. Many shows got canceled so instead of feeling sad, we said to each other, "Let's work on an album and see where it leads us." It is easy to drown in sorrow, and we wanted to prevent that from happening. We used music as a remedy!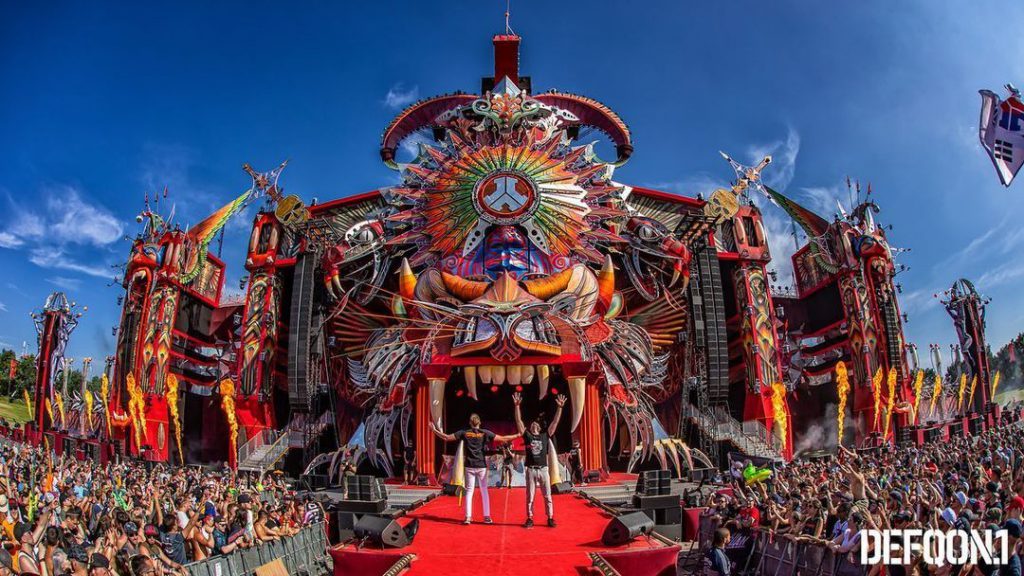 You two have slowly welcomed in Enter Your Mind by revealing the originals and remixes one by one. So far, none have disappointed and all of them have been incredible records. Why did you guys decide to release the album this way instead of releasing everything on December 1?
The reason for releasing our songs [from Enter Your Mind] every two weeks is because we wanted our audience to have something to constantly look forward to. Every two weeks, the week after the release, is an episode. It's something to get you through these weird times. Also, it is hard to promote songs or an album without any shows. We had to be creative on how to give every song attention. That's how we came up with the idea of the episodes.
Enter Your Mind is your album, but you guys recruited the best producers in hardstyle for an entire remix side of the album including Wildstylez, Sefa, Warface, and so many others. How did you choose who to remix your records? Is there a reason why this album is such a big collaboration and not just DBSTF originals?
Now more than ever, we wanted to spread one idea: we are in this together. Not just in life, but also in our scene. Hardstyle is a great scene with a lot of love and respect between artists. What better way to show that to our fans by including some of the artists we have great chemistry with? Because we could only ask eight [artists], we did not use artists we already had a remix from. Also, the artists needed to speak Dutch. We really appreciate that so many artists were willing to work along with our concept.
Not too long ago, you guys played Defqon. 1 At Home for the second year in a row. Shortly after, you also played Shutdown Festival, one of the first hardstyle festivals back with a live crowd. Can you share what emotions were running through you finally getting to play for a live crowd again? How were Defqon. 1 At Home and Shutdown Festival different from each other? 
To be honest, nothing can replace the feeling of playing a set in front of a wild hardstyle crowd. So to even start comparing these just does not make any sense. It is great to do an online experience for the fans, but we would always prefer to have a crowd. In the Harder Generation episode of Enter Your Mind, you can see our response coming off of the stage after playing. That says it all… best feeling ever!
Hardstyle music has taken you both all over the world multiple times. With so much experience in the scene, are there any certain locations or countries where you guys want to see the hardstyle genre grow more into what it's like in Europe?
Definitely! There are still a lot of places we have not been to, but high on our list are Japan and Brazil. We hear good stories, and these are countries we would like to visit!
Again, thank you both for stopping by and chatting with us. We hope to see you guys here in America soon!
---
Follow D-Block & S-Te-Fan on Social Media:
Website | Facebook | Twitter | Instagram | SoundCloud | YouTube | Spotify