After an absolutely killer set at Lightning In A Bottle, we caught up with powerhouse Megan Hamilton to pick her brain on all things music!
---
If you're looking to discover an artist that'll blow your mind, Lightning in a Bottle is the place to be with all sorts of genre-bending and mind-melting selections to dance to. One that really drove the weekend was Megan Hamilton, who stirred up a storm with her heavy bass, smooth vocals, and fabulous remixes. Everyone in the crowd either had a "mind blown" face or an irreplaceable grin accompanied by some groovy moves.
What makes Megan Hamilton stand out from any other producer that graces these festival stages is her range of musicality – incorporating old-school flips, funky neo-soul basslines, and even her own twist of gorgeous vocals on all sorts of her work. Each track she is featured on brings an element of flair and freshness to listeners, while her energy is unmatched in any set she plays.
Over the past year, Megan Hamilton has been booked, and busy showing off her signature sets at Same Same But Different and Resonate Festival. Further, she's got Secret Dreams Festival in Ohio upcoming and she's staying busy in her local scene hosting events at The Cantina in Minneapolis. Megan Hamilton has also been cooking up some new music for the crowd – you can check out her current single, "Time Flies," below, which is one of her most personal works to date.
After she took the stage at Lightning in a Bottle, we were able to sit down with the powerhouse herself and get a chance to talk about new music, inspiration, and philosophy – and she sparked inspiration in us along the way. Read on to take a deep dive into the mind of Megan Hamilton, and make sure to stream her sparkling discography while doing so!
Stream Megan Hamilton – Time Flies on Spotify:
---
Thank you for taking the time to chat with us, and welcome to Lightning in a Bottle. What was your experience playing at LiB before? What do you feel makes this festival stand out as special?
I played in 2019 at the Thunder stage at 2pm. It was empty when I got on, but by the end of my set, there ended up being 1,000 people. It started from nothing to that, so that was an exciting experience. 
Then they had me back for the DGTL LiB around 4am. I was on the digital representation of the Woogie, and it was crazy how close it was. So getting to play this year at 6pm for a sunset set was a cool opportunity, given it was so packed.
Your vibe matches the Thunder stage well. Since you've been doing so many festivals this year, I'm curious to know if you have a specific preparation process?
Not really. What time I play is more relevant. Getting started, being from Minneapolis, I think I got to hone in on my sets by working with TC Presents, who gave me a platform. I was in their residency Amplitude and DJed for them for five years, which was integral in me going into everything else. They are the people that do Infrasound, and they've honed in on their brand over the years. I went to all of them when they started happening – it was a haven for deep dub and bass music.
I used to do a lot of graphics for them and other production companies – I wouldn't even know who they were booking half the time; I would just make the graphics for their posters. Most of the time, I would listen to a song or two by the people they were booking just to get a vibe for the design. 
That's how I got introduced to people like Doctor P, Circus Records, Hospital, and Four Tet – by making posters for these iconic, old-school artists I wouldn't have known otherwise.
Did you take classes for graphic design?
I was heavily involved in Yearbook in High School and then went to college at Montana State and The Art Institute in Minneapolis for graphic design. I design all my merch and jerseys. What's on my jersey right now is The Cantina design, which is a house music residency in Minneapolis I run. No one knows I run it. It's in the basement of a prohibition bar with a Funktion One sound system – house music all damn day. 
My partner Haylee is the resident, so she plays every event. It happens every second Saturday of the month, but we're doing it every Sunday during Pride month. It's a day party from 3pm to 9pm, "It's Always Sunny In Minneapolis" is the name. I don't usually talk about it on my main stuff because house is not usually my "thing" I just understand branding and marketing and graphic design and want to build the scene up in Minneapolis.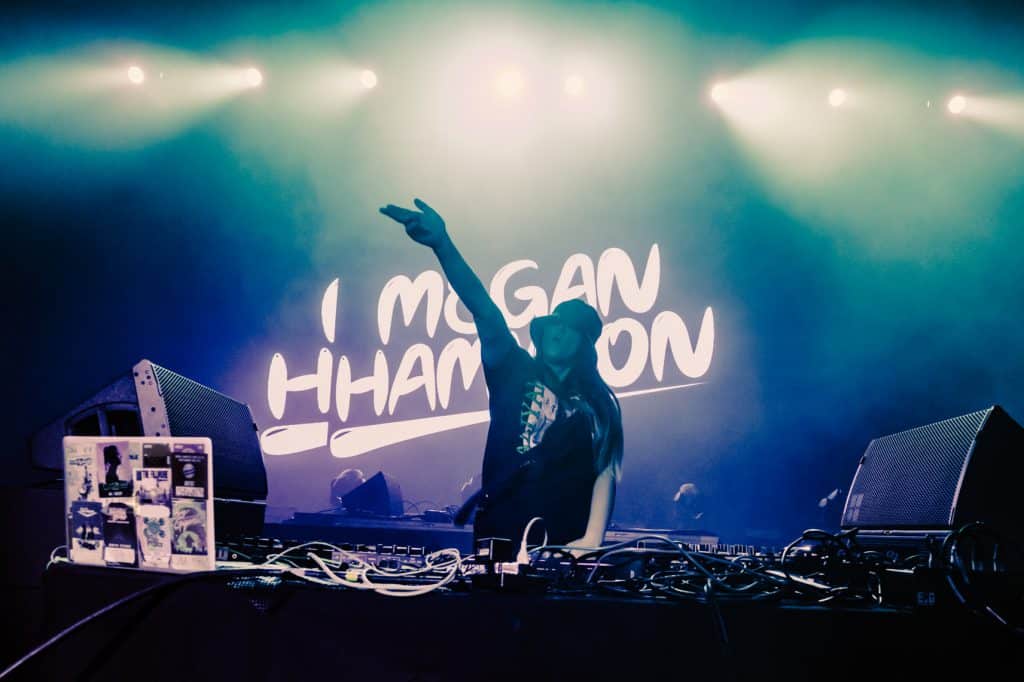 It seems like you have a multitude of creative outlets involved! Graphic design, working with spaces, and artistry, not just music – you do it all. In your music, you're not only a DJ, but you incorporate live instrumentals in your art. Combining all of these is a more complex process; how do you do that? 
I used to program drum samples into the drum pad for each song and turn those down in the setlist version, same with my vocals. So the bassline vocals are there, so I'm good even if my mix is messed up. I don't dub over it, but I'll sing and have backing just in case. Right now, I'm in between live sets – I'm doing more DJ sets while I put together my new live sets. The Jamstik, a midi guitar company, just sponsored me! 
Congratulations! What does this entail?
I've been integrating it into my sets, so I can use Bluetooth or plug it into my computer and run it through any software or program. I can even put bass patches on the guitar – it's mind-blowing. It's still pretty small, but it holds so much power, and I can do anything with it. 
I've been writing music with it and working on integrating it into my crazy new live sets. Even then, I'm a DJ – I'm not usually going to play an hour of my music; that's not how I learned or what I came to do. I grew up in remix culture, and I play what people usually aren't playing. I want them to see it in a new light. I love remix culture in general. 
We love Manic Focus and love the shout-out you gave him on Instagram. What is the best piece of advice he has given you regarding production and the music industry, or even from a fellow musician?
I met John through us getting booked at the same places, through what is now my management Elevated Entertainment. I opened for him several times, and he's always just a sweet guy. He didn't take me under his wing, but he has always been a brother figure. Even as they got bigger, they've continued to put me on. 
I remember John saying, "The most important part about being an artist is how much gratitude you show anyone around you. No matter what position or role that they had, the more gratitude you show for the position that you're in, the longer you'll be able to stay there." So I've kept that within me and made sure I don't get too hot-headed.
The next piece of advice I got was at my first Infrasound from my friend Taylor; she's a triple black belt in Tae Kwon Do, and so is Martin [Liquid Stranger]. We met because I camped with all of them and met Martin 11 years ago. I remember standing in the crowd at some random festival, getting a tap on my shoulder, and it was Martin. He said to me that the most important thing is your circle. You need to keep it tight, and it has to be all people invested in your well-being and your project. That's the best support you'll ever have.
How has this advice been impactful as an up-and-coming musician?
The larger you get, the lonelier it gets, and more disingenuous friendships pop up from people that don't care about you or your personality. It becomes lonely having to navigate that all the time and what they want from you. I'm at a small level, but I'm starting to experience that. I can only imagine that gets worse over time. 
You're playing Pride Tings in Minneapolis in June, and more representation for the LGBTQ+ community is something many in the scene have been striving for. What do you feel the dance music community can do to support the LGBTQ+ community better?
There's a lot of tokenization happening right now, and I'm not necessarily mad at it. But I hate things like 'Ladies Night.' I don't need to be booked because I have a pair of tits. There's a supreme difference there. There's a significant disparity in the number of women making and performing music as compared to men.
Just existing as a woman in the electronic music industry is a radical act. More importantly, we need to remain conscious of/actively support the BIPOC artists paving their own way in the electronic scene. And this goes beyond putting them on lineups; it includes educational opportunities for them to make music, learn to DJ, and thrive in the community so they can represent what their culture has essentially built.
I would love to know what you would like to see in queer spaces, not just what the people outside of the queer community can do.
Non-binary people need to be represented. For example, Moore Kismet, to see a Black woman (his mom) flying with their non-binary child to a music festival? That's powerful! I would like to see more parental support and chosen family support. Not seeing that kind of support is heartbreaking sometimes, but seeing people like Moore Kismet have their mom with them everywhere makes me cry. 
It's important to talk about these things, especially at festivals; who would love to pretend that it's all love and light all the time. I want that too, but you can't recognize light without darkness. It doesn't have to be good vibes all the time because it's not realistic for everyone involved. People misunderstand due to social media; it's all highlights. Meanwhile, we are struggling with the means to be creative and keep our fans and our family happy.
Just for fun, can you share some of your favorite funk/soul artists who inspire you?
As far as that is concerned, my magnum opus is Dolly Parton's "Jolene," last year. I recently did a cover of it with the guitarist Pat from the Bermudas, bassist James from Frog Legs, Todd from Emancipator on the keys, Jessica from Spectacle on strings, and Jason from SCI, who did all the aux percussion. My sax payer was Brian Powers, an Albino who is 80% blind, plays all sax, and also plays for Victor Wooten. 
You have so many dynamic connections in one track. How the heck did this happen?
So people have always asked me to do a Dolly Parton remix. I love her so much that I needed to pay tribute. I did a couple of beer can designs for National Women's Month, and of course, I did a Dolly one called "Nine To Pie." 
So I was listening to the chorus of "Jolene" and…. it's at 120! It's a house track kind of beat. I wanted a chic Prince-style to the chord progression of "Jolene." I got all sorts of instrumentals from all those people, then sang on top of it. Boom – reach out for what you need!
What are you working on now? I loved your last single, but it's been a while!
I have been looking for what sparks joy for me. I wrote a whole album over COVID but only released one song. I have an entire album like that but don't want to put it out because it's not my normal 'brand.' 
It's tough because there's one side of me that's musical, and I write my own stuff, but I don't integrate those often in my sets because it's a vibe dropper. It's different with my fans because it's like, "Oh, I wanted to hear this," but then there's the general crowd wanting to hear my Shaggy remixes. It's a realistic understanding that I have.
My new thing is YDG, "You're Doing Great." It's going to be an EP series, tour, all that. It all came from this festival installation by these two sisters, the Complimentary Bar. It's a DIY saloon-style; all you do is compliment people. No drinks, just with a megaphone and stand and make people's day. It's so contagious and fun, and it changes your mental state. If you run out of compliments to think of, we go for "YDG – You're Doing Great" it resonated so much with me and what I want to do.
What are you hoping to see with the future of this then? What do you want people to feel when they come to your shows?
I want them to feel like no matter what they're going through – because life is so full of anxiety, and every generation besides us is so judgmental and skeptical of us to be autonomous and better faith. The bottom line is everyone does the best they can at any point in time. 
You're making the best decisions for yourself. It's always about a purposeful mind. I don't think people go out of their way to be innately bad people. I believe that it's important that everyone is doing the best they can, given every other thing they're experiencing right then. It goes back to the Spoon Theory!
Can you explain the Spoon Theory?
Every day you're given a certain amount of spoons. It could be different each day for each person. Like, this morning, when I went out to my neighbor's camp to tell them I appreciated their set, there was a spoon. Maybe you remember to conserve a couple of spoons because you know you'll have a hard conversation later in the day or even a set to play. 
You have to keep some spoons with you to do the things. Those spoons don't come back to you once you give them away. Be conscious of how many spoons you have before you run out. I'm just trying to be conscious of how many spoons I give to any scenario. I listen to my physical and mental state and do not push myself to the very brim, so I'll have spoons tomorrow. 
As a musician, we give out spoons more than others by how our art reflects our persona and our experience in life. That's a big spoon, whether making music and playing it for people or talking to fans. But, it also needs to be seen as an energy exchange because good spoons can be traded.
That's also why sets can be so exhausting, everything I do on stage reflects what is given to me, and I can't contain myself. It's draining because you're one person and 3,000 people just shot the same energy I was giving them at me. It was a lot to process that – but in a good way. That's how you understand that energy exchange. You're a lightning rod, even though it's exhausting. The energy is there for future uses, and that's what I hope my music sparks in people, energy.
Thank you for giving us a spoon today, Megan!
---
Follow Megan Hamilton on Social Media:
Facebook | Twitter | Instagram | SoundCloud | Twitch