The dust from Same Same But Different has settled and after attending it's more clear than ever why this is such a beloved SoCal experience.
---
It's been a year and some change since we were able to gather for live music and while this summer has seen a resurgence of festivals across the US, none have been safe from the ever-changing landscape. Some festivals have faced outright cancellations due to increasing COVID-19 cases in the region while others were sidelined due to bad weather. But some, like Southern California's Same Same But Different went off without a hitch. The odds were stacked against the festival, yet came at just the right time and proved to be as healing as ever.
Luckily, Southern California isn't prone to inclement weather, and as long as festival producers were diligent and up-to-date with COVID policies nothing was stopping SSBD from happening. That said, event producers kept their finger on the pulse of the news and did a stellar job communicating to attendees when something would change or update. After a long year of uncertainty and pure grit on the back end, it felt really good to gear up for the first camping music festival back.
The gates opened at 3PM on Thursday and I figured most people would have the same idea to arrive early to beat the crowd, but that wasn't the case.
There were three cars in front of us and we cruised through security after a quick vehicle check, proof of COVID vaccination or negative test, and ticket check. As we made our way to the Slightly Remote parking lot, we could feel the heat that would be blazing down on us over the next three days. It remained in the high 90s throughout the weekend, even creeping into the 100s at times, but that did not keep us from handling business.
I also thought the shuttle from Slightly Remote parking to the campgrounds would be more hectic, but it was pleasantly quick. It arrived punctually every 15 minutes and attendees would load their camping gear under the bus and take whatever else they had on to their person. Everyone had quite a few belongings but managed to get everything from the Slightly Remote parking lot to the campgrounds by Up Front parking in one trip.
But the journey wasn't over yet. We still had to get our gear from the shuttle drop off at Up Front parking to the actual campsite and that would have been a "work harder not smarter" situation had we not had a wagon. The wagon allowed us to stack all our gear and make half as many trips from the shuttle drop-off to camp while some people got quite a workout. Definitely invest in one if you plan to attend this festival in the future, you won't regret it.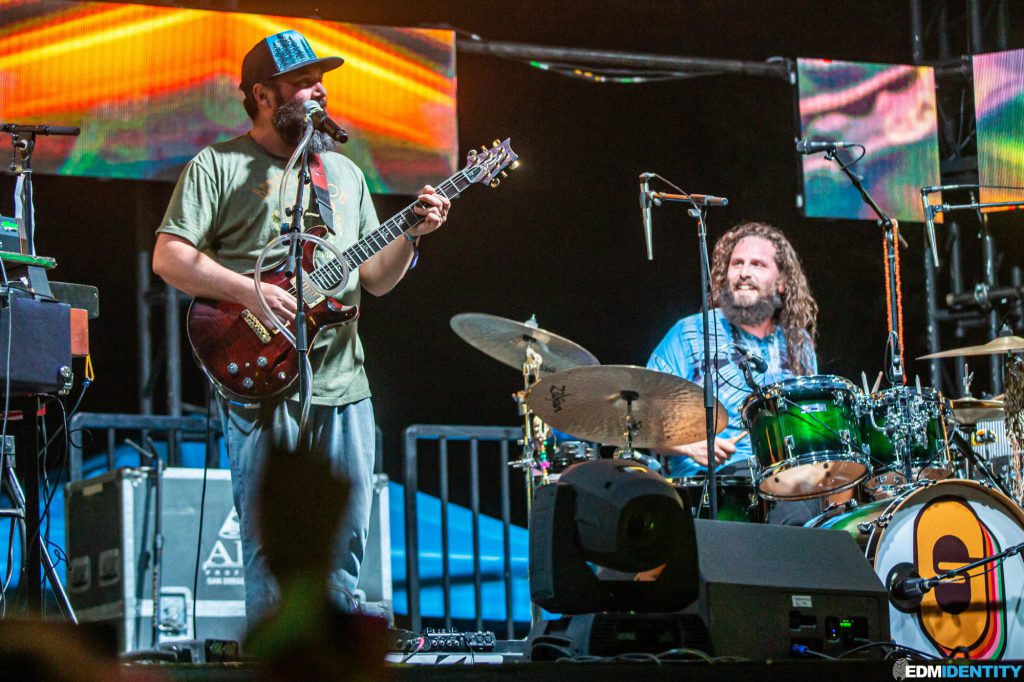 We set up camp on the West beach with the lake prominently in view. As much as we wanted to releax there was music to see right away.
As opposed to other festivals that have a day zero, Same Same But Different gets into the music right away. As we ventured into the festival for the first time, Thursday proved to be super relaxed. From the minimal security to the number of attendees inside, it was by far the most mellow day.
The festival kicked off with local San Diego jam band Groovesession. I have seen these guys perform a handful of times, but oh my lord did they bring the energy to start the weekend off right. They jammed through their catalog of originals and ended with an incredible rendition of The Who's "Teenage Wasteland". The vocals were spot on and they covered it so well I know The Who would approve.
After Groovesession warmly opened the festival Saxsquatch, Capyac, and Boombox with Backbeat Brass continued the epic lineup of music on Thursday.
I was very intrigued by the Saxsquatch booking and couldn't miss his set during the festival. I wasn't sure what to expect from his live performance, but as advertised, he stood behind the decks in a hairy, extremely hot-looking Sasquatch costume, and played a handful of jams that kept the crowd energized throughout the entire set. He covered songs like George Michael's "Careless Whisperer" and Notorious B.I.G.'s "Big Poppa" that had everyone in the crowd singing and vibing. When he soloed the sax, it sounded like a raspy wail only a Saxsquatch could play.
As day turned into night, the next live set came from Los Angeles-based nu-disco group Capyac. Having just released a new album, CAPYAC FOREVER, attendees got to experience many of the tracks performed live for the first time. I hoped they would play some of their classics like "Fade Out" and "Speedracer," but they filled their live set with tons of new music and a spectacle of choreographed dances. Having played at the festival before, along with many venues around San Diego and LA, they probably did not want to give fans the same ole' show and I respect them for that! They also played a late-night DJ set on Saturday at the Coconut Club which got just as funky and allowed attendees to let their Freak Flag fly.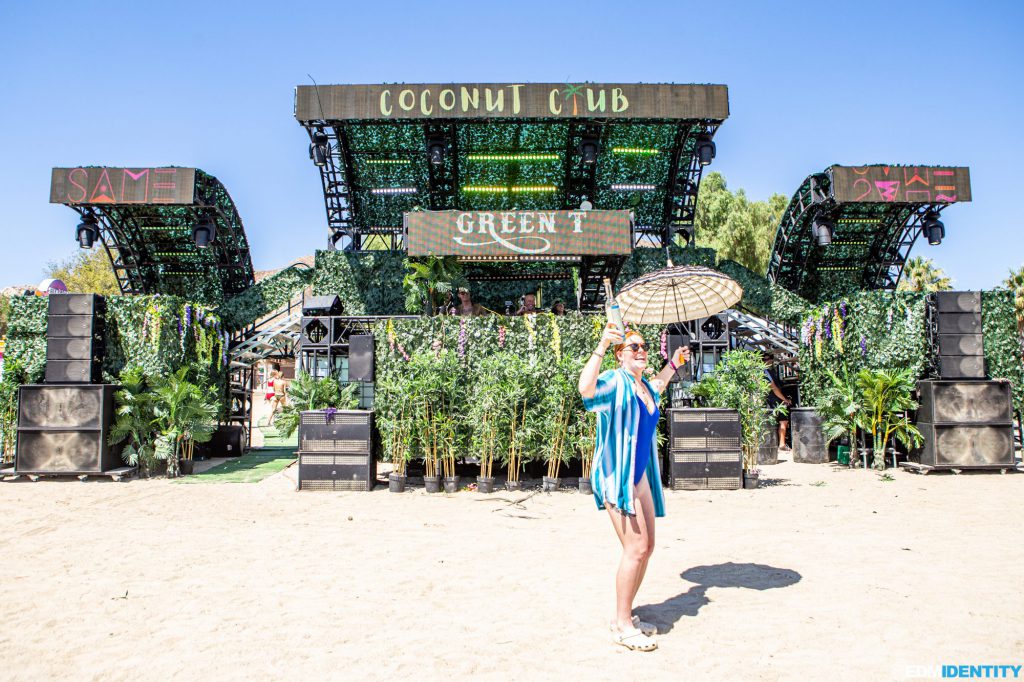 Friday was a hot day and we beat the heat by partaking in the float party in front of the Coconut Club.
Thank goodness for that lake. It was a crisp wake-me-up in the morning and when temperatures rose during the day it was a lifesaver to cool off. The Coconut Club stage was situated right on the sand and faced towards the lake so no matter where you were in the area you could be part of the party.
Over the course of the weekend, San Diego-based artists like Green T, OFIER, and Maximo all took the stage to provide the vibes for the outrageous float parties. It wouldn't be fair to call The Coconut Club a side stage. It was stacked with subs, speakers, LEDs, and foliage that could all be experienced while chilling in the lake 50 yards away. It was the perfect way to get the energy levels up for the long nights that were ahead.
As Friday began to take shape, I couldn't help but notice how incredible every early set was.
Boostive opened the Different Stage on Friday and their Reggae Dub sound permeated the airwaves and got everybody grooving from the first song. The live band backed vocalists Divina and Al Bundy with gusto and each vocalist brought their unique sound to the stage. Divina has a powerful and entrancing voice that captures the hearts of listeners while Al Bundy has a hip-hop style delivery. Each brings their own thoughtful lyricism that keeps you engaged throughout the show.
The next performance on the Different stage would be one of my favorites of the weekend, Megan Hamilton. As one of my top sets to see, I knew she would throw down an incredible set, but I didn't know she would turn my legs to dust by the end. An hour of pure energy, she played a relentless set of funky bass bangers and when she mixed in K+Lab I totally lost it.
Megan Hamilton is the reason I had to wake up early the next two days to stretch my legs because I was completely sore from dancing after her set. Of course, CloZee and Big Gigantic also played memorable sets and I'll never forget hearing the CloZee remix of Big Gigantic's "You're The One." I will forever think of Same Same But Different anytime I hear that track.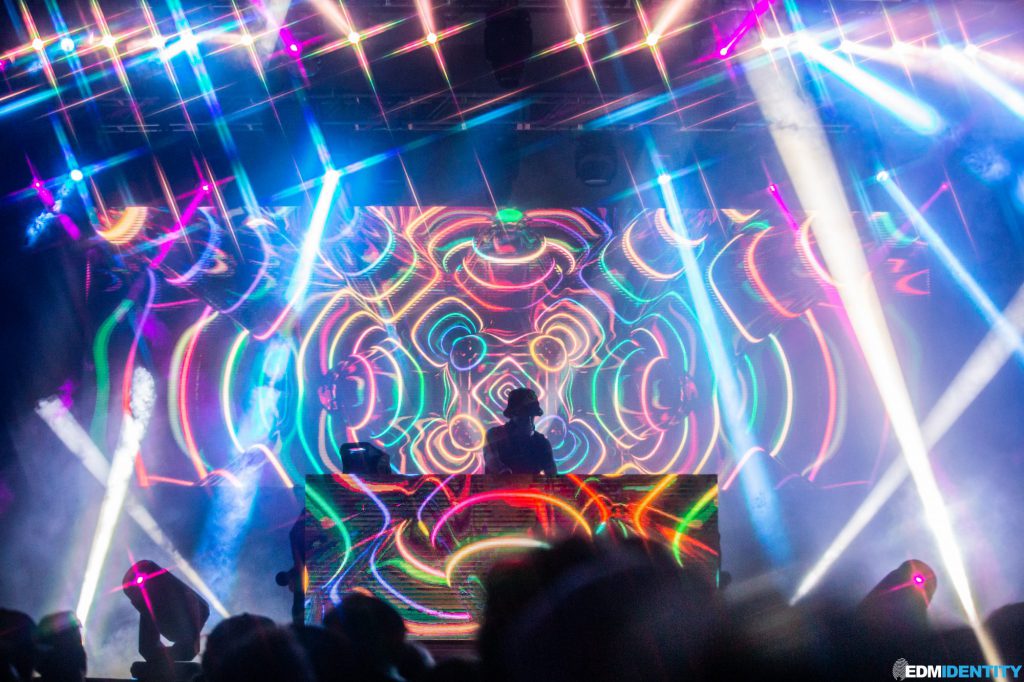 Saturday wasn't just a special day at the festival for music, but also because I was celebrating my birthday with all my friends.
The stars aligned and on my birthday there was an epic string of sets to catch. The day started at the But Jungle with Aviator Stash before moving to the main stages for Red Giant Project, Moontricks, Balkan Bump, The Motet, Dirtwire, STS9, SunSquabi, and LSDREAM. It was a long day of music, and the bookings were too good to miss a second of their sets. When one stage wrapped, the other was just starting, and it was a marathon of music and the music helped me keep my pace.
There is something great to say about every artist I saw on Saturday, but the one that blew me away the most was LSDREAM. Another one of my top artists to see, he took everyone in the crowd to another dimension with his heavy psychedelic wubs. Weaving through unreleased tracks and his own heavy-hitting productions like "Feel The Vibe" and "REKT" there was no break in this set. Paired with captivating, colorful, and at times, insanely trippy visuals, I feel like everyone left that set a new human being. LSDREAM ended his set with affirmations to love yourself which was the perfect way to bring the festival almost to a close.
That night Kaipora was the very last set I saw late at night at the Coconut Club – and they brought the house down. Continuing the onslaught of heavy bass, they played their grimey tunes until the early morning hours. I meandered back to camp after I got my fix and spent the rest of the early morning catching up with friends and family talking about our favorite moments of the festival.
In the morning on Sunday, we cleaned up our campsite and were able to bring our cars from Slightly Remote parking to Up Front to make load out a breeze rather than having to shuttle everything out. It seems the event organizers thought of everything and that made the whole experience at Same Same But Different so much better.
As the weekend came to a close I was left with a feeling of gratitude and happiness that such wonderful festivals exist.
After a long year of no live events, Same Same But Different was exactly what I needed. Between the music, family-affair environment, and vibes, this festival was everything I expected it to be and more. And when I look back at the memories of that weekend spent at Lake Perris, its name makes more sense to me.
The festival itself has all the best qualities of every festival I've had the chance to attend – It has the lake from Lightning in a Bottle, the production of CRSSD Festival, and the family atmosphere of a boutique festival like Desert Hearts. Yet all these aspects come together in an event that is something so familiar, but so, well, different. It's unique, special, and almost magical how they make Same Same But Different stand out from others, and I cannot wait to see what's in store for the future of this festival.
---
Follow Same Same But Different on Social Media: