After taking the stage at festivals like Coachella and Lightning in a Bottle, SOHMI swung by to tell us her backstory and plans for the future.
---
A new wave of artists in the house and techno scene continues to captivate the hearts and minds of dance music lovers and SOHMI is one who is helping lead the charge. Her story begins well before she emerged on the scene in 2018 – learning to play piano early on in her life, working in the music industry on the business side, and leaving for the tech world before finally reigniting the fire that was deep in her soul and returning to electronic music.
Since her return, SOHMI has only picked up increasing momentum with each passing year. Her early nods arrived in the form of releases on imprints like Understated Recordings and Percomaniacs in 2019 before kicking it up a notch with even more on Astralwerks, Odd One Out, and Nothing Else Matters. While her solo work is sublime in its own right, her collaborations with artists like Booka Shade and Anden, as well as her recent remix of Qrion's "11-11" have turned heads.
SOHMI's persistent effort to evolve her sound and skills behind the decks built up into the explosion of success she's seen so far this year. Not only has she played Coachella's renowned Yuma tent, but has since graced the stage at Lightning in a Bottle and Skyline Orlando this past weekend. Further, she's set to play North Coast, Electric Forest, Day Trip Festival, and more this summer as she continues to propel herself up the ranks of the scene.
Before the heat of the summer truly kicks in and she's off on another jam-packed weekend of shows, we caught up with SOHMI for a quality chat. She dives into her artistic roots, gives some advice to fellow artists who are also navigating the scene, and dives into some of her recent work – so listen to her exclusive guest mix and read on for the full conversation!
Stream EDMID Guest Mix 326 || SOHMI on SoundCloud:
---
Hi SOHMI, thanks so much for taking the time to chat with us today. Before we get any further, let's take some time to dig into your roots. How did you go from studying piano and theater, and working in tech, to finding a passion for electronic music and DJing?
Thanks for taking the time to chat with me! And for digging into that question – it's something that I keep trying to wrap my head around as well. The short answer is that I loved music and performing from practically the moment I was born, and even though 'real life' got in the way of my being able to pursue them initially (i.e the first 10 years of my professional working life) – eventually, I found my way back. Now for the longer answer… I joke sometimes that the rave chose me, not the other way around, and whether or not that's actually true, what I do know is that music was never going to let me go. It's something that defined my entire identity and life from age three, when I first started studying piano, all the way through college, and even the first few years after I graduated.
My first go-around in the music industry was actually on the business side, as a talent management assistant in pop music, which I initially thought was the most 'viable' way to take all my passion for music and turn it into a career. However, I quickly became very jaded by that job and realized it was too hard for me emotionally to work in music without being the one performing or creating it. And because I didn't know at the time what that might look like for me as a professional path – I loved music and performing but didn't want to be a pop star per se, didn't want to be a studio producer for other artists –  I left the industry altogether and chose the furthest thing I could think of to start over in again. That was tech. It was like breaking up with someone and needing to get as far away as possible from them in order to heal.
Then, for whatever reason, my last job in tech brought me out to Los Angeles from the east coast and that's when I was exposed to the rave scene by new friends I made out here. That's when I had my eyes opened to DJing as a form of performance, and electronic/dance music as an outlet to combine my singing and voice with rhythms and sounds that appealed to my brain on a much deeper level than pop music ever could. I'd suddenly found a path for the kind of artist I wanted to be but never really knew existed before.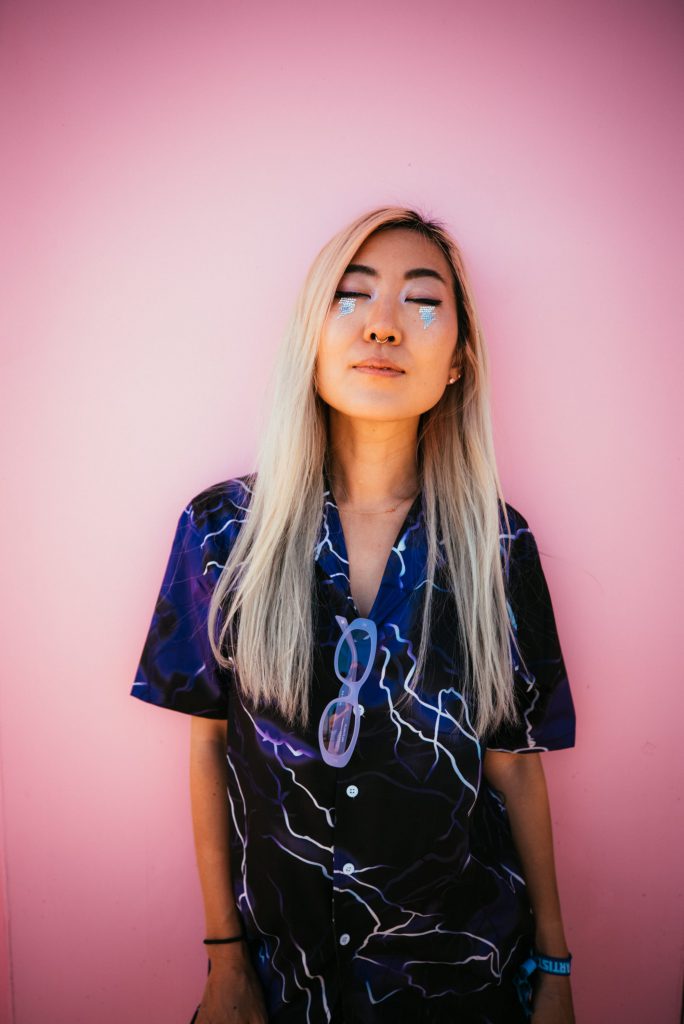 In your Permission To Be essay, you shared a deeper level of your story that explores your experience not just as a woman but as a Korean American in the scene. Can you share what the added pressure to find success has felt like since taking your first steps? Do you feel anything has gotten easier or marginally better during the past few years?
I think a lot of the pressure, now that I can look back at those 'first steps' through the lens of hindsight, was always internal. Meaning most of the pressure or perceived 'added pressure' to find success came from myself. It's not that some additional amount of pressure was being applied on me externally by others to be successful, due to my being Korean or Korean American or a woman. But I felt it nonetheless, maybe because the lack of representation always gave me the sense that I needed to fight harder in order for people to look at someone like me and say "this could work".
Expanding on that, I've always felt like I had to 'get it right' every time I set foot in a club, on a stage, or in a booth; to set a good example and represent my people in a positive light so that doors could continue to be opened for any of them who's next. I don't know if everyone takes that kind of position or if it's a normal way to feel, but I do – and I think it's maybe more normal for people in any sort of minority position to feel this way because we really are setting the tone, and standing on the frontlines of change.
Thankfully, I do feel like female and minority representation have become much bigger priorities for promoters and festival bookers across the board during the past few years. And I want to give some props to all the women and minority artists who I know firsthand have conducted themselves with grace, positive attitudes, dependability, and good manners time and time again without a single 'day off' so that we could 'prove' to the industry that it's a good choice to book us. That we are a pleasure to work with. That fans love not only our music and talent but also our auras and our energy. And when one of us is like this, it feels like it's a win for all of us.
What would you say to other creatives in the dance music scene who might also feel like outliers or face negative responses from labels and promoters?
Don't let it bring you down. Do not be combative in response to that kind of energy. The best form of 'revenge' is simply success and even though it may feel uncalled for and unfair to receive that kind of negativity or rejection from the aforementioned sources… sometimes it's going to happen. You just shine harder then. Make your music even better. Push harder, but in the right places.
Some labels and promoters may never 'get it'; that's fine. You don't have to work with them. Give your effort and energy where you feel it's being welcomed and received. Don't ever beg to be accepted, beg to be recognized. You should never have to feel like you have to do that because the right partners for you will value who you are and what you bring to the table. They will value your music and your vision. So don't settle for anyone or anything less.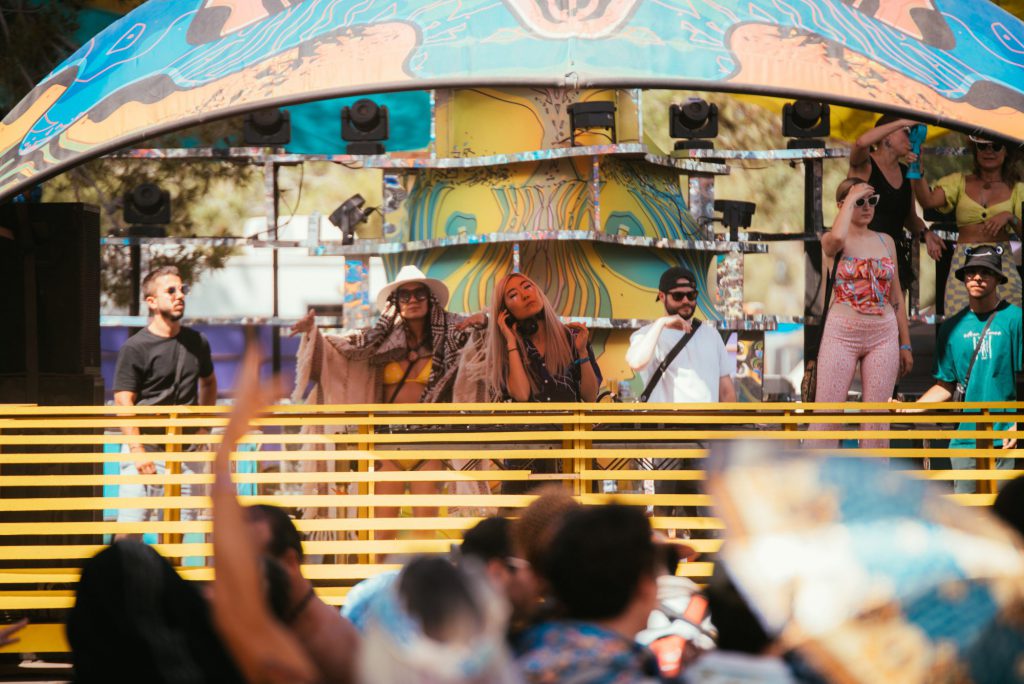 Moving onto your music, earlier this year you teamed up with Denton to drop "Get To You," which is an absolute jam. Can you share what the production process was like for this tune? What brought you together with Denton?
Thank you! So this collab came about very organically, as Denton – aka Josh Butler – is someone I had just recently done a collab with at the time ('Sunday Sunset', in 2020). Right after we wrapped that one up, we started working on something for his Denton project and that ended up becoming the song, "Get to You". Everything was done completely remote, as we worked on the song during the height of the pandemic in 2020, so the production process began with Josh emailing me a link to a folder with different bits and ideas he had started for me to find inspiration or a starting point from.
I ended up being drawn to the least-fleshed out thing in the folder, which was just a four-bar loop of chords that Josh had laid down and he even said he couldn't believe that's what I picked out of the bunch because there was so little to work with! But I loved the freedom of that, and the chords had this nostalgic and slightly melancholy vibe to them – which is totally my thing. I love bittersweet dance music. So I wrote a bassline and added some simple drums to get more of a flow across, then sent that back to him as a little demo with topline and vocals I'd written and he instantly loved it. He added more to the production and we worked on the arrangement further together, then he submitted a demo to the team at Defected Records and the rest is history, as they say.
You've also worked with a number of other artists such as Booka Shade, Anden, and Chris Simon, to name a few. Do you feel these collaborations help you grow further as a producer? Have you picked up any tips along the way?
Absolutely. A big part of the reason that I enjoy doing collaborations with other artists is precisely because I always learn something new from the process. I've picked up tips and tricks on how different producers do their vocal processing, for example. Unfortunately, most of the vocal collabs I worked on these past two years were during the pandemic – so I wasn't able to sit in the room with Booka Shade or Anden, or Denton when we worked on our tracks together, which probably limited the amount of production knowledge I might have otherwise picked up from in-person sessions together.
However, every track and different artist that I create topline for still pushes me as a writer and vocalist. I put a lot of thought and intention into writing melodies and themes that are an equal representation of both of our sonic identities and vibes, so every collaboration has helped me flex and develop that creative muscle. 
Another gem that arrived with your stamp on it was a remix of Qrion's "11-11." How did this remix come to life? Were you drawn to this specific tune off her album? 
I was approached by the label, Anjunadeep, to do a remix for her album and was really excited for the opportunity. They let me choose which tune I'd want to remix and right away I was the most drawn to "11-11". Upon hearing it, I connected with its wistful energy and felt the creative urge to try and give it a slightly more driving and stripped back interpretation, and in particular, chop up and use the vocals in a way that would add a little bit more sensuality. The number 11 also happens to be both my and my partner's lucky numbers!
This year has seen you take the stage at Coachella and you have a number of appearances at Skyline Orlando, Lightning in a Bottle, Day Trip Festival, Electric Forest, and more on the horizon. What does your preparation process look like for these sets? Do you get a bit nervous taking the stage in front of thousands of people?
That's a great question. I feel like my preparation process has been evolving in real-time, as I've begun to play more and more festivals and shows than ever this year. One noticeable shift has been in the amount of time I've been spending digging for new music vs going through promos – I'm finding much more music just being sent to me, so a consistent part of my preparation process now involves carving out time to go through promos.
I'm also religious about adding cue points to all my tracks, and categorizing them by sonic vibes that are immediately identifiable to my ear (like melodic/progressive, driving, minimal, breaks, vocal, etc). This way, even if I'm not super familiar with the newer additions to my library, I know I won't accidentally line up an overly-driving melodic techno track or vocal-heavy track when I meant to play a more stripped back, minimal techno track. Putting in the extra bit of pre-work like this takes time upfront but sets me up for greater success on the back end when I'm running around to these performances and playing out new music that I might not be as familiar with yet.
And I definitely get a bit nervous before every set – I don't know if that feeling will ever go away, and it's probably a good thing because it means I care and it keeps me on my toes! However, the nerves usually only last through the first mix in; once I get through that, it's game on. The nerves melt away and I get completely lost in the music and connecting with the audience.
Finally, with these massive shows on the horizon and plenty of beautiful releases under your belt, what goals do you hope to achieve in the second half of 2022 and beyond?
I'm dealing for the first time with time management challenges, specifically trying to strike a balance between traveling and touring and finding time to produce music in the studio. No matter how many releases you might already have, I think there's always pressure we feel as artists and producers to keep creating more, which isn't necessarily a bad thing! Plus there's the natural urge to create and write music, especially when you come away from a string of shows that leaves you particularly inspired.
I'm in that space right now, where I feel creatively inspired and find myself wishing I could find uninterrupted stretches of time to just get lost in the studio – so simply and humbly, I hope I can make that time for myself throughout the rest of 2022 and also learn how to balance touring and studio time in general. I'm a performer at heart and absolutely love the touring and performance aspect of the job; I have to be a bit more intentional with the time I make for creating new music.
That said though, I have been working really hard on my next EP, which will be the first one since my Closer EP last year on Odd One Out. It's going to be my first four-track EP and will be a bit different than anything I've put out thus far. I think it bridges the gap between pop and underground house and techno in a really unique way, which has been a defining aspect of my musical vision from day one. You can say it's pushing the boundaries of 'minimal pop tech' even further, and I can't wait to finish the EP so everyone can hear it soon. As always, it will be deeply personal and hopefully something that my fans can get lost in and find some catharsis from. Because I know that writing these songs has been a bit like therapy for me. 
---
Follow SOHMI on Social Media:
Facebook | Twitter | Instagram | SoundCloud | YouTube