Space Yacht returns with A Sequence In Time Vol. 1, a fierce compilation that gives experimental bass the love and recognition it deserves.
---
The devil works hard, but Space Yacht works harder. These Southern California-based party throwers continue to lead the pack with their stellar innovation and growing platform. They play a significant role in the community, and everything they do is for the culture, whether it's their events, apparel, or music releases.
Back in 2020, Space Yacht officially launched Space Yacht Records and has released nothing but straight heat ever since. They're known for their carefully curated compilations like Tech My House, The Black Hole, Critical Mass, and Tough House. Each of these releases caters to a specific genre, like tech house, techno, drum and bass, and bass house. In addition, each compilation features fresh artists ready to show listeners what they have to offer, so you can say you get the best of both worlds.
More recently, Space Yacht blessed us with another fiery release, A Sequence In Time Vol. 1, a 12-track compilation that caters to the glorious sounds of experimental bass. While artists like G Jones, risik, Eprom, Ivy Lab, PEEKABOO, and more continue to push the genre forward with their revolutionary talent, there's a bubbling undercurrent of rising artists as well. Now, Space Yacht is opening the door for the next wave of experimental bass artists to smack you in the face with their relentless records.
Listen to the tunes on A Sequence In Time Vol. 1 on Spotify or your preferred streaming platform, and read on for some of the standout tunes from the compilation.
Stream Space Yacht – A Sequence In Time Vol. 1 on Spotify:
---
Right off the bat, A Sequence In Time delivers magic with UNNION's "Mogadishu."
This electrifying record will make your speakers vibrate like no other with that booming bass. A shift occurs towards the midway point, and you're hit with this beautiful melody that feels like a warm embrace from your crush. The rest of the record is chill and grounded, showing UNNION's ability to create a cohesive tune that works so beautifully.
Chef Boyarbeatz gets disrespectful with "Iron Rain," a slower-paced tune that'll leave you speechless. He does a brilliant job creating a wholesome yet unconventional listening experience, and the orchestra of distorted synths feels like a soothing brain massage.
Coma Tek, M?STIC, SHSTR, and Oh Losha flex their skills in the experimental bass realm.
"Plutonium" is a radioactive chemical discovered in 1940 and used to build the atomic bomb, and now it's the title of an immaculate tune as well. This one from Coma Tek is exceptional, especially when the melody pops off because it brings all the elements together, creating lovely chaos. He opens the song with a slightly deep, distorted scientist explaining the power of this deadly chemical. Once the drops hit, the power of the track consumes you. It's a true standout and one of the most experimental among the collection, the risks Coma Tek took paid off.
M?STIC gets relentless on "20gs (MY CHAIN)" and this record will make you bop your head as you vibe to the bass. The only hang-up about this one is the length of the song. It's too short but so good that it left me wanting more. In addition, SHSTR delivers mid-tempo realness on "Daedalus." It's the darkest, most haunting of all the tunes and feels like a vicious vortex consuming your entire being. But prepare to get wonky and funky with Oh Losha's "Big Bucks," the perfect tune for all the pashmina lovers who prefer to vibe on the ground because this one will have you floored.
KRYPTT, Solotrip, and Rejack show everyone how it's done with their solid records.
When it comes to experimental bass, you can easily veer off the road into mayhem. That comes through in full force in a seemingly effortless manner on KRYPTT's "Death Touch (GOD HAND)" and Solotrip's "Signal." Close your eyes and let these records guide you into a magical experience. Despite the distortion and delayed pace, these tracks flow seamlessly. And then there's Rejack's "Why U Wonder," a dreamy tune that packs a powerful punch in a subtle way, further proving the dynamic nature of experimental bass.
Space Yacht did it again on A Sequence In Time Vol. 1 and will leave you craving more, well done!
---
Space Yacht – A Sequence In Time Vol. 1 – Tracklist:
UUNION – Mogadishu
Badger – Snake Charmer
Chef Boyarbeatz – Iron Rain
Coma Tek – Plutonium
Quackson – Lost In The Woods
M?STIC – 20gs (MY CHAIN)
SHSTR – Daedalus
Oh Losha – Big Bucks
KRYPTT – Death Touch (GOD HAND)
Solotrip – Signal
Rejack – Why U Wonder
ZCR – Raze!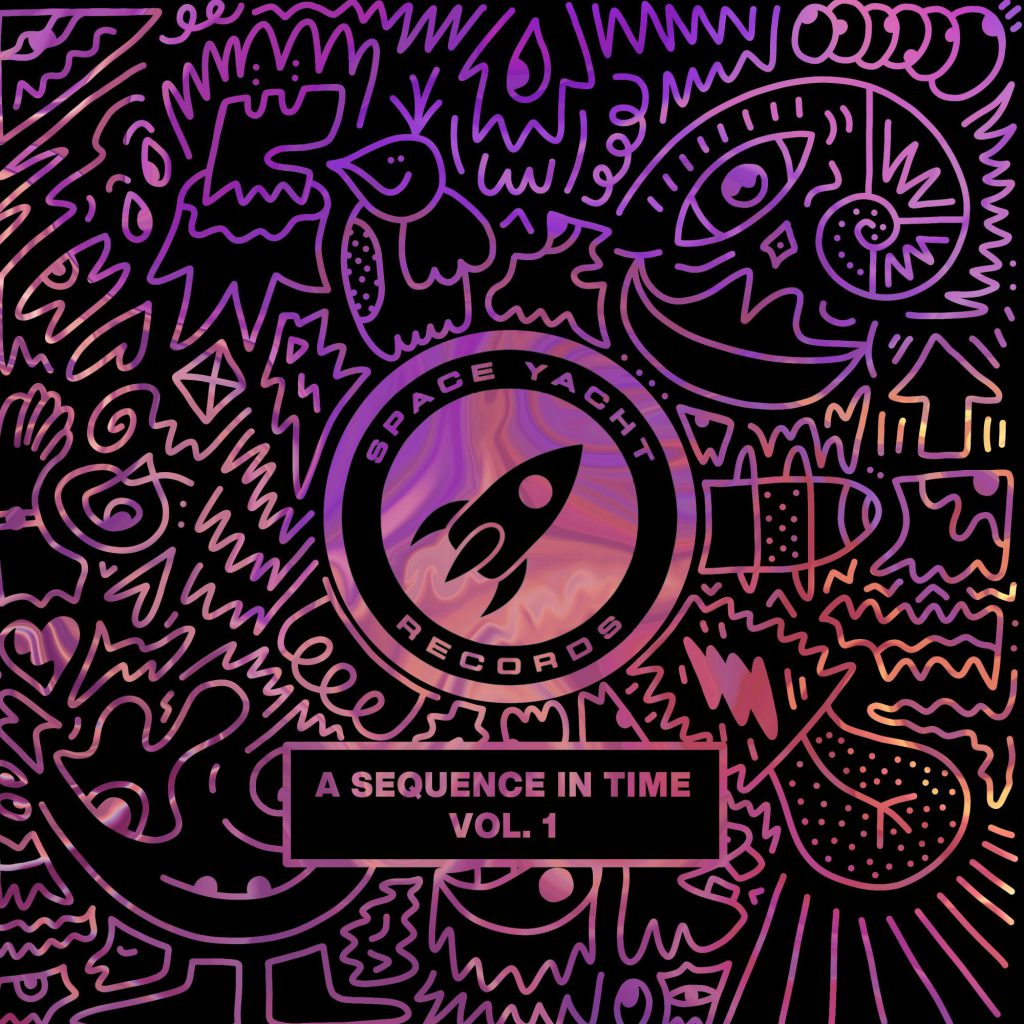 ---
Follow Space Yacht on Social Media:
Website | Facebook | Twitter | Instagram | SoundCloud | Twitch