Space Yacht taps the tastemaking talents of REAPER for the first volume of their drum and bass compilation series, Critical Mass.
---
Although Space Yacht might've become well-known for curating the sounds of house and bass music on their newly minted label, they've set their sights on supporting the rapidly growing drum and bass scene too. In fact, the first release from CLB and Formula on the imprint featured the sounds of the genre, and seemingly ever since then there's been an increasing number of artists who have been captivated by or began to produce beats in that style. Now, Space Yacht is looking to help highlight some of these artists and gifted the world with the first volume of their Critical Mass series.
Out now across all platforms, and available as a free download, Critical Mass Vol. 1 offers up 14 fresh tunes that will bend your mind to the breaking point but never snap it in two. To curate these fantastic cuts, Space Yacht looked to REAPER to take on the duties and flex his own tastemaking abilities. He's been pushing the DnB scene forward for years and graces the compilation with "RELOAD," a collaboration with Slang Dogs.
There are plenty of other standout tunes that are found inside the compilation as well. These range from CLB who brings forth spacey sounds on "Badboi" and Slippy who packs plenty of energy into "Could, Couldn't" to Rebel Scum's ominous track "Violence" and Rohaan's "Denied" which features fantastic vocal chops. AIRGLO and Reid Speed's collaboration "Step In My Mind" is an absolute stunner, as well as Kumarion's "Haunting" – both of these tunes help further showcase the range REAPER set off to achieve with this collection.
Listen to Critical Mass, Vol. 1 on Spotify or your preferred platform, and let us know which tune stuck out to you the most in the comments!
Stream Critical Mass, Vol. 1 on Spotify:
---
Critical Mass, Vol. 1 – Tracklist:
REAPER & Slang Dogs – RELOAD
Kumarion – Haunting
Justin Hawkes – IJDK
Slippy – Could, Couldn't
CLB – Bad Boi
Rohaan – Denied
Audioscribe – All That
Rebel Scum – Violence
AIRGLO & Reid Speed – Step In My Mind
Poni – Night In Hell
Segan – Champion
Dr. Apollo – Talk 2 Me (Feat. Aly Ryan)
NIK P – Everything Will Be
Skellytn – Oblivion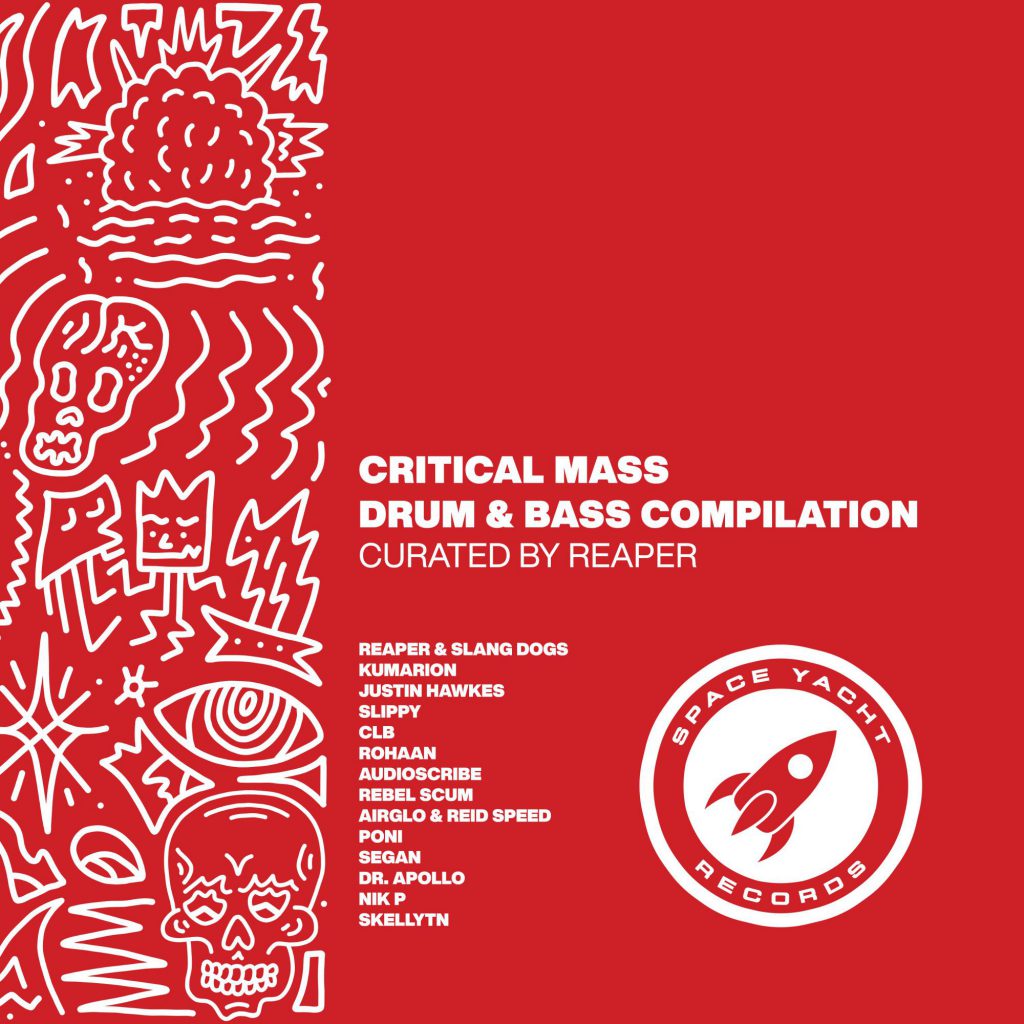 ---
Follow Space Yacht on Social Media:
Website | Facebook | Twitter | Instagram | SoundCloud | Twitch