Okeechobee dropped the official dates and details for its return to Sunshine Grove in March 2023 so you can start planning your trip to paradise.
---
Surviving the festival hiatus of 2021 with the memories of the pure bliss that was Okeechobee the prior year, many were eager to return to the sacred grounds in 2022. With big shoes to fill and over a year to prepare, the festival blew away new and old faces that returned to the lush grounds in Florida. Now, with another successful edition under their belt, the Okeechobee crew is already scheming up plans for 2023.
This week, Okeechobee Music and Arts Festival announced that it will return for another fun-filled year on March 2-5, 2023. As you may know, this festival is sure to bring you a line-up of your dreams, gobs of art your eyes can indulge in, immersive production elements, mouthwatering food choices, and a venue encapsulated by a tropical jungle paradise. When you're at Okeechobee, the rest of the world and your worries disappear for a weekend of wonderment.
Okeechobee also confirmed that all your beloved stages will be in attendance. Along with the main stages BE, HERE, and NOW, Aquachobee Beach will return for all your favorite sounds in the sun while the unforgettable Incendia is back to set your night ablaze. Be sure to catch some groove-worthy sets from the late night into the early morning with Jungle 51 as well. Chobeewobee Village's art bazaar and food haven return with shops and yummy festival food to keep you looking fresh and feeling full.
Although the official lineup hasn't been announced yet, you can count on the Okee crew to choose the perfect artists of all genres to set the mood for the weekend. Past lineups include artists such as Tame Impala, Porter Robinson, Of The Trees, Four Tet, and Elderbrook, so you can clearly see that there's no genre untouched. So mark your calendars Okeechobeeings because 2023 is sure to be one to remember!
The sunrise sale for GA and VIP tickets, along with camping packages begins on Monday, May 9 at 12 pm ET on the official Okeechobee website. Be sure to grab your pass and keep an eye out for more details to arise about the festival in the upcoming months.
---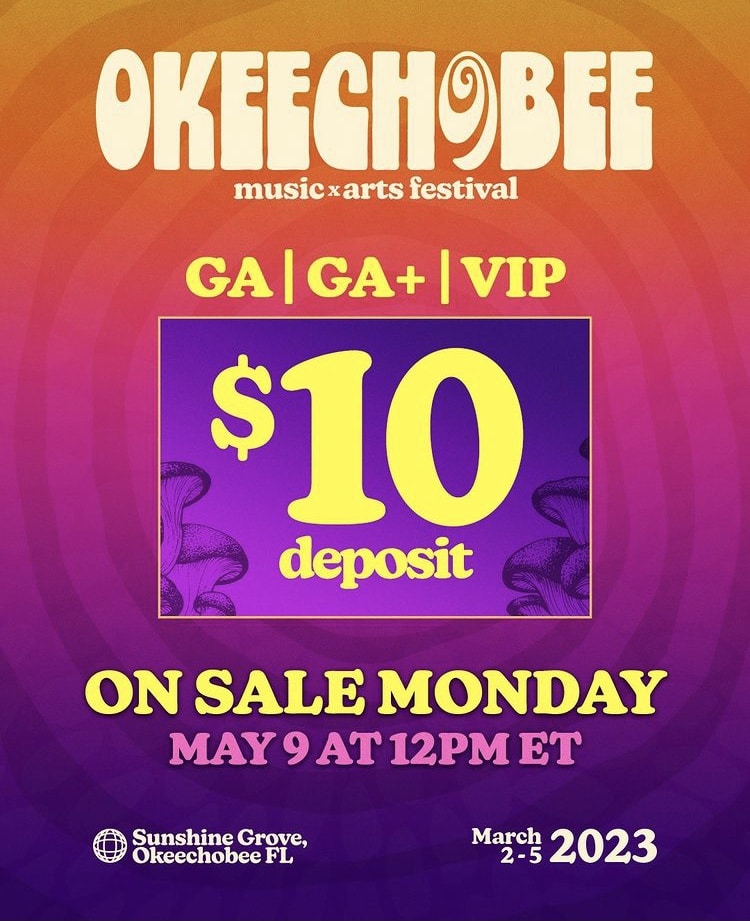 ---
Connect with Okeechobee Music & Arts Festival on Social Media: