Okeechobee donated over $420,000 to local non-profits and diverted hundreds of thousands of pounds of waste over the past five years.
---
As the planet celebrates Earth Day to help further promote sustainability, Okeechobee has offered up the impact report of their own efforts that have been made over the past five years to support those in the local community. Since first launching back in 2016, the festival has become renowned for its amazing lineups and surreal art, but giving back has also been a prominent focus to lessen the impact of the festival and lift up the county it takes place in.
Local Okeechobee County non-profits have seen over $420,000 in monetary donations made to them over the past five years from the festival itself, but that's just the tip of the iceberg on the community efforts. Other notable donations have included over 15,000 pounds of reusable goods that have been saved and donated to Thank You For Your Service which benefits local homeless veterans, while over 17,000 pounds of food have gone to local food banks.
Related: Want to dive into all things Okeechobee this year? Check out our full review of the festival!
In their efforts to keep trash and their environmental impact down, Okeechobee diverted 66,120 pounds of recyclable goods, 359,520 pounds of landfill waste, 2,300 pounds of reusable goods, and 12,460 pounds of scrap metal from the festival in just this year alone.
Further, the festival has registered nearly 5,000 attendees to vote via their partnership with HeadCount. It has also continued to push for more social activism that has led to tens of thousands taking part in the festival's Participation Row that's located inside Chobeewobee Village throughout the course of the festival.
Stay tuned for more news from Okeechobee and visit their website for details on how you can give back when attending the festival in the future!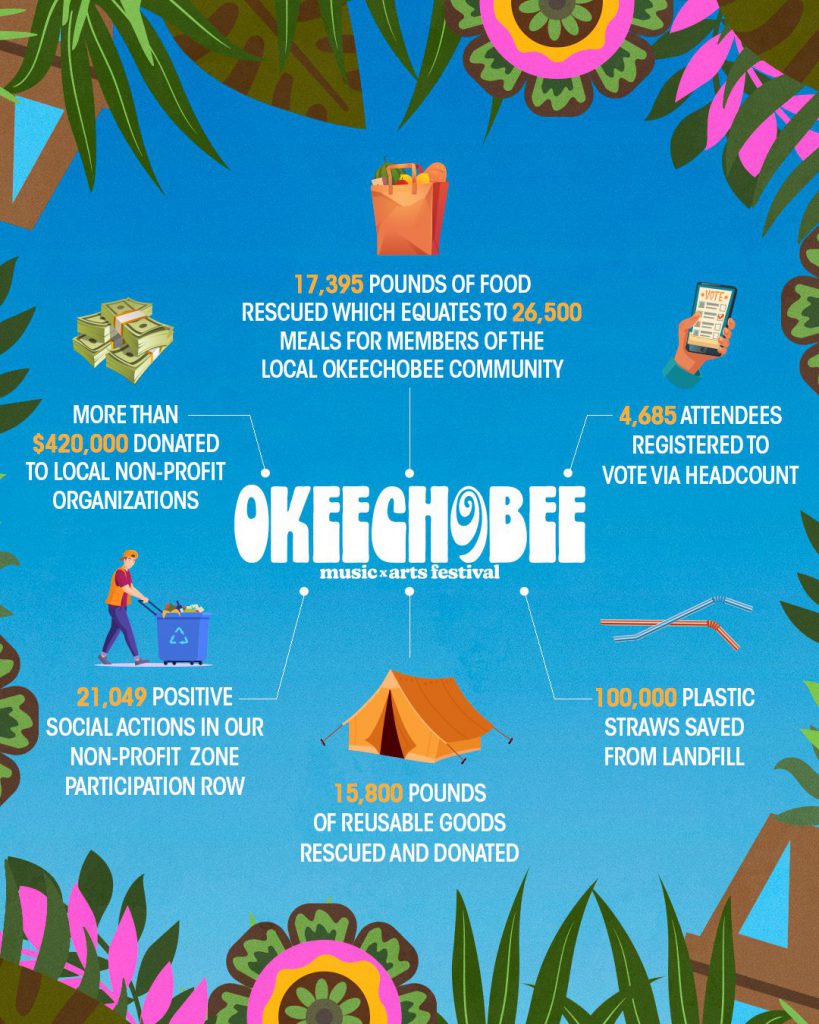 ---
Follow Okeechobee on Social Media: