We caught up with Sander van Doorn after his Ultra Music Festival set to chat about his new music and more!
---
Sander van Doorn is a staple in the scene who has perfectly crafted many cherished hits over the years. From the dance-fueled "Gold Skies" with Martin Garrix, DVBBS, and Aleesia, and "Love Is Darkness" with Carol Lee, to newer tracks like his remix of Above & Beyond and Armin van Buuren's "Show Me Love" and "Feels Like Summer," Sander truly knows how to get a crowd up and moving.
This year has already proven to be a busy one for Sander van Doorn with a tour in North America, as well as appearances in Miami and Mexico. Having recently released his rework of Praga Khan's beloved classic "Breakfast in Vegas," Sander successfully takes us on a journey throughout the single into an atmosphere of pulsating techno and infectious beats. We knew we wanted to chat with him to get the scoop on his production process for the release and more, so we caught up with him after his set at Ultra Music Festival.
Listen to "Breakfast in Vegas" on Spotify or your preferred platform, and read on to get insight into the world of Sander van Doorn, including plans for his Identity radio show and his darker alias, Purple Haze!
Stream Sander van Doorn – "Breakfast in Vegas" on Spotify:
---
Thank you for taking the time to chat with us. How did it feel to be back at Ultra Miami after its two-year-long hiatus, and what makes the festival so special for you? 
It felt really good to be back at Ultra and Miami Music Week in general. When the pandemic started two years ago, it was just a week before the whole festival was supposed to start, so everything fell apart for everybody. It's two years since then, and it finally happened. It was every little bit I expected; it was phenomenal. 
Yeah, definitely! And this year, you did play the Worldwide stage for ASOT's 10th-anniversary takeover at Ultra. Since it's such a huge milestone, can you share what ASOT has meant to you over the years?
They have meant a lot to me – ASOT and Armin van Buuren – they've supported my sound, both as Sander van Doorn and Purple Haze, for many, many years. I remember coming to the first ASOT radio show with Armin, when he was still doing the shows at a different radio station. He always pushed my records, and ASOT, in general, booked me for many events, and obviously, the ASOT at Ultra, I've done it many times. So for me, it's always been a big platform as an artist to push my sounds.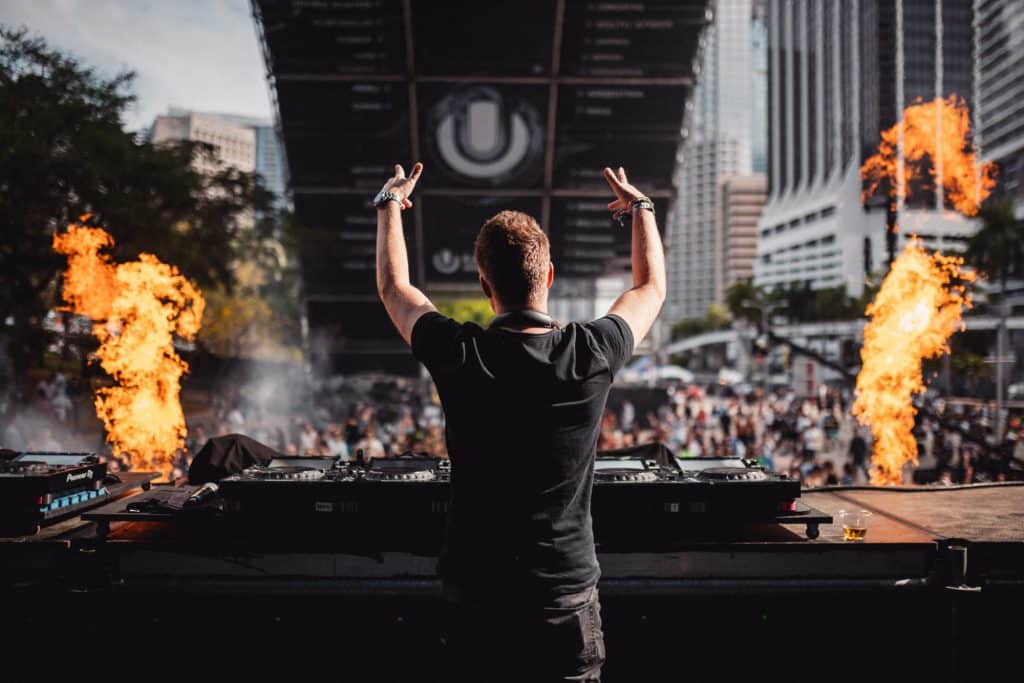 You recently released your rework of Praga Khan's "Breakfast in Vegas," which I love. It definitely exemplifies acid techno undertones and atmospheric melodies. What inspired you to rework this track?
I always love going on YouTube and searching for old classics, and I came across the Praga Khan original about two years ago. I put it on, and I was like, "oh yeah," that was a record back in the day that really got me going. So I decided to give it a go and started producing a track around it. It's a completely new version, and they loved it as well. One thing led to the other, and they wanted to clear the sample. It's a great track for me to play in my sets. You can play it at the start or the end, and the response has been phenomenal.
It's such a great track! I'm always listening to it at least once a day. Last year, you announced that your Identity radio show would move to a format focused on special events instead of its weekly editions. What led to this decision? And can you share any plans you have in store for it?
I wanted to maintain Identity, but I wanted to make it more of a special showcase where I wasn't bound to do a one-hour show and could pick out special occasions for doing the show. For instance, the first special was a recap of the U.S. tour I did from January until March. I could do two-hour sets. For me, that was great. It's a whole different setup than I was used to with the Identity radio show. 
Besides that, it also gives me more time to produce more tracks. I want to focus more on producing the tour since I started again; the schedule is going crazy at the moment. Having two kids and a family, I wanted to manage my time better by producing more tracks and spending more time with the family, but still maintaining the Identity radio shows.
Yeah, definitely. Your Purple Haze alias also allows you to showcase your production capabilities differently. How do you decide to go down more of a dark, moody path or one that's euphoric in your sets?
It's all about collecting a lot of tracks you want to play, like a big playlist, and it kind of depends on the vibe of a club or a festival, what the DJ before you plays, who's playing after you, and start building a set that's more as a storytelling kind of way. 
For instance, Sander van Doorn is focused solely on crowd response and playing a lot of my stuff. Purple Haze is darker, and it's more storytelling. It's also about the crowd response, whether I play darker or more euphoric.
Building off that, it's also been five years since the release of SPECTRVM. Do you have any plans to drop another full-length Purple Haze album in the future?
I don't have a plan about it right now. I'm mainly focused on producing a lot of singles right now. You can spread it out better, especially with the tour schedule blowing up again. I want to focus more and more on producing tracks I could use in my sets. But definitely in the future, perhaps the near future, I'm going to work towards a new album.
Exciting! Since you are fresh off a North American tour and set to play other major festivals around the world, like Tomorrowland, Euphoria, and Air Beat One, how do you find time to relax and recharge between shows?
Well, right now, I'm actually in Cancun in between shows. I'm enjoying a little bit of time off together with my nephew. He is touring with me right now. That's pretty much the way the days are in between. I'm spending a lot of time in Ibiza this year with my family. And I'm flying from Ibiza to all different places. For me, there's some time to relax as well. That, for me, is the way to do it.
Can you share any tips for other artists looking to make their way in the scene right now and look up to you?
Definitely listen to a lot of music that's out there. Don't pinpoint being just a part of one particular genre; try to mix and combine different genres. Try to be as original as possible; there's no point in copying something that's already there. Focus on creating your own sound, messing about with synths, looking for really cool samples to use, and some cool vocals. The main thing is always to be original.
Exactly, great advice there for sure. Thank you so much, Sander!
---
Follow Sander Van Doorn on Social Media:
Website | Facebook | Twitter | Instagram | SoundCloud | YouTube