Disciple Round Table features some of the best emerging talent in dubstep and riddim with 32 tracks on Knights of the Round Table Vol. 5.
---
Since Disciple Round Table's inception, the sister label to Disciple Recordings has showcased some incredible heavy bass heaters from industry heavyweights and rising artists alike. More riddim-esque than its counterpart, this imprint is home to some of the bass scene's top producers who have graced the imprint's previous compilations. Now, the label returns with a large helping of bone crushers on Knights of the Round Table Vol. 5, the biggest and best installment in the notorious compilation series.
Knights of the Round Table Vol. 5 is quite the beast of a compilation with 32 incendiary dubstep and riddim tunes that will surely find their way into setlists across the globe. After giving the tracklist a first glance, it was pleasing to find that there were plenty of new artists listed amidst other Disciple mainstays like INFEKT, Bandlez, Barely Alive & Samplifire, and OG NIXIN. As bass music continues to build upon its empire, Disciple Round Table continues to make it clear that they're a platform for emerging bass artists.
While many of the names are familiar, there are quite a few new ones that bring the heat, and all are deserving of your attention. Pull up a seat to the Round Table and stream or download the compilation on your favorite platform, and read on for some of the standout tunes!
Stream Disciple Round Table – Knights of the Round Table Vol. 5 on Spotify:
---
Every track on Knights of the Round Table Vol. 5 brings the heat, but there are five from fresh faces whose tracks will remain on rotation!
Aside from fan-favorites like Versa, Aweminus, and other known powerhouses, Knights of the Round Table Vol. 5 features some incredible tunes from artists you'll want to get to know soon enough. The first is MUERTE, who blessed the compilation with "A Cement Bath." Kicking things off with an ominous chord progression, this track boosts the intensity with a smattering of reverberating knocks. Then, the tune nosedives into ravenous stabs and a delectably punchy bassline. While foreboding synths whir in the background, the second drop obliterates with an even heavier rendition of the first half of the tune.
A surprising track to hear on Knights of the Round Table Vol. 5 is loompaskettee's "skettee riddim." Juxtaposing a majority of the compilation's aggressive dubstep releases, this one brings the pressure with subdued basses and a scrumptious dose of riddim. Switching between horn samples and ambient interjections, this track will take you back to the basics and shines in its polished simplicity.
Automhate's "MOORG (VIP)" became an immediate standout from the moment it began.
If there's one tune you can't miss on Knights of the Round Table Vol. 5, it's "MOORG (VIP)" by Automhate. This VIP edit arrives with With a palpable swagger and stuns with its insane layering and impressive sound design. Holstering distorted synth work and pummeling kicks, "MOORG (VIP)" gets shoulders rocking with gritty bass trills and rhythmic breakdowns. Similar in sound to that of dubstep don SPACE LACES, this tune is undeniably one of our top picks on the compilation.
Another slaughterous tune arrives from LAYZ, "Downpour." This rising producer has made substantial waves in the bass scene this year, including tagging alongside Sullivan King for his LOUD & RECKLESS tour and performing at some of the nation's most highly-regarded venues. "Downpour" is a heavy dubstep banger that will be quintessential to your playlists after you hear it. Strapped with walloping basses and rapid-fire slashes of razor-sharp synths, this tune was made for the most brutal of mosh pits.
Last but definitely not least of the five is Viperactive's "Hunted." Brimming with mammoth bass thwomps that are broken by clipped robotic snarls, this track keeps the energy high with vicious exactitude. Heavy, yet vibey at the same time, the sound design in this one is impeccably crisp and will keep you hooked throughout its duration.
In its entirety, Knights of the Round Table Vol. 5 is a highly impressive curation of some of the most innovative works in heavy bass music.
Knights of the Round Table Vol. 5 is one for the books. Not only does it provide a decent variety of dubstep and riddim from established artists, but even more from fresh names as well. So if you're hunting for some innovative heavy bass for your playlists, look no further than this incredible compilation!
---
Disciple Round Table – Knights of the Round Table Vol. 5 – Tracklist:
Barely Alive & Samplifire – Power Alliance
ECRAZE & Graphyt – Mechanoid Doom
Bandlez – Scouts Honor
INFEKT – Dance Off
BAINBRIDGE – Raver's Anthem
Versa – Task Failed
Yoked – Headflush
BeutNoise – FLOW135
Codd Dubz, Chibs, & Bueg – Fool
MUERTE – A Cement Bath
NVADRZ – bleed4me
OG Nixin – Get Fucked (VIP)
AIMER – Feel It
TYPHON – Feel The Power
Aweminus – Safety Last
Nyptane – fukwitme
Dyatic – Lumbre
loompaskettee – skettee riddim
XAEBOR – BADBOI
Staysick & Careless Castle – Catcha Vibe
Automhate – MOORG (VIP)
Dr. Ushuu & The Sausages – Asterism
LAYZ – Downpour
Doctor Neiman – Alive (ft. Micah Martin)
Kozmoz – Blood Money
Devath – Field Splitter
D'LION – IDK What To Call This
LUMBERJVCK & Odd Language – Frequency
DVEIGHT & MOB – Devil Tech
Viperactive – Hunted
Frantik – Laser Tag
BLVNKSPVCE – Shot Caller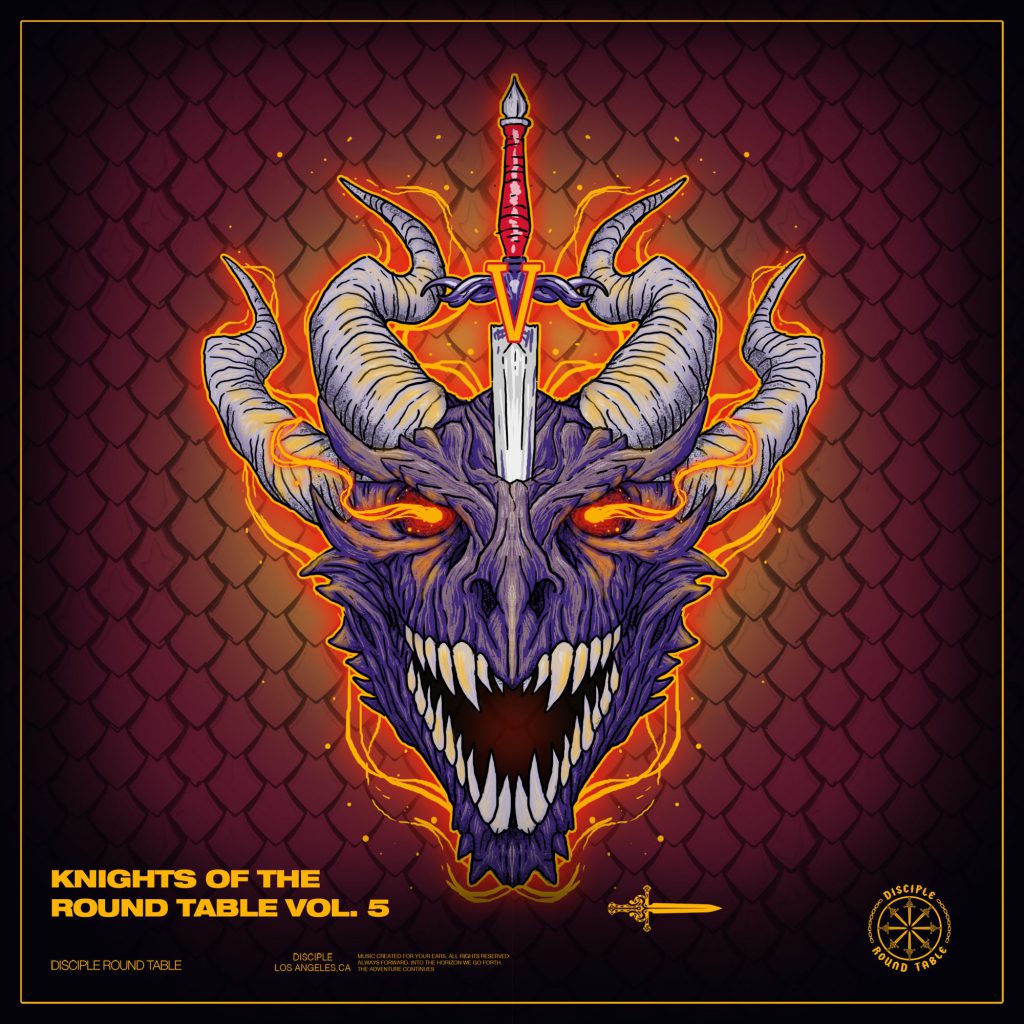 ---
Follow Disciple Round Table on Social Media:
Website | Facebook | Twitter | Instagram | SoundCloud | YouTube