Disciple Round Table takes things from 0 to 100 on the stacked second volume of their Round Table Reinforcements compilation series.
---
If Disciple isn't the first label that comes to mind when you think of dirty, speaker-knocking dubstep, you're doing bass music wrong. The label is famed for its notoriously filthy tunes curated by some of the scene's most talented producers, and by this point, it's nearly impossible not to have at least one of their releases in your music library. In 2017, none other than 12th Planet took things to the next level by curating Disciple Round Table, and the riddim oriented sub-imprint took off.
Since the birth of Disciple's sister label, loads of heavy bass producers from Infekt to Chibs have graced its catalog with some deliciously wicked heavy hitters. And what better way to showcase that than by a compilation series dubbed Round Table Reinforcements. The latest volume in the series features 16 fresh heaters from solely up-and-comers, giving listeners a taste as to who they should be looking out for in the bass scene.
There are a number of names on the tracklist you might recognize and others that are new, so prepare for an unforgettable introduction to the sounds from some fantastic rising stars. Get your daily dose of soul crushing dubs by downloading or streaming this compilation on your preferred platform, and read on to go deeper into the madness.
Stream Disciple – Round Table Reinforcements Vol. 2 on Spotify:
---
Dive headfirst into the utter insanity of this compilation with "Pattern Breaker" from Dyatic.
A compilation like this needs a compelling introduction and Dyatic went above and beyond to deliver just that. The producer gives us no mercy or time to prepare: not even one minute into "Pattern Breaker" and the gritty, distorted bass is already right in your face. This track satisfies all of your bass cravings, only to be followed up by more insanity in the compilation's next tracks.
The third track on the compilation was a personal favorite as DKKAY offers up "Alyssum." Right off the bat, this track introduces a melodic aspect that sets it apart from others on the release. From the build-ups to the drops, the track employs different musical elements to maintain a melodious vibe that complements the heavy drops, making this track incredibly dynamic and a super fun listen.
Some much-needed feminine energy on "Gloom" by Dino Shadix arrives soon after on Round Table Reinforcements, Vol. 2. Not only does the producer herself unleash some menacing bass, but the track also features ethereal female vocals that make it a hauntingly beautiful powerhouse of a tune.
Following up the more experimental vibes of Beastboi.'s "Leave Me" and Exille's "Dogblood," WELON brings us some good old fashioned riddim on "Reso Scream," and boy do those quarter notes hit harder than ever. If ever there was a track to absolutely lose it and headbang your soul out to, it's this one right here.
The second half of the compilation begins with "Trouble" by Bizo, and at this point you might need to start hanging on to your seat.
"You're in some trouble now" is the ominous phrase that repeats throughout "Trouble", and if you're wondering if you should be scared, the answer is yes. The track's masterful build-ups stir anticipation that lead into face-melting drops that will send you into a bass-induced tizzy. There are so many different amazing musical elements to this tune that are blended into bass goodness.
Another notably high point of this compilation comes on "Grey Matter" by Maahir. This track has such a prominent glitchy, futuristic sound to it – each drop follows up the high-velocity synth build-ups with an eruption of clang-y mechanical bass sounds. Listening to this track feels like being lost in cyberspace. Speaking of glitchy energy, Glitcha's "Past and Future" has a similar vibe to it with build-ups that make you feel like dancing followed by maniacal drops that make you feel like raging.
Then, to close out the compilation, FloodDubs and Cactus Flower team up on "Kara Throw" for some ungodly tearout that brings Round Table Reinforcements Vol. 2 full circle. This track brings the compilation to a full stop, allowing no room to slow down and breathe, but you'll be too busy going buck-wild to even notice. And, just like that, Disciple: Round Table does it again.
---
Disciple – Round Table Reinforcements Vol. 2 – Tracklist:
Dyatic – Pattern Breaker
HURTBOX – Bomba
DKKAY – Alyssum
OUTRAGE & DVEIGHT – Retribution
Dino Shadix – Gloom
beastboi. – Leave Me
Exille – Dogblood
Welon – Reso Scream
Bizo – Trouble
Dr. Ushuu – Gunshots
TwO K1nD – Dutty Wonk
Maahir – Grey Matter
The Sausages – Prodrome
Glitcha – Past and Future
2FAC3D – Call Back
Flood & Cactus Flower – Kara Throw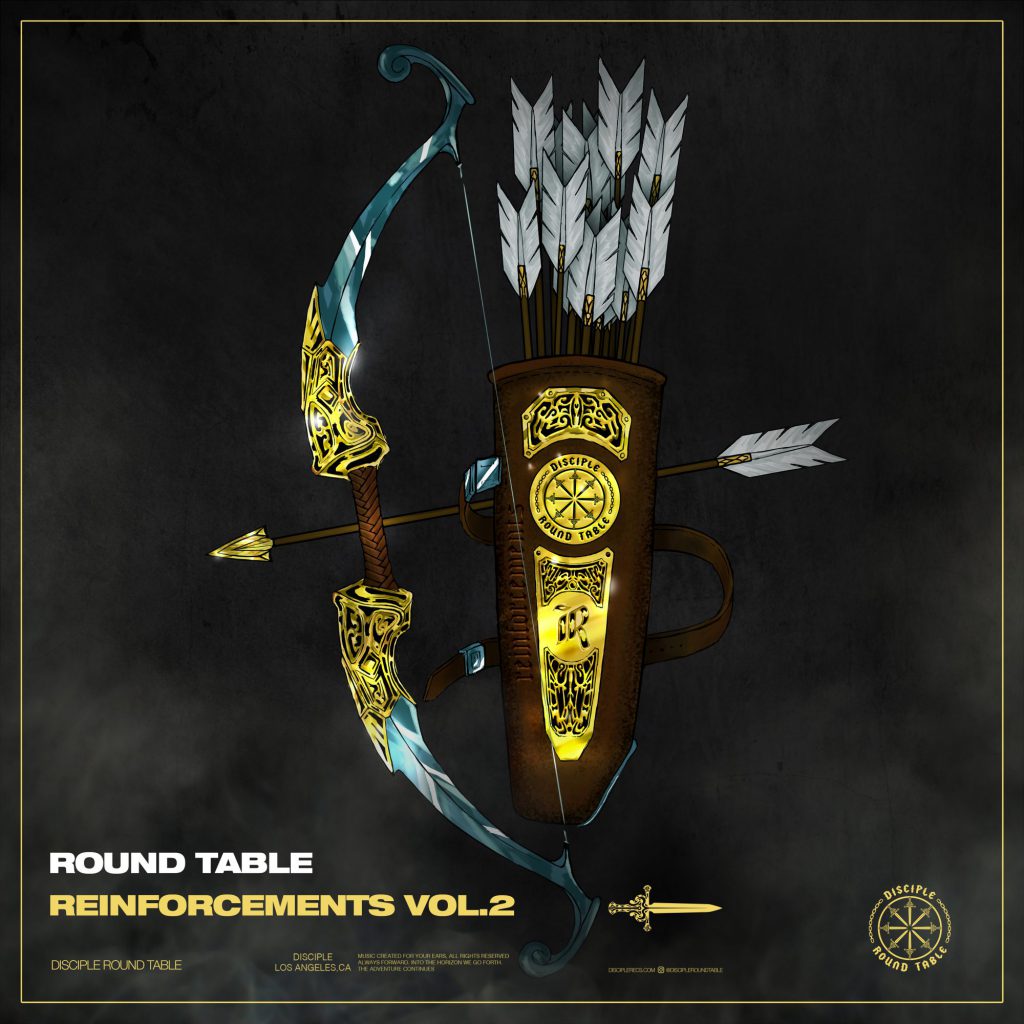 ---
Follow Disciple Round Table on Social Media:
Website | Facebook | Twitter | Instagram | SoundCloud | YouTube