Bass DJ and producer Infekt experiments with sound design to craft up the six-track Breakout EP – out now on Disciple Records.
---
Infekt has been making waves in the ocean of music and continues to flood landmarks worldwide. During this time, he's been supported by recognized labels such as SMOG, NSD: Black Label, and Circus Records, while continuing to hone his skills and grow his discography with quality tunes. Now, Infekt is looking to pop off in an even bigger way with his latest EP, Breakout, on Disciple Records.
With an impressive variety of influences and support, Infekt celebrates himself by escaping his comfort zone for the release of this EP. Shuffling into the previously untouched territory from the producer, the Breakout EP shows the range he has as an artist. Infekt dominates this release with plenty of heavy drops, melodic moments, energetic tempos, and even a touch of drum and bass.
Check out the Breakout EP on Spotify or your preferred streaming platform and tell us which track draws you in the most in the comments!
Stream Infekt – Breakout EP on Spotify:
---
What basshead doesn't enjoy original sounds of the darker, wonkier, side of dubstep, while still expressing a unique style and sound?
The opening track, "Expression," starts the EP off with good intentions, breaking listeners away from anything holding them back. "It's time to express yourself" in whatever it is you do, be confident and have fun. These lyrics carry the transition between the encouraging melody and the strong bass line that will carry you anywhere your relaxed mind desires.
The title track of the EP "Breakout" builds up your inner power with an unexpected drop releasing a signature Infekt beat that will make you erupt out of your seat. The intense tempo slaps you with the heavy bass, making this one perfect for all the headbangers out there. The give and pull of the deep synths bring you to "Accelerator." This futuristic strain of sounds starts with a slow drum kick and blasts listeners off into an old-school racing game as you go neck and neck against Infekt, who has his foot on the gas pedal.
To continue moving everyone out of their comfort zone, "Trigger" experiments with the heavier side of dubstep. It starts off slow with a drum build-up that acts as the calm before the storm of chops that go crazy. Infekt then takes a step back from reality and enters a fantasy realm of bass with "Orm," named after a dragon in the book series Earthsea. The hard-hitting bassline is no match for fire-breathing dragons, as this track is sure to annihilate anyone who listens.
Infekt throws down "Split," the final leg of this genre-breaking journey to close out this project. This track coexists with a grimy beat that decrescendos into a heavy drum and bass pattern. True to its name, Infekt splits the heavy builds between fast beat drums which showcases his ability to encourage others to continue growing and expressing themselves.
---
Infekt – Breakout EP – Tracklist:
Expression
Breakout
Accelerator
Triggger
Orm
Split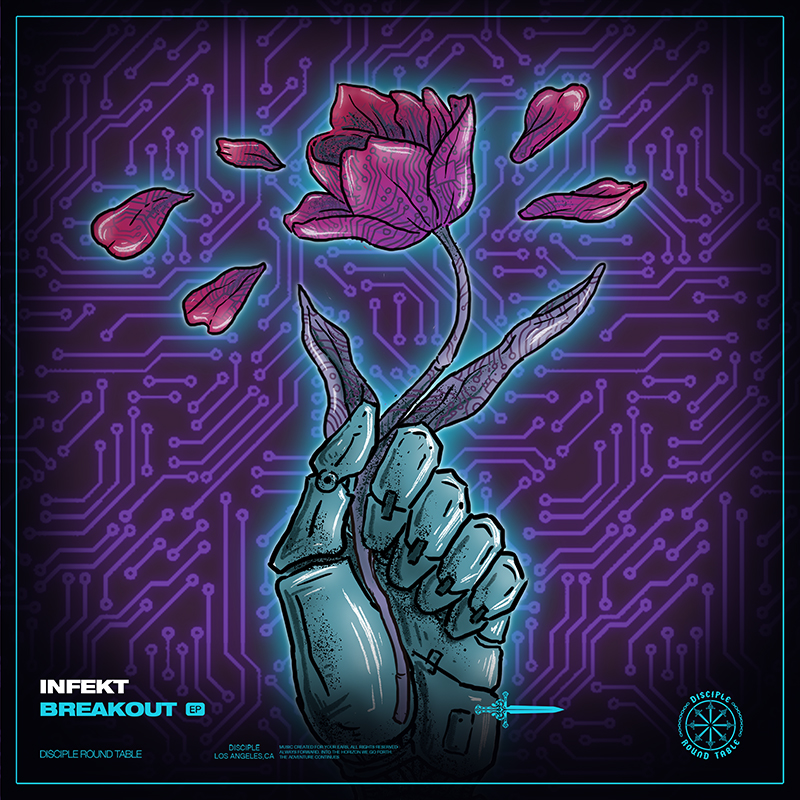 ---
Follow Infekt on Social Media:
Website | Facebook | Twitter | Instagram | SoundCloud | YouTube