One of the bass music scene's most beloved artists, Rusko, swung by to chat about growing up in the UK, his recent shift to DnB, and more.
---
There are certain artists whose names you hear and an immense wave of memories come flooding back – one of those being the dubstep don himself, Rusko. The UK-born producer has been a staple in the dubstep scene since his emergence in 2006 with this first release on Dub Police, SNES Dub, and he still continues to do amazing things for the bass community in the present.
Over the course of his career, he's created some of the most legendary dubstep tracks such as "Walalangleng," "Woo Boost," and "Cockney Thug," which are still rinsed out to this day. Last year he dropped the Sauce EP for the masses to consume and this year, he switched things up by releasing Reefers with Dutta, an EP on Informal packed with banging drum and bass tunes. The five tracks heard on the project had a classic feel that you can't help but skank around to. "Blank Shot," and "No Time Wasted" are just two of the tasteful, fast-paced sounds found within it that you simply need to hear for yourself.
More recently, Rusko dove deeper into his DnB roots by releasing a jump up tune titled "Mac 19" on Elevate Records. It's chock-full of addictive breaks and fast-paced sounds that are sure to have fans moving, and that's just the first taste of what he's cooked up for fans in the coming months. Rusko swung after the release of "Mac 19" to discuss everything from his decision to follow his heart back to DnB to his own experience growing up in the UK – so stream the tune on your favorite platform and read on for the chat!
Stream Rusko – Mac 19 on Spotify:
---
Hey Rusko! Thank you so much for taking the time to chat with us today. Your most recent release "Mac 19" dropped on Friction & K-Tee's imprint Elevate Records and listening to the track is like a blast from the past. What was the vision behind making something of this style as opposed to more recent sounds like what we heard on your Sauce EP?
Well at the end of last year, without any fanfare or announcement, I decided to quit making dubstep and follow my heart. I started just making full-on, jump up drum and bass which has always been my favourite thing, and my biggest inspiration throughout my career. 
This will be the first of four dnb singles in a row… and another 175bpm EP will follow that at the end of the summer that I am tight zippedy zip lipped about right now! I've done a handful of shows already this year at the new tempo with the new material and the response has been properly nuts. In a lot of ways, it's the purest Rusko music I've made in a year.
Earlier this year you released Reefers with Dutta, an EP packed with fast breaks and basslines that you can't help but move to. What drew you to work with Dutta and create the sounds found within the EP?
Well, that was my plan! At the start of the year, I went back to the U.K. with a new and empty laptop, new software, and none of my go-to sounds or plugins – on purpose! I've been a big fan of Dutta and all the Souped Up Records Crew, and a hangout and chill turned into a long night of making tracks and they just kept on coming… there's even more in the bank, we were on it!
I left those sessions absolutely gassed up about making DnB and with a truckload of new synths to play with! I also got a track done with Mozey which is on its way as part of the singles… I used my time there really productively and made lots of new junglist friends. 
Even though we went a year without shows, a lot of fans and artists really came together over their passion for this music. How did the past year change the way you view the music industry and the world as a whole?
I spent a lot of time thinking last year…. In the last three months of 2020 I didn't make any music at all… didn't even turn on my computer and try. I was so out of ideas and creatively uninspired with the world of dubstep that I decided to take life by the neck and shake it upside down and changed up everything! Location, the way I make music, and I finally went full vegan too. It's given me a proper chance to regroup and prepare for "Rusko V2" which is only just starting to hit right now – there's a lot to come this year.
The world is beginning to open up for many and artists and fans are finally able to attend the shows again. We saw you just played Asteria in Florida earlier this month. Was that your experience like taking the stage there? Were you more nervous than usual or were there no nerves at all?
I had a few club shows of varying size before Asteria Festival and thank goodness for those, if I went straight from 17 months off to a festival crowd my knees would have been knocking! You know it was so humid and hot too that I could only drink water when I played like the big sweat puddle I am… so I didn't even have the booze to take the edge off!
Before lockdown, I would get a lot more nervous for my shows because I was decreasing in confidence with my dubstep material. When you're really not sure if it's gonna work tonight there's a ton of nerves. The difference now is I am super happy with all this new music and the response it's been getting is pure excitement, I got to go up to the stage at that festival with a renewed confidence in the raw material on my USB stick and that makes all the difference. 
Can you give any advice to your fellow peers that are also still unable to play/attend shows due to travel restrictions?
I know even visa holders I'm the U.K. right now can't travel to the USA without a special permit and they are really hard to get. It really sucks, I've had to have a few convos with my British peers about this stressful situation! I would definitely say that things still feel kinda odd… and it's gonna be a little while longer before things really do truly feel somewhat like it was!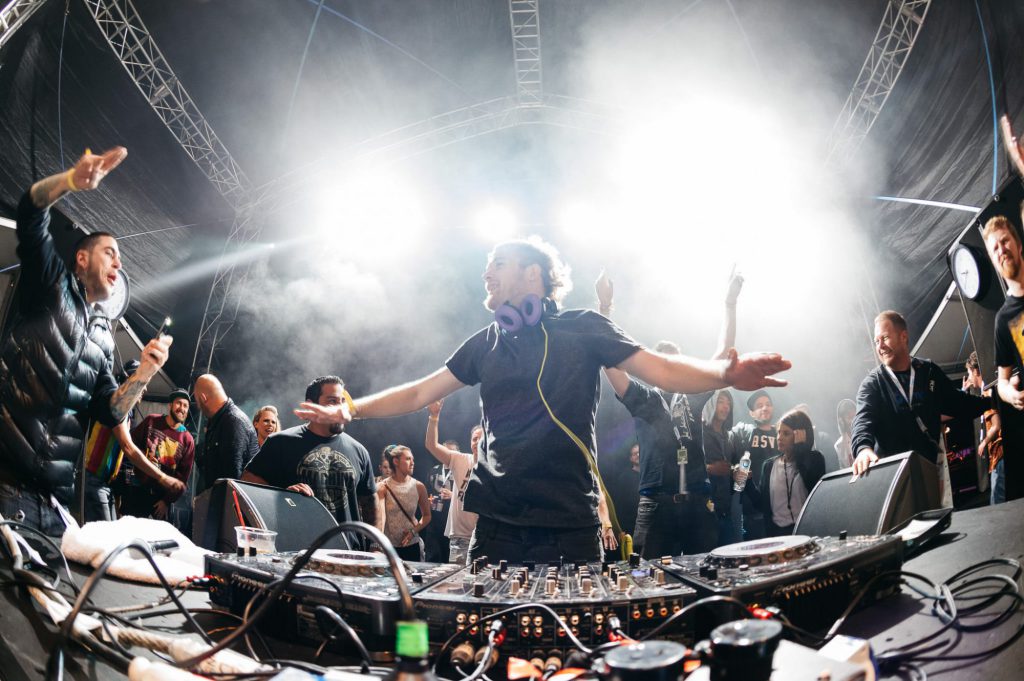 Before we end the conversation let's turn back the clock a bit. Being born in the UK you were obviously surrounded by a plethora of incredible music, especially UK dubstep/DnB – and that shines through in every track you've released. What was it like growing up in a place with such a heavy array of beloved genres?
It's only when I moved to the US that I realized that, and how lucky I was. Don't know what you've got 'til it's gone, that's the saying right?!
A big thing really is radio in the U.K., be it pirate or legal. Listening to Radio One, the main BBC station, on the school bus for example (as we did) they played the top 40 in the U.K. in the 90s and that was house, and jungle/breakbeats, and techno euro style stuff all over the place. Whereas a station in America playing the top 40 then would be playing RnB and hip hop mainly.
So even down to the basics of listening to the BBC as a child… we were just raised on a template of those kinds of sounds. Leeds where I grew up was one of the main centres of the huge West Indian and Jamaican immigration to the U.K. that famously happened in the '60s and '70s. So real sound systems, hand-built speakers, and real reggae soundclash vibes abounded. By the time I could get into clubs just after the millennium I spent a lot of magical time in the back room of the West Indian cultural centre which was the jungle/dnb room soaking it up and going home to make my early tracks that eventually turned into those first dub police releases.
You're easily one of the most influential artists to grace the dance music scene with anthems such as "Cockney Thug," "Woo Boost," and "Walalangeng." How does it feel knowing you've created tracks that are still played out to this day, as well as paving the way for countless other artists in the bass music scene?
Not all of those old ones still stand up! But following on from the last question even – most of my tracks are very influenced if only in pattern and flow by reggae/dub and that, out of a lot of genres, seems to be 'timeless.' My most popular tracks over the years have been the simplest musically, and I think that helps too somehow.
It's really fun to be looking at synth presets and see a 'Rusko bass' they usually nail it too! But to have created a sound that's recognizable like that is every artist's goal, so if I'm even getting close to there then damn that's really cool cos I have had that as a goal for a long time.
Piggybacking off of the last question, what's your opinion on how the dubstep scene is now vs how it was over a decade ago when you first began DJing and producing music?
I think as a scene it's much easier now to get out there, people are a lot more friendly and open to collaboration and stuff than they were back in the day! There's probably a bit less ego now, that's why. [Laughs] But musically, dubstep, of course, has changed immeasurably! I really like what it's become now, it's a lot different for sure but I've defintely got a lot of time for it, even if I can't see many ways of myself fitting into it like I used to. 
To wrap things up, if you could time travel and tell yourself one thing back in the early stages of your career about how the future would be for you, what would that be?
Ooh, stop competing. Take a day off and lay off the drugs a bit. [Laughs] True story mate.
Rusko, thank you for letting us dive deeper into your mind. Cannot wait to see you throw down again soon!
---
Follow Rusko on Social Media:
Website | Facebook | Twitter | Instagram | SoundCloud | YouTube