Heading to New Orleans for Buku Music + Art Project? Stay in the know with the essential info including set times, guidelines, and more!
---
The upcoming edition of Buku Music + Art Project is just a week away and fans from all over are crossing off their checklists to make sure they have all the essentials set before heading to the festival. No matter how you plan on getting there, the excitement is taking over as New Orleans prepares for some fantastic beats and plenty more on March 25-26.
Celebrating a decade of unbeatable tunes, Buku Music + Art Project is coming in hot for this year's edition. After a two-year hiatus from the festival, the excitement is building and attendees won't want to miss sets from artists like SVDDEN DEATH, Porter Robinson, Rezz, John Summit, Tsu Nami, Sullivan King, and plenty more artists spanning all genres of music.
Related: Check out our Five Can't-Miss Sets for some of the artists we suggest you add to your schedule!
As you make your final preparations for the upcoming weekend, we've compiled everything you need to know as you get ready to head off to Buku! Read ahead to find out everything you can and cannot bring, set times, and all the essential information for Buku Music + Art Project. Let us know if you'll be attending this year!
---
Buku Music + Art Project 2022 Essential Info:
Dates: March 25-26
Hours: Friday – Saturday 1:00pm – 11:00PM
Venue Address: 1380 Port of New Orleans Pl. New Orleans, LA 70130
Tickets: HERE
Facebook Event Page: RSVP HERE
---
Buku Music + Art Project 2022 – Set Times: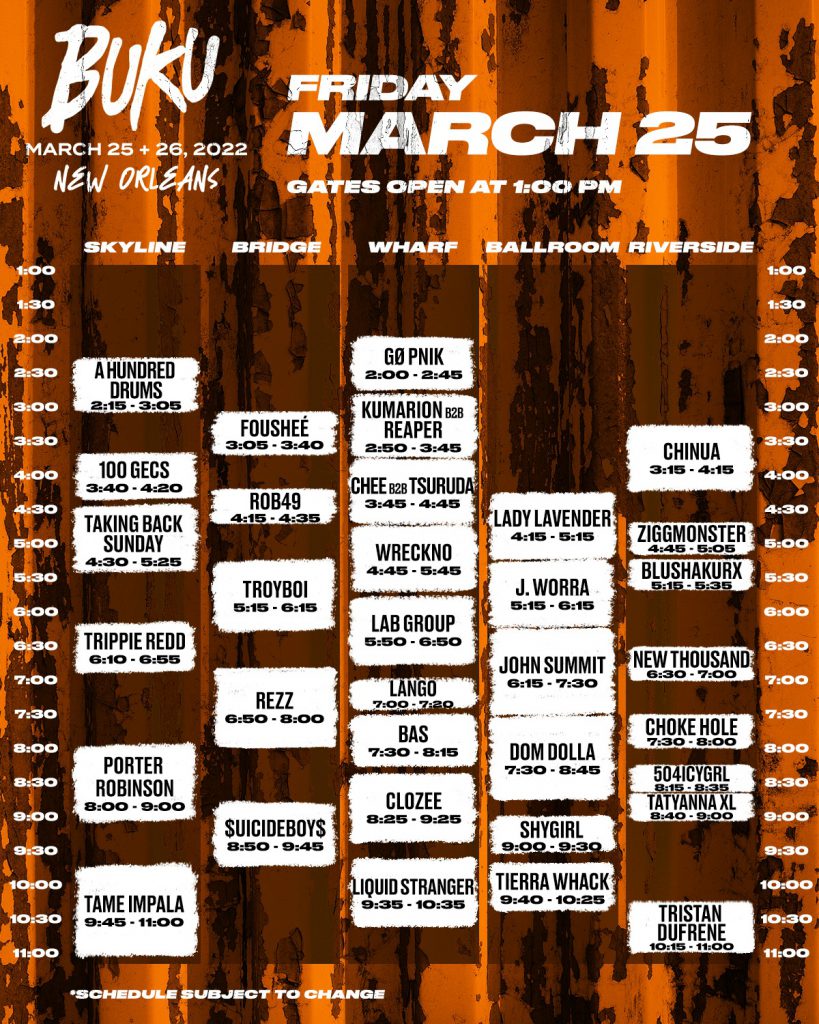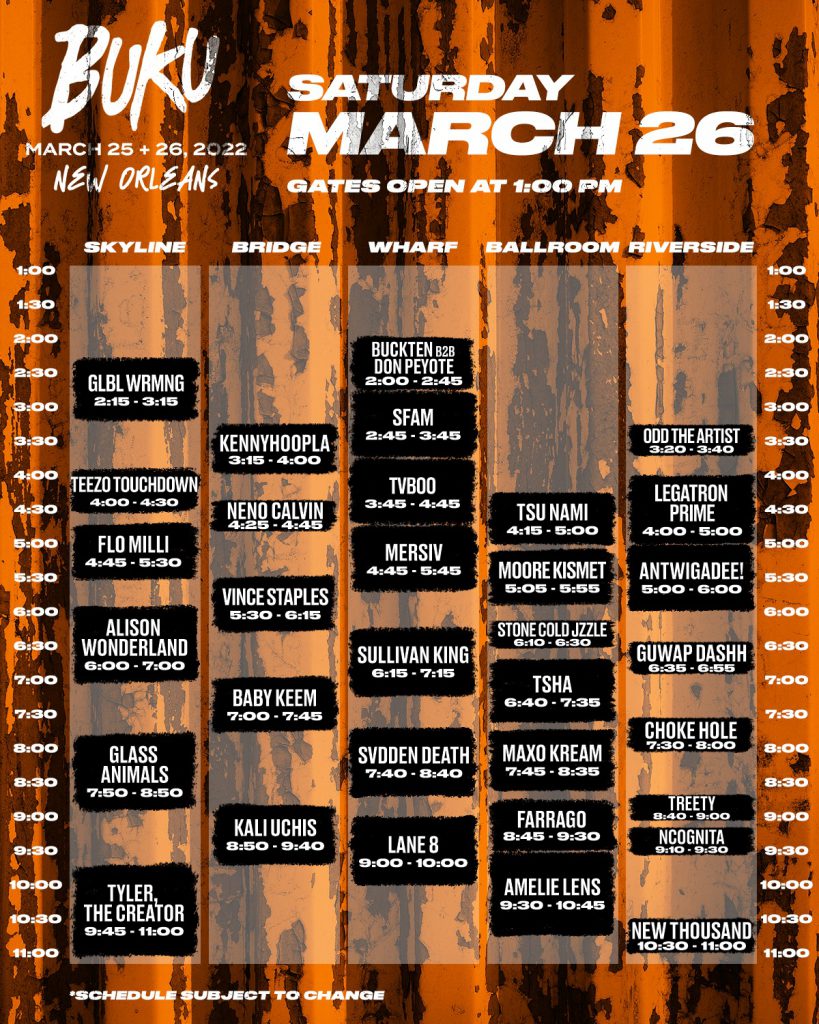 ---
Buku Music + Art Project 2022 – Festival Map: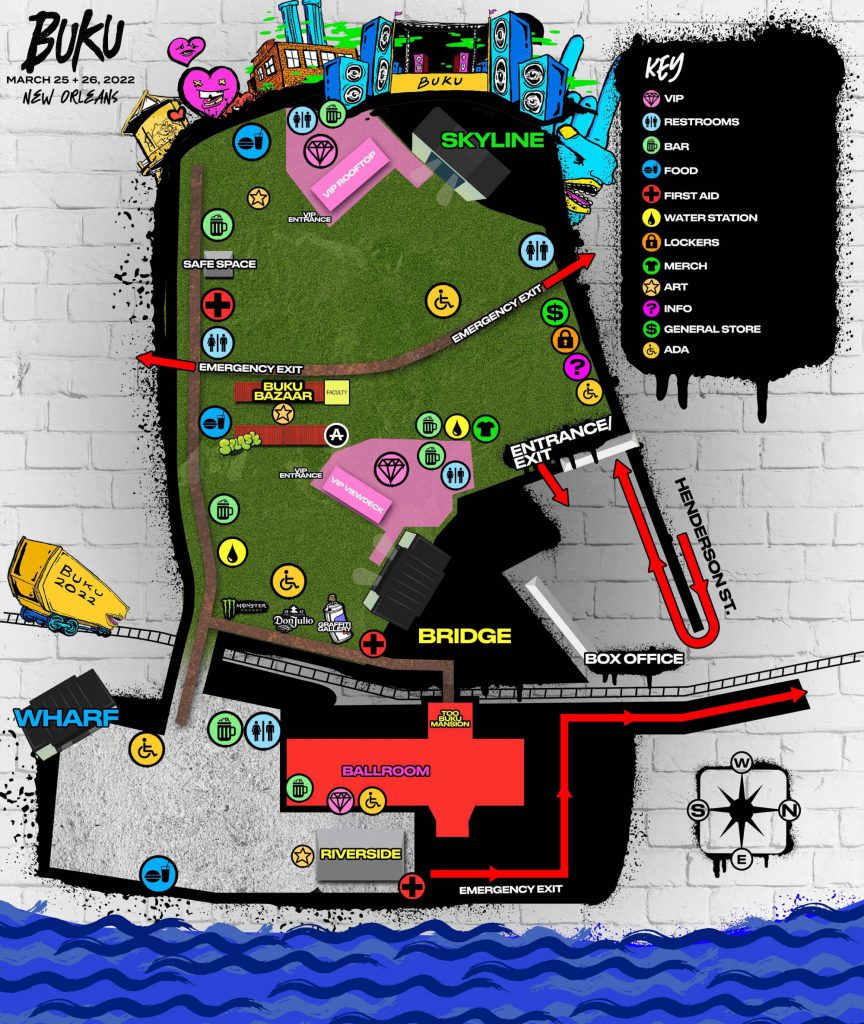 ---
Reminder To Mind Your Belongings:
Unfortunately, many people have reported pickpockets, bag slashings, and theft of wallets, smartphones, purses and other valuables during this festival season. While this small number of bad apples in the bunch doesn't define an entire crowd, there are opportunistic people who come to these events to take advantage of unsuspecting partygoers and it's important to be mindful of your valuables while at Buku Music + Art Project
Looking for tips to keep your belongings safe? Check our post highlighting some ideas!
---
Buku Music + Art Project 2022 Do's & Don'ts:
Prohibited Items
Illegal drugs and/or drug paraphernalia
Outside food and beverages of any kind
Fireworks and/or sparklers
Glowsticks
Aerosol products of nay king, air horns, and/or noisemakers of any kind
Drones or remote-Controlled toys of any kind
Lawn chairs, patio chairs, and chairs of any kind
Glass of any kind including bottles, jars, and pipes
Full face and/or head masks
Non-factory-sealed cigarette packs, chapstick, lipstick, makeup, and vape juice
Vape devices with liquid already inside
Unsealed e-cigarettes
Video cameras, audio recording devices, and/or professional grade cameras (detachable lenses)
Tripods or selfie sticks
Weapons or anything that can be used as a weapon
Poi, staff, wands, whips and/or hula hoops wider than 36"
Personal protection devices such as mace or tasers
Musical instruments and/or drums
Tents, sleeping bags, and/or tarps
Flagpoles, totems, and anything else that may block the view of another attendee
Pets of any kind
Stuffed animals
Bicycles, skateboards, scooters, hoverboards, Segways, and/or personal motorized vehicles unless an ADA-approved device
Squirt guns, toy guns, and anything else that resembles a weapon
Jewelry with spikes or studs
Focused light devices, including laser pointers
Gas masks, pacifiers, and chains
Large umbrellas
Promotional and/or sample products
Paint, Sharpies, and/or permanent markers
Culturally insensitive, racist, and/or discriminatory outfits, including headdresses, face paint or accessories
Any item that can be used as a means to disturb the peace, endanger the safety of the crowd, and/or inflict damage to people and goods
Permitted Items
Bags in compliance with the Bag Policy
Face masks/coverings in compliance with Centers for Disease Control (CDC) standards
Government-issued photo identification
Hula hoops up to 36" wide
Small, personal size umbrellas
Binoculars
Cameras (Non-Pro)
Chapstick and lip balm that is factory-sealed
Cigarettes and lighters limited to one (1) pack of factory-sealed cigarettes per attendee
Vape mods with a factory-sealed container of vape juice in a plastic bottle
Factory sealed e-cigarettes
Earplugs
GoPros and Flip cams
Hand Sanitizer and baby wipes that are factory-sealed
Hats
Makeup that is factory-sealed
Medication (Over-the-counter must be factory sealed and prescriptions must have a label that describes the medication and matches a government-issued photo ID … prescription medications may not be mixed in a single bottle and only the daily dosage will be permitted)
Mobile phones, chargers, and reasonably-sized external battery packs
Poncho and rain jackets
Service Animals ("Comfort," "therapy" or "emotional support" animals do not meet the definition of a "Service Animal" and are not permitted entry to the Event)
Sunblock in a factory-sealed, non-aerosol container of 3oz or less
Sunglasses
Empty water bottles — 1 plastic bottle per attendee of a size 32oz or less
---
Bag Policy:
As an ongoing effort to improve patron health,  safety and security, as well as significantly expediting patron access into our festivals, all AEG Presents festivals will be implementing a uniform clear bag policy.
Beginning with the 2019 festival season, patrons will be able to carry the following style and size bags into the festival:
Bags that are clear plastic, vinyl or PVC and do not exceed 12″ x 6″ x 12″
One-gallon clear plastic freezer bag (Ziploc bag or similar)
Small clutch bags, approximately the size of a hand, with or without a handle or strap can be taken into the stadium with one of the clear plastic bag options.
CamelBak-style water bladder systems with one bladder pocket and one smaller pocket subject to specific conditions: CamelBak-style water bladder systems are allowed empty into the venue, however the water bladders themselves must be capable of being removed from the carrier and must be transparent enough to allow security to visually inspect the empty bladder.
An exception will be made for medically necessary items after proper inspection at a gate designated for this purpose.
Prohibited items include, but are not limited to purses larger than a clutch bag, coolers, briefcases, backpacks, cinch bags, seat cushions, luggage of any kind, computer bags, camera bags, or any bag larger than the permissible size.
Through this policy, AEG Presents will be able to deliver a higher quality and more efficient screening process at the gates while providing an even safer and more enjoyable festival moment.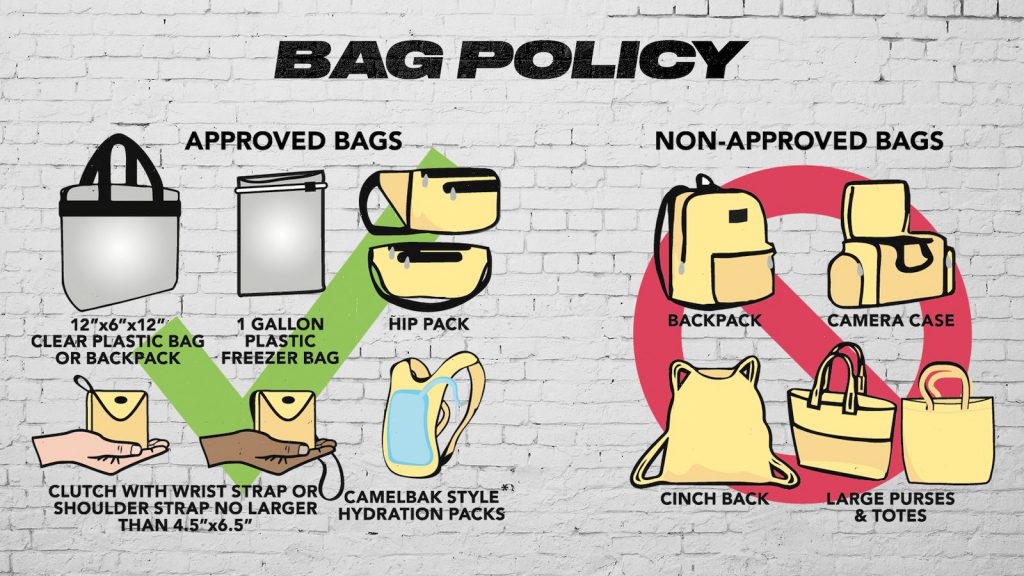 ---
Connect with Buku Music + Arts Project on Social Media:
Website | Facebook | Twitter | Instagram | Facebook Event Page