After releasing "Addicted 2 U," Oddprophet swung by to chat about its production and his rare condition called Keratoconus.
---
In the last five years, Oddprophet has steadily been taking over the bass scene and is continually leveling his own production up. His distinctive production style paired with his unbelievable quality has made him a fan favorite over the years with tracks like "Riddim Love Song", "The Devil", and "Disassociation." We chatted with Oddprophet for the release of his Optical Illusions EP back in 2020 and since then he has put out his Oracle EP last year, played his debut show in the US, and clearly isn't stopping there.
What's been phenomenal to watch Oddprophet do is constantly elevate his own sound and he has struck gold with his latest single, "Addicted 2 U". The track begins with pitched-up vocals that instantly get stuck in your head while Oddprophet masterfully builds up the track. Listeners are thrown into the fray with Oddprophet's signature industrial sound which switches up constantly throughout the first drop. Bringing the vocals back on the bridge of the track, the second drop of the song completely flips it on its head as Oddprophet brings in a slower, trap tempo. The entire song is immaculate and engaging will be played out for months to come!
After the release of "Addicted 2 U" and wanting a follow-up conversation with Oddprophet, we knew we had to chat with him on how this new track came about, his rare condition called Keratoconus, and more. Check out the release on Spotify, download or stream it on your favorite platform, and read on for the conversation!
Stream Oddprophet – Addicted 2 U on Spotify:
---
Hey Oddprophet, thanks for chatting with us! Let's talk about your recent release "Addicted 2 U". What was the process behind this release and did it differ from your previous releases?
I've been trying out this new sound design process of phase distorting the mids of my basses along with Kiloheart's Phase Distortion snap-in and multipass, along with a plugin called Dumpster Fire by Freakshow Industries. Over the last few weeks, I've managed to create some enormous sounds, this song showcases that!
One of my favorite releases from you last year was your Oracle EP. It felt like you were ushering in a new age of Oddprophet. What was the process like putting that EP together?
Over the pandemic, I really wanted my music to take a step up compositionally for the headphone users. To make tracks that work on the dance floor, but to hold up better meaning for my online streamers. The biggest change is the vocal features, they help give a better meaning to the track overall. Working with talented artists like Vastive and Illaman gave both of these songs their shine. "British Gas" is also an example of where I want to take Oddprophet with tempo changes and the hardcore metal vibe I'm absolutely loving right now.
Building upon the success of your Oracle EP, earlier this year you released "Angels & Blindfolds, which set the tone for 2022 for you. In the track you combine your own bass elements with massive horns and heavy metal elements. What is your process in the studio when creating a larger than life track like that?
The intro and the drop were done in two separate projects. I found it difficult to think of a drop idea that would work for the intro right then and there. Opening up a new project with a blank canvas, it liberates me to try different things. When I make a drop that is cool on its own, sometimes an intro I've already made works perfectly. 
In both your Oracle EP and "Angels & Blindfolds" single artwork, there is a blindfold present. Recently, you took to IG and explained the meaning behind the blindfold is due to your eye condition called keratoconus. How has this condition affected your career and overall life?
I have a condition called Keratoconus, my cornea is a lot thinner than normal and causes it to bend out of shape like an American football, they point outwards! Without special contact lenses, my vision is extremely bad. I cannot read, watch TV, see facial expressions, use the computer, etc. It makes me a bit useless.
Usually, my contacts are fine to wear daily, but allergies, sunlight, and rejection from my eyes make them difficult to wear without serious pain. And no, glasses aren't an option. It's either contact lenses or surgery, which is incredibly risky. Since this condition is for life, I want it to inspire the branding I use for Oddprophet. This condition is a part of me and I want to reflect it in my music. 
You made your US debut last September. How were you feeling playing those set of shows in the states, seeing the fans out here, and realizing your dream of being on tour?
I've been waiting an extremely long time to go to the states. For me, it was a massive achievement and a dream come true. To finally play to people who have been waiting so long to see me play was a delight.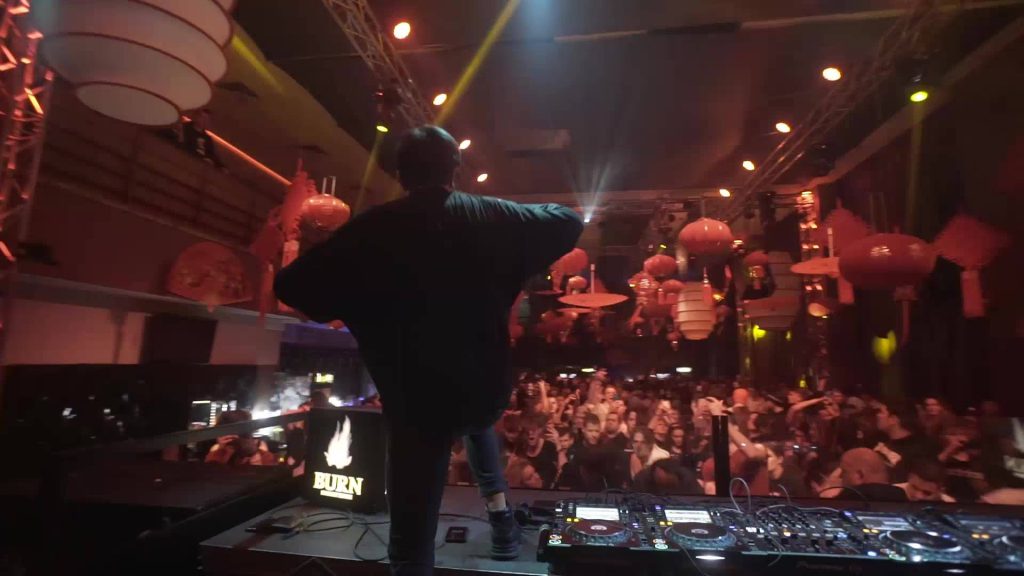 The Oddprophet sound is massively heavy, metallic dubstep. When in the studio creating, do you ever take a stab at different genres? Could we ever see a multi-genre release from you in the future?
I have been creating a lot of dubstep, but in 120. You could call it mid-tempo halftime, but I'm not sure if you could categorize it as so. I've been experimenting with hard tempo changes like on British Gas from my last EP. Taking inspiration from hardcore metal, I love the impact that slowing down the tempo on the drop can have. It's a bit of a nightmare for DJs, but I don't care. I think it's an untapped market and I've got so many ideas in the works already using that technique. 
Three months into 2022 and you already have two superb releases, what can we expect from Oddprophet for the rest of the year?
I'm hoping to set a bit of a trend with tempo changes. Maybe a whole project dedicated to exploring it. I don't want Oddprophet to be the name of a producer that makes tearout or riddim anymore.
---
Connect with Oddprophet on Social Media:
Facebook | Twitter | Instagram | SoundCloud