The Art Of Skullduggery Vol. III taps three new names – Alex Di Stefano, Zach Zlov, and EverLight – to bring the label's sound to the masses.
---
In 2020 Skullduggery tapped head honcho Greg Downey and friends Beatman & Ludmilla to celebrate the sound of the label in the second volume of The Art Of Skullduggery for a two-mix affair. This style brought the energy, fervor, and strengths of both acts front and center and represented the varied nuances of the Skullduggery label well. Now, label head Greg Downey expands the formula to three mixes and leaves the compilation in the hands of his talented lineup of Alex Di Stefano, Zach Zlov, and rising talent EverLight for its third volume.
The recently departed Italian VII collective member Alex Di Stefano takes on the primary mix duties. Alex is a legend in both the techno and the trance communities – serving up delicious melodies with strong driving rhythms behind them. His works find their way onto labels like Outburst, Techburst, 1605 Music Therapy, and Binary404. For his journey on Skullduggery, Alex tees off the energy we'd expect – tracks from Rinaly, David Forbes, Asteroid, Metta & Glyde, and even some remixes out of his own catalog (including the legendary "Seven Cities" by Solarstone).
The middle mix brings in the talents of Mexican producer Zach Zlov. The mix tips the producer's style heavy early on, featuring five originals in the first eight tracks, but do not let that fool you. Beyond familiar names like Beatman & Ludmilla and Activa, Zach taps on the talents of I.M.XPLODE, Diego Morrill, Hassan Jewel, and more. For Zach's involvement, he has the following comment, "Being a part of Skullduggery has been the most incredible and buzzing experience in my career, and taking on this compilation mix is an honour. To the guys who made and contributed their music, huge thanks for being a part of this project!"
Rounding out the compilation with its final mix is rising star EverLight. Recently branded into the VII Collective himself, he brings a vibrant, energetic blend of techno and trance to the scene. His signature LED mask obscures his personal identity but his style still booms off the club's walls. This also represents a sort of mix compilation debut for the budding star. For his part, he of course includes a number of originals – including a three-track wave of stunners smacked right in the center of the mix. He taps on the talents of Chris Coles & Latex Zebra, Ed Lynam, PSYB3R, Kriess Guyte, and more to aid in the sonic journey too.
Secure your copy of The Art of Skullduggery Vol. III, and let us know which mix you loved the most in the comments.
Stream The Art of Skullduggery Vol. III on Spotify:
---
The Art Of Skullduggery Vol. III – Tracklist:
Mix 1 – Alex Di Stefano
Smith & Brown – The Virtual World
Peetu S – Strings Attached
David Forbes & Paul Denton – Out Of Order (Alex Di Stefano Remix)
Renegade System – Weather The Storm
Kriess Guyte – Fight For Your Right
David Forbes – ORKA
Rinaly – Blackout
Tasso – No R
Jody 6 – Recursive Pleasure
Rated R – Hades
Asteroid presents Obsidian – Arrival
Systembreaker – Nightfuel
Greg Downey & Alex Di Stefano – Among Us (Chris Schweizer Remix
Solarstone – Seven Cities (Alex Di Stefano Remix)
Daniel Skyver – We Go Again
Cold Blue – Shine (Alex Di Stefano Remix)
Rexanthony & Pilot Of The Dreams – City Of Light
F.G. Noise – Detonate
Metta & Glyde – Who We Are
Jak Aggas – CT-7567
Mix 2 – Zach Zlov
Zach Zlov – Starborn [Prelude]
Zach Zlov – Into The Jungle
Diego Morrill – Subconscious
Glynn Alan – Turn This Down
Tony Hang – Supernova
Zach Zlov – Ergo
Zach Zlov – Chemicals
Zach Zlov – Nightfall
Brendan Bartels – Oz
I.M.XPLODE – Big Sausage Pizza
Zach Zlov – I Wish
Neos – Brainwashing
Zach Zlov & Rated R – Skull & Bones
Fisical Project – The Revenant
Hassan Jewel – Tech Side
Enrique Calvetty – Digital Deaf Tones
Zach Zlov – Dreams
Hassan Jewel & Derek Mark – Reflections (Zach Zlov Rework)
Activa pres Mekk V – Rotation
Beatman & Ludmilla – Terrible
Zach Zlov – Noviembre [Postlude]
Mix 3 – EverLight
EverLight – Renegade Bass (Smith & Brown Remix)
Chris Coles & Latex Zebra – New Rave
Ed Lynam – Catecholamine
EverLight & Tasso pres. The Resistance – 100%
Facade – Our Reptilian Overlords
Smith & Brown – Trinket
Blashear – Rooting
EverLight – Dangerous
EverLight – Raucous
EverLight & John Dopping featuring Jay W – Razor Blade
Greg Downey – Sense (EverLight's Light Speed Mix)
Stoneface & Terminal – Beast In The Machine (EverLight's Blackout Mix)
R.E.L.O.A.D. – I Choose To Dance
Kriess Guyte – What A Rush
PSYB3R – The King
Robert Curtis – Follow Me
Blashear – Future Self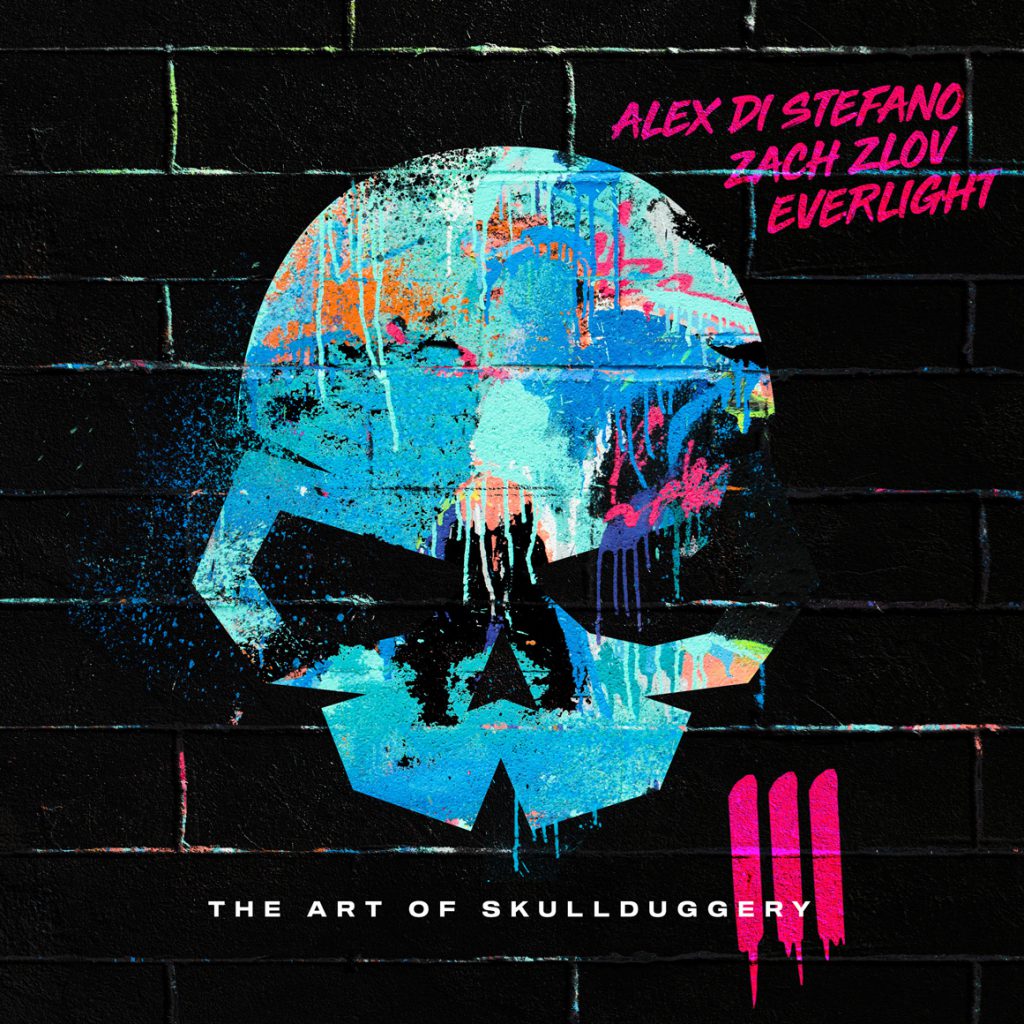 ---
Follow Skullduggery on Social Media:
Website | Facebook | SoundCloud | YouTube