Japanese Trance DJ and producer Rinaly swung by to give us the lowdown on her recent releases, performing on Twitch, and more!
---
Few artists capture delicateness and energy in a single package, but Japanese-born DJ and producer Rinaly does so exquisitely. Her deft ability to find a groove for the dancefloor is born of a hard musical background that includes learning piano, trombone, drums, and more from the age of 15. Back in 2015 she took shook the standards of the trance genre and hasn't looked back since. The reward for her efforts has not just been the continued growth of her artistic talents, but a significant expansion of her worldwide fan base as well as she splits time between her homes in Japan and Sweden.
Enter 2020 – Rinaly was DJ poised to take a larger step into the world stage, but the doors of opportunity closed as the COVID-19 global pandemic took hold. She did not rest though, instead, she pivoted into the new world of streaming and challenging herself to grow beyond her mix-show and have more direct engagement with her fans. As the clock rolled on into 2021, Rinaly dropped her biggest bombshell yet, the news that she joined the storied Technoclub series by the well-traveled Talla 2XLC.
In celebration, Rinaly took some time to sit down and chat with us about her history, her strengths, and challenges, some of her favorite memories. She even shares an inside look at the culture of the Japanese music scene – which has its own hurdles and challenges to overcome unique to its market. So drift deeper, pump up the energy, and spread out as Rianly takes us into a rabbit hole and gives us the lowdown on her artistry!
Check out Rinaly during the Fables & Friends Raid Festival on YouTube:
---
Thanks for sitting down with us here at EDMID Rinaly! For those new fans that don't know all about your energy and mixes, explain yourself in five adjectives.
Thank you for interviewing me, it's great to be here. I would describe myself as: Creative, Sensitive, Sincere, Brave and Adventurous.
In celebrating the renewed energy in 2021, you just teamed up with Talla 2XLC on his latest Technoclub compilation. What creative forces did you conjure forth when crafting your mix, and how proud does it make you to join the storied creative family of Technoclub?
The pandemic has been quite a difficult, dark time for me and I have used music as an outlet to express all the emotions I've been feeling. At the end of last year, when Talla asked me to be a guest DJ for Technoclub Vol. 62, I was blown away and it gave me energy. I wanted to include a range of emotions in my mix and I hope that comes across with the tracks I chose. It has been a great experience and I feel very honoured to have been involved.
Speaking of creative families, you found a creative home on Ava Recordings. What drew you to Andy Moor's label, and how has your sound evolved from your first release there?
I have always loved Andy Moor's music and the tracks on AVA Recordings. I was really happy that they warmly welcomed me. Since my first release on AVA White four years ago, I have played at a number of their international events and the experience of performing with them in several cities also helped my musicality and sensibility grow. I'm very grateful to AVA Family. The last four years have also allowed me to develop my production skills and explore new techniques, which has allowed my sound to grow.
There are swirling rumors of a darker, more techno-focused sound coming from your experiences in 2020. Would you care to share what you've been up to that's broadening your sound in the studio?
I was living in Sweden before the pandemic. I love living there, it gives me a peaceful heart. I was in Japan when the borders closed and being unable to go back to Sweden left me in a dark place, emotionally. Music is my outlet and I have tried to honestly express that feeling as a sound, which is why I have started the techno project. I've enjoyed exploring darker sound textures and I'm excited to see where this project will go.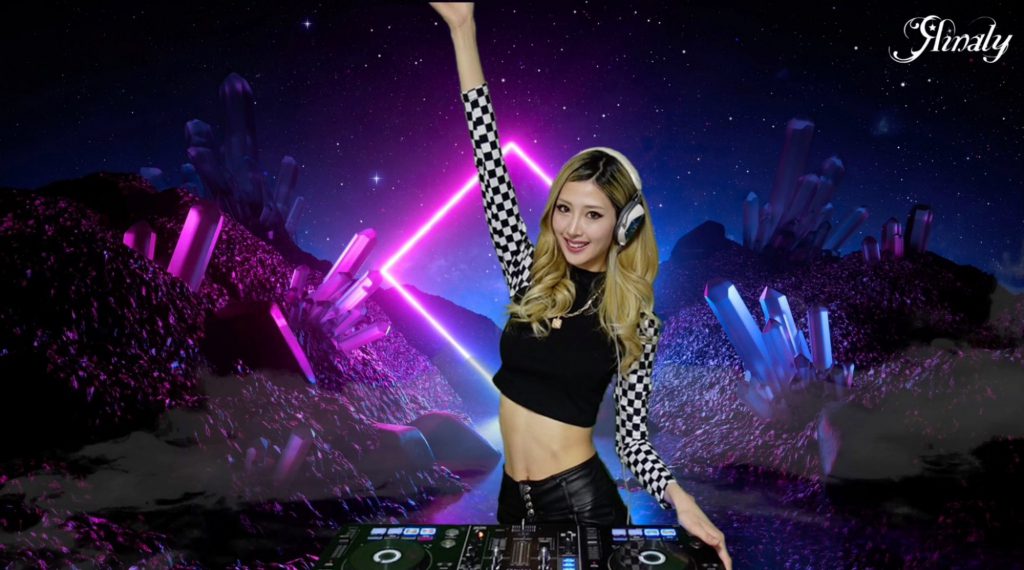 2020 indeed forced many changes on artists as touring came to a halt. You rotated right into more streaming performances on Twitch and just recently celebrated one year of streaming live! What attracts you to the format and platform of Twitch? As we slowly wind our way back to normal touring, do you find yourself drawn to continue streaming?
Before I started Twitch, I couldn't imagine the channel growing, but now Twitch is an integral part of my life. Live streaming can be very stressful at times, but without Twitch during the pandemic, I don't know how I would have kept my spirit. Streaming has allowed me to connect with music lovers around the world and it has made the pandemic a less lonely time. I really value the community I have built on Twitch and I will definitely continue to stream.
You recently posted a picture on Twitter of a new streaming setup! We noticed quite a few production toys added to the mix. Does this help your creative energy come out more in streams? Will it lead to some darker moments in your mixes?
That picture was taken at my friend's house, in Portugal. I was inspired by experimenting with various equipment at his house. Twitch streamers are collaborating with each other and growing together, it is a great community. The only production toy I have so far is Roland's bass synth, TB-03. The equipment is quite expensive so it's hard for me to get everything I would like at the moment, but I'm upgrading little by little.
Traveling is always challenging, but experience certainly seems to make you stronger. Looking back at your major festival accomplishments one can see contributions to EDC China, Transmission, Lanna Sky Festival, and even In Trance We Trust during ADE. What is your greatest festival memory to date, and where is one location you would love to share music with fans that you have yet to?
It was like a dream when I performed at EDC Guangdong (China) in 2019. The view from the stage is breathtakingly beautiful and unforgettable. I felt such a strong connection with the crowd and got a lot of energy. Also, the interaction with the other artists backstage was very fulfilling. I would love to play in the United States in the future.
Speaking of experience, you have quite the musical backstory – from being a member of a youth band to seeking a higher musical education as you grew up as a teenager. When you look back, what advice would you give a younger you to continue towards success?
It's important to work hard on the project and to stay motivated. Never stop learning, keep trying, and never give up. Furthermore, maintaining good health is also important. Until recently, I was too focused on working hard that I didn't care about my health. I think it was my mistake. My mental health was negatively affected to the point of burnout and it has been very difficult to recover from it. This has reminded me of how important health is in everything you do.
The Japanese music scene is a unique beast all of its own – and is a very diverse landscape. As an artist, is it ever difficult to navigate the industry at home? What challenges do you face as you travel beyond our countries borders, if any, musically?
The language and culture in Japan are unique and different from anywhere else. I cater to an international audience so my approach is different, which is unacceptable to many people in Japan. The hierarchy in the music scene is very strict, my activities are regulated and I am only allowed to play certain styles of music, so it's a very hard environment for me, and one of the reasons I decided to move to Sweden.
We caught you on Twitter with Yoji Biomehanika celebrating the new year in fashion with his signature hat! As a closing question, who would you love to collaborate with on a release, living or dead?
I've been a big fan of Canadian singer Lights for over a decade. I found her when I was enthusiastic about rock music, and I was very attracted to the characters as well as the singing voice. And I'm very shocked that she's now featuring with some EDM artists! Collabing with her is my dream.
---
Follow Rinaly on Social Media:
Facebook | Twitter | Instagram | SoundCloud | YouTube | Twitch