We caught up with tech trance legend Alex Di Stefano to have a chat about his spectacular journey in the dance music industry! 
---
With over twenty years of experience, Alex Di Stefano is without question one of the most prolific men to ever grace the scene. Bonding the underground driving essence of techno with the fluidity of trance, Alex has developed a sound that we find absolutely addicting. Take one gander at his hits like "I've Got The Power", "No Pain, No Gain", "The Sin", or "Among Us" and you will be swept away into an alternate dimension where the power of the rhythm kidnaps your soul.
Alex Di Stefano has earned the respect from labels across the globe as he has released on the likes of VII, In Trance We Trust, Subculture, Kearnage Recordings, Outburst Records, Skullduggery, and more. With an incredibly strong base, Alex Di Stefano has settled into a life in which musical freedom is the norm and knocking the socks off of fans across the globe is just another day at the office. So come with me as we touch base with one of our favorite producers and get to know the man behind the music just a little bit more!
Will you be getting down to the sounds of Alex Di Stefano at Luminosity Beach Festival this June? Check out the full lineup and grab your tickets!
Stream Alex Di Stefano & Greg Downey "Among Us" on SoundCloud:
---
From Italo-dance single "Thinkin' About You" and deep tech vibe of "Jaguar" to the techno-fueled "No Pain, No Gain" and raw trance stylings of "Fast Forward", you have developed a musical path all your own. Can you speak to your metamorphosis over the years and how your history in the industry has inspired you to up the ante with your sound?
I've always been a lover of all music, mainly electronic. I've never followed a particular genre and perhaps this was the key that distinguished me. It all started in 1989 when I started listening to music from Technotronic, Snap, and Cappella, just to name a few. I was immediately caught from that electro, techno sound combined with rap music, which inspired me for my first Italo Dance single under Daydream, "Thinkin' About You", released in 1994.
From that moment I continued my career updating my sound, challenging myself, trying different things, using mainly aliases (one of the reasons why many people have never heard Alex Di Stefano before 2008). Also, It's no secret that I've always been a techno and trance fan since the '90s, so I already had the opportunity to experiment the fusion of the two genres which today we call, tech-trance.
Trance and techno fans are some of the most passionate people when it comes to preserving the purity of sound, but when it comes to the marriage of the two everyone tends to welcome the subgenre with open arms. From your perspective, in what ways do you feel that tech trance has provided a bridge between the two communities?
I agree, but despite this bridge that has been created between the two genres, there is still a strong rivalry for those who listen to techno and those who listen to trance. If I have to be honest, I think the trancey crowd is slightly more open-minded, (this is what I could see with my own eyes). For example, many of them go to techno events without problems, while it is very difficult for a techno follower to go to listen to trance. Notwithstanding this, the two genres have come very close in recent years, which is very good!
"I've Got The Power" is undoubtedly one of your greatest tracks as it, bonds hypnotic melody with a guttural bassline meant for the underground. When designing this track, did you ever have an "ah-ha" moment when you felt like this one was going to be an instant fan favorite?
Well you know, you always try to stay with your feet on the ground and not get carried away by the first enthusiasms. Also, working many hours in the studio consecutively, you can lose lucidity in listening. But certainly, I had guessed something good was coming out, especially in the breakdown as I believe it is the key part of the arrangement! Still very happy with what came out of it.
You recently released "Among Us" with Greg Downey, a driving tech trance offering that has us lifted to the heavens! We are dying to get the back story on how this collaboration materialized, how did you both decide to work together and what was the process like?
Initially, I would have to release my new single for Skullduggery but since Greg and I are often working together, I thought that a collaboration would be interesting. And apparently, it was… climbing the Beatport top 3 and getting great support from everyone. The process was very simple as we already had clear ideas about how it would come out and this was a key point because it allowed us to work very quickly and smoothly.
Digging deeper on the topic of studio work, we want to get a snapshot of what your studio time looks like. When producing an EP like 

Black Panther

, what were some of the ups and downs, challenges and rewards during that period of time?
Black Panther was one of my workhorses, a slight hint at the transition between techno, progressive and trance. At that time John 00 Fleming was waiting for my new EP to release it on JOOF Recordings and I was very excited because I wanted to release two tracks that stood out among them. So I started working on a very, aggressive rhythmic track with a dark breakdown as I used to do at that time. The result was satisfying but not happy. I wanted to propose to John my first concept of how techno and trance could coexist together. So I released "Kidnap Your Soul " (part of Black Panther EP) and from there it was a succession of events that brought me to where I am today.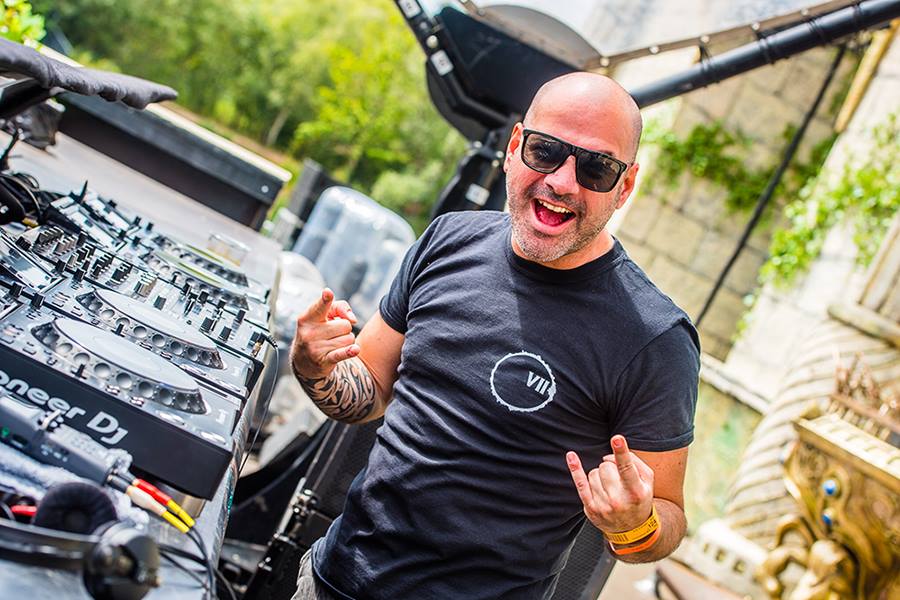 This past December you dropped Grotesque 350 with RAM and Alex M.O.R.P.H.. When making your track selections, did you have a specific vision that would allow you to keep your mix unique from the other two?
I always try to keep my trademark but with all honesty, I have to say that everything happened with natural automatisms, (same happens for my tracks) so I don't feel like I've had a specific vision. I certainly chose some tracks that would fit my style, but then the mix came by itself.
Your music has been featured on an array of labels including Subculture, Armada, Outburst Records, and 

JOOF Recordings

 just to name a few.  What are some of the major benefits that have risen from having your name attached to so many powerful brands?
I think the advantage of releasing on one of these prestigious brands was the fact that each of them has its own specific channel of fans, obtaining a wide margin of followers (from the most trancy to the most underground) for which my profile has benefited.
On the flip side, what kind of pressure do you face knowing that you are representing the leading labels of the industry?
I would say that there is no pressure, only pride and happiness, having achieved these goals.
Staying on the topic of labels, you have become an indispensable part of the league of talent on VII. With the recent VII Crew Manchester event still lingering in your memory bank, we are dying to hear all the details! What were some of your favorite moments from that night?
Delighted to have joined this fantastic group of legends! So many opportunities have been coming since I've been with them! The VII Manchester was a fantastic night, unforgettable, one of those nights that is not easy to describe in words. The crowd came from all over the world and it was absolutely one of the most beautiful crowds I have ever seen! I felt like I was in a real family! The club's vibe was incredible, with an impressive sound system (Void System). I would say it was the perfect event, proud to be part of #TheVIICrew
Finally, with over twenty years of experience in a fast-paced industry that has the potential to become wildly overwhelming, has there ever been a time in which you faced burnout? And if so, how did you overcome adversity to stay healthy both mentally and physically?
Fortunately, I've never faced the burnout moment. Of course, it's a job that leads to stress but it's due not from playing…. the real job is traveling (like I always say). I think that each of us must know our limits, listen to ourselves, and understand when to take a break, stop or continue. Then having a person who supports you is very important. That might be your manager in this case, but not everyone knows how to be understanding, as has happened, unfortunately.
---
Connect with Alex Di Stefano on Socal Media:
Facebook | Twitter | Instagram | SoundCloud