Drishti Beats Yoga and Music Festival lands in Snowmass Village, Colorado on July 8-11, featuring Phantoms, Desert Dwellers, ATTLAS, and more!
---
Drishti Beats was born out of the meshing of yoga and high vibrational dance music passions. Unlike most vinyasa classes, Drishti brought another element to the table – their very own four-piece band specializing in downtempo chill electronic beats, melodic live voice, rap/beatbox, percussion, and saxophone. While Drishti Beats previously set a course for international success by appearing at festivals including EDC Las Vegas, Lightning in a Bottle, and Mysteryland, that was just the beginning. Now, they are ready to take the next step along their path to greatness with the debut of their curated festival, Drishti Beats Yoga and Music Festival
Set to take place in Snowmass Village, Colorado on July 8-11, this year's festival promises to deliver a beautifully unique selection of DJs, producers, workshops, lectures, and yoga, providing an abundance of eye-opening experiences for one and all. Nourishing all of your dance floor needs will be none other than effervescent house duo Phantoms, Burning Man staple Desert Dwellers, and dance-floor general The Polish Ambassador will headline each day of the weekend respectfully. 
Also delivering just the right amount of beats will be mau5trap favorite, ATTLAS, along with Axel Thesleff, Random Rab, and Washington DC-based producer IHF as he delivers his dreamy, atmospheric vibes. David Starfire also brings his globally-inspired bass sounds, while TOR and Earthcry will douse the crowd in transformational soundwaves. UK-based auditory architect Frameworks also lands on this year's lineup delivering his one-of-a-kind soundscapes, a true must-see. Yet that's not all. Colorado-favorite Edamame will also grace the decks, and Bòsa will take the stage Sunday afternoon. 
Drishti Beats has never been the type to count out the emerging talent surrounding our collective community. Also blessing this year's festival will be interdimensional sets from All These Diamonds, Yoga-superstar DJ Taz Rashid, and funky, tribal-infused favorite DJ Meeshel. Rounding out the weekend will be Aspen/Snowmass local DJs Ryan Golbus and DJ Lo_G, who will deliver a healthy dose of high-energy house heat to this blissed-out weekend. But not before a live set from Drishti Beats themselves as they leave our hearts and souls overflowing with gratitude through the power of interconnected love for beautiful music and yoga experiences
Tickets for the debut edition of Drishti Beats' festival are on sale now via their website. Single-day and multi-day passes are available now but going fast!
---
Drishti Beats Yoga and Music Festival 2022 Lineup: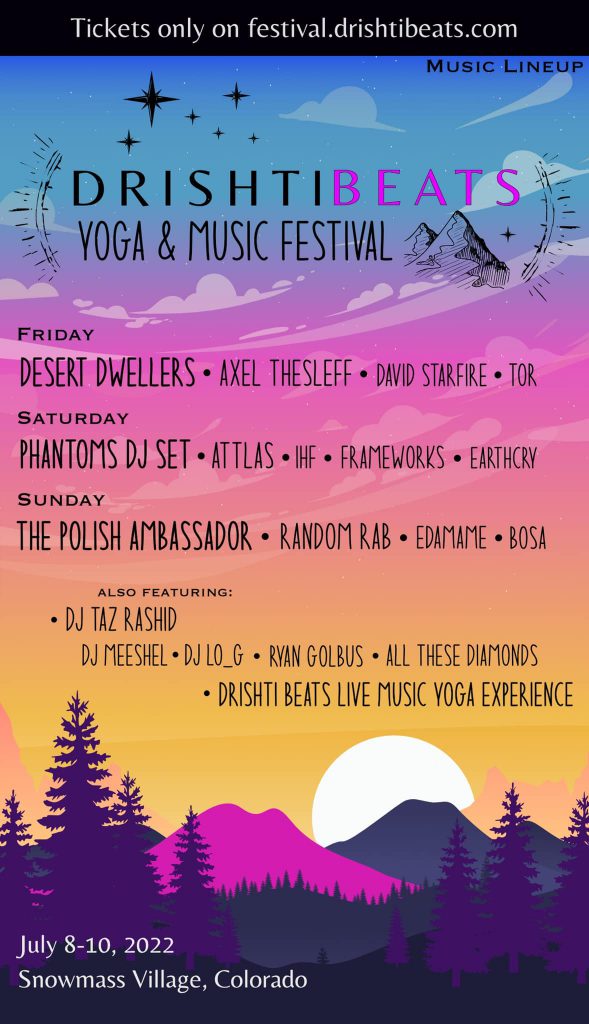 ---
Drishti Beats Yoga and Music Festival 2022 – Lineup By Artist:
Phantoms
Desert Dwellers
The Polish Ambassador
Axel Thesleff
ATTLAS
Random Rab
David Starfire
IHF
Frameworks
Edamame
TOR
Earthcry
Bòsa
Dj Taz Rashid
Dj Meeshel
Dj Lo_G
Ryan Golbus
All These Diamonds
Drishti Beats (Live)
---
Follow Drishti Beats on Social Media:
Website | Facebook | Instagram | SoundCloud | YouTube