Listen to Drishti Beats' single "Paradise High" off their upcoming EP!
---
If you're looking for a quality downtempo tune to get those fall vibes flowing, look no further than Drishti Beats' latest single "Paradise High". The lead track off their upcoming EP which shares the same name, the track features heavenly vocals coming from Ariel Lowell that leave a lasting impression on the listener.
When asked about the development of "Paradise High", Drishti Beats said:
"Paradise High" was written and produced to complete our yoga class repertoire.  We cultivated the vision and creation of our saxophonist walking amongst our participants and listeners during the Savasana (Relaxation) ending portion of our class.

At the end of our class, we wanted to create a vibe that talks about being high on paradise and finding bliss taking our listeners into a state of total relaxation.

The electronic downtempo production brings all components together. Our vocalist and saxophonist collaborated to layer the track with a warm and luxurious ear candy sound.
The Paradise High EP is set for release on December 1, so listen to the title track below and make sure to keep your ears tuned to their SoundCloud for more from this group!
Listen to Drishti Beats – Paradise High on SoundCloud:
Known for their chilled out beats that are paired with live music teaching experiences, Drishti Beats have made their mark by blending yoga with electronic music to create a truly symbiotic relationship. The members of the group all contribute in their own unique way, as they move crowds with sounds from saxophonist Ricardo and beats from DJ Ryan, all paired with vocals and beatboxing from Ariel and Alex.
Their music is tied to yoga sessions that are guided by founders Lori and Jeremy and take those participating to the next level. You may have experienced their combination of yoga and music at past events like Sonic Bloom and Lightning in a Bottle or even at Mysteryland in the Netherlands.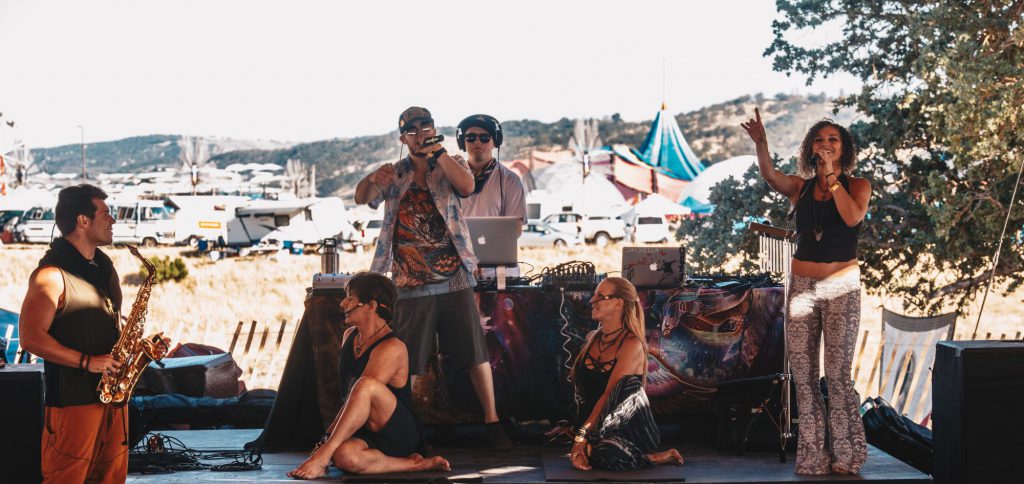 ---
Follow Drishti Beats on Social Media:
Website | Facebook | Twitter | Instagram | SoundCloud | YouTube